Description
During this Gel Print Workshop, you will learn how to use a gel plate to create unique papers. I'll share techniques using acrylic paint, stencils and objects.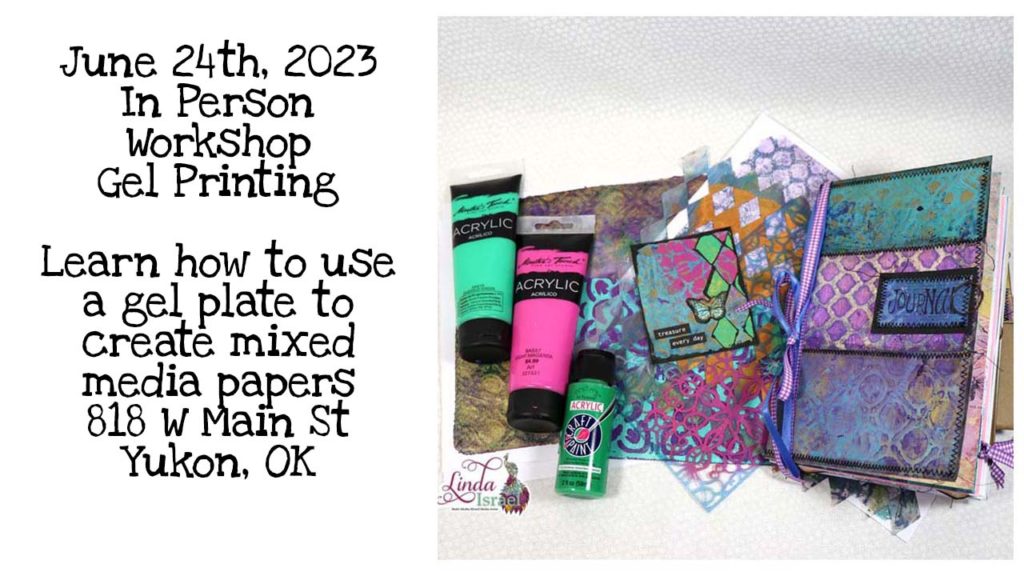 Workshop date and location:
Saturday June 24, 2023
10 am to 4 pm
818 W Main St, Yukon, OK 73099.
Cost $30 per student (you will take home several gel printed papers)
Break for lunch – bring lunch or money to order lunch
Limited seating- I have room for 8 people max…
What to bring to the workshop:
Gel Plate I have a few that you can borrow for the workshop
Soft Brayer I have a couple extra you can use if you don't have one.
Acrylic Paint (if you have special colors you want to use)
Copy Paper (I will have some if you don't)
Book pages to print upon (I will have some if you don't)
Apron
Gloves if you don't want paint on your hands
Any of your Stencils you want to use. (I will have some if you don't)
Cushion for your chair
Favorite Beverage (we do have a refrigerator, bottled water and ice.)
Snacks
If you prefer to pay in person,
please message me
to let me know you will be attending.
Cancelations need to be 24 in advance. No refunds, you will get a gift card to use in my shop.