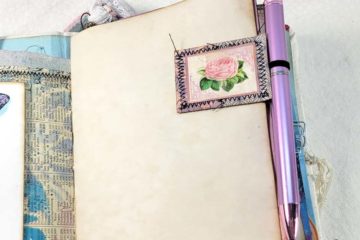 Super easy Altered Paperclip Pen Holder Tutorial. If you have ever wanted a way to attach a pen to a journal, but be able to make it removable, then this tutorial will help you achieve this goal!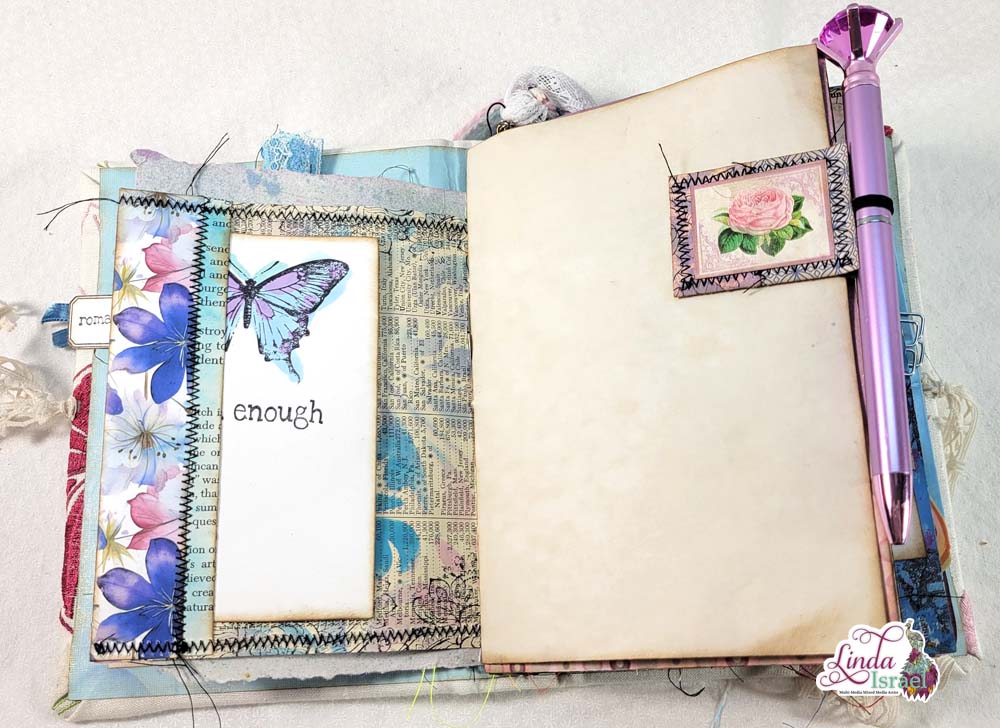 Altered Paperclip Pen Holder Tutorial Video
Supplies Used
Scraps of decorative paper
Cardstock
Sewing Machine
This one is super easy. I started by cutting a couple pieces of cardstock into two by 1.5 inch pieces. Then I placed a length of elastic down on one side and glued it to the cardstock. Wrap the elastic once around a pen and make a sandwich with the other piece of cardstock. Cut the elastic, glue to cardstock and place a piece of paper over it to hold in place.
Sew across the elastic to help secure it in place. If you don't have a sewing machine, then make sure to use a lot of glue to keep it in place.
Using scraps of paper adhere to a piece of book page to create a collage of strips. Sew on the join lines between the strips. Then cut the pieces down to be just slightly larger than the cardstock, which were 2 x 1.5 inches. Sew around the outside edge of these pieces to complete the sewing look.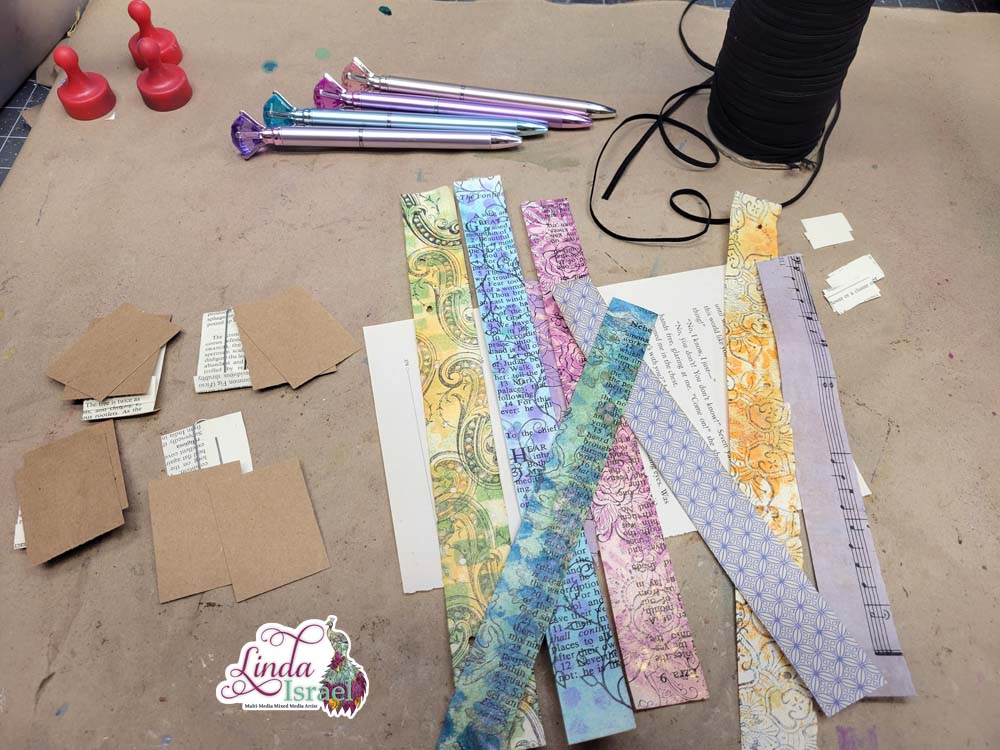 Fold a 4.5 inch x 1 inch  piece of book page in half. Slide a paper clip over the folded end. For best results fold up the ends of the paper over the paperclip. This will help secure it to the cardstock and will help this slide over the book pages.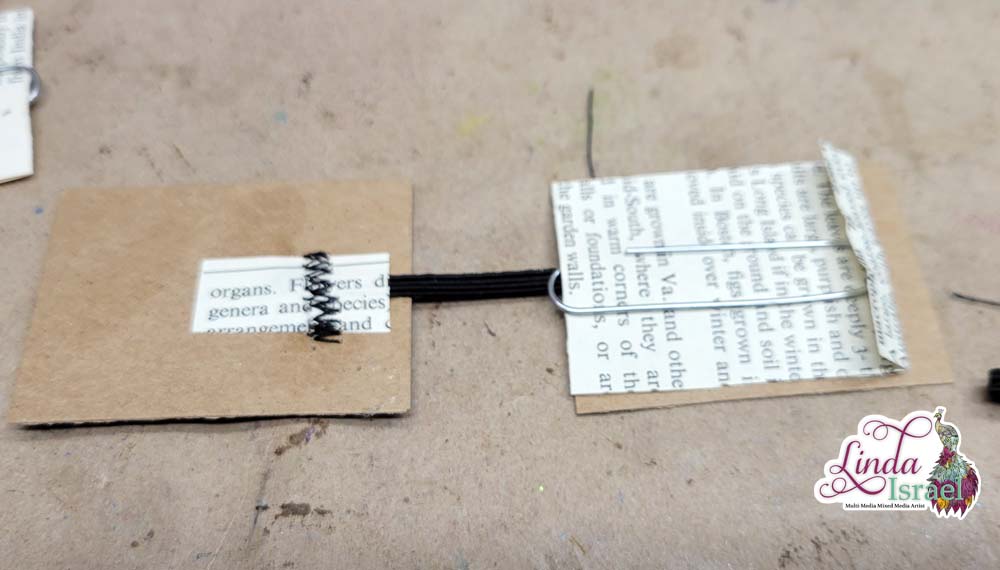 Adhere the cardstock with the elastic on the paperclip. Keep the closed end of the paperclip at the same side as the elastic. Next adhere the decorative papers over the cardstock.
Add embellishments to each side as desired. I like using images from Calico Collage and stamped words.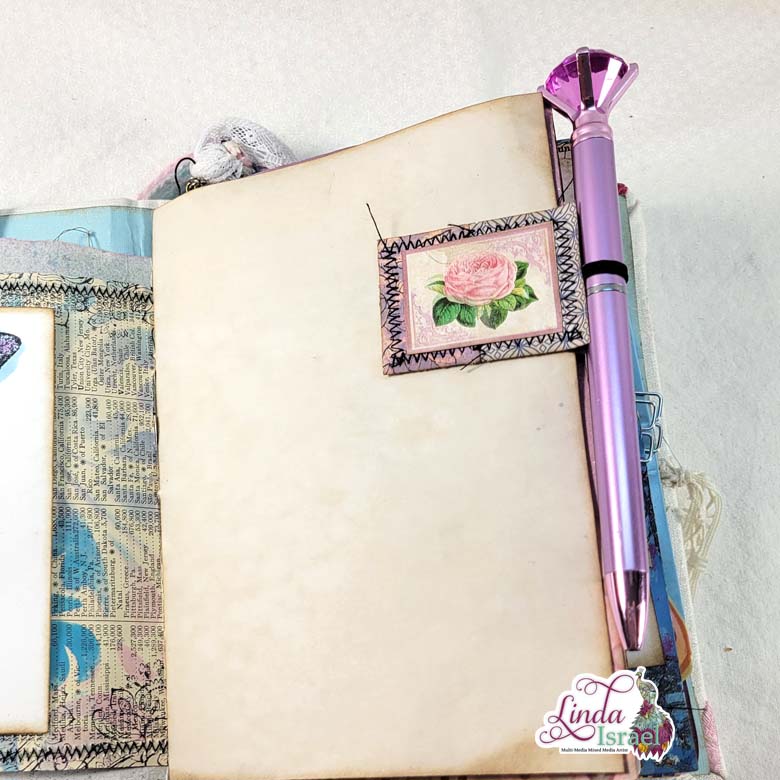 See how easy this Altered Paperclip Pen Holder Tutorial  was? Once you make one it is so easy to do a bunch! I picked up a few pens at Dollar Tree, but any pen will work.
Make sure to check out the Friendly Junk Journal People Facebook group. Of course, you are welcome to join the Friendly Junk Journal People Facebook group. The group is growing daily and we are a friendly group willing to help each other and encourage each other.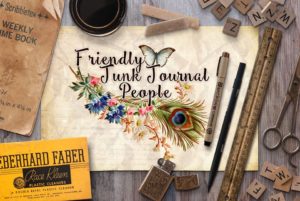 Interested in any of the projects Linda has created? Please feel free to contact her through her website. Here is her shop, a lot of items featured and more added weekly.
Keep updated on her posts by following the blog by creating an account.  Follow Linda on her Facebook Page or on Instagram for updates that may not be shared on the blog.
Thanks so much for stopping by the blog today to see the Altered Paperclip Pen Holder Tutorial.
"We are a participant in the Amazon Services LLC Associates Program, an affiliate advertising program designed to provide a means for us to earn fees by linking to Amazon.com and affiliated sites."