Description
This selection of Letter Size Handmade Papers were made by me using recycled papers and fibers. The pages measure 8.5 x 11 inches and have the beautiful feathery deckled edges. These papers are sold as sets of two sheets per package.
Each grouping will be unique and no two pages are identical. The papers may be similar in color and fiber content but each page is unique.
Back in the early 1990's I learned how to make paper with a group of friends. I was lucky enough to be able to learn the process and upcycle items destined for the trash.
Some of the pages may be light weight and some may be heavy weight. It depends upon the paper pulp.
Use these papers to create journal pages and elements. The pages are sturdy enough to fold and smooth enough to write upon.
Some of the things used to make the papers were junk mail, old book pages, plant material and other papers that had printing on one or both sides. Instead of throwing out these outdated and useless papers I shred the papers and use it as a new paper pulp.
I did create a tutorial showing how I made these papers. Check out the blog post for more information on how to make your own papers.
Make sure to check out the Friendly Junk Journal People Facebook group. Of course, you are welcome to join the Friendly Junk Journal People Facebook group. The group is growing daily and we are a friendly group willing to help each other and encourage each other.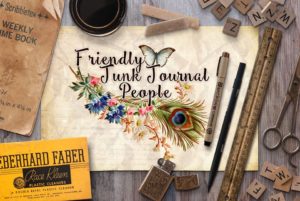 Letter Size Handmade Papers made in Yukon, Oklahoma by Linda Israel. No refunds. Each page is unique and considered a small work of art. There may be flaws in the paper and that is part of the charm.