Let's have some fun today with a Mixed Media Pages Tutorial. I like to sit and play with Tattered Angels Glimmer Mists, Acrylic Paint, stencils and book pages. Creating a batch of mixed media pages to use in various projects. Being able to say, I made that! Today I'll show you how to create your own Mixed Media Pages.
Mixed Media Pages Tutorial Video
Supplies Used for the Mixed Media Pages Tutorial.
Tattered Angels Glimmer Mist, Safety Orange, Almost Black
Chalkboard Mist by Tattered Angels, Inchworm, Iron, Canary, Ruby Slipper, Valencia
Paint Pallet
Old gift card or room key card
Acrylic Paint, Mustard, Sunflower, Orange
Foam Brush
Book pages – Pick up books from the dollar store.
Time to have fun and begin this Mixed Media Pages Tutorial. Prepare your work surface by using a non-stick craft mat. It saves a lot of clean up time using one of these mats. I have several in my stash so I don't have to wash these every single time I use them.
Select a book that has a good paper that will hold up to getting wet with paint and Tattered Angels. Look for new books at Dollar Tree or other places. Old book pages can be brittle so do a test on a sheet before you commit to using all of the pages from that book.
Choose a stencil or two or other objects to make marks on the papers. The idea is to play!
Apply Tattered Angels Glimmer Mists or Acrylic paint through the stencils. Go crazy and have fun! The idea is to get color on pages that you can use in other projects. My pages were used for a couple of projects. A mixed media Junk Journal and I also used some of the pages on a postcard swap. These pages can become pockets, truck spots, new pages for a journal and more.
Try moping up the sprays on the stencil by laying another page on top and pressing down. The spray on the stencil will transfer to the page and give a new look. Love seeing how things change when mopping up.
Make your own stencils too. Using my Cricut I created stencils that are unique and can't be found in a store. So each project is unique and unusual.
Having a variety of pages made for projects is much like having a large stash of scrapbook papers. Lots of choices!
Make sure to check out the Friendly Junk Journal People Facebook group. Of course, you are welcome to join the Friendly Junk Journal People Facebook group. The group is growing daily and we are a friendly group willing to help each other and encourage each other.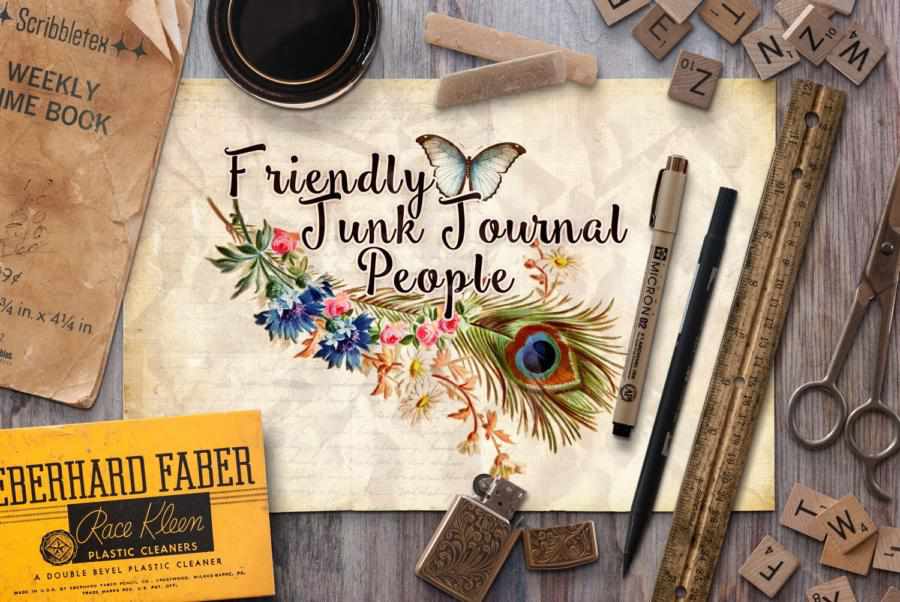 Interested in any of the journals I created? Please feel free to contact me through my Facebook Page. Here is my shop, I have a lot of items uploaded and add more weekly.
Keep updated on my posts by following me. Follow my blog with Bloglovin. Or Follow my Facebook Page or on Instagram for updates that may not be shared on my blog.
Thanks so much for stopping by my blog today to see the Mixed Media Pages Tutorial.