Description
One A2 Envelope Template to use in your artwork. This template is made out of cardstock. The finished envelope will hold an A2 greeting card (Inside measurements: 4.375 x 5.75 inch). Trace the template onto your paper. Score in the same area as the box on the template, fold on those lines and you have an envelope.
Create your own envelops using book pages, wrapping paper, scrapbook paper, wallpaper and more. Once you start looking at your stash of papers you will see you have an abundance of supplies that can be used to create unique handmade envelopes.
Example of finished envelope using the A2 Envelope Template.
Tutorial showing how to use the A2 Envelope Template to create an envelope and then creating a Christmas Card to go inside the envelope.
Watch this Tiny Envelope Tutorial Video for ideas on how to make your own tiny envelopes.
Any visible imperfection is part of a handmade item. I may try to duplicate, but no two are ever alike thus each item is a one of a kind.
Check out the Friendly Junk Journal People Facebook group. Of course, you are welcome to join the Friendly Junk Journal People Facebook group. The group is growing daily and we are a friendly group willing to help each other and encourage each other.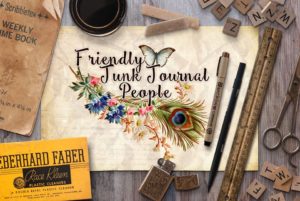 Handmade in Yukon, Oklahoma, USA