Description
This Sew Artsy Creative Kit is filled with lots of fun items to create Junk Journals. A great package of items all put together in one theme. Ready for you to create your very own junk journal.
Formerly a Subscription box can now be purchased as a stand alone kit without the subscription for $29.99.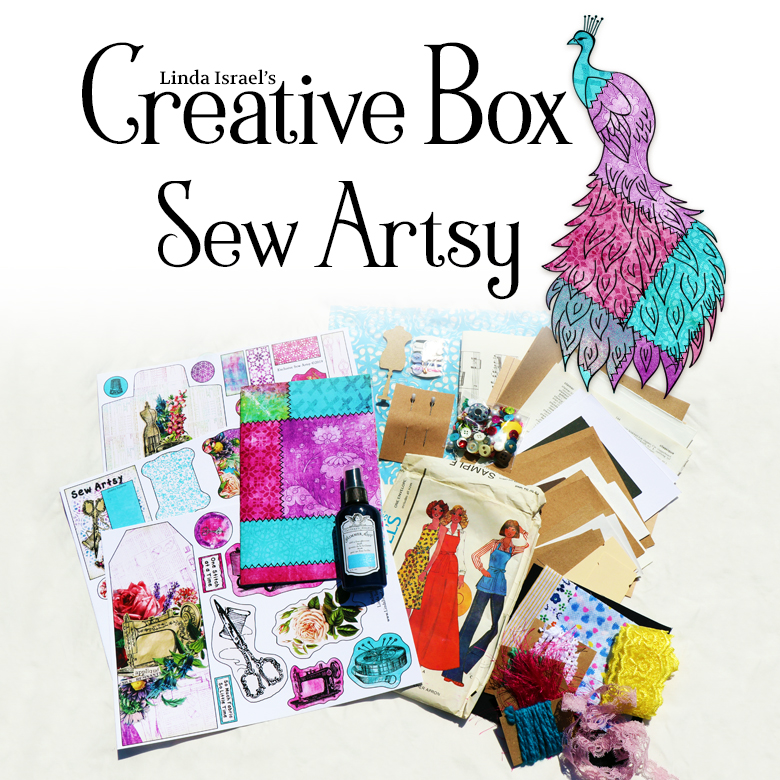 Kit includes:
Journal Featuring Sew Artsy images from Calico Collage and hand drawn designs by Linda Israel, 8.5 by 5.5 with 12 pages ready to decorate, valued at $11.99.
Calico Collage Ephemera, featuring tags, words, envelopes, enclosure cards, and postcards valued at $4.99.
Linda Israel 'Sew Artsy Stencil' exclusive to this subscription box, valued at $12.99.
One bottle of Tattered Angels Glimmer Mist in a beautiful shade of coral, valued at $6.99.
Linda's hand-picked goody pack, featuring: Lace, Music Page, Dictionary Pages, journal cards, tickets, sewing pattern, fabric squares, embellishments, charms and more. Over 100 Pieces in this kit, Valued at $20.99.
Formerly a Subscription box retail value over $57.00. This is a stand alone kit that can be purchased until supplies are gone.
The Sew Artsy kit is a collaboration between Norealla Bouchard of Calico Collage and myself, Linda Israel. I created stencil designs that Norella used throughout the kit.. Being able to work with Norella is a dream come true. We are having fun doing these collaborations.
Flip through video of the Sew Artsy Creative Kit.
Live stream making a journal using the Sew Artsy Kit.
August 5th, 2019 Live stream
Live from August 2019
See all of the Sew Artsy items here.
Make sure to check out the Friendly Junk Journal People Facebook group. Of course, you are welcome to join the Friendly Junk Journal People Facebook group. The group is growing daily and we are a friendly group willing to help each other and encourage each other.