Sharing the items made during the Live Gelato Mixed Media Elements stream on July 25th. During the stream Gelatos were used to color book pages and junk mail. Stamps were also used to add interest. Using stamps is a great way to dress up plain papers.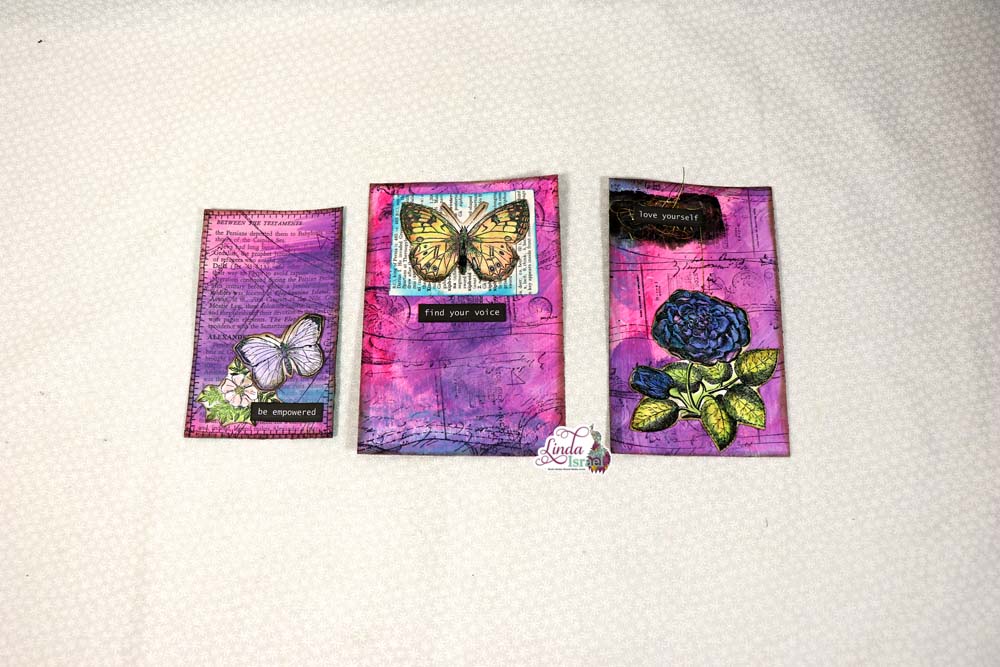 Live Gelato Mixed Media Elements Video.
Linda shows  how she used Gelatos during her live stream to color book pages, and junk mail. She used several stamps to add interest.
Supplies used for the Live Gelato Mixed Media Elements.
Archival Ink, Jet Black

Book Pages

5 x 7 Kraft Card
Get the Digital download of the Gelato Sewing Themed Journal Pages and Journal Cards here.
Linda took a piece of junk mail coated it with gesso, and then colored the background with Gelatos for this Junk Mail card.
For these cards Linda used the Scissors stamp, and the Golden Thread stamp which adds interest to them. She added golden thread then placed the Stamped pieces on top.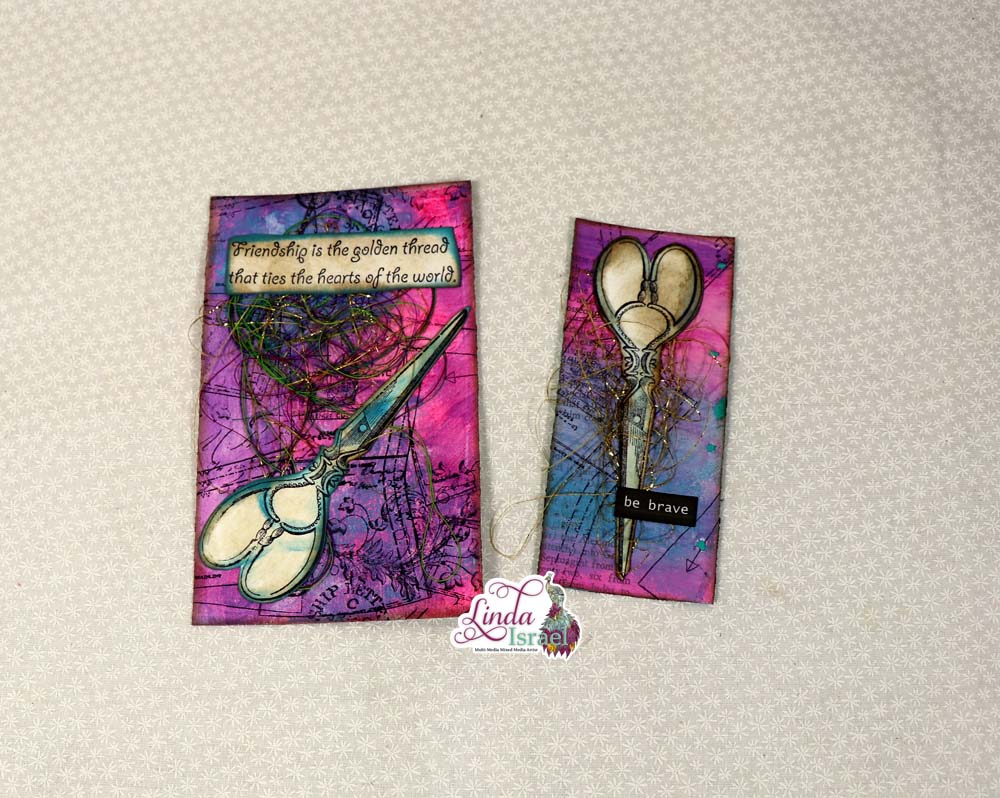 Adding stamps for your background dresses up the page. Try adding the white Words on black sentiments from Linda's shop.
Create sections on a page by using several different stamps like the  Lace and Trim and Textured Edges in the Shop.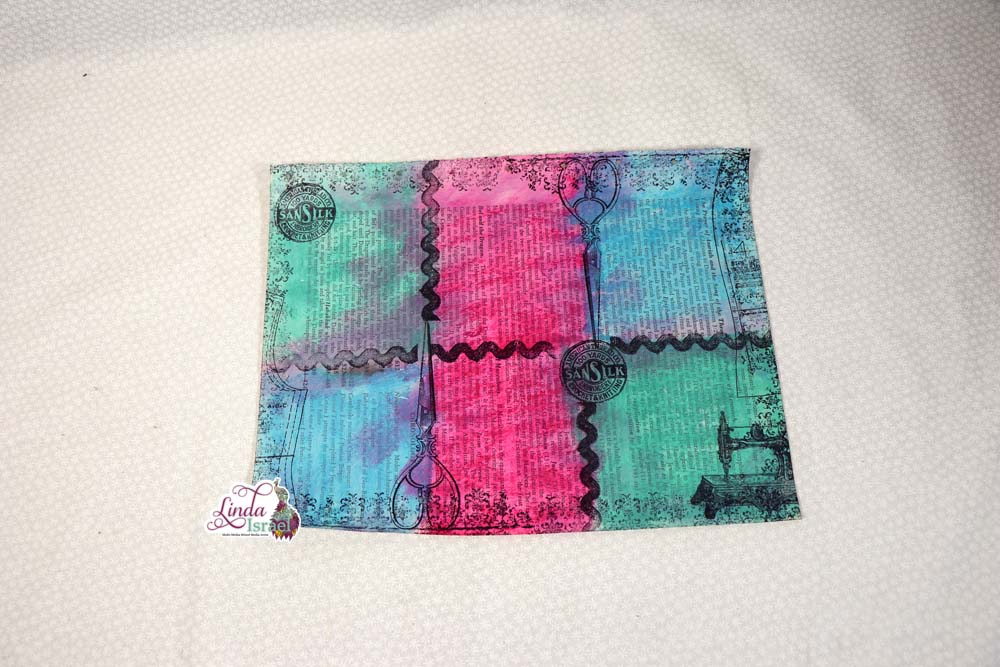 Have fun with your Gelatos, these are fun to use!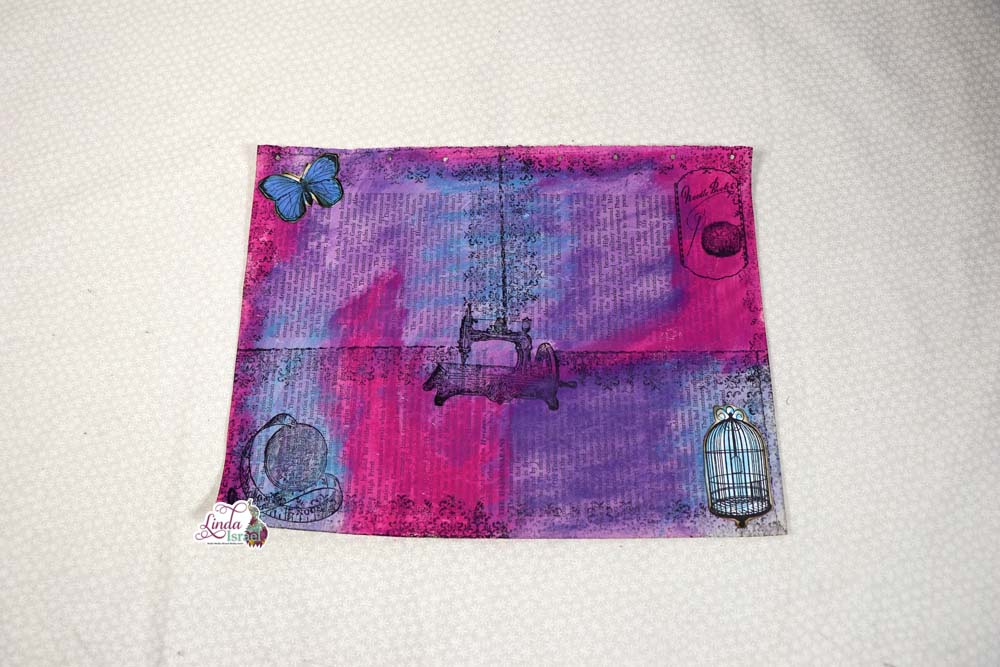 Here Linda shows you all the cards she created during the live stream. Which one is your favorite? How would you used Gelatos and stamps to create your own?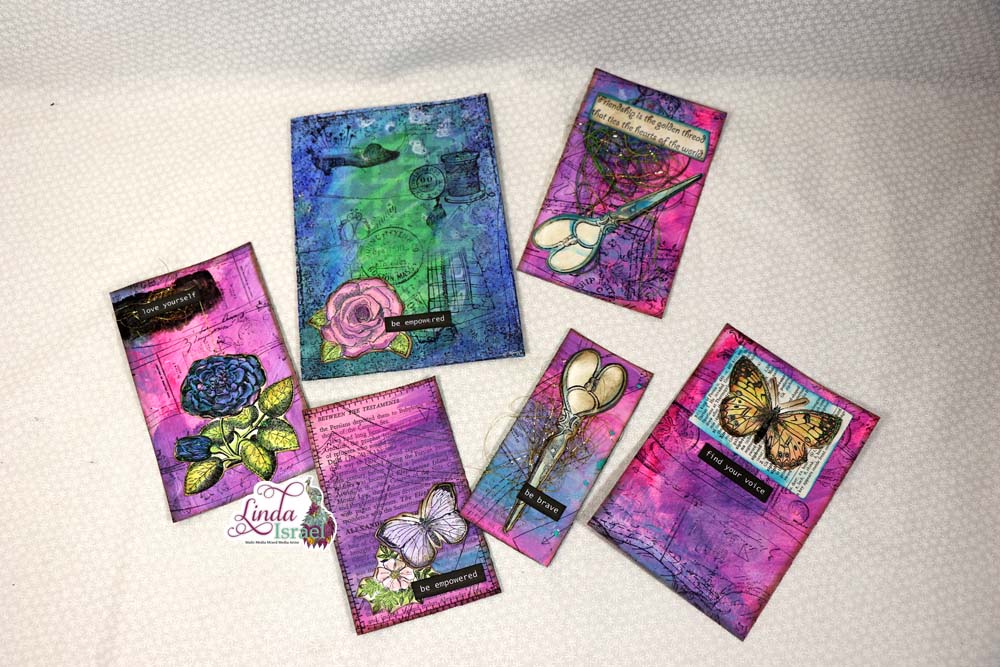 Join the #useitupjuly event on Facebook post photos of your projects inside the event to be entered to win prizes.
Remember that Linda has live streams on Monday's at 3:45 pm and Thursdays at 12:30 pm Central Standard time on her YouTube Channel. Come join the chat, win prizes while she create.
Make sure to check out the Friendly Junk Journal People Facebook group. Of course, you are welcome to join the Friendly Junk Journal People Facebook group. The group is growing daily and we are a friendly group willing to help each other and encourage each other.
Interested in any of the projects Linda has created? Please feel free to contact her through her website. Here is her shop, a lot of items featured and add more weekly.
Keep updated on her posts by following the blog by creating an account.  Follow Linda on her Facebook Page or on Instagram for updates that may not be shared on the blog.
Thanks so much for stopping by the blog today to see the Live Gelato Mixed Media Elements.