Description
CTM300G Sewing Cube Rubber Stamps. Four deep etched red rubber stamps that measure about 2.5 x 2 inches. The stamps feature thread, shoe pin cushion, scissors with thimble and needle and a vintage dressmaker label.
Stamp comes with cling mount to use with your favorite acrylic block, MISTY or Stamp Platform.
Rubber Stamps are a great way to add accents to projects. Use stamps in junk journals, greeting cards and more. Stamp with your favorite ink.
Allow your creativity to flow by using the CTM300G Sewing Cube Rubber Stamps on Journal Cards, Journals, Greeting Cards and more.
The following videos show ideas on how to use rubber stamps in projects.
Using Scrapbook Papers for a Junk Journal Page Tutorial Video
Sewing Themed Stamped Embellishment Tutorial.
This project is a great way to use up book pages. Adding rubber stamped images alters the look of the book page and allows a lot of creativity. Try changing the color of book pages with Tattered Angels Glimmer Mists or even acrylic paint and then see how colorful your art can become.
In this Altered Envelopes Tutorial, I'll share how to decorate a few envelopes with Stamps, Stencil and scraps of paper. Get out the random envelopes that you have in your stash and play along.
Be inspired to create with the following Beach Themed Journal Cards Tutorial. In this tutorial You will see creative ways to use rubber stamps and ink to make blended journal cards.
The following video is a longer tutorial showing how to use stamps along with stencils to create two mini junk journals.
Make sure to check out the Friendly Junk Journal People Facebook group. Of course, you are welcome to join the Friendly Junk Journal People Facebook group. The group is growing daily and we are a friendly group willing to help each other and encourage each other.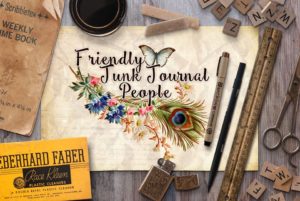 Created by B Line Designs. Made in the USA. Each stamp is made when ordered, this can take 5 to 10 days for each stamp to be made before it is shipped.
Earn a discount by purchasing any of the following products.