During the Live Creating Embellishments for Junk Journals on Nov 30th I created several different types of Embellishments. Using Book pages, Painted papers, Stencils, Stamps and Images from Calico Collage I created Journal cards, Envelopes, Tuck spots, Altered Paper Clip and a pocket.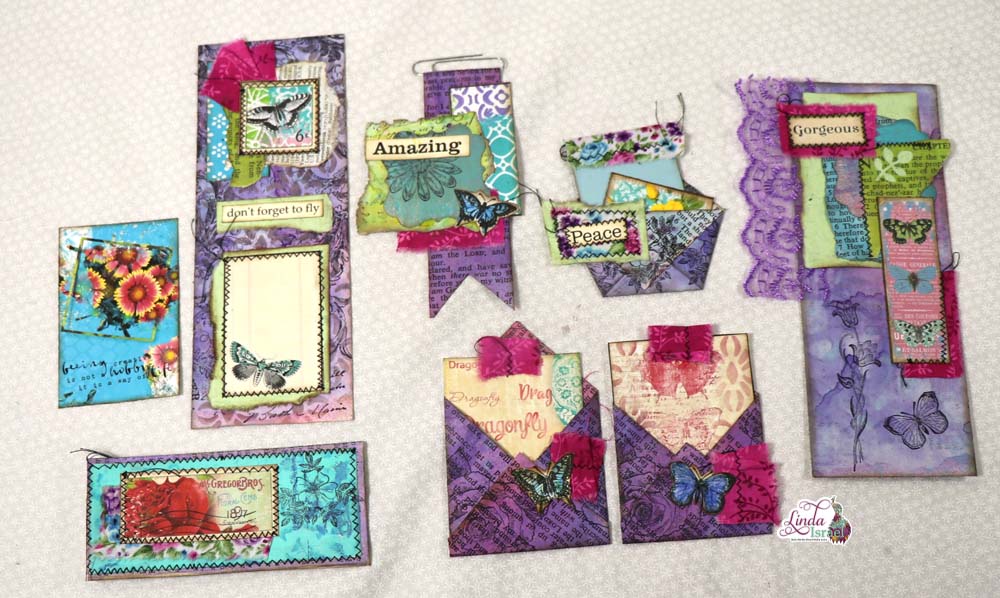 Live Creating Embellishments for Junk Journals Video Tutorial
Supplies Used for the Live Creating Embellishments for Junk Journals.
Book pages
Oatmeal Box
Acrylic Craft Paint
Fabric strips
Sewing Machine
Journal cards from Dragonfly Delight
Gel Print
An oatmeal box is the foundation for a couple of long journal cards. Painted book page that was then sprayed with Tattered Angels Glimmer Mists becomes the covering on this journal card.
Adding stamping and then stenciled design on top gives this card a lot of texture.
Layered of the card – Images from the Artful Journal kit, Book pages, mulberry paper scraps and fabric.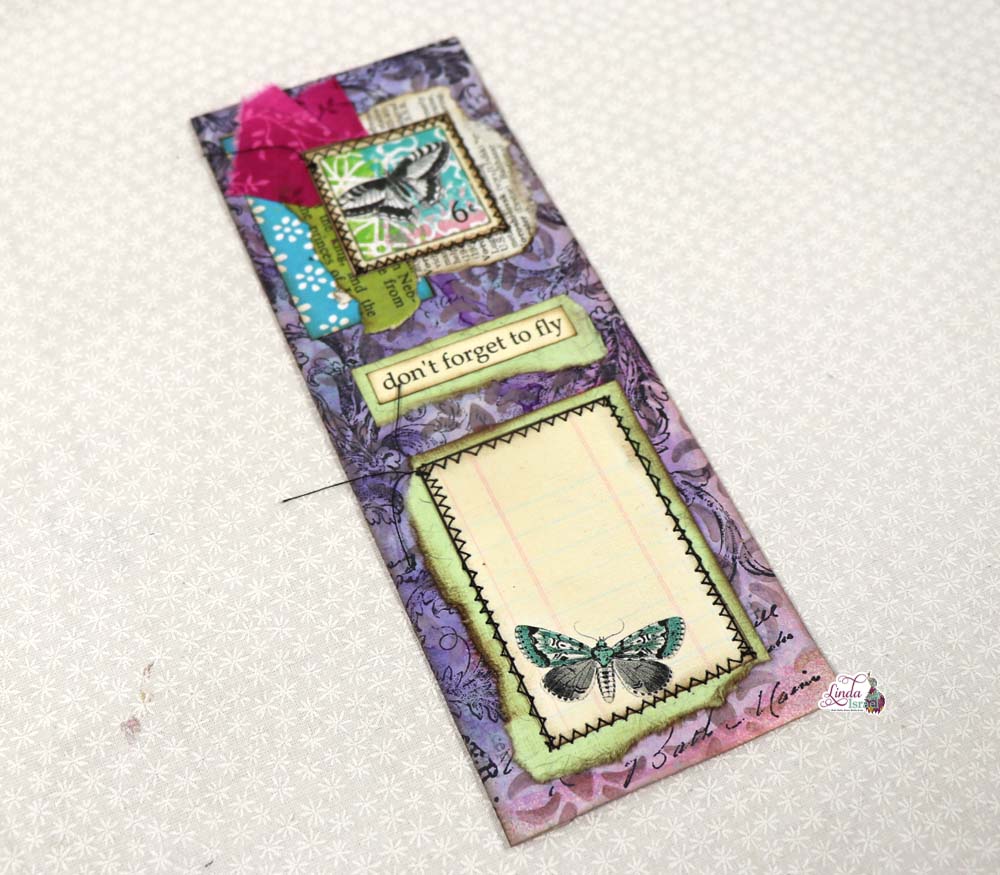 Lots of layers on this long journal card measuring 3 x 8 inches. Scraps of paper and fabric help this card make a statement. Printable words from Calico Collage are a nice touch to any project, remember you can print images in different sizes for your projects.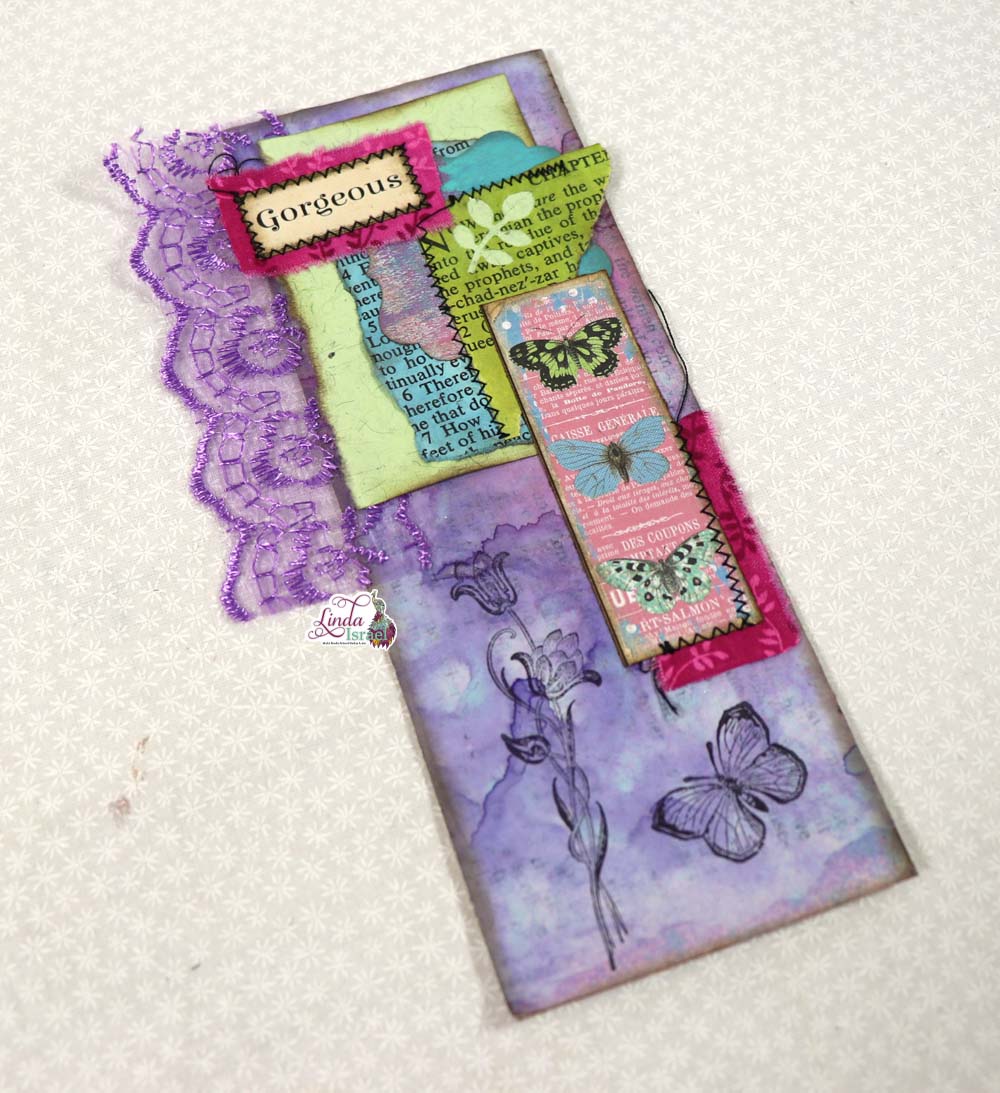 Small envelopes are easy to make. Start with a square of paper, the ones I made started with a 4 inch square and the inside with of the envelope will fit a 2.5 inch journal card. Add a touch of fabric sewn to a scrap of paper for  a pretty touch.
The Butterfly Beauties Cube was used for the butterflies. Stamp on paper and color with Tattered Angels Glimmer Mists. Once the image is dry fussy cut apply distress inks around the edges and then apply Tulip Dimensional Glitter Paint on top. I like to store my fussy cut elements by them in little clear bags.
A scrap of fabric goes a long way on this little cute tuck spot with journal card.
Scraps are perfect to create a unique altered paperclip flag for a junk journal.  I was able to use scraps and create a two sided altered paperclip.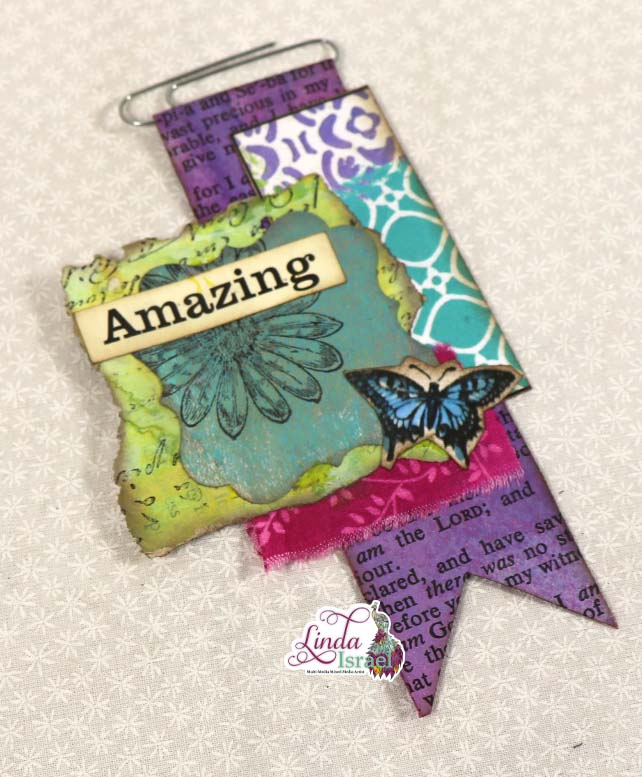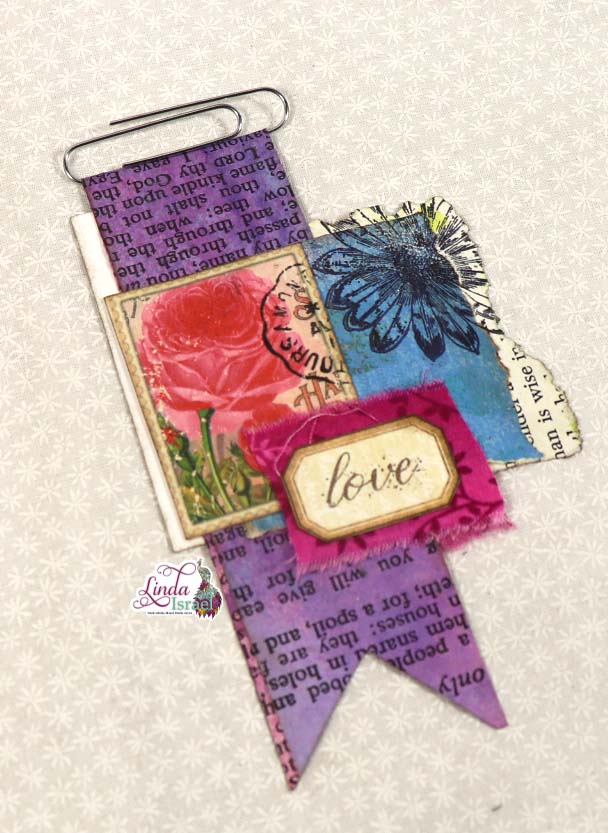 This pocket was made from a book page, gel print, scrap of fabric, faux postage by Calico Collage and the Beach Rose Small Stamp. Adding Tattered Angels Glimmer Mists around the edge of the book page helped tie together the purple in the fabric and in the journal card that will be placed in the pocket.
Make sure to check out the Friendly Junk Journal People Facebook group. Of course, you are welcome to join the Friendly Junk Journal People Facebook grouyp.The group is growing daily and we are a friendly group willing to help each other and encourage each other.

Interested in any of the projects Linda has created? Please feel free to contact her through her website. Here is her shop, a lot of items featured and more added weekly.
Keep updated on her posts by following the blog by creating an account.  Follow Linda on her Facebook Page or on Instagram for updates that may not be shared on the blog.
Thanks so much for stopping by the blog today to see my Live Creating Embellishments for Junk Journals tutorial.