Description
CFF631G Butterfly Collection Rubber Stamp. One deep etched red rubber stamp that measures 3.75 x 5 inches.
Stamps come with cling mount to use with your favorite acrylic block, MISTY or Stamp Platform.
Rubber Stamps are a great way to add accents to projects. Use stamps in junk journals, greeting cards and more. Stamp with your favorite ink.
Allow your creativity to flow by using the CFF631G Butterfly Collection Rubber Stamp on Journal Cards, Journals, Greeting Cards and more.
In the below example the Butterfly Collection was colored and then I scanned the image into my computer. Using photoshop I altered the hue and created all these different colorways using the same image. The WH132E Journal Stamp was placed on top of a strip of fabric and then sewn to the butterfly collection image. You are allowed to scan B Line Designs Stamped images and then print and use in your artwork. Selling the digital image isn't allowed.
Using 12 x 12 scrapbook paper I cut it in half. Then scored at 4.5 from the edge, rotated the paper and scored 3 inches from the other edge. Folded at the score lines.
Layered the Butterfly Collection onto a book page. Added the WH132E Journal word on top of a piece of fabric and then sewed around the edges. Then this unit was adhered to the front of the scrapbook paper. This is super thin and can be added to a larger journal for additional removable writing space. It's a great way to use up that scrapbook paper!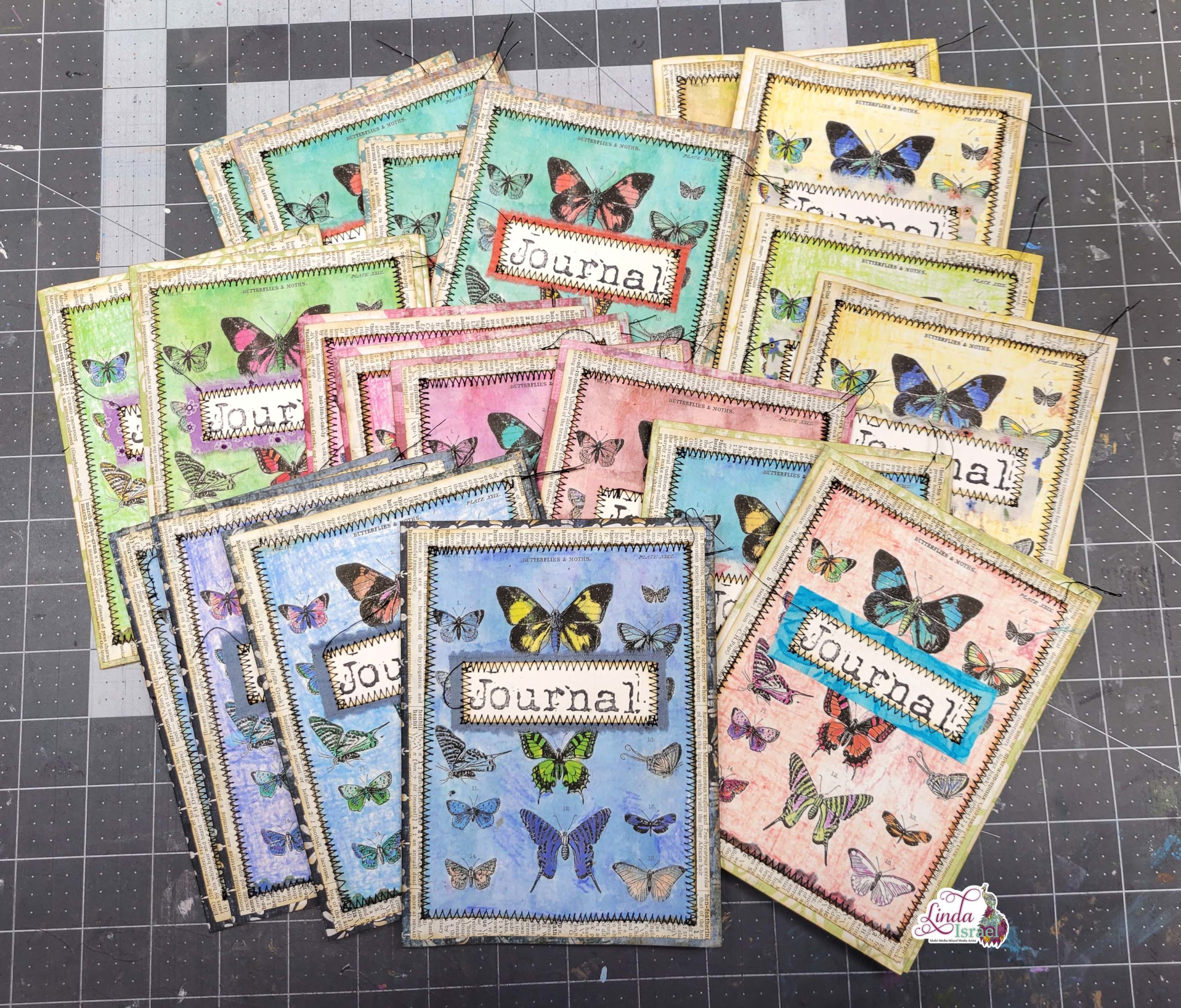 Here is a tutorial where I use stamps on a journal page.
The following videos show ideas on how to use rubber stamps in projects.
Book Pages into Journal Card Tutorial. Using a variety of book pages, Tattered Angels Glimmer Mists and stamps I'll show how to make a beautiful vintage style journal card. 
This project is a great way to use up book pages. Adding rubber stamped images alters the look of the book page and allows a lot of creativity. Try changing the color of book pages with Tattered Angels Glimmer Mists or even acrylic paint and then see how colorful your art can become.
In this Altered Envelopes Tutorial, I'll share how to decorate a few envelopes with Stamps, Stencil and scraps of paper. Get out the random envelopes that you have in your stash and play along.
Be inspired to create with the following Beach Themed Journal Cards Tutorial. In this tutorial You will see creative ways to use rubber stamps and ink to make blended journal cards.
The following video is a longer tutorial showing how to use stamps along with stencils to create two mini junk journals.
Make sure to check out the Friendly Junk Journal People Facebook group. Of course, you are welcome to join the Friendly Junk Journal People Facebook group. The group is growing daily and we are a friendly group willing to help each other and encourage each other.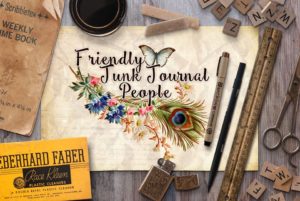 Created by Bline Designs. Made in the USA.
Earn a discount by purchasing any of the following products.