Description
Twenty Halloween Chipboard Pieces #2 included in this set. Chipboard pieces are a great way to add texture to projects. Create scenes by layering over painted backgrounds, stamped backgrounds and layers of papers.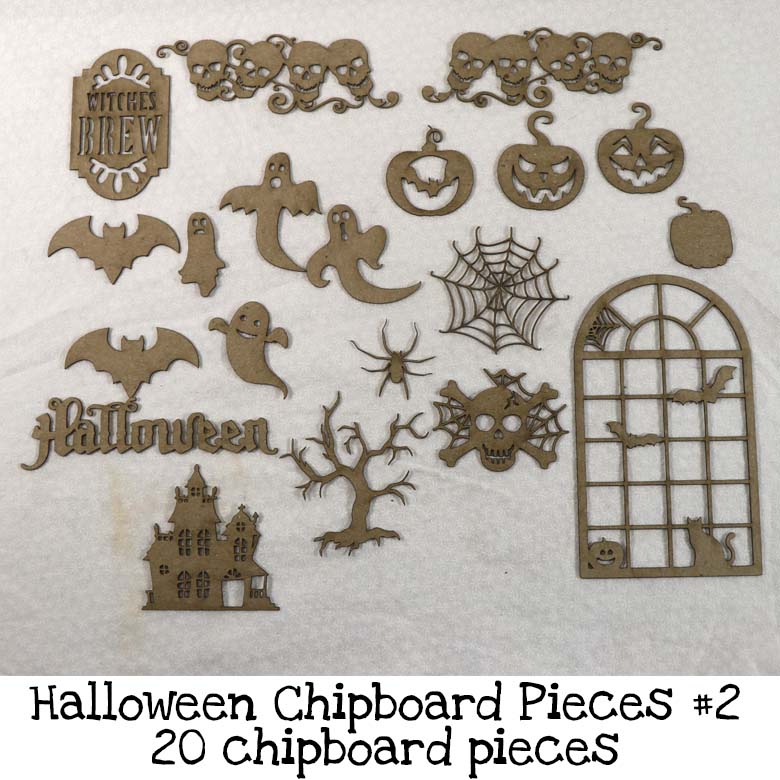 Images included in this set:
Window Scene 3.0 b 4.997 inches
Two Bats 2.25 x 1.225 inches
Halloween 4.25 x 1.212 inches
Two Skull Borders 4.25 x 1.498 inches
Haunted House 2.25 x 2.356 inches
Tree 2.5 x 2.706 inches
Witches Brew 2.75 x 1.708 inches
Web 2.368 x 2.199 inches
Spider 1.579 x 1.325 inches
Skull 2.25 x 1.703 inches
Pumpkins 1.5 x 1.643 inches
Ghosts 1.9 x 1.797 inches
Paint with acrylic paint, spray with Tattered Angels Glimmer Mist or leave natural. Coat with white or ivory acrylic paint and then spray with Tattered Angels to get vivid colors. Use Distress Inks to add dimension.  Hand paint details or use markers.
Layer the over other papers or backgrounds to get a peekaboo look as well.
Have fun adding these chipboard pieces to your projects.
Halloween Chipboard Pieces #2 are laser cut. Made in Yukon, Oklahoma, USA.
Live stream on YouTube using some of the Autumn Chipboard Pieces.
YouTube Live Creating Gel Prints and then journal cards using the Out To Sea Chipboard Pieces. To give ideas of how to use these in your journals.
Join the YouTube live streams on Monday's at 3:45 pm and 1st Thursdays at 12:30 pm Central Standard time on my YouTube Channel. During the live events I share tips and techniques while I create a project. Come join the chat, win prizes while I create. Feel free to ask questions too.