Description
This set of Wild and Free Tattered Angels Glimmer Mists Kit includes 6 paints that match the Wild and Free Paper Kit. Add Shimmer to your projects using this set of mist paint.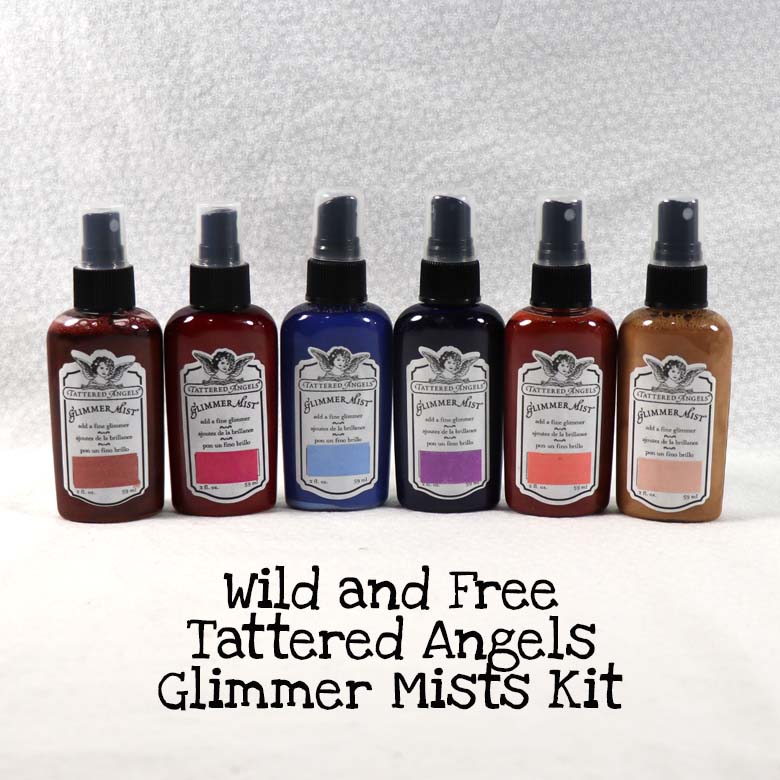 Colors included in the Wild and Free Tattered Angels Glimmer Mists Kit.
Spice – A Spicy Brown with a touch of gold shimmer.
Pink – Vibrant Pink with a touch of gold shimmer.
Blue – Light Blue with a pearl shimmer.
Purple – A Deep Purple with silver Mica.
Coral – Warm Coral with a touch of gold mica.
Vanilla – A light tan sheer mist with brass mic
Add beautiful glimmer to your art. Spray directly on papers, Use Stencils to create patterns, use a paint brush to create water colored images. So many ways to use these beautiful mists.

NO Coupons or Discounts can be applied to this product.
Taking pre orders now for the Wild and Free Tattered Angels Glimmer Mists Kit. Official ship date is set for March 15th.
Colors may vary from photo as each batch is hand mixed.
Exclusive colors only found here at LindaIsrael.com.
water-based mist paint

2 ounce bottle with mist applicator

tinted mist paint with mica accent

use the mister or a brush to apply a watercolor look with mica

shake side to side for best results and shake before each use to spread the mica around

soap and water clean up

acid free and archival safe

wipe any unwanted mist away immediately

protect creative space to ensure you don't have over-spray

protect hands with gloves or you might have a little mist color left when you are done, which is not always a bad thing.

allow to air dry or dry with heat gun, which will enhance the mica

Eco-friendly, this odorless, water-soluble paint is made in the USA.
Flip Through of all the Wild and Free Items.
Watch the live from YouTube, Monday, Feb 21st at 3:45 pm central standard time as I create a junk journal using the Wild and Free Subscription Box, rubber stamps, stencils and more.
Live YouTube, Monday Feb 28th at 3:45 pm central standard time where I use the Large Wild and Free Journal kit to create a journal.
Live on YouTube March 7th creating a Wild and Free Planner.
Tutorial showing how to dye fabric strips and paper with Tattered Angels Glimmer Mists.
Ideas of how to use Tattered Angels Glimmer Mist sprays: Feb 2021 Artistic Stencil Club Sprayed Journal Pages Tutorial
Video showing the POST TAGM Kit when making stenciled backgrounds.