In this tutorial Creating a Mixed Media Folio Journal Base I'll show how to create a direct to paper mixed media page. Then I'll show how to create a mixed media folio journal base – accordion style.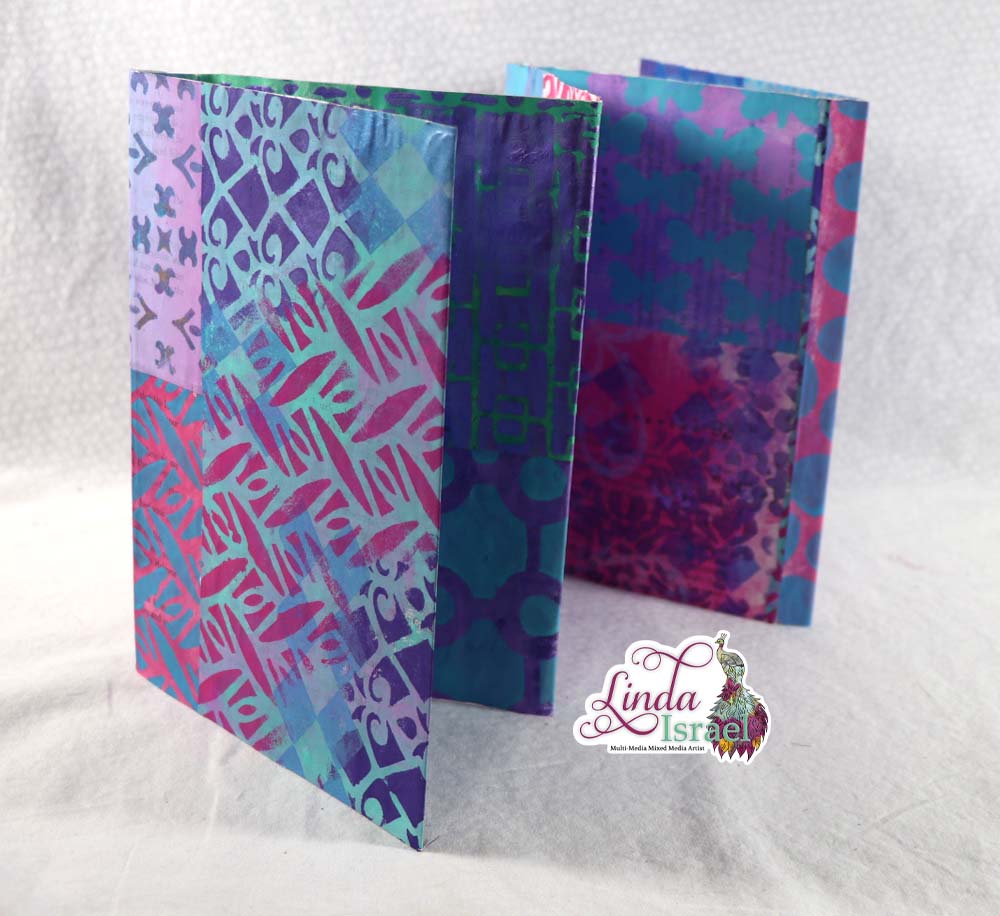 Creating a Mixed Media Folio Journal Base Video – Premier Live on YouTube, August 15th at 3:45 pm central standard time.
Supplies used.
Book Pages
Acrylic Paint
Craft Knife
Ruler
Over sized postcard – junk mail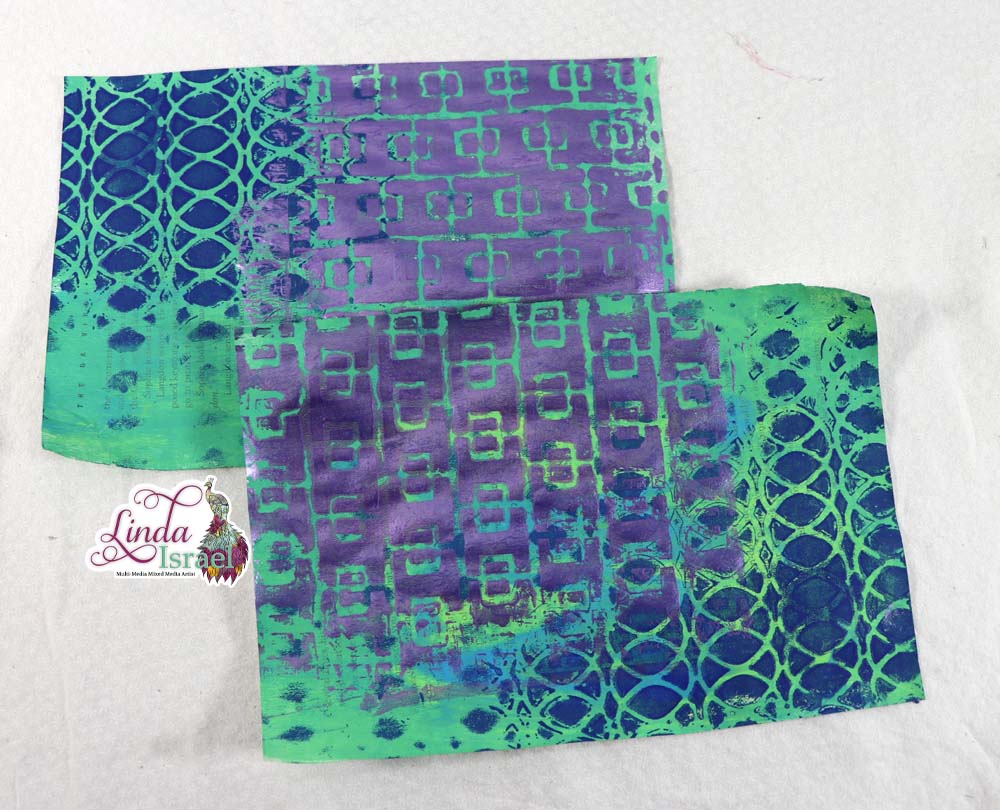 Getting started on Creating a Mixed Media Folio Journal Base is super easy. First I grabbed a few book pages and painted them with acrylic paint. Then using a stencil I added patterns. During last weeks session I showed using a dauber to apply paint through the stencil, this week I showed how to use a brayer. I find that the dauber works best!
Once the book pages have been painted select some to use for the inside and set those aside.
To create the base of the folio journal select a couple of oversized postcards (or other thick paper to chipboard thickness) for the front and back cover. I trimmed mine to be 6 x 8.5 inches.
Next select a few book pages. Mine are from a large dictionary and are slightly larger than 8.5 x 11 inches. I like to keep my journals around the 5.5 x 8.5 inch size. I trimmed the book pages to be 8.5 tall and left them long.
Start by gluing a plain book page to the postcard and then keep adding book pages to the end until you get the length you might want. For this journal I think I used 4 pages.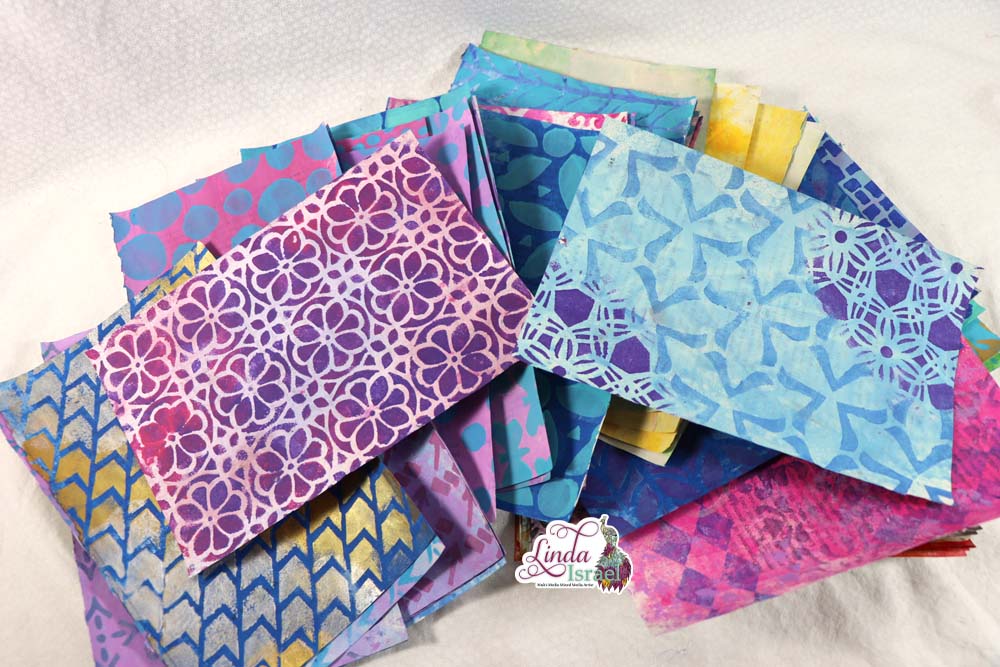 I like to have my postcard covered with book page so I covered both of those so that the whole base will look like never ending book pages. lol
Accordion fold the pages at the size you want. Mine are six inches wide.
Once you have the journal pages folded you can now start adding the painted pages.
I decided that I would cut several pages so that I could get a patchwork effect.
Adhere the pages using Aleene's tacky glue or your favorite adhesive. When one side is covered with the mixed media pages, fold again. This will help train it to know where it should bend.
Continue adding papers to the other side.
See how simple this was to create? This is one of those projects you could put on some music, or a favorite movie/tv show and just have fun playing.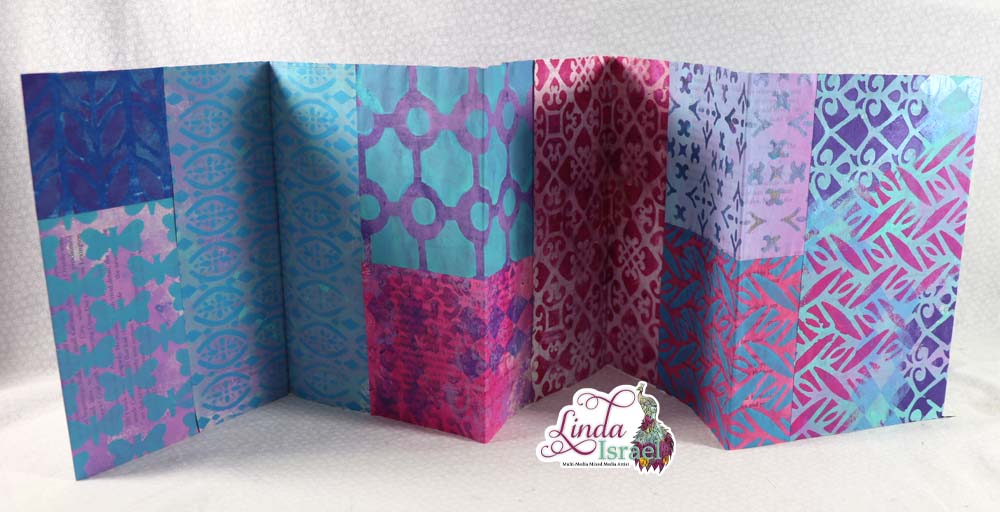 Come back next week and see how I decorate the folio journal with mixed media papers, stamps and more.
Visit the Friendly Junk Journal People Facebook group. Of course, you are welcome to join the Friendly Junk Journal People Facebook group. The group is growing daily and we are a friendly group willing to help each other and encourage each other.

Interested in any of the projects Linda has created? Please feel free to contact her through her website. Here is her shop, a lot of items featured and more added weekly.
Keep updated on her posts by following the blog by creating an account.  Follow Linda on her Facebook Page or on Instagram for updates that may not be shared on the blog.
Thanks so much for stopping by the blog today to see Creating a Mixed Media Folio Journal Base.