Sharing a quick Gel Print Fabric Junk Journal Cover Tutorial today. Using a scrap of white canvas, gel plate, stencil and acrylic paint, I'll show you how to create a custom gel print fabric junk journal cover.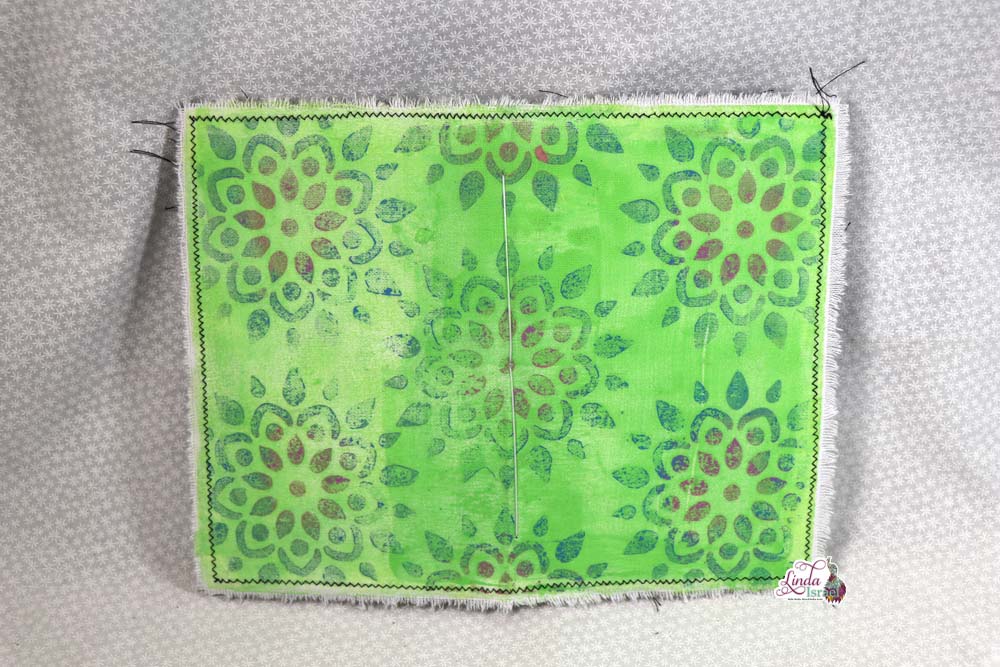 Gel Print Fabric Junk Journal Cover Tutorial Video
Supplies for the Gel Print Fabric Junk Journal Cover Tutorial
Using the Gel Print Fabric Junk Journal Cover Tutorial is a great way to create a custom cover. For this project white canvas was used. But think outside the box, you can use any fabric that you have on hand. Just know that you may have to use darker paint to cover a dark fabric or print.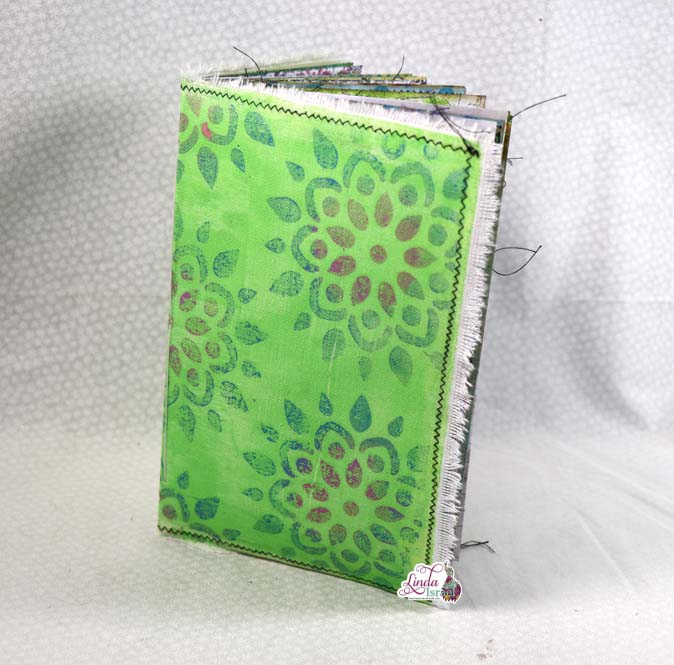 The Mandala with Dots Stencil and the Dusty Concord with Mermaid Lagoon, and Picked Raspberry distress oxide inks on the inside cover adds a beautiful touch.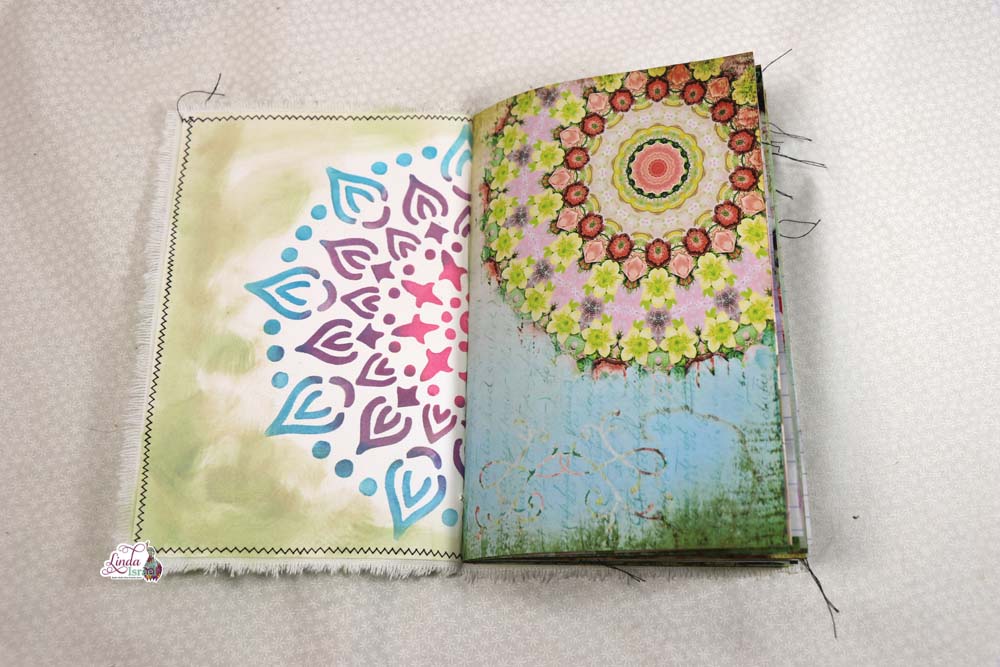 Use those scrapbook papers. The pink floral page on the right was a 12 x 12 scrapbook paper cut down to create a pocket page.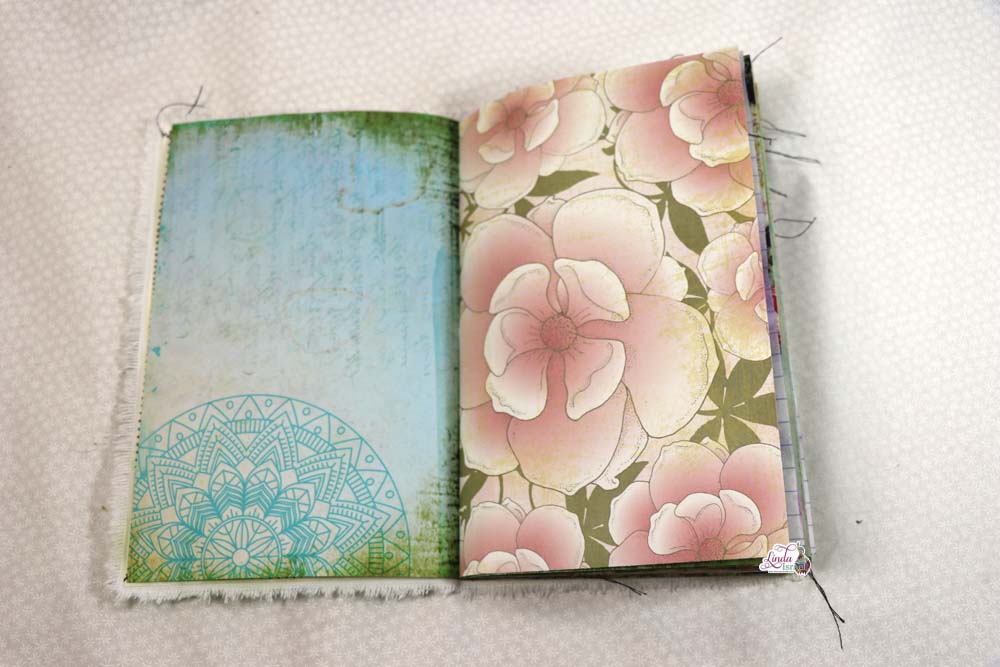 Add a stencil design like the diamonds with flair to the backside of scrapbook paper. Also used was the Bombay Travel Company Cube Stamps to add a small pattern to the painted green paper. Stamp one of the Textured Edges stamps around the edge to create an interesting boarder.
Using the stamp Discovery from the Serenity Stamp set, on a scrap of paper, layer onto a painted page that is layered onto a book page for a unique page label.

Master boards are a great way to use up scraps of paper and create accents for journal cards as seen on the purple journal card on the left.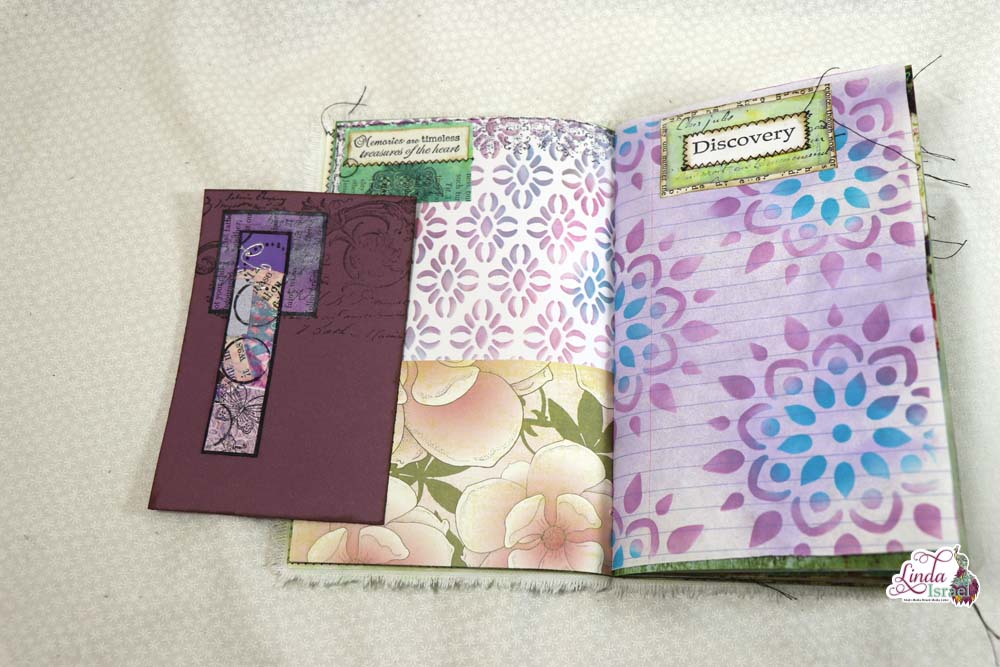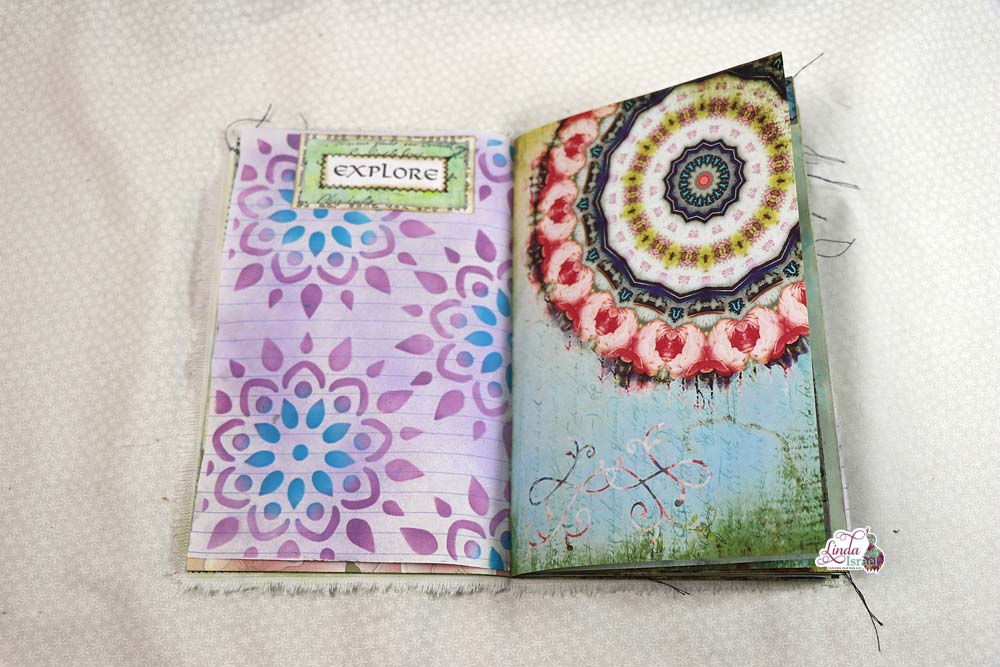 The page on the right is a book page that was sprayed with Tattered Angels Glimmer Mists and then layered with tear off note pad sheets. Stamped the Bombay Travel Company and Stitches to finish the page.
On the page on the right, paint a book page with ivory acrylic paint. Then using a paint brush paint with Tattered Angels Glimmer Mists. This lets you still see a hint of the text and have a writing space. The page was then accented with a gel print at the top, Stitches stamp set and then another book page painted and stamped with images from the Bombay Travel Company Stamp Set for the pocket.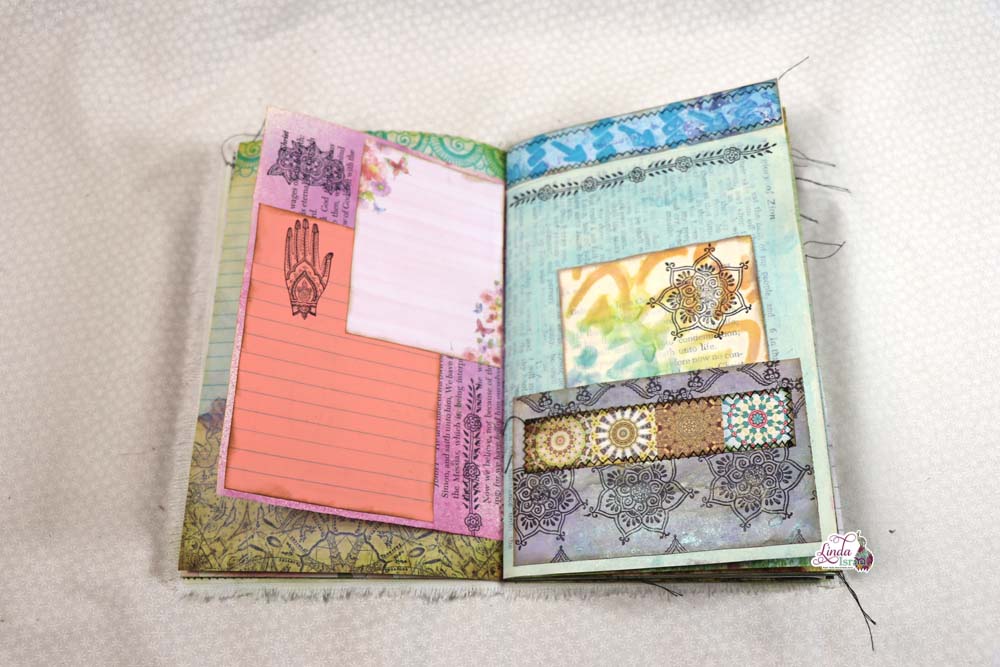 The journal card was a book page, painted with ivory acrylic paint using a gift card scraping technique. And, then used distress oxide inks with the Mandala with Dots stencil applied with blending brushes. To give a water color effect the piece was then sprayed with Dazzling Diamonds Tattered Angels Glimmer Mists. The card has a pretty shimmer. The book page was then adhered to a piece of pale green linen paper and then stamped with an image from the Bombay Travel Company Stamp set.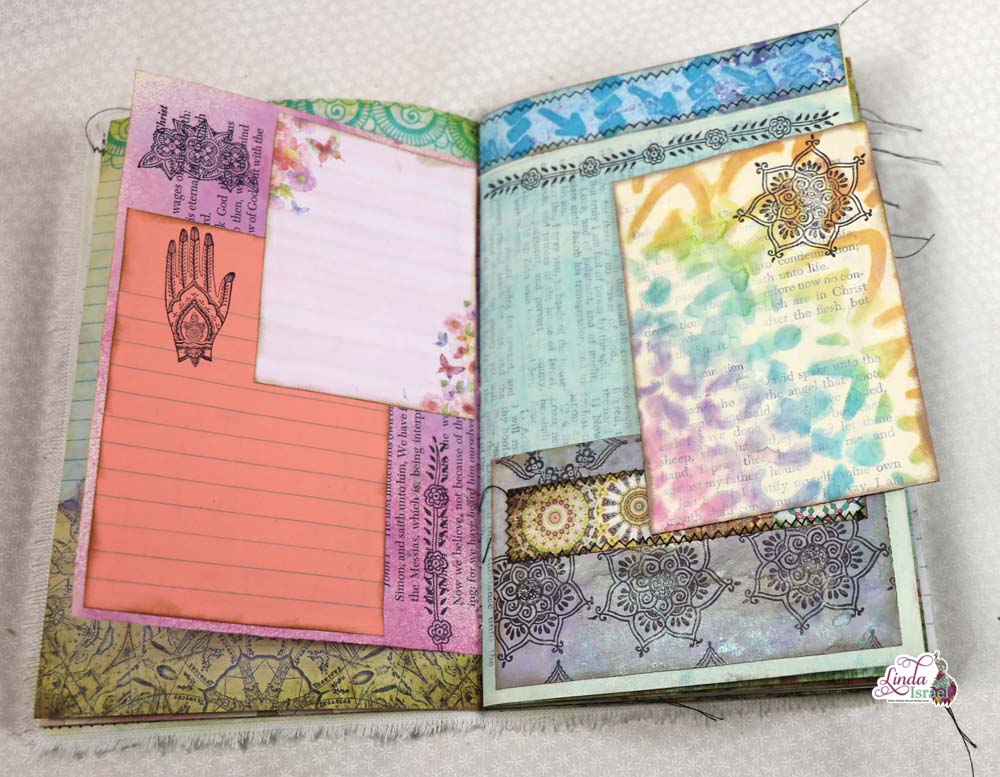 The Stitches stamp set was used to create a frame on the left page. Celebrate the Journey was stamped at the top center. Use rubber stamps to create interest to a page and see how beautiful your pages will turn out.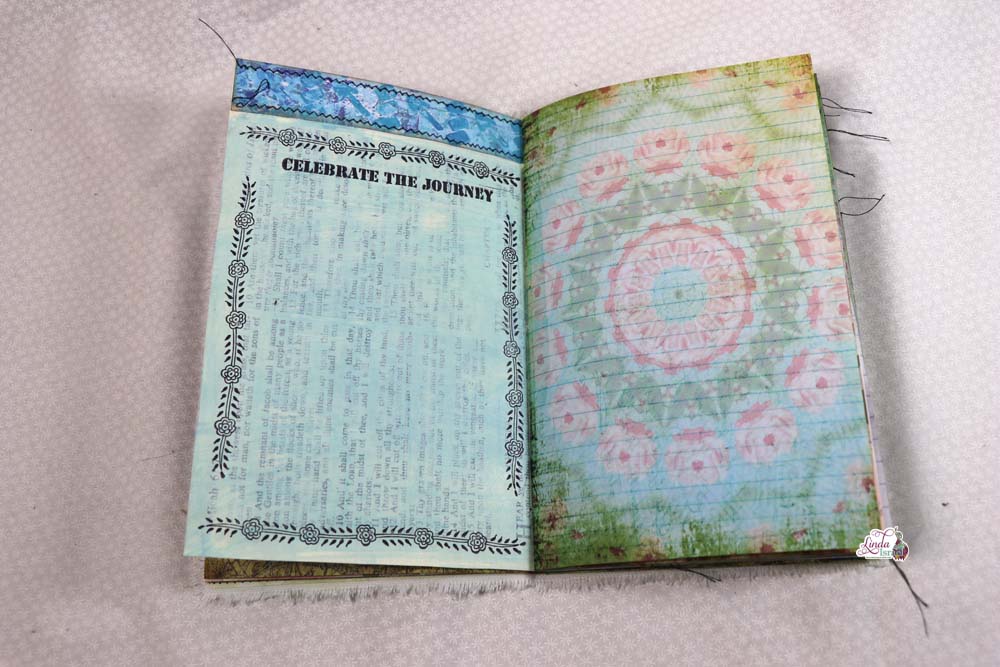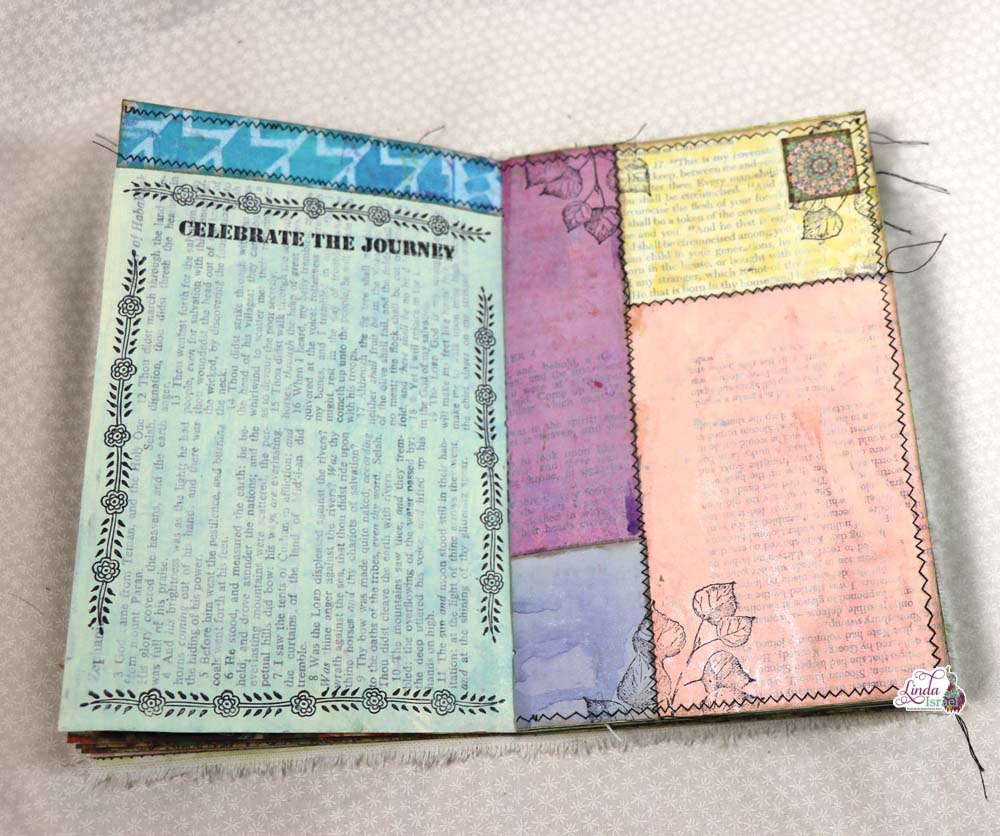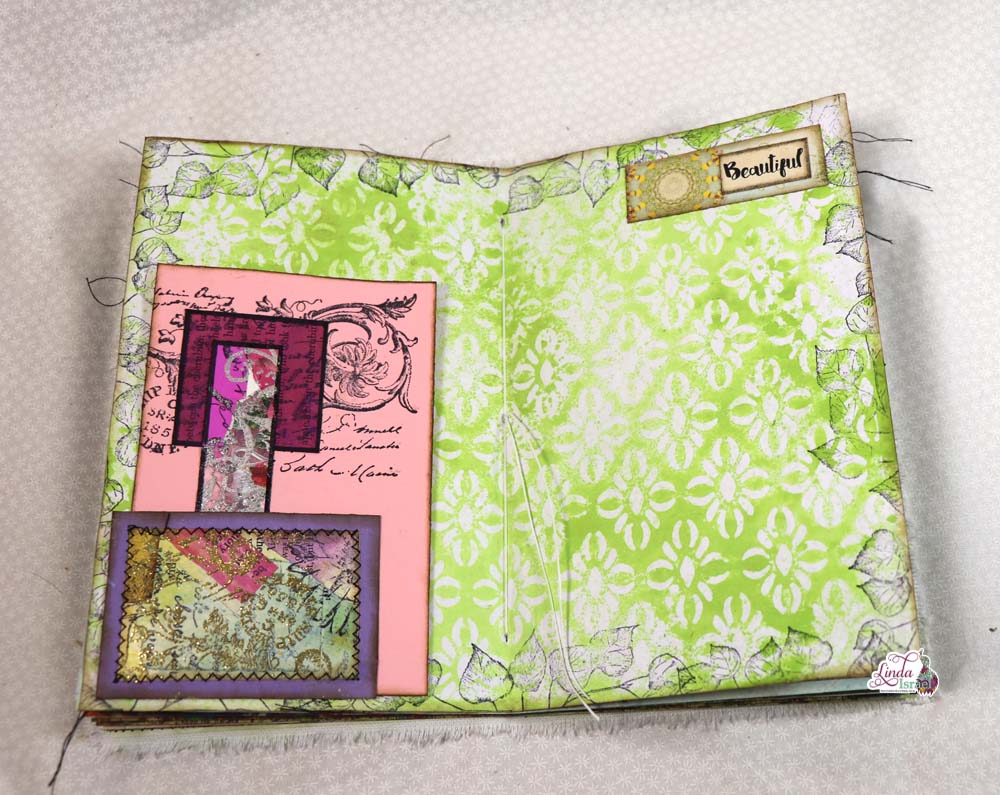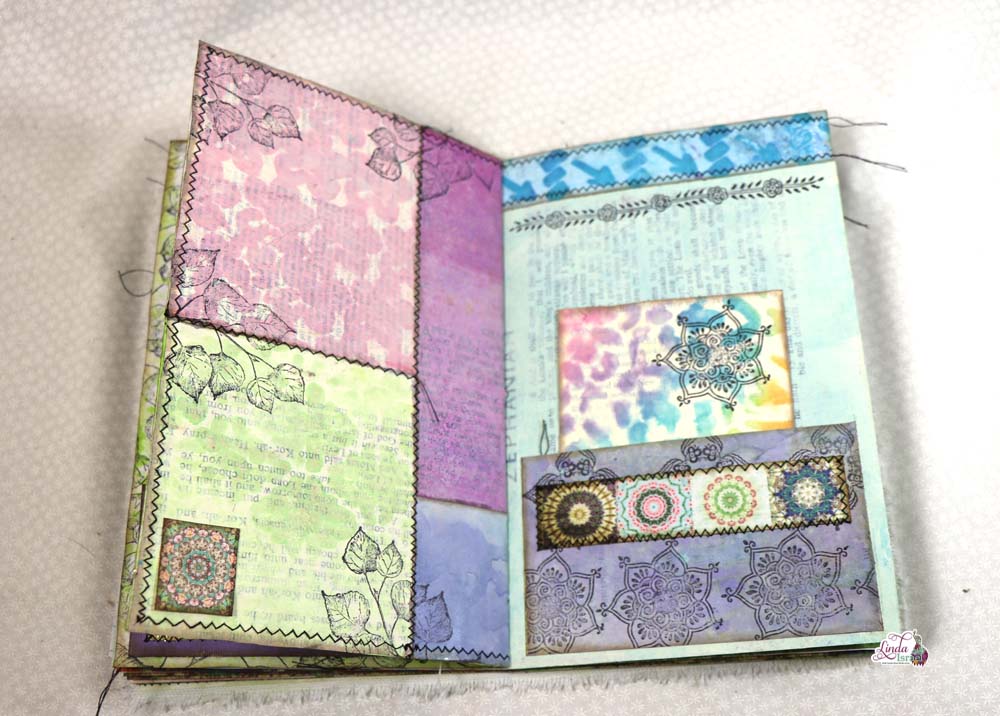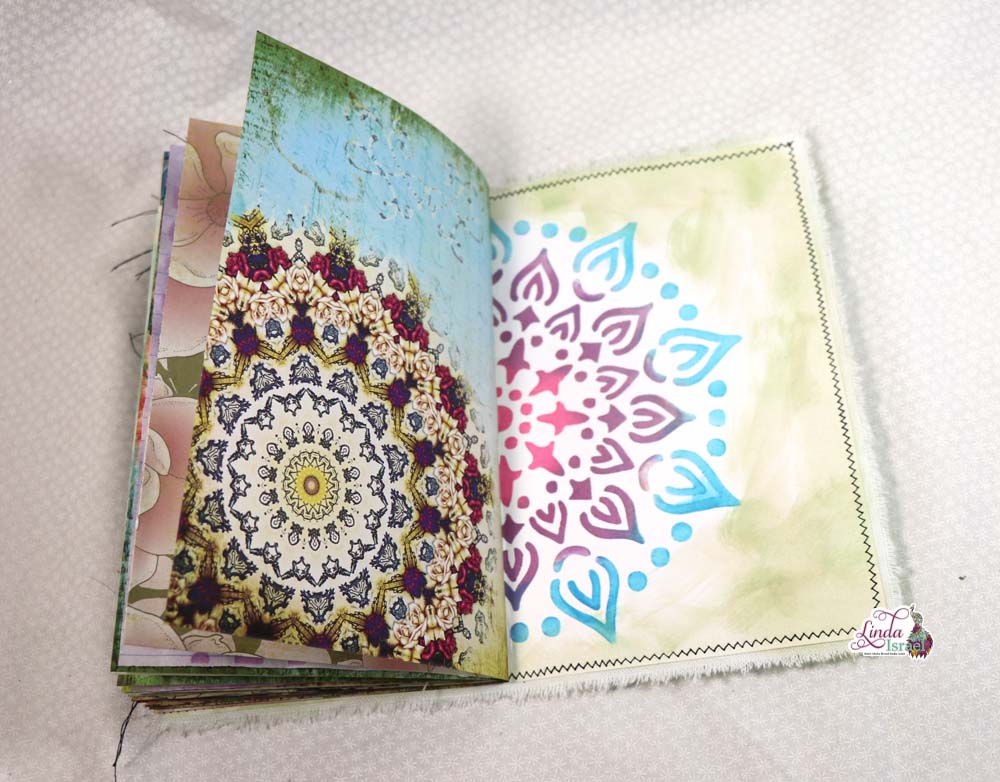 Have you ever used your stencils to create a fabric journal cover?
Robin Fennessy
Make sure to check out the Friendly Junk Journal People Facebook group. Of course, you are welcome to join the Friendly Junk Journal People Facebook group. The group is growing daily and we are a friendly group willing to help each other and encourage each other.

Interested in any of the projects Linda has created? Please feel free to contact her through her website. Here is her shop, a lot of items featured and more added weekly.
Keep updated on her posts by following the blog by creating an account.  Follow Linda on her Facebook Page or on Instagram for updates that may not be shared on the blog.
Thanks so much for stopping by the blog today to see my Gel Print Fabric Junk Journal Cover Tutorial!