Today is all about Completing UFO's 1 Accordion Fold Journal. I have so many unfinished objects in my stash that I thought it would be a good idea to make a series where I finish those objects. This is the first project.
Completing UFO's 1 Accordion Fold Journal Tutorial Video Live Premier, January 30th at 3:45 pm central standard time.
Supplies Used.
Gel Prints
Mop Up papers
Scrapbook Paper
Sewing Machine
Sheet Music / Hymnal
Fabric scraps
Napkin
Coffee Dyed Paper
Cluster
Altered Paperclip
Post Card Stamps
For this UFO I had an Accordion fold journal Part 1, and Part 2 I started in May of 2022. I thought I need to take the time to finish it today! An accordion fold journal is so very fun and easy to create.
This Journal card was made in May of 2022, but I really love how it turned out. It is a lot of fun to use gel prints, painted papers with digital images.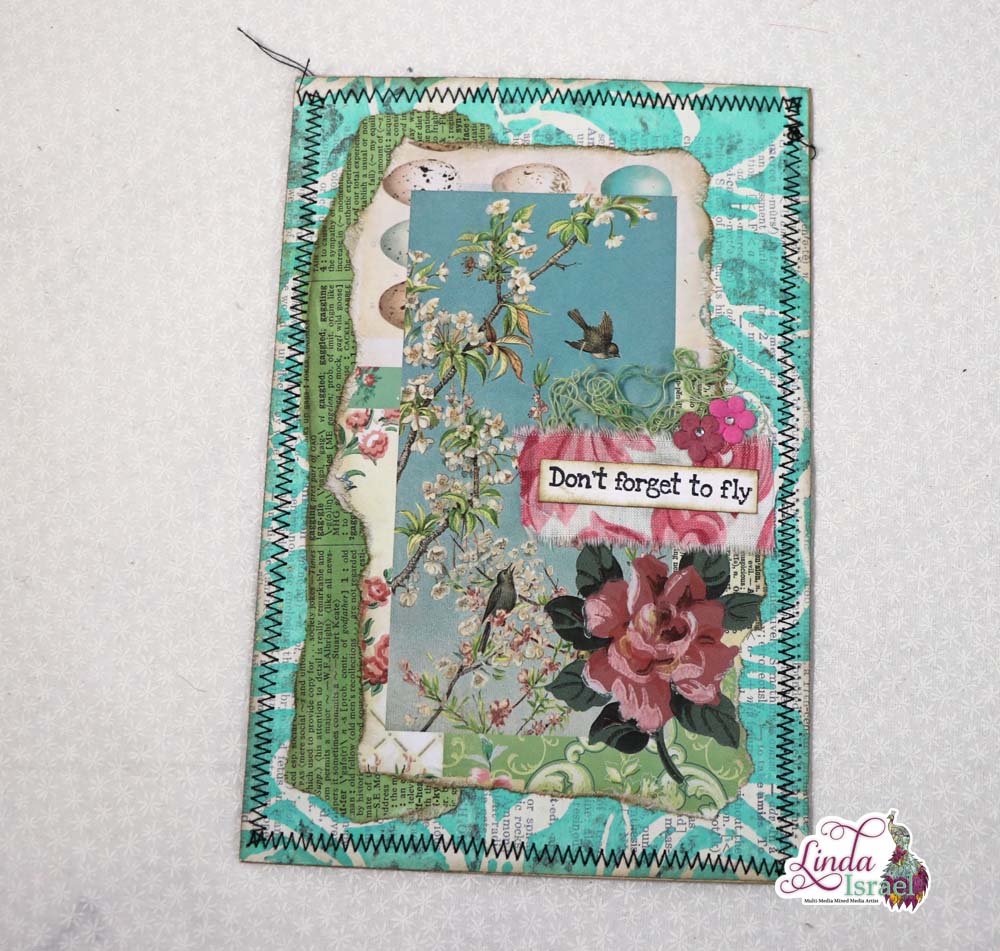 Adding an index card that was given to me on the back gives lines for journaling. The Corner Roses stamp can be left plain, or it can be colored. Adding My thoughts linger here, gives a nice prompt to write.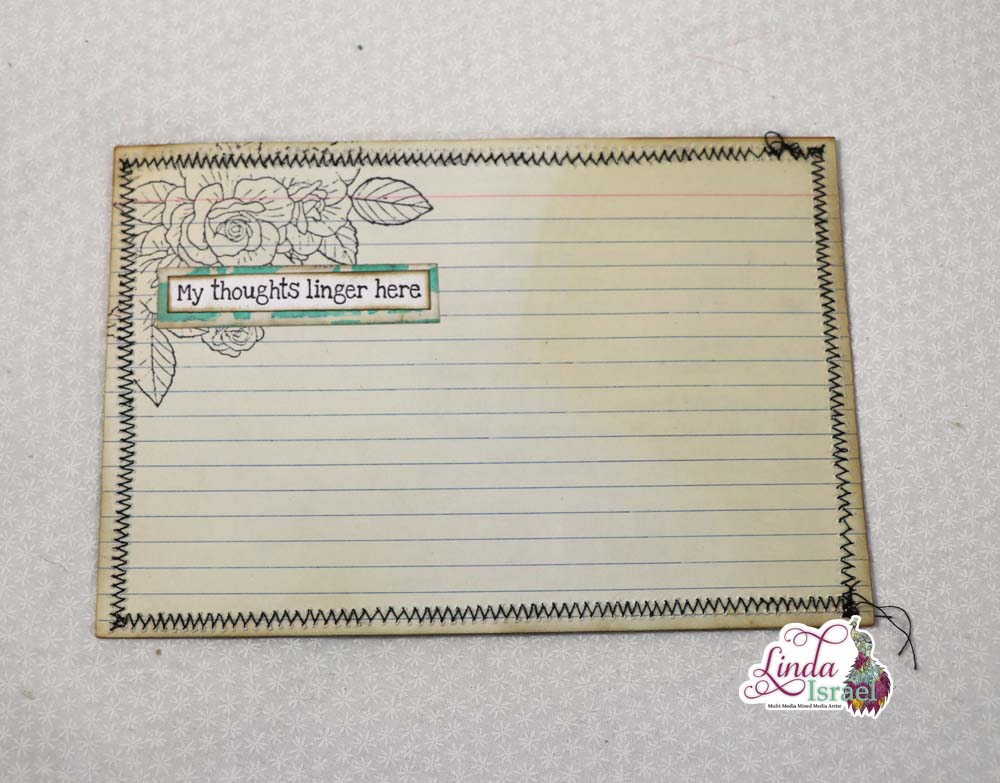 This flip up page features a mini journal inside a window pocket. By creating a mini journal it makes it easy to take out of the mine journal to write.
It makes me happy to look at the below page. All the patterns and colors are my favorites. Many times I would look at other peoples work and think, there is no way I can create that. Then when I do it and sit back to ponder how it all came together I realize that it is much easier than I thought! Don't be afraid to try things outside your comfort zone!
What I love about making an Accordion Fold Journal is that when you get to the last page, it becomes the first page of the other side of the journal! So it can seem like a never ending journal!
Stenciling on the back side of scrapbook paper adds a beautiful pattern to plain paper.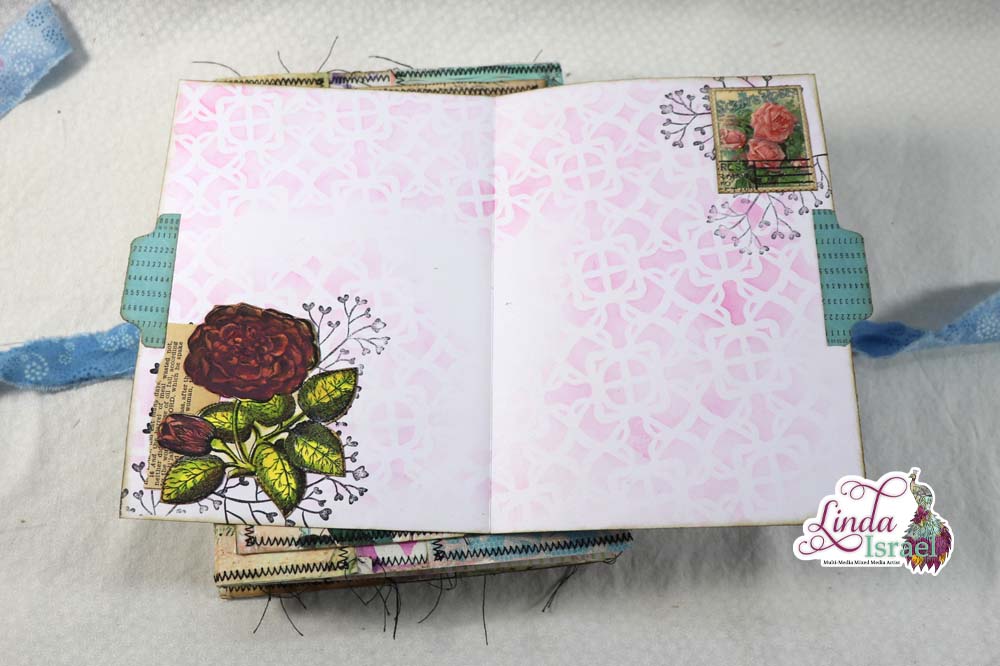 The inside of the back cover page didn't have any embellishment. Adding a couple of mixed media pockets added the layers and space to hold journal cards.
I was able to use some scraps of mixed media papers, digital images, fabric, sheet music and scrapbook paper.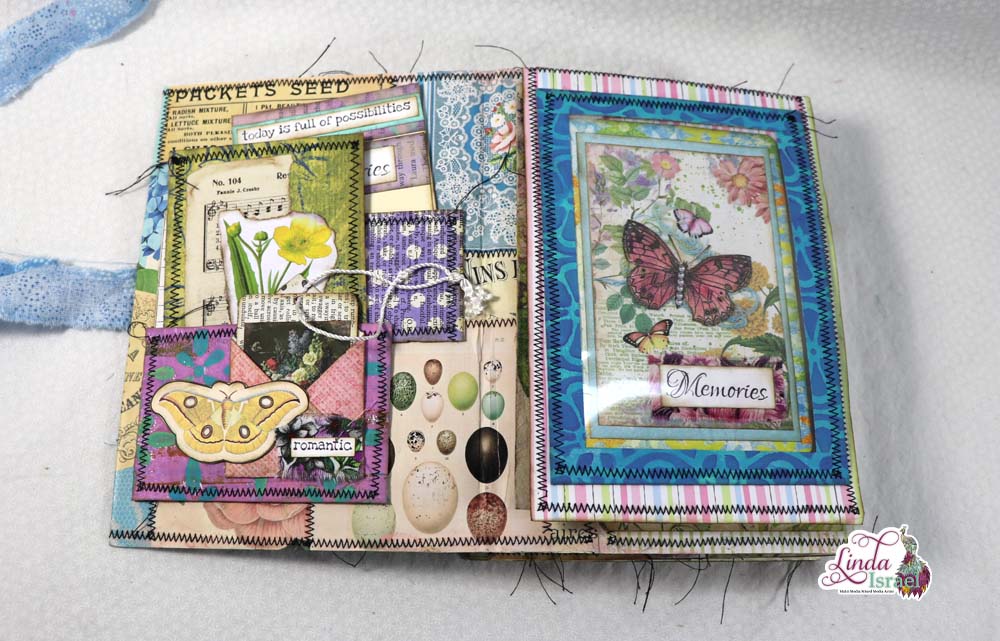 I'm glad I had taken some time to create a few stamped images like the Be Fearless, Memories Stamp and Today is full of Possibilities. Having those handy lets me be more creative in the moment. The Library Card 2 also gives a little bit more creative journaling space.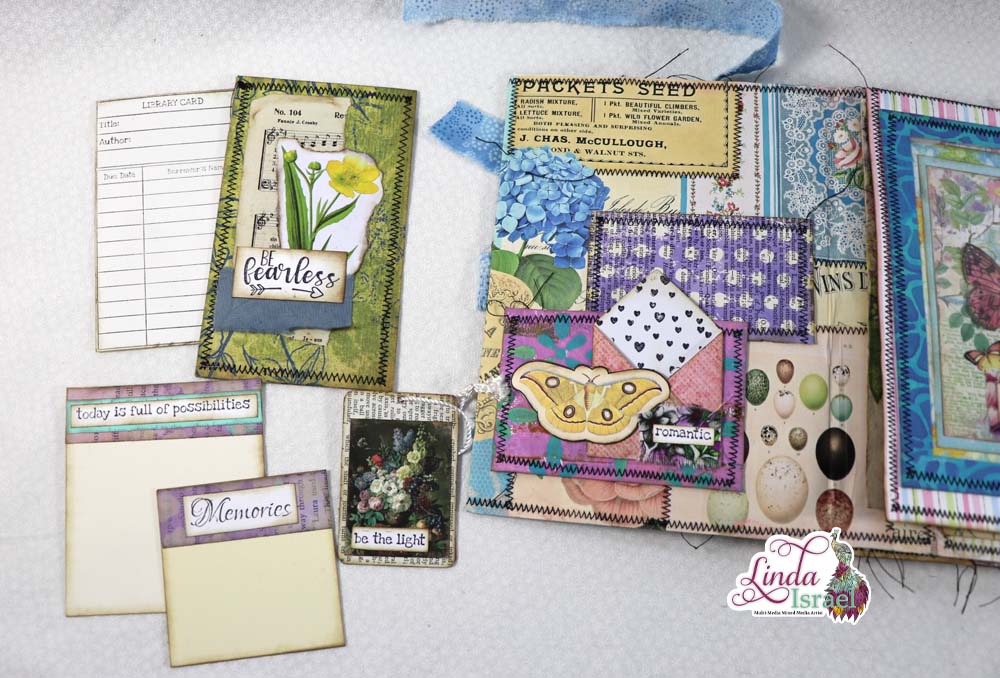 Use strips of painted book pages to create pockets to hold a mini journal.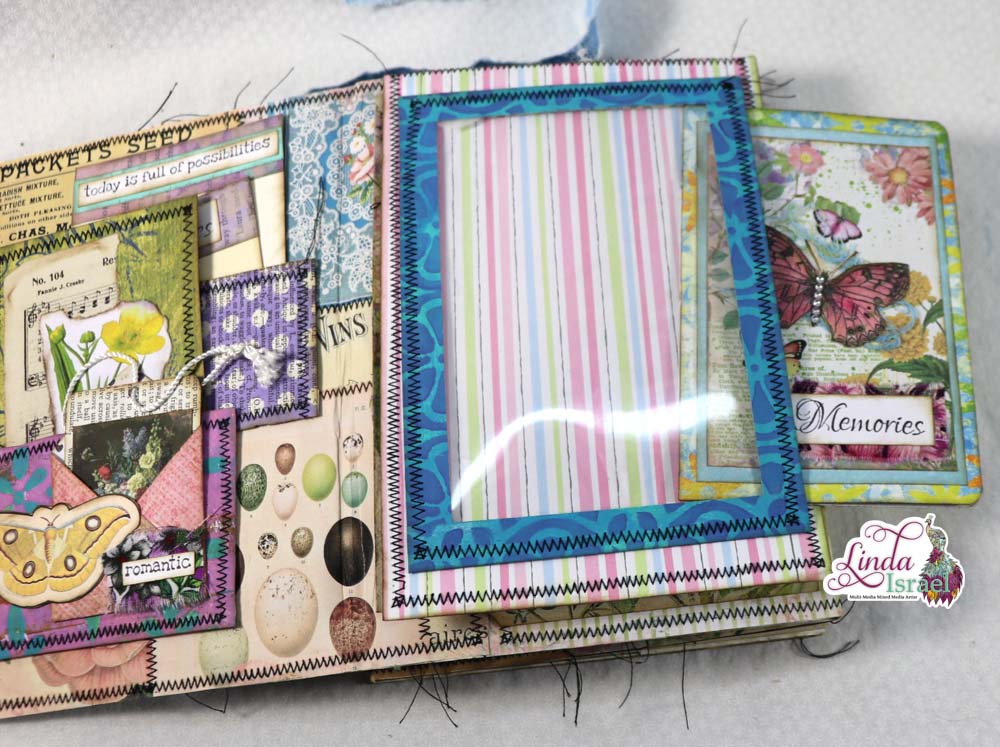 Creating journaling space out of a folded coffee dyed piece of copy paper is so easy! I love adding the napkin and stamping.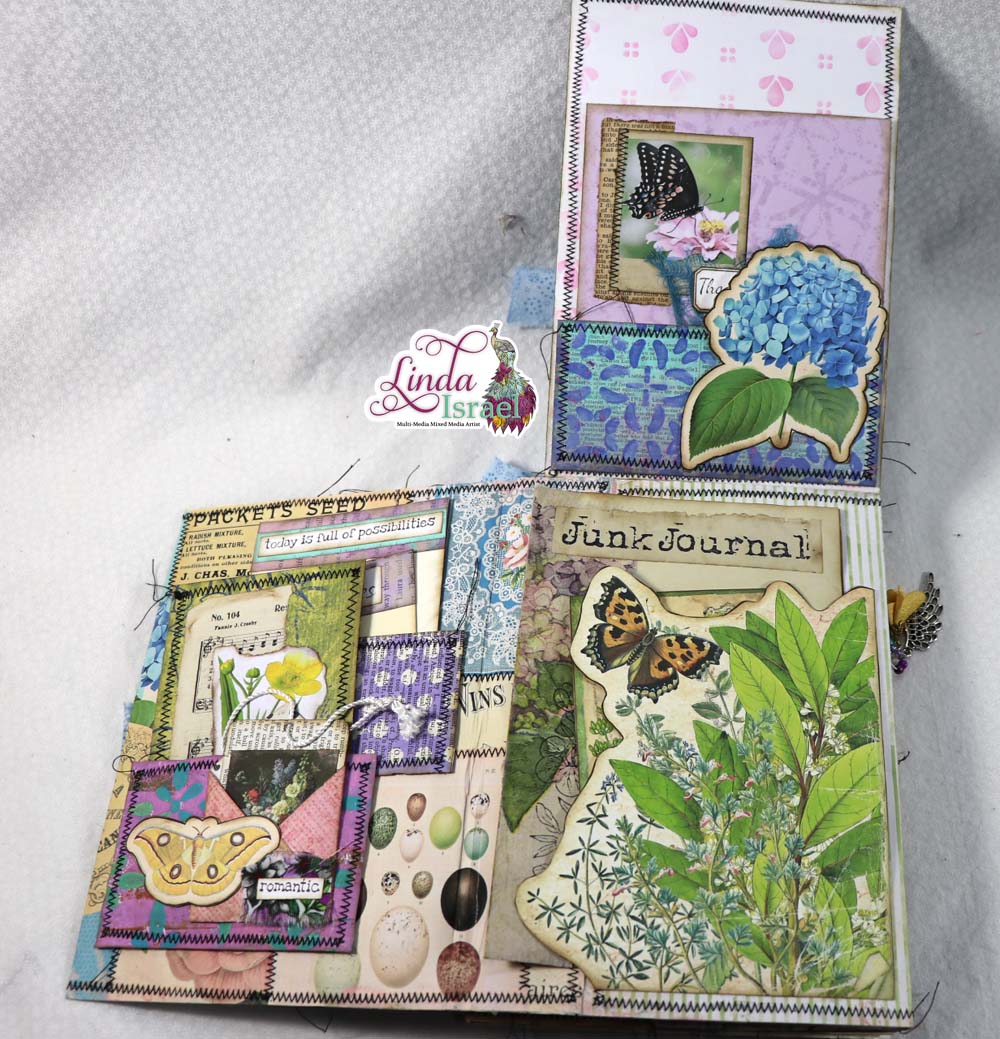 Save those scraps of paper and stamp sentiments and words. These are perfect to layer with. The Junk Journal stamp is layered over a torn bit of napkin and then the Flax stamp was over stamped on the napkin.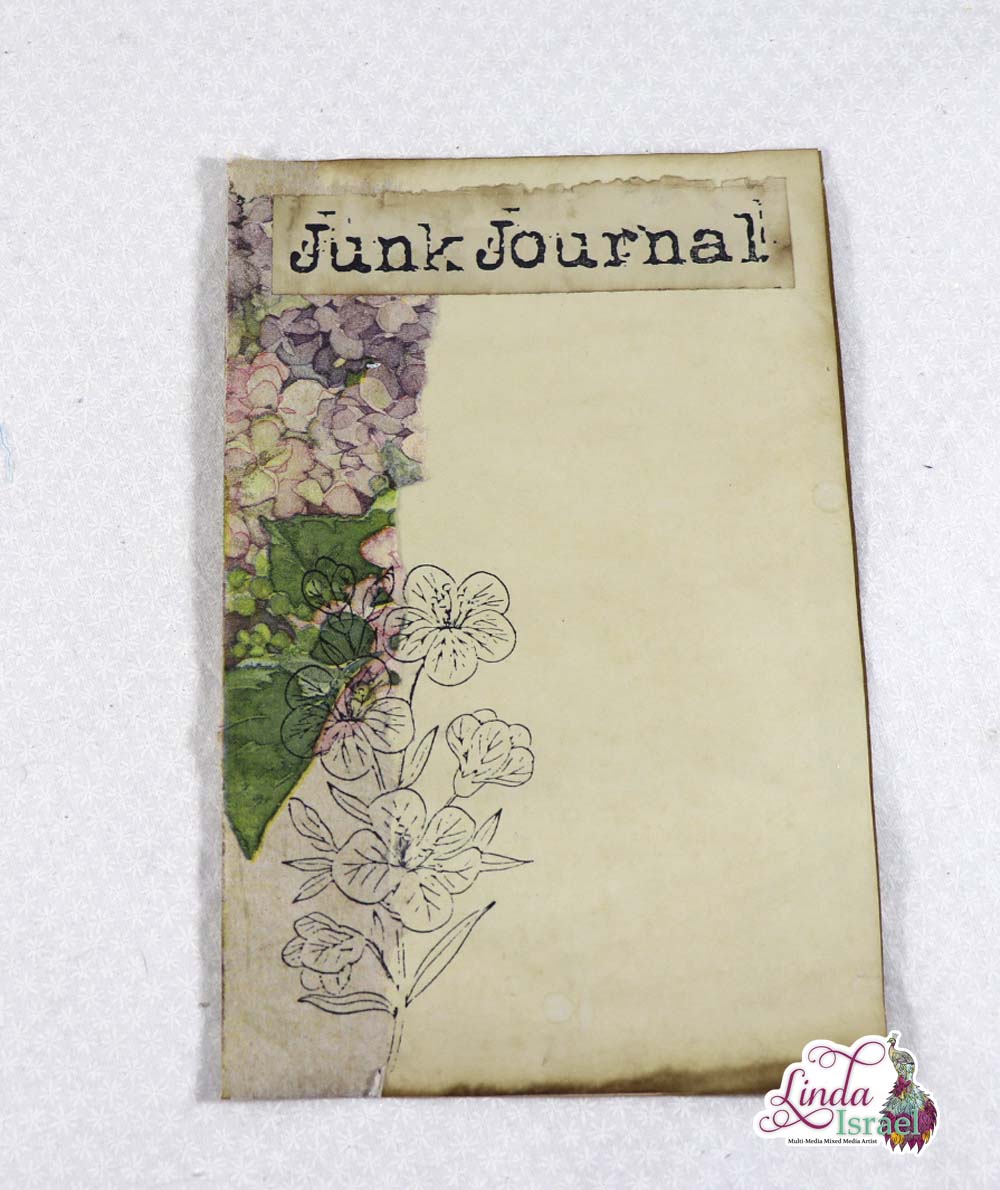 On the back I stamped the Vine with Curls and added a fussy cut flower from Calico Collage.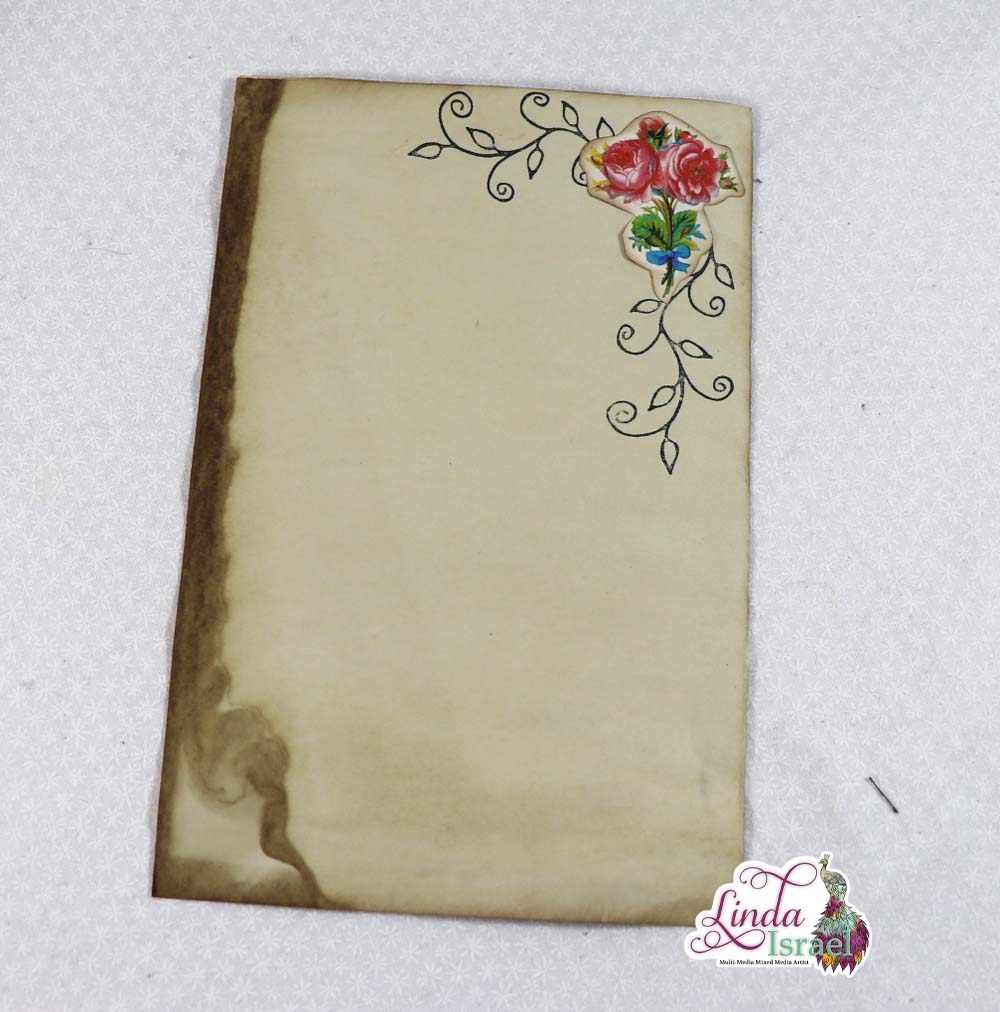 If you have only a bit of a paper that you want to use but are not sure how, this is portion is perfect. I glued other papers on a book page. Created a pocket and flip out page along with additional journaling pages! There is a lot in just one flip out!
Adding more writing space over an oversized post card is super fun! The Small rose stencil continued the theme with all the beautiful colors in this journal.
Adding a premade cluster is a perfect touch to this avocado dyed paper.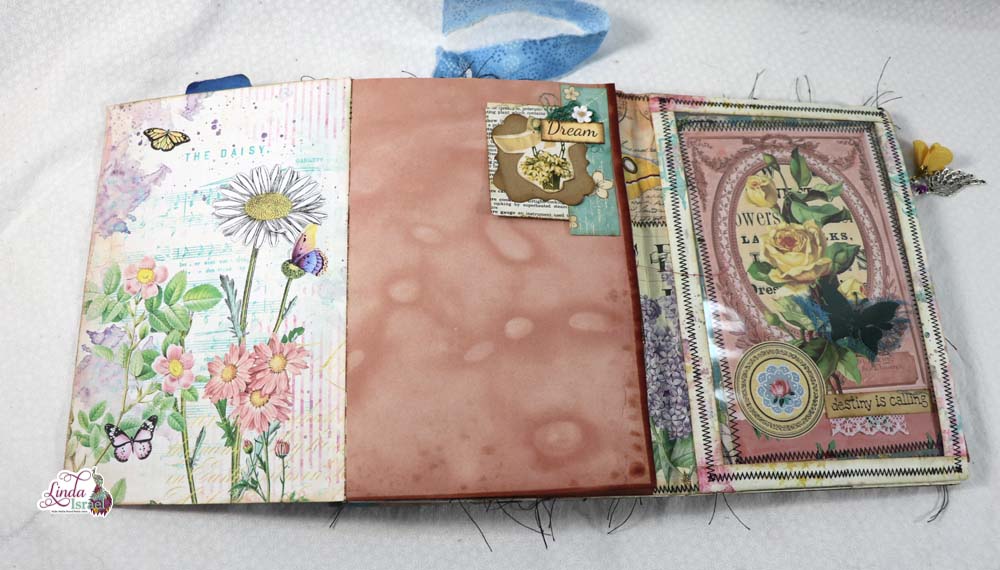 Isn't the bunny and flowers stamps super cute? I'm glad I added those to my stamp collection. I think I'll be using those a lot!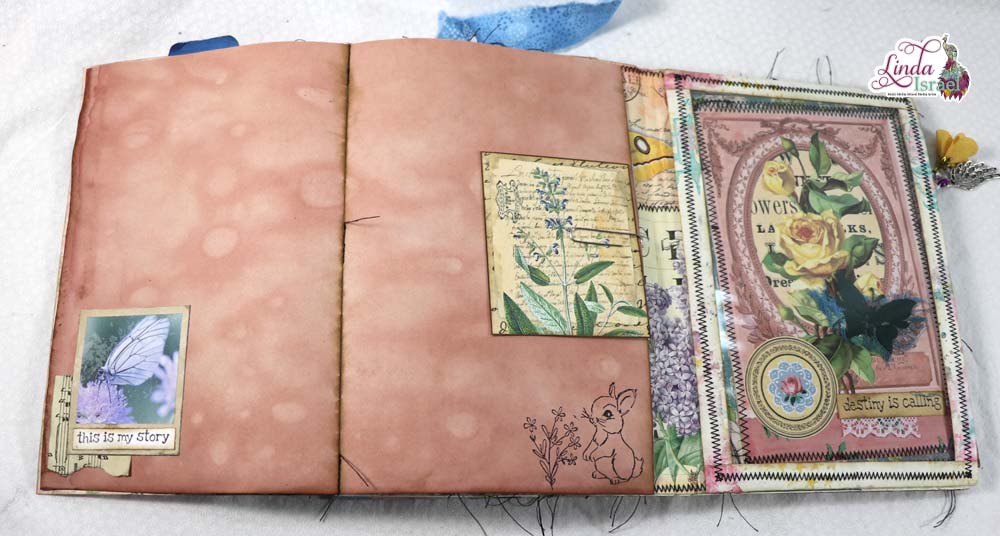 I love the bunnies and pots stamp so much! Those cute little bunnies peaking out makes me smile! Adding an altered paper clip adds a little color to the page.
The blue bird pocked in the middle was part of one my altered paperclip sessions, and I decided to turn it into a pocket. It is okay to start a project with one idea and change your mind! It is your journal. Create what makes you happy!
Another journal insert / folio is a great way to add additional writing space. I love how the charms look hanging off of the page tab!
Get out one of those UFO's and finish it! In the month of March there will be a challenge inside the Friendly Junk Journal People Facebook group, where you take a photo of your UFO, then finish the UFO and take more photos and share it in the event. So start sorting through your projects and find one that you can complete and share in the event!
Visit the Friendly Junk Journal People Facebook group. Of course, you are welcome to join the Friendly Junk Journal People Facebook group. The group is growing daily and we are a friendly group willing to help each other and encourage each other.

Interested in any of the projects Linda has created? Please feel free to contact her through her website. Here is her shop, a lot of items featured and more added weekly.
Keep updated on her posts by following the blog by creating an account.  Follow Linda on her Facebook Page or on Instagram for updates that may not be shared on the blog.
Thanks so much for stopping by the blog today to see Completing UFO's 1 Accordion Fold Journal.