Description
Flower QT 1 Stencils. Perfect for mixed media projects. Hand drawn stencil designs, cut on my laser cutter. Each stencil will be slightly different only because it is hard to get the cut exact every time.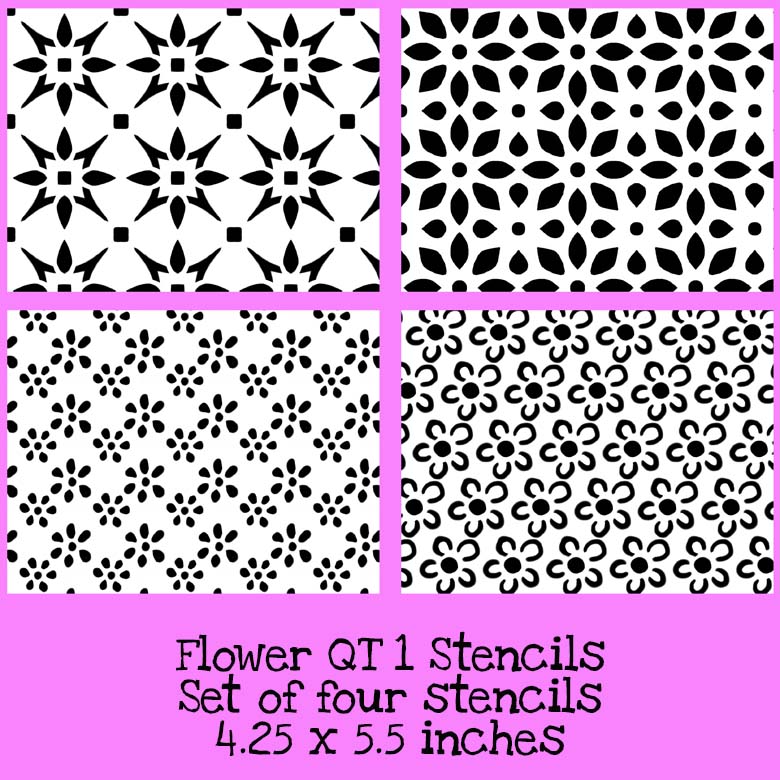 Stencils measure about 4.25 x 5.5 inches. The design is laid out in landscape mode to mimic the larger stencils of the same patterns. The designs are slightly smaller than the full size stencil so it makes a great companion.
This set of Flower QT 1 Stencils includes the following patterns that match the larger version of the same designs.
These smaller stencils were inspired when I was planning on vacation and wanted to take a few stencil designs with me, but didn't want a full 8.5 x 11 inch stencil design.
The stencils are hand drawn using an iPad. Then the image is brought into an editing software to create into a cut file. Using a commercial laser the stencils are then cut using a mylar sheet that is .007 thick. These stencils are very thin and work great on gel plates. Therefore, gel printing with these stencils is fun, because the designs are unique.
Stencils are a great way to add color and texture to journal pages, mixed media art and more.
Use a soft oval blending brush and ink to create a direct to paper design. Apply ink through only a portion of the stencil or the whole design.
Spray Tattered Angels Glimmer Mists through the stencil and mop up with a second sheet of paper to get two designs with one spray.
Layer stencils for unique patterns. In the following video I share how to create gel prints using stencils
This Tutorial Video shows how to create sprayed background papers to use in junk journals and more using stencils.
The following YouTube Live video shows how I use stencils with a gel press to create a page.
Tutorial video Butterfly Gel Print.
Watch videos from my Mixed Media Play List for ideas on how to use stencils in your projects.
Any visible imperfection is part of a handmade item.
Made in Yukon, Oklahoma, USA
Earn a discount by purchasing any of the following products.