Description
TG103D South Forty Tea Label Rubber Stamp. One laser cut Art rubber stamp that measures about 3.203 x 1.976 inches.
Pair with the entire line of plants/herbs in the Apothecary line. Stamp Label on a piece of paper about 3.5 x 4.5 inches, then choose one of the plants and stamp the title of the plant in the lower right section and the plant center top, Slightly larger than a standard tea packet and super cute!
South Forty was the business name my mom used for many years. First she raised dairy goats and we sold the milk and made cheese, later when the herd was sold and she changed to dogs that was the kennel name and her dog grooming business name. Later she started creating silk flower arraignments and that was the business name she used. So I decided that it should be the brand name of my faux tea label.
Stamps come with cling mount to use with your favorite acrylic block, MISTY or Stamp Platform.
Rubber Stamps are a great way to add accents to projects. Use stamps in junk journals, greeting cards and more. Stamp with your favorite ink.
Allow your creativity to flow by using the TG103D South Forty Tea Label Rubber Stamp on Journal Cards, Journals, Greeting Cards and more.
The following videos show ideas on how to use rubber stamps in projects.
Book Pages into Journal Card Tutorial. Using a variety of book pages, Tattered Angels Glimmer Mists and stamps I'll show how to make a beautiful vintage style journal card. 
This project is a great way to use up book pages. Adding rubber stamped images alters the look of the book page and allows a lot of creativity. Try changing the color of book pages with Tattered Angels Glimmer Mists or even acrylic paint and then see how colorful your art can become.
In this Altered Envelopes Tutorial, I'll share how to decorate a few envelopes with Stamps, Stencil and scraps of paper. Get out the random envelopes that you have in your stash and play along.
Be inspired to create with the following Beach Themed Journal Cards Tutorial. In this tutorial You will see creative ways to use rubber stamps and ink to make blended journal cards.
The following video is a longer tutorial showing how to use stamps along with stencils to create two mini junk journals.
Make sure to check out the Friendly Junk Journal People Facebook group. Of course, you are welcome to join the Friendly Junk Journal People Facebook group. The group is growing daily and we are a friendly group willing to help each other and encourage each other.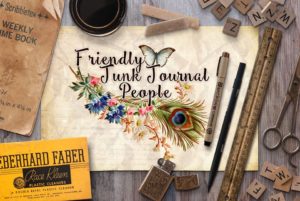 Rubber Stamps Created by Linda Israel. Made in Yukon, OK, USA.
Earn a discount by purchasing any of the following products.