It is here the Royal Peacock Creative Subscription Box. I've been working hard with Norella Bouchard to create a beautiful kit. This wonderful kit features mixed media art I created, A stencil I drew and laser cut, Graphic Designs by Calico Collage, Tattered Angels Glimmer Mists and lots of hand picked goodies.
Get Linda Israel's Creative Box Royal Peacock here $24.99 +shipping and handling.
There are also options to add an expanded journal kit $14.99, mini journal kit $7.99, planner kit  $9.99 and paint $25.99. Also available are digital downloads of the Royal Peacock Journal Kit $14.99 Virtual Subscription or 10.99 when purchased with the Subscription box, Planner Kit $6.99.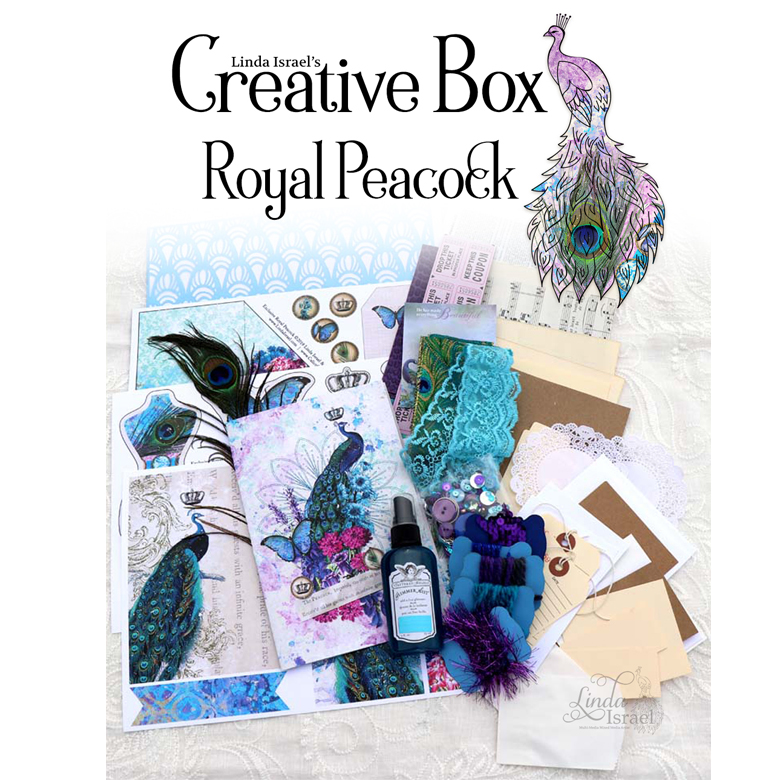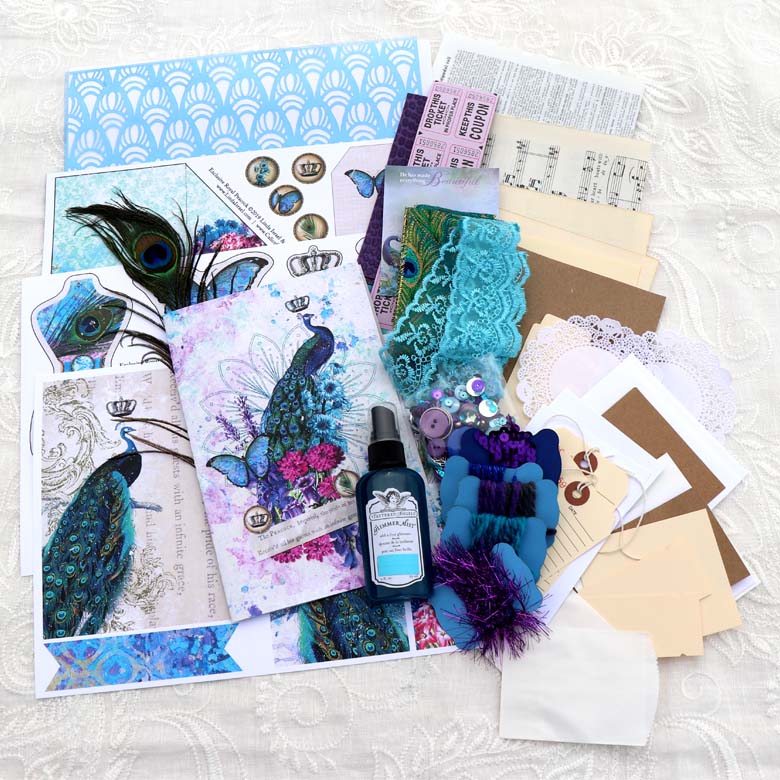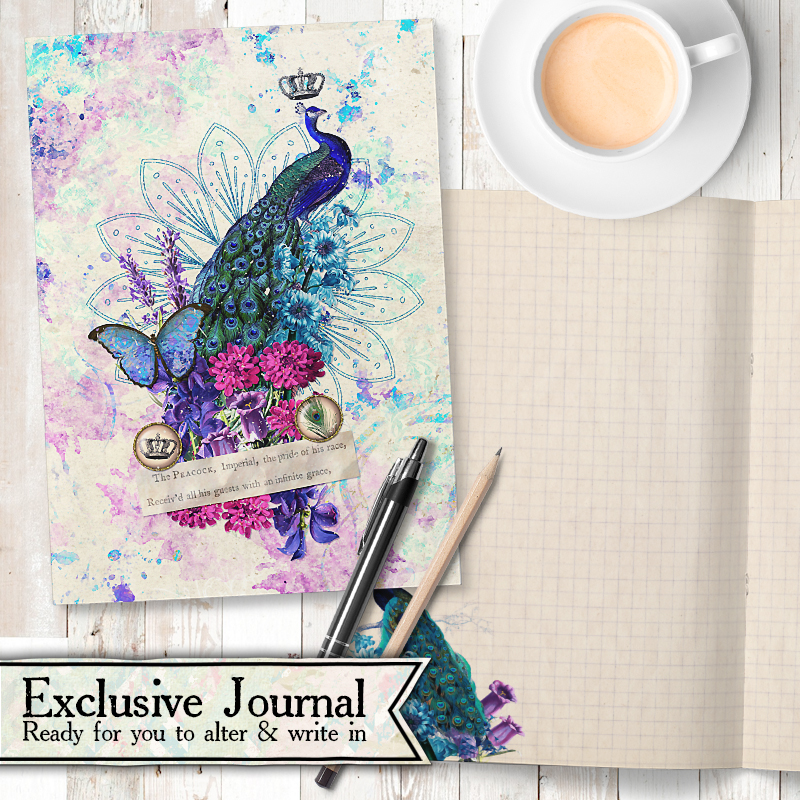 The highly anticipated, fabulous junk journal subscription box is finally here featuring; Calico Collage, Tattered Angels, and items from Linda Israel.
The third bi-monthly subscription box theme is Royal Peacock.
The items included in this subscription box are exclusive to this box and can't be purchased separately. About 100 pieces included in this subscription box.
Including:
Journal Featuring 'Royal Peacock Images' images from Calico Collage and gel print images by Linda Israel, 8.5 by 5.5 with 12 pages ready to decorate.
Calico Collage Ephemera, featuring tags, words, envelopes, enclosure cards, and postcards.
Linda Israel 'Peacock Stencil' exclusive to this subscription box.
One bottle of Tattered Angels Glimmer Mist.
Linda's hand-picked goody pack, featuring: Lace, Music Pages, Dictionary Pages, embellishments, charms and more.
Flip through the contents of the box.
Subscription Boxes will ship out April 15th.
The next subscription box will have the same structure but in a different theme. You can make changes and/or opt-out at any time. The choice is yours.
---
Royal Peacock Digital Printable Journal Kit add-on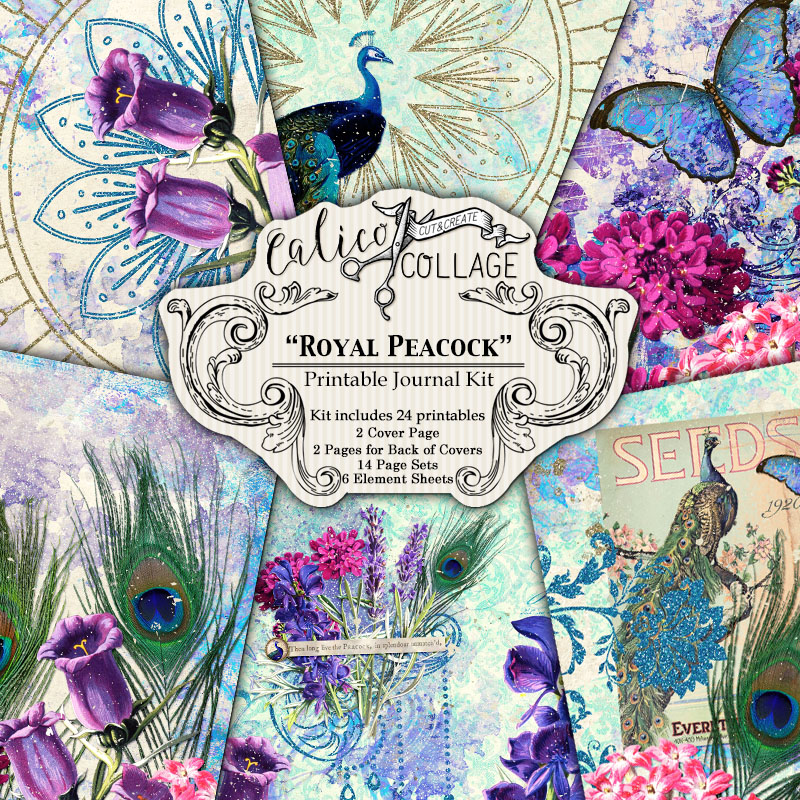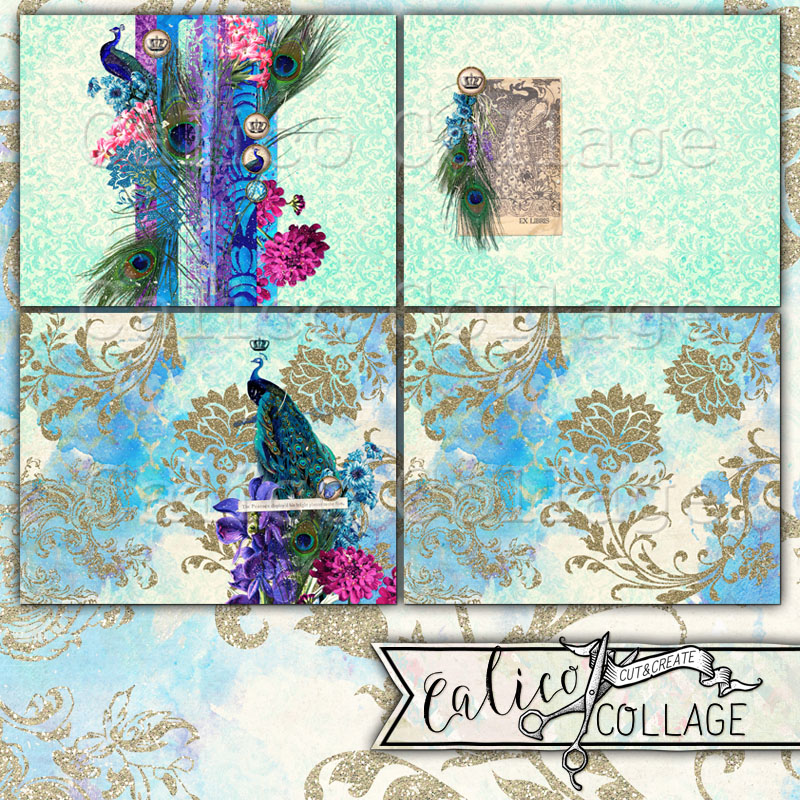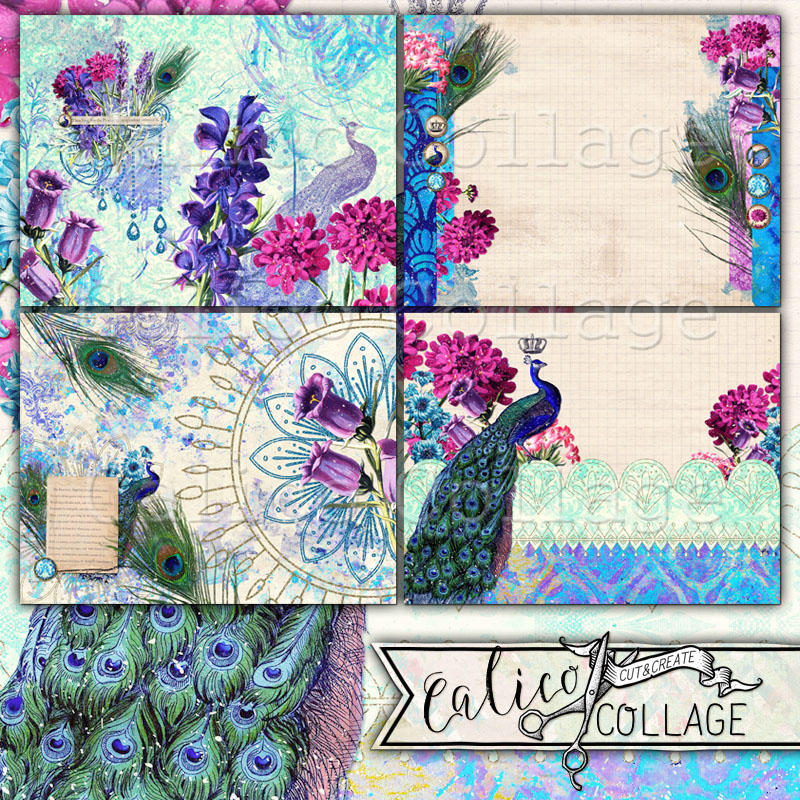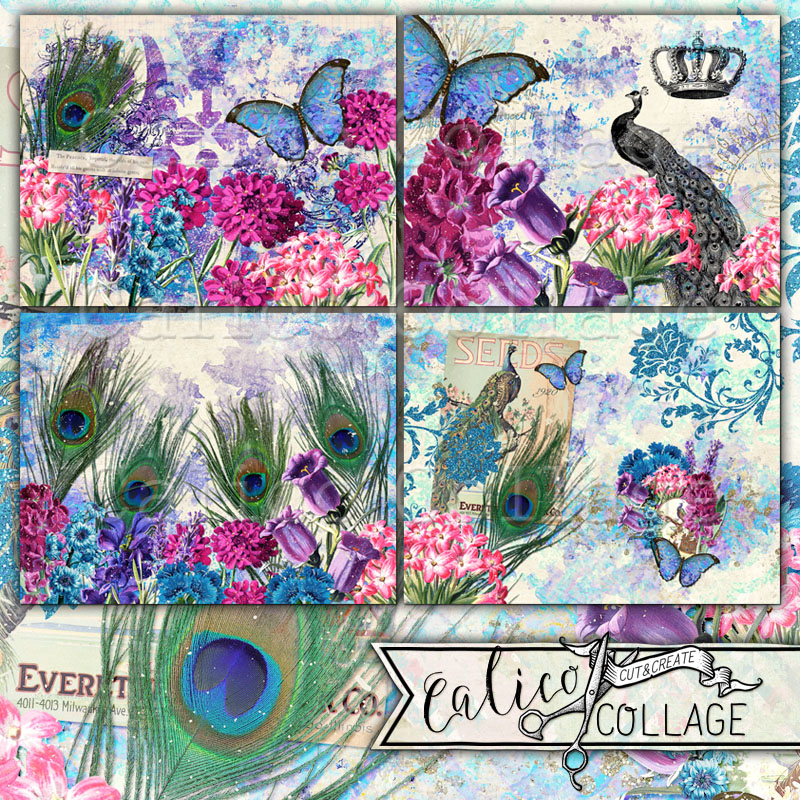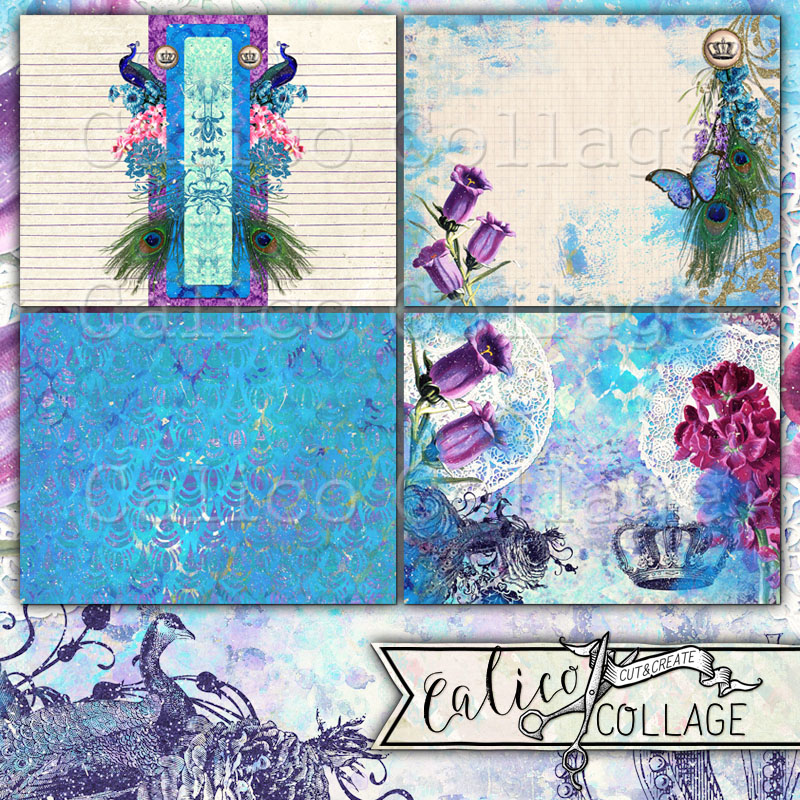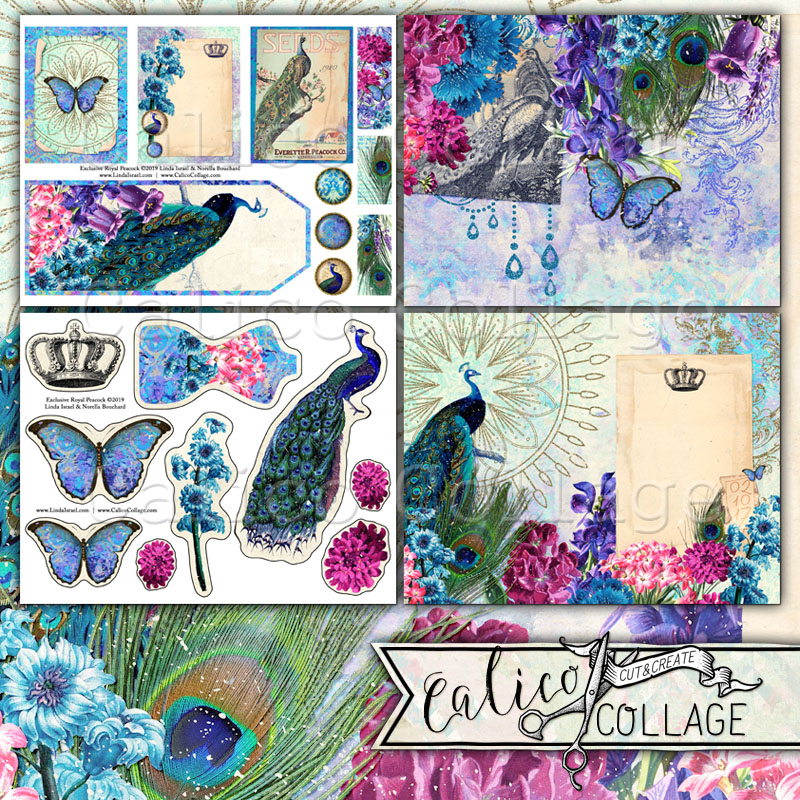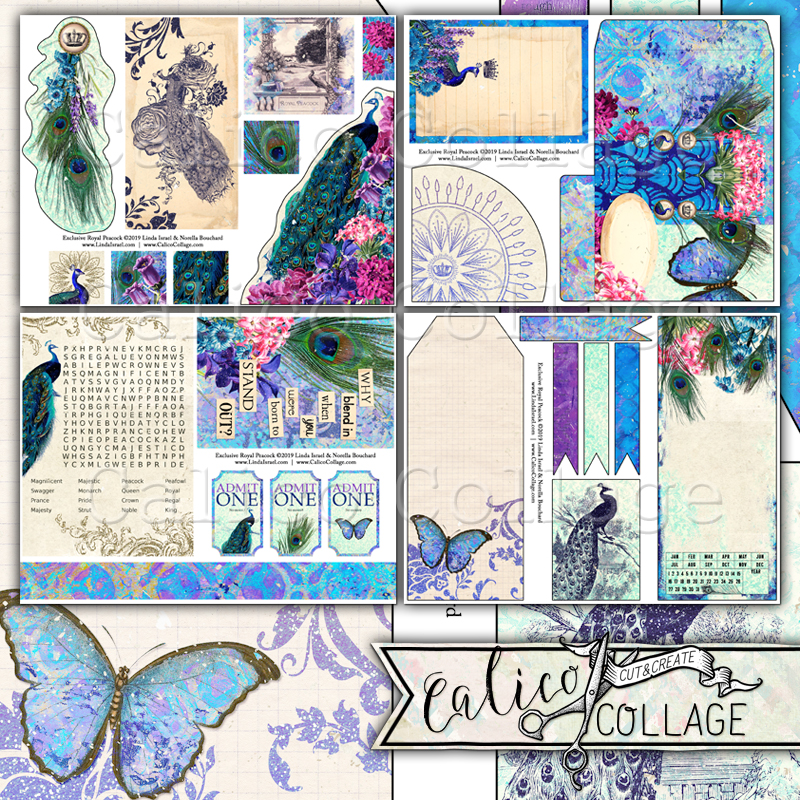 Contains 21 Digital Collage Sheets
2 Front Cover Pages
2 Back Cover Pages
14 Page Sets
6 Element Sheets
Instant Digital Download
This journal is designed to make a 5.5×8.5 Journal. Each page sets print full size.
Each digital collage sheet will print out on an 8.5×11 inches (A4) page
High-quality resolution 300DPI in .JPG format.
---
Paint Kit add-on for Royal Peacock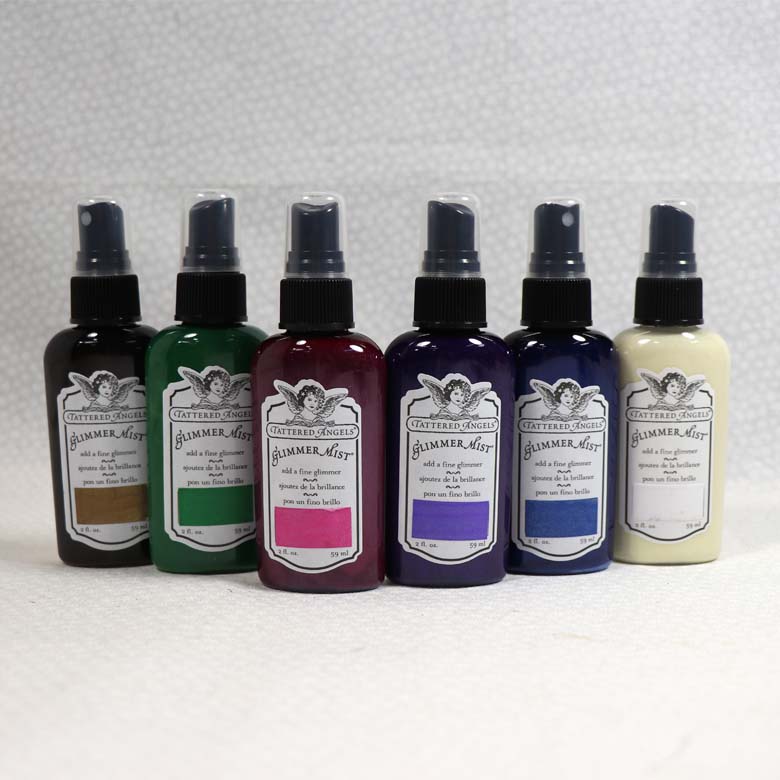 6 paints that match the Royal Peacock Paper Kit.
6 bottles of Tattered Angels Glimmer Mist, Peacock Gold, Royal Green, Peahen Pink, Blue Peacock, Purple Peacock, Royal Gold  – Add beautiful glimmer to your art.
Custom made colors for LindaIsrael.com. These colors may look similar to other kits but each paint kit is different for each paper collection.
Made in the USA.
---
Exclusive Printed Kit Featuring images by Calico Collage add-on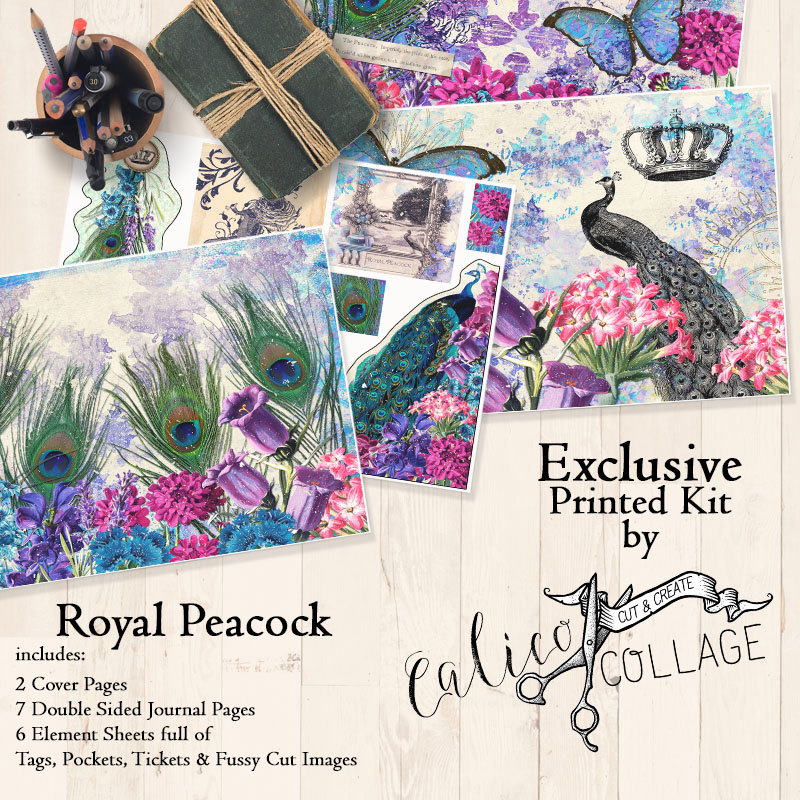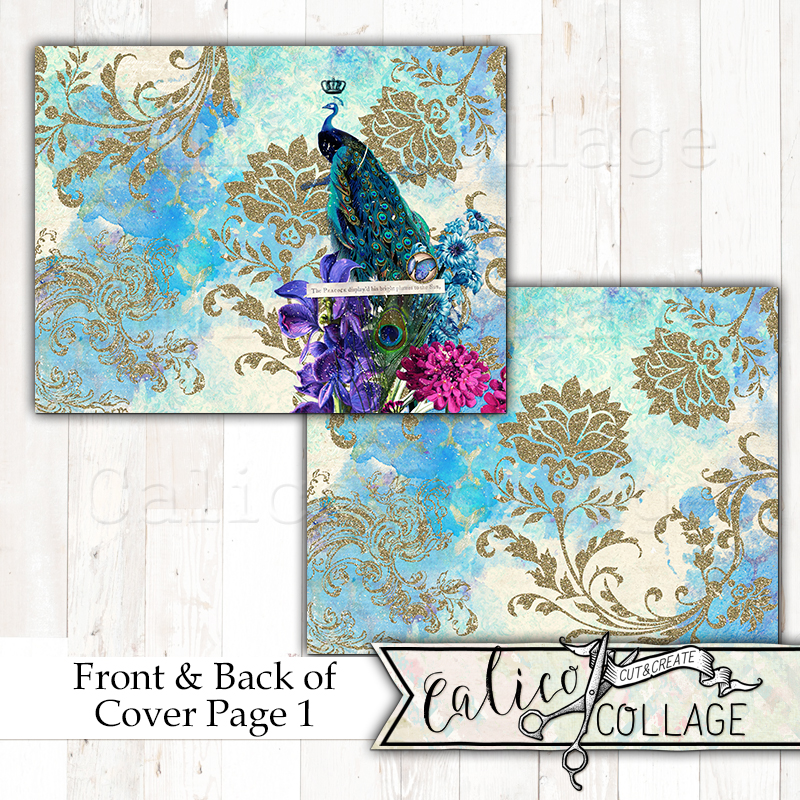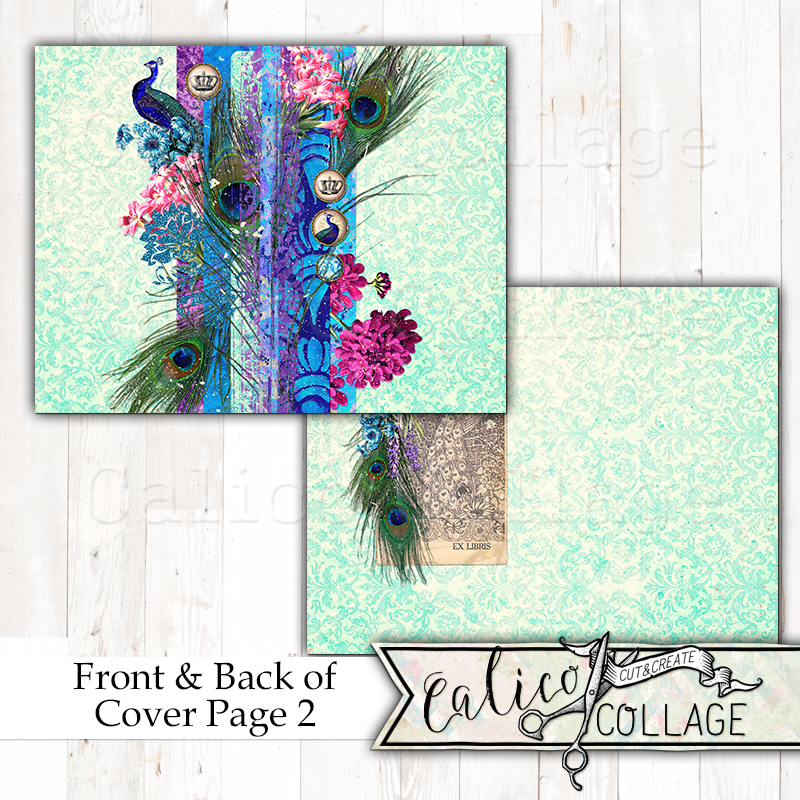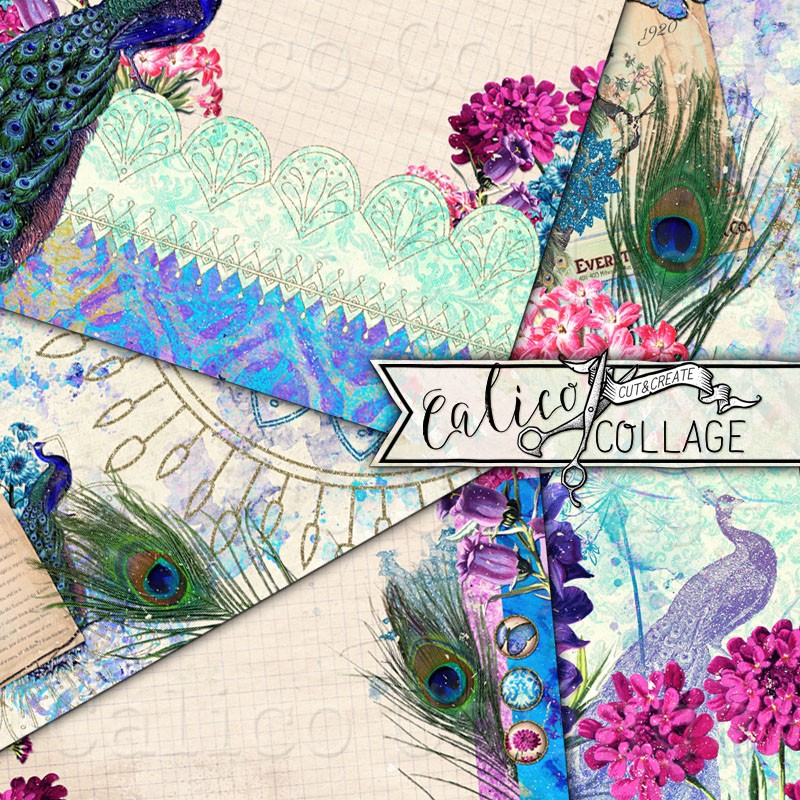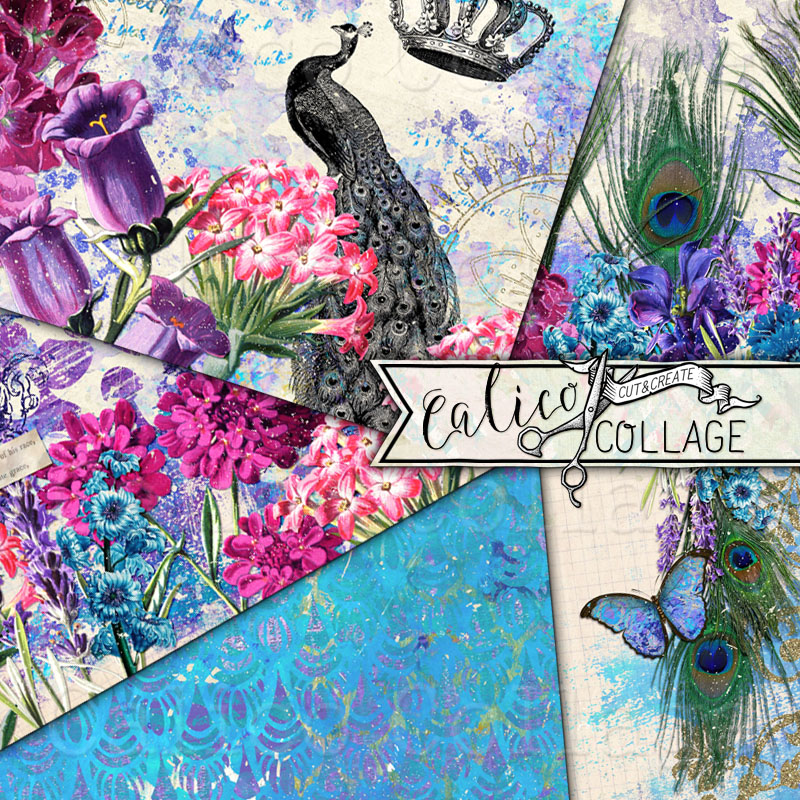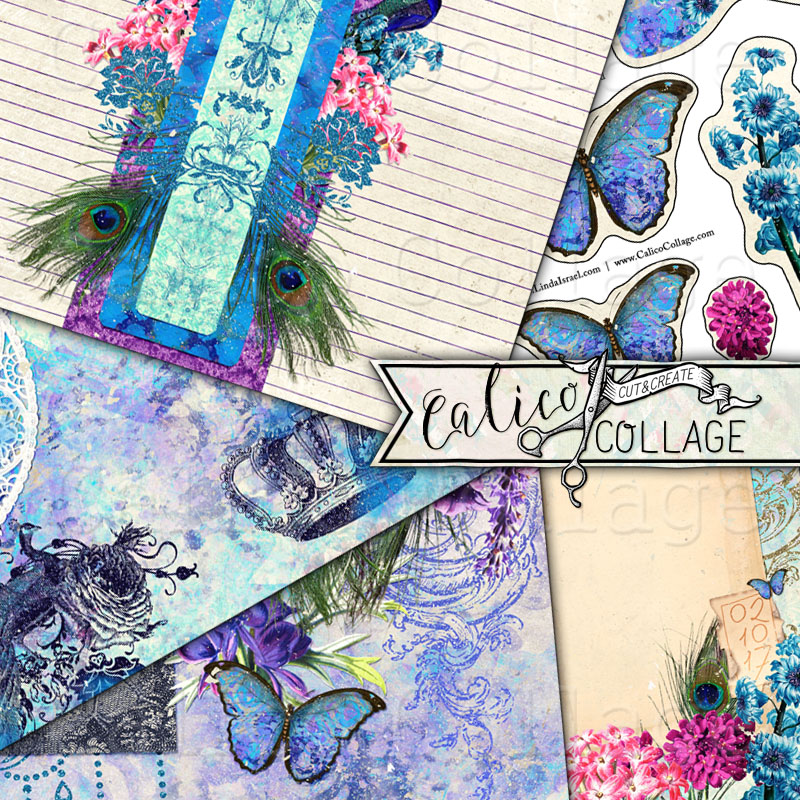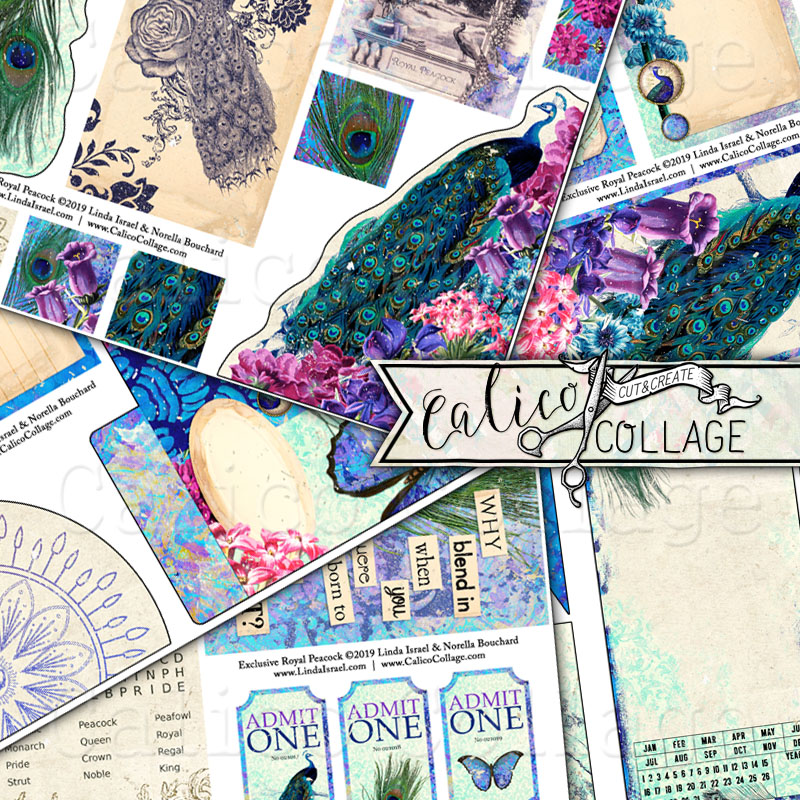 April 2019 Theme – Royal Peacock
Includes the following printed pages and elements:
2 Cover Pages double Sided
7 Double-Sided Journal Pages
6 Element Sheets full of Tags, Pockets, Tickets & Fussy Cut Images.
---
Exclusive Printed Royal Peacock Mini Journal Kit
Professionally printed kit in vibrant colors on premium paper. Pages are 5 x 7 inches to make a 3.5 x 5 inch journal.
Includes the following
2 Double Sided Cover Pages printed on cardstock
4 Double Sided journal pages printed on text weight
Preorders open until Feb 10th. Packages will ship by Feb 15th.
---
Digital download for Royal Peacock Planner Kit.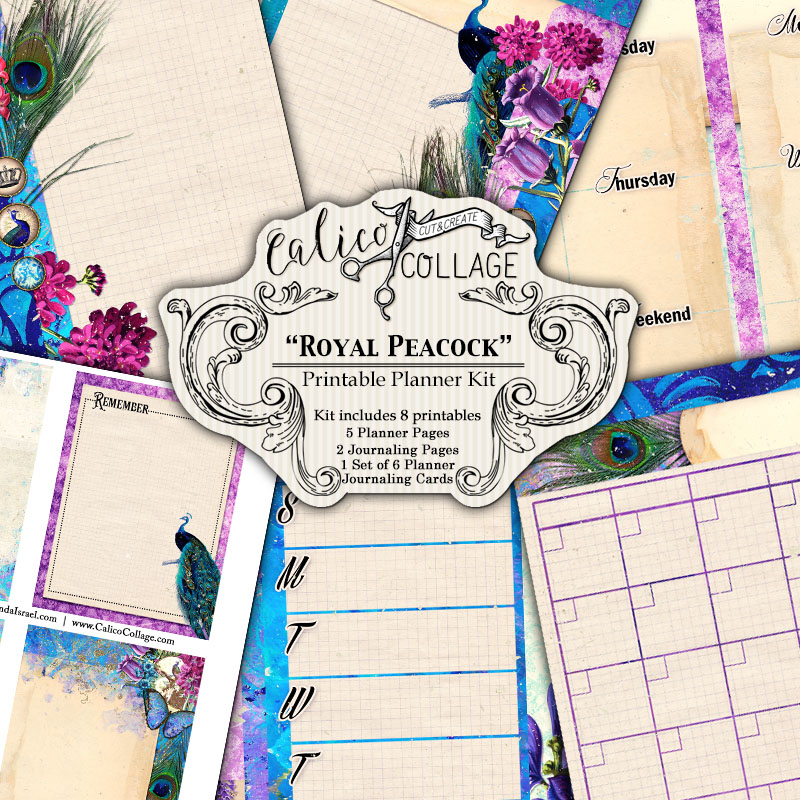 Includes the following 8 printable pages and elements:
5 Planner Pages
2 Blank lined Pages
1 Set of 6 Planner Journaling Cards
---
Printed Planner Kit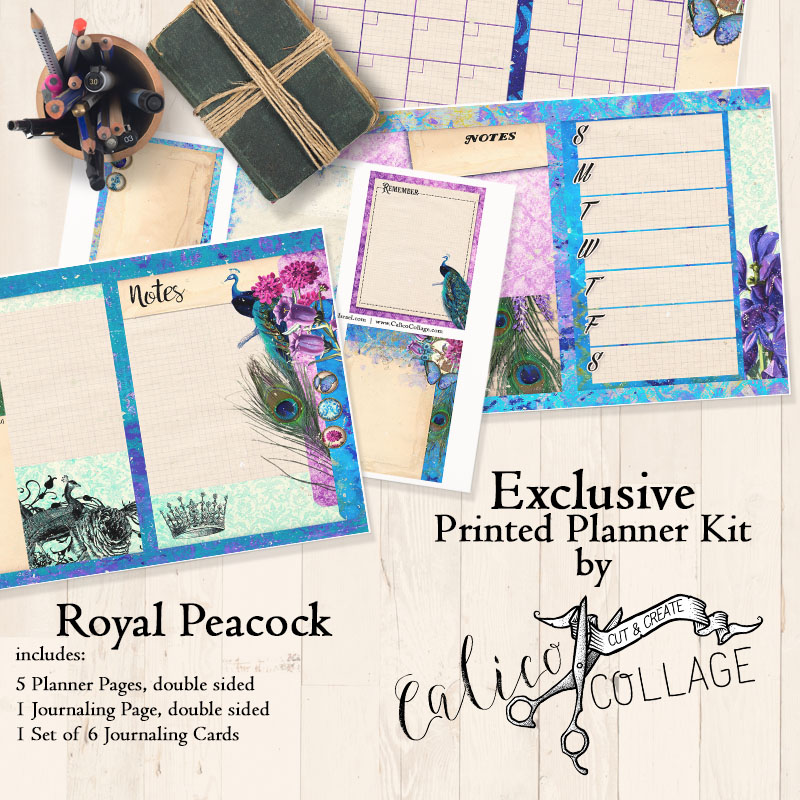 Includes the following 8 printed pages and elements:
5 Planner Pages
2 Blank lined Pages
1 Set of 6 Planner Journaling Cards
TOU-
All images contained in Calico Collage's Royal Peacock Printable Journal Kit is protected under U.S. Copyright as well as International Copyright laws as original and/or derivative works. It is the purchaser's responsibility to be aware of these Terms of Use. By purchasing and downloading any Calico Collage's Digital Collage Sheets you are agreeing to abide by the following terms:

You MAY:
You MAY print files up to 100 time and use the printed images in your tangible art & craft projects that are for personal or commercial use.
You MAY sell your finished tangible items that you created on Etsy, Other E-commerce Sites and Craft Fairs.
You MAY use Calico Collage's Royal Peacock in your artwork and publish your artwork online or submit to it magazines. Credit to Calico Collage for images used is not necessary but always appreciated.

You CANNOT
You CANNOT redistribute Calico Collage's Digital Files AS IS. When you purchase this digital kit it is intended for your use only; do not share them, sell them or give them away in either printed or digital format.
You CANNOT mass-produce your artwork containing any Calico Collage's Digital Files, for commercial use, without first obtaining written permission from Norella Bouchard for the use of Calico Collage's Digital images. Mass production is considered to be any run of 100 prints or more from a single artwork. In some cases, larger distributions may incur a licensing fee.
You CANNOT use any of Calico Collage's Designs in any digital form such as Digital Collage Sheets, Printable Journal Kits, Digital Planner Kits, Digital Scrapbook Kits, Tagger Kits, Digital Kits, Website Design, Banners or in any other digital form. Calico Collage's Digital Collage Sheets Files are for printed use only.
You CANNOT sell printed Calico Collage's Digital Files in paper sheets, transfer sheets or sticker sheets in whole or part.
You CANNOT sell Calico Collage's Digital Collage Sheets as part of a Do It Yourself Kit.
You CANNOT place/upload Calico Collage's Designs on any websites.
You CANNOT place/upload Calico Collage's Designs onto Pinterest.
You CANNOT place Calico Collage's Designs up on Print on Demand sites. Such as Zazzle, Cafe Press, CraftsUPrint or any of the like.