Sharing a super fun Flip Out Junk Journal Page Tutorial. Using Scrapbook paper, A Book page, Stencils, Tattered Angels Glimmer Mists, Stamps and more. This is a great way to use up those very plain scrapbook papers with book pages to create fun junk journal pages.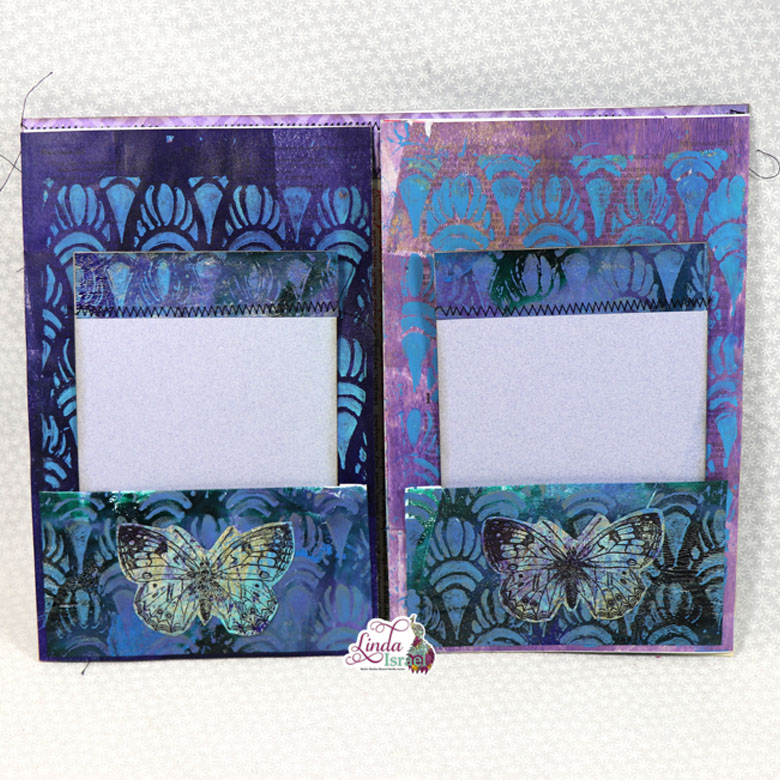 Flip Out Junk Journal Page Tutorial Video.
Supplies used for the Flip Out Junk Journal Page Tutorial.
Large book page 8.5 x 11
Two sheets of 12 x 12 Scrapbook paper with a very light print or solid color
Shabby Stitches Rubber Stamps Option instead of Sewing Machine

Select a light colored scrapbook page and cut two 1 inch by 12 inch strips. Also cut four 6 x 4 blocks. Use the Boxed Flowers Stencil (this is a hand drawn stencil created by Linda Israel) and the Peacock Purple Tattered Angels Glimmer Mists to create a pattern on the scrapbook paper.
Apply distress inks around the edges of the papers. Adhere strips with a small amount of Aleene's Tacky Glue and place on the top edge of the page. Fold the page in half to mark the center of each panel. Adhere the 6 x 4 blocks one in the center of the four sides of the page.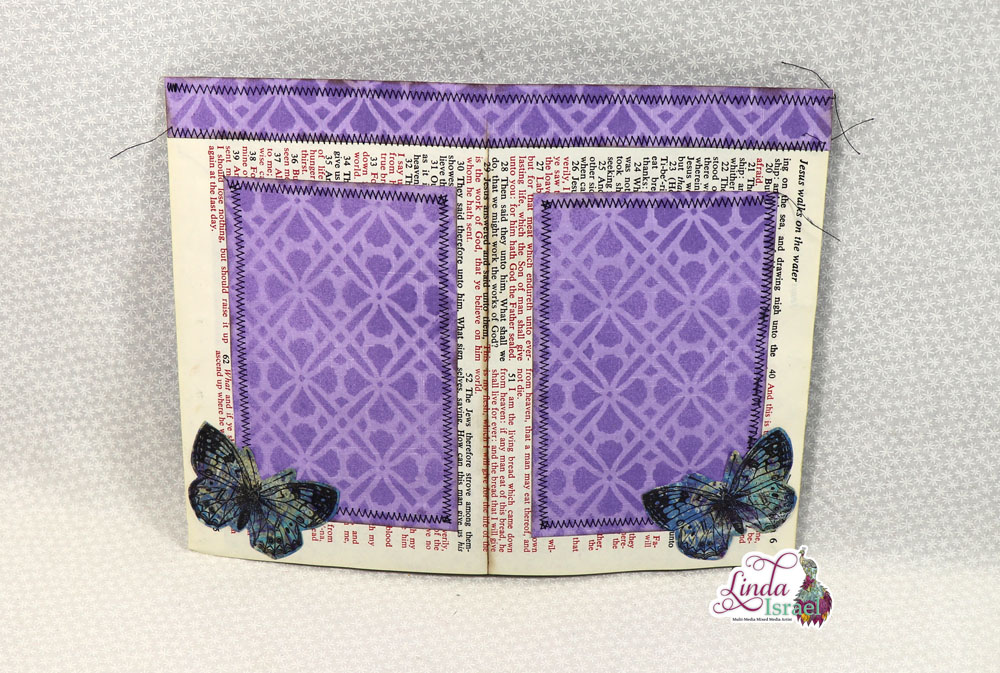 Sew around the blocks and the strips with a sewing machine, or use the Shabby Stitches Rubber Stamps and Archival Ink to create faux stitches.
Using another sheet of scrapbook paper, trim to be the same height as the journal page base and 6 inches wide. Score on the long edge to create a hinge, about 3/4 of an inch. Depends on how wide your base page is, may need more or less of a hinge.
Spray the scrapbook paper with the same stencil and a Blue Peacock Tattered Angels Glimmer Mists.
Select a couple of gel prints and trim to fit the flip out pages that were just sprayed with Tattered Angels Glimmer Mists. Apply washi tape to one edge that will become the opening for the pockets on the flip out page. Adhere the gel print to the flip out or tip in page on three sides to create a pocket.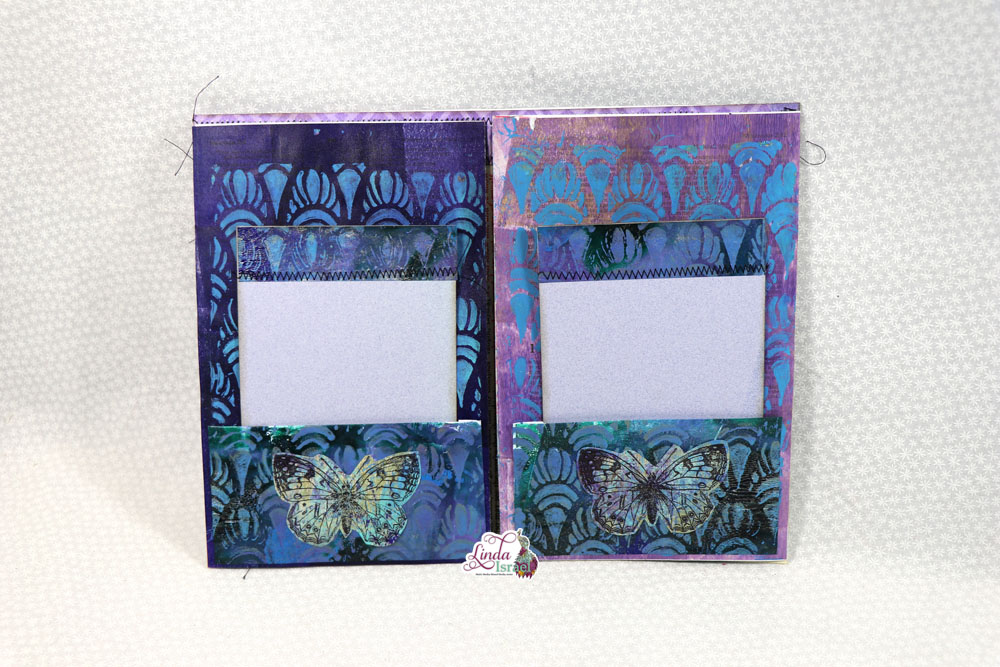 Make pockets out of another gel print to go on top of the first gel print. Use scraps to embellish journal cards to go inside the new pockets. Add stitches to the journal cards.
Stamp the Medium Butterfly with Archival ink on top of a gel print. Dry with heat tool. Fussy cut the butterflies. Adhere butterflies to the gel print pockets, the inside flip out portion and on the back side.
This process took about 30 minutes for me to create the page once I had all the supplies collected. Can you see how you could use the items you have to create beautiful fun junk journal pages?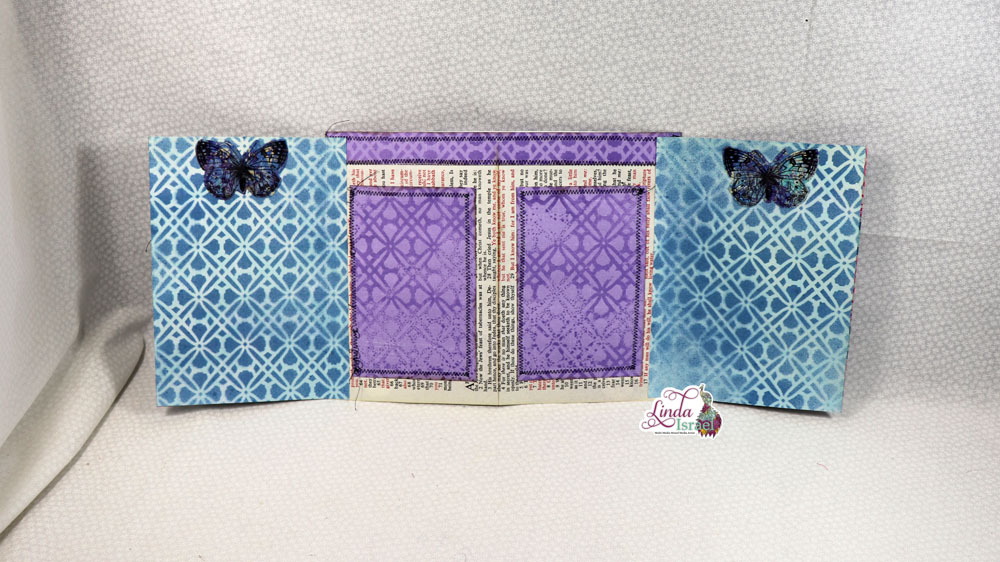 Make sure to check out the Friendly Junk Journal People Facebook group. Of course, you are welcome to join the Friendly Junk Journal People Facebook group. The group is growing daily and we are a friendly group willing to help each other and encourage each other.
Interested in any of the journals I created? Please feel free to contact me through my Facebook Page. Here is my shop, I have a lot of items uploaded and add more weekly.
Keep updated on my posts by following me, add your email.  Follow my Facebook Page or on Instagram for updates that may not be shared on my blog.
Thanks so much for stopping by my blog today to see the Flip Out Junk Journal Page Tutorial.