Let's play with color today. In this Gelato Mixed Media Masterboard Tutorial I'll show you how to use those book pages, Gelatos and stamps to create a masterboard that is then used for 7 different journal elements.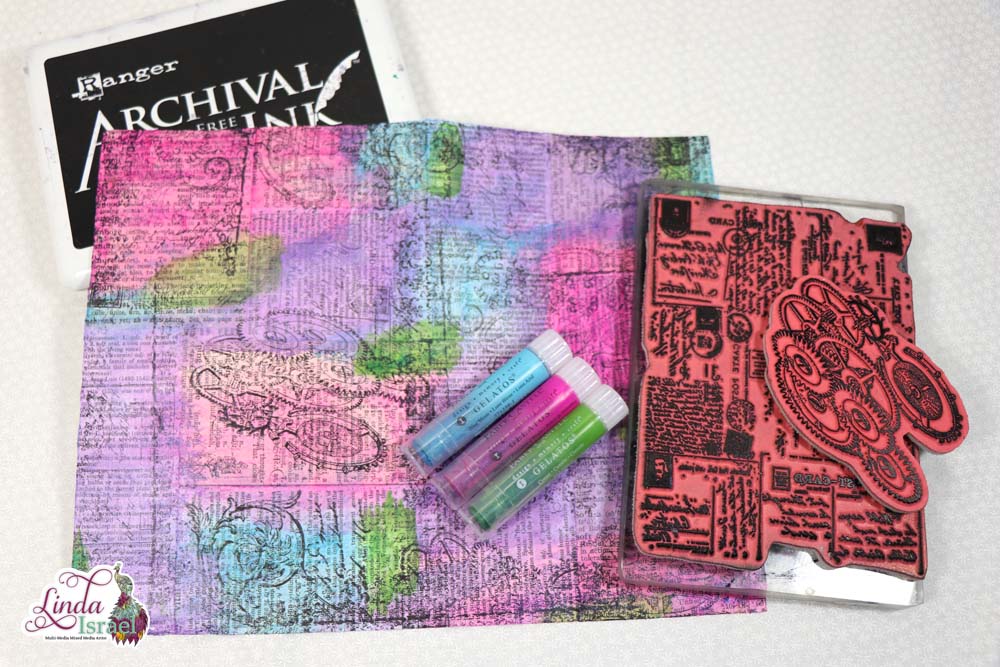 Gelato Mixed Media Masterboard Tutorial Video. Premiers on YouTube at 12:30 pm central standard time, May 30. 2019

Supplies used in the Gelato Mixed Media Masterboard Tutorial
Book Pages
5 x 7 Kraft Card
Paint Brush
Aleene's Tacky Glue
To begin this Gelato Mixed Media Masterboard Tutorial, select a few book pages. I used dictionary pages from two different books. Adhere torn book pages to an 11 x 8.5 sheet of paper. Allow the glue to dry.
Paint the entire page with Clear Gesso to prep the page to accept the Gelatos. Allow the gesso to dry completely before moving on to the next step.
Scribble one color of Gelatos in random areas on the masterboard. Using a paint brush dipped in water move the Gelatos. Dry with Heat Tool. Scribble another color in the same fashion and dry, repeat until the whole page is covered in color.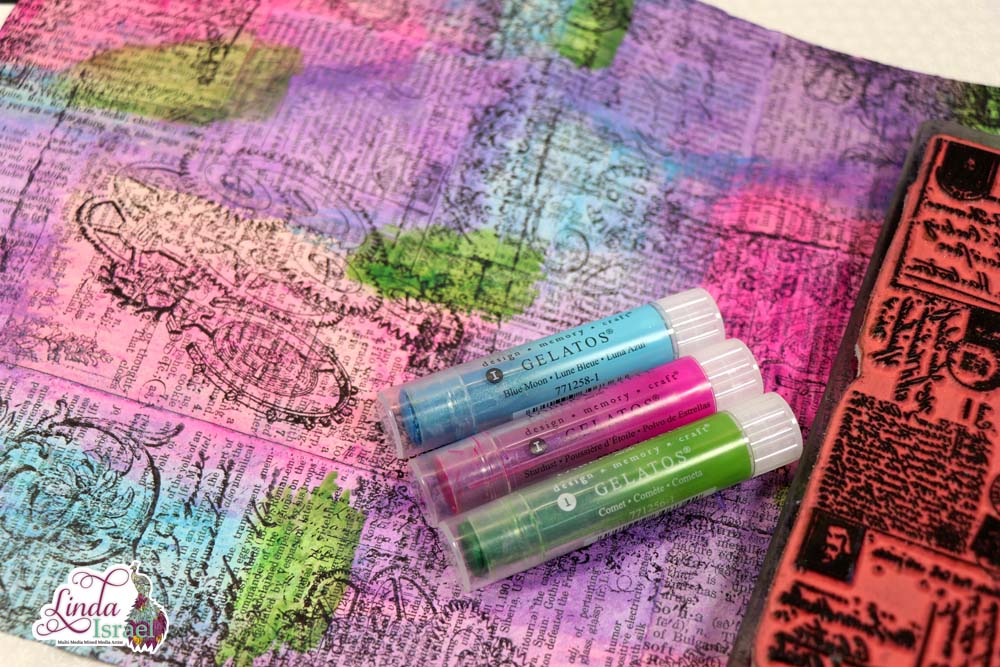 Stamp the masterboard with various stamps using Archival Ink, Jet Black. Choose stamps that the direction won't mater as we will be cutting up this piece later.
Once the masterboard has been completed and if you are using B Line Designs Stamps, scan the page and print on cardstock. If you are using other companies stamps, check with their angel policy before you scan or copy the artwork.  Spray printed masterboard with Dazzling Diamonds Tattered Angels Glimmer Mist to add shimmer to the page.
Adhere the masterboard to cardstock, if it wasn't copied and printed onto cardstock and cut into the following pieces to get 7 different elements to use in junk journals.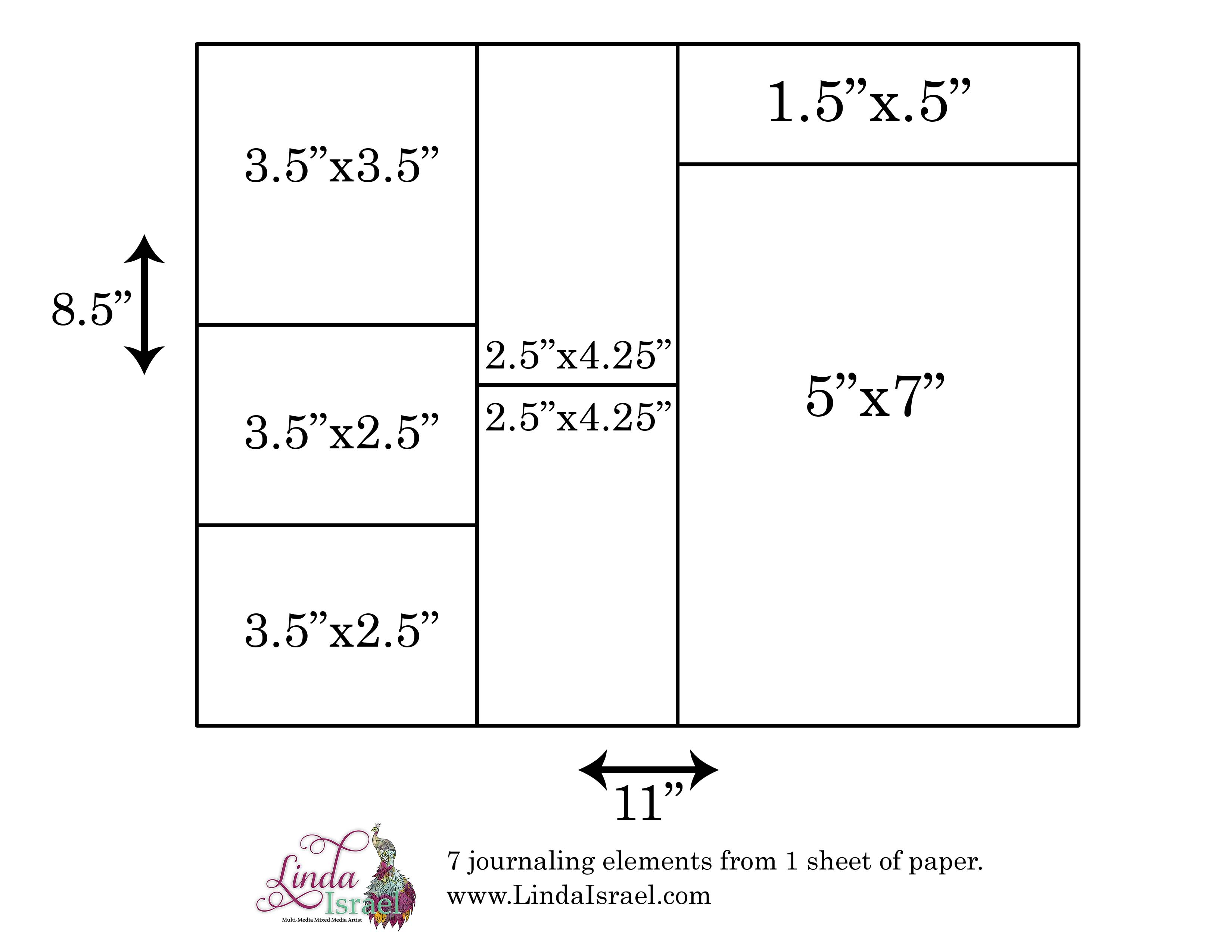 PDF version of the same template Template-7ElementsFrom1SheetOfPaper
Apply Distress inks to the edges of the new elements.
Stamp out various images and watercolor with Tattered Angels Glimmer Mists. Fussy cut items and apply distress inks to the edges.
Collage on the element foundation pieces with the fussy cut stamped images and accet with book pages.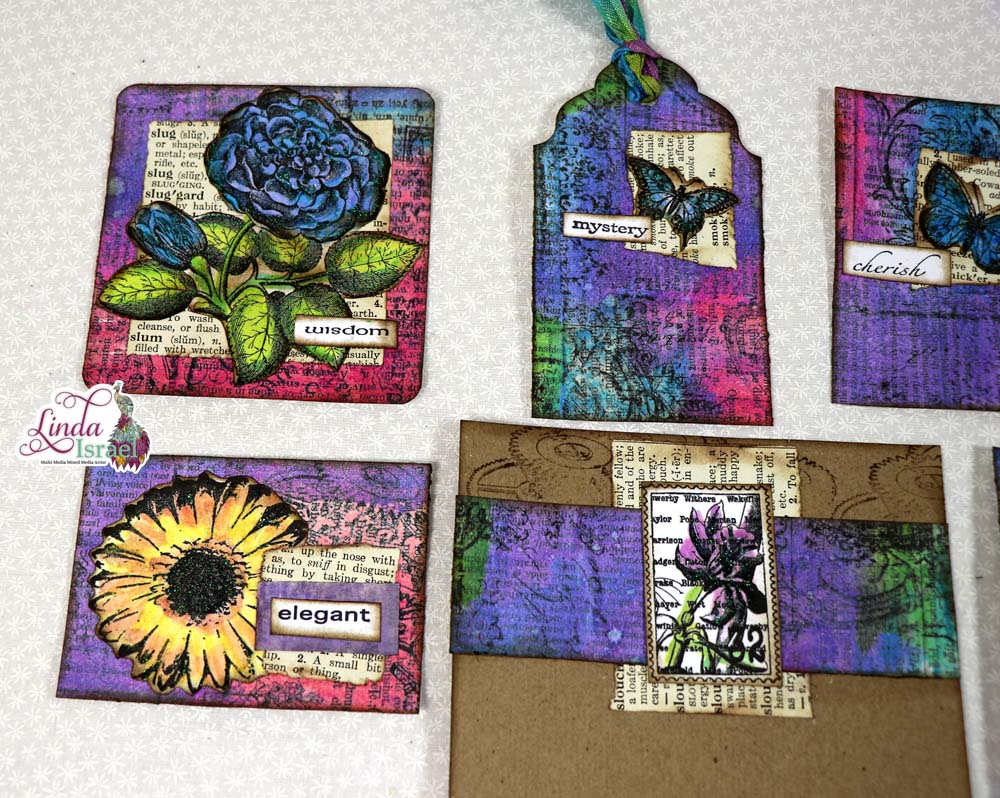 Apply Tulip Dimensional Glitter Paint to the images to add a little sparkle.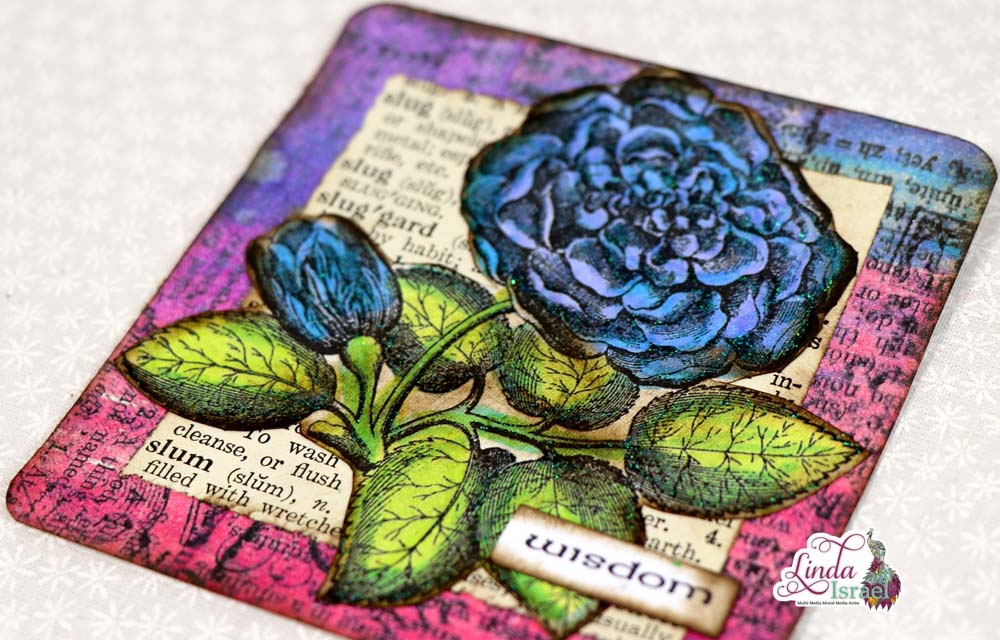 Create Rainbow Seam Binding using Snug Hug and Tattered Angels Glimmer Mists. Cut about 30 inches if you want long ties for tags. Arrange the seam binding in a spray box or on a surface that is okay to get Mists all over.
Start with by spraying one color somewhat in the center of the seam binding. Then pick another color and spray one side. Select another color and spray the other side. Let the colors bleed into each other.  Add more Glimmer Mists where the seam binding is still white as needed. Dry the seam binding with a heat tool or allow to dry naturally.
Cut seam binding and attach to tags.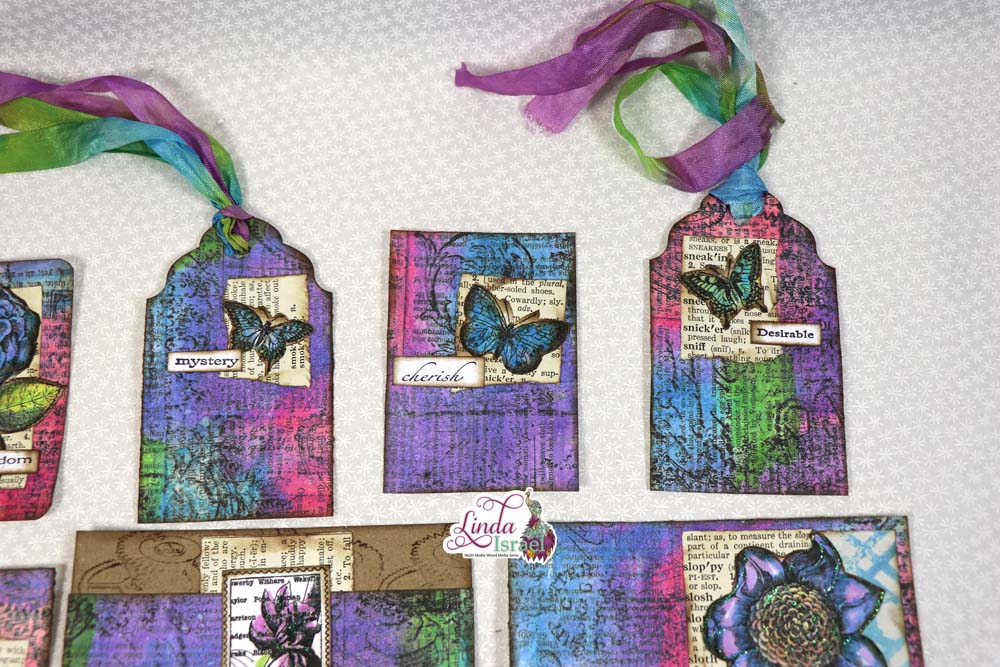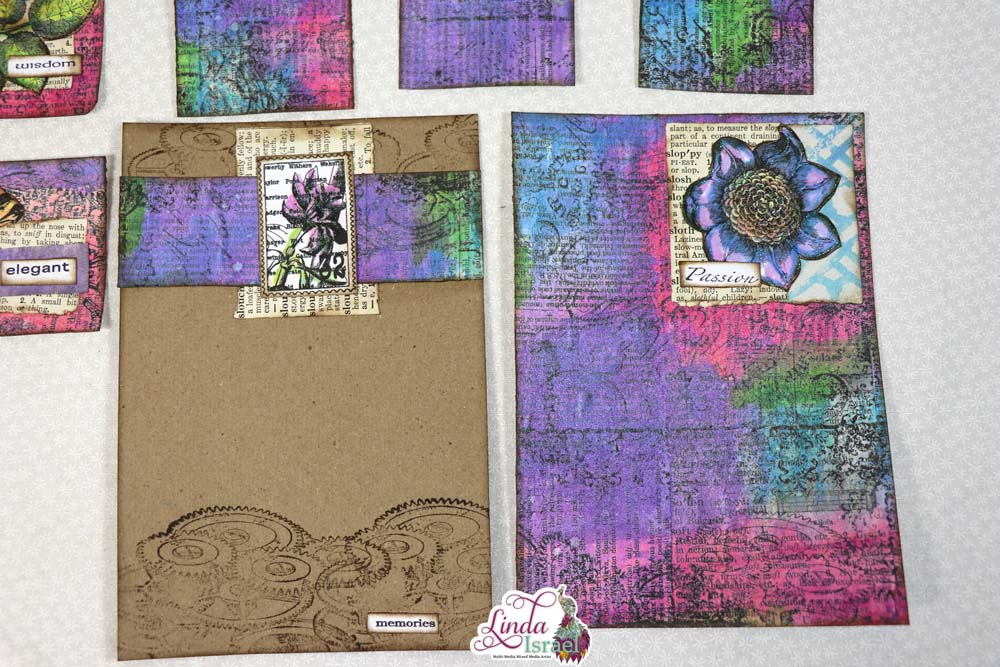 Using this Gelato Mixed Media Masterboard Tutorial you can make a punch of different elements to use in Junk Journals and more. Get out those supplies and start creating beautiful pieces.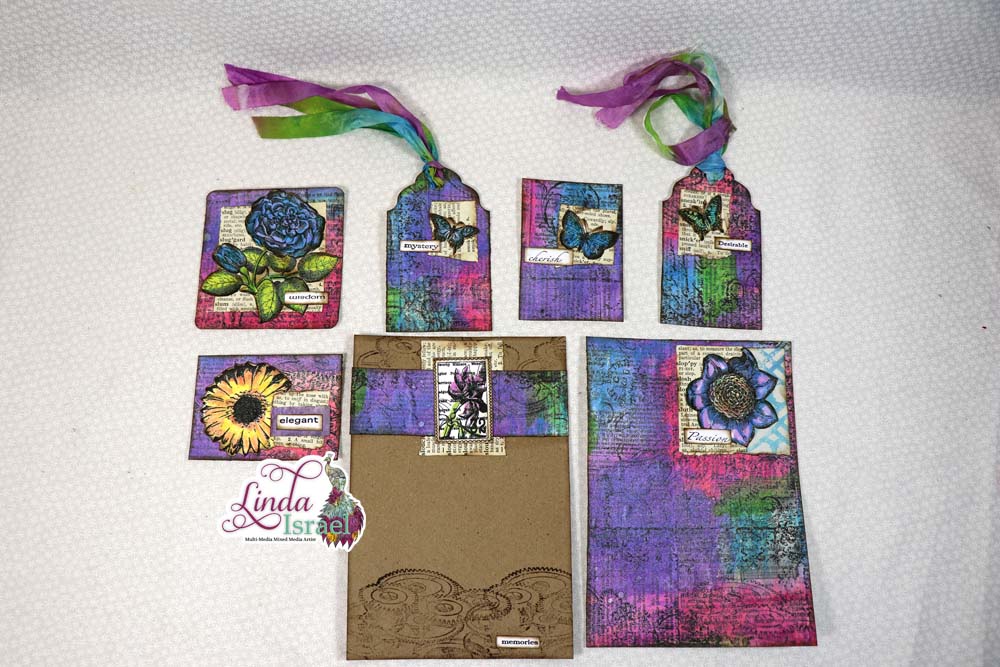 Remember that I have live streams on Monday's at 3:45 pm and Thursdays at 12:30 pm Central Standard time on my
 

YouTube Channel. Come join the chat, win prizes while I create.
Make sure to check out the Friendly Junk Journal People Facebook group. Of course, you are welcome to join the Friendly Junk Journal People Facebook group. The group is growing daily and we are a friendly group willing to help each other and encourage each other.
Interested in any of the journals I created? Please feel free to contact me through my Facebook Page. Here is my shop, I have a lot of items uploaded and add more weekly.
Keep updated on my posts by following me, add your email.  Follow my Facebook Page or on Instagram for updates that may not be shared on my blog.
Thanks so much for stopping by my blog today to see the Gelato Mixed Media Masterboard Tutorial.