Sharing a Mixed Media Junk Mail Journal Page Tutorial today. How many of you have junk mail that you hate to throw out? Well this is a project where you can use that junk mail to make a beautiful journal page. Use some acrylic paint, stamps, Tattered Angels Glimmer Mists and some stencils to create this page.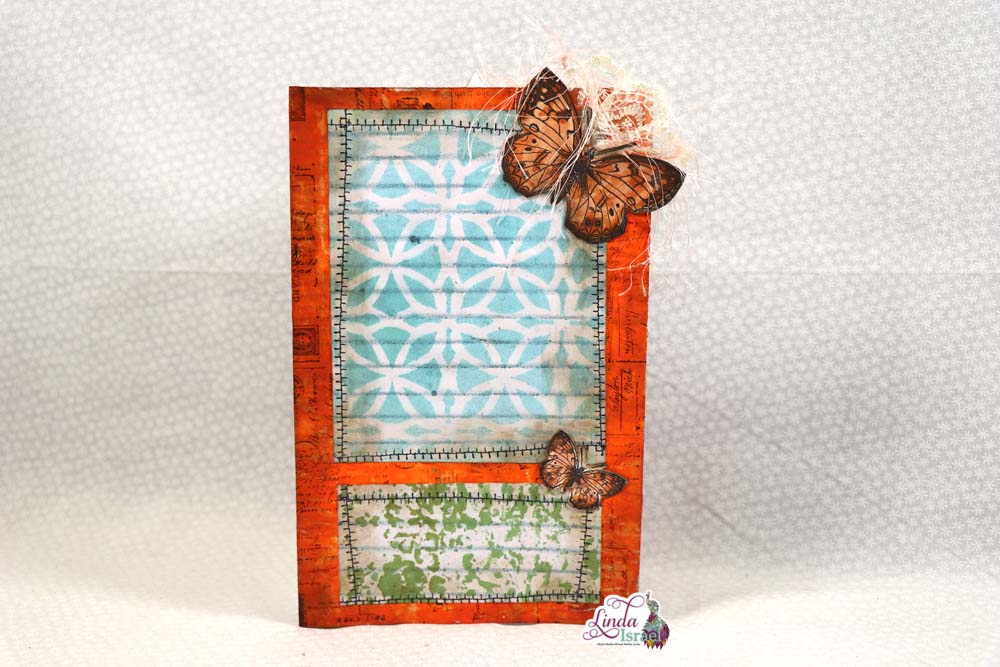 Mixed Media Junk Mail Journal Page Tutorial Video.
Supplies used for the Mixed Media Junk Mail Journal Page Tutorial. Some of the links below are to my shop or Amazon and I get a commission when you make a purchase. I greatly appreciate your support.
This Mixed Media Junk Mail Journal Page Tutorial is a great way to use up those junk mail pages you get. Use those old bills, newsletters and advertisements as a base for items in your junk journals. Grab a few and play with Acrylic Paint.
Using an old gift card and a Ivory paint on a pallet, spread paint all over the junk mail in thin layers. Thinner is better as it won't cause ridges on your page. If you feel you want more coverage, dry and coat again. Then do the same process with Orange.
Grab that Postcard Collage Stamp and the Archival Ink and stamp all over the page. I love this stamp as it doesn't matter which way you stamp you get a cool effect. Tip, if a large stamp is hard to get an impression try this, Stand up and press, let the stamp rest on the paper for several seconds before lifting.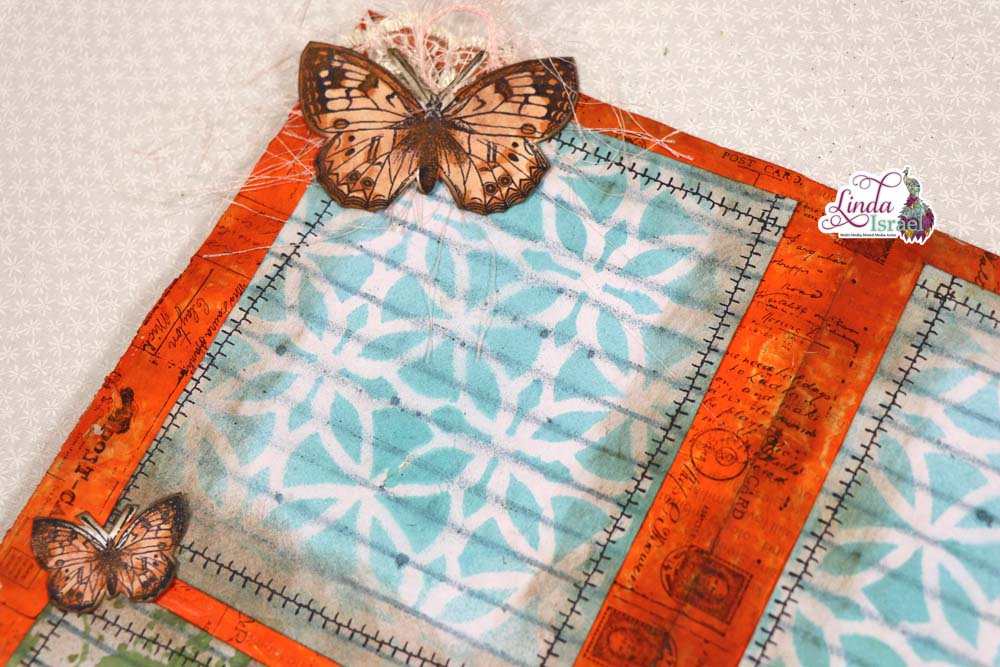 Apply distress inks around the edges, fold the page in half and go down the center spine too.
Grab some copy paper or other plain paper and the Double Ring Stencil from the Artistic Stencil Club with some Tattered Angels Glimmer Mists. Fold the paper in half so that the stencil fits on one side. Spray with TAGM then fold the other side of the page over to mop up the design. You get two images for one spray on the same page.
Dry the page and then cut into four pieces, If using standard copy paper that would be four pieces measuring 5.5 x 4.25. Grab a mop up page and trim into four pieces 2 x 4.25 inches.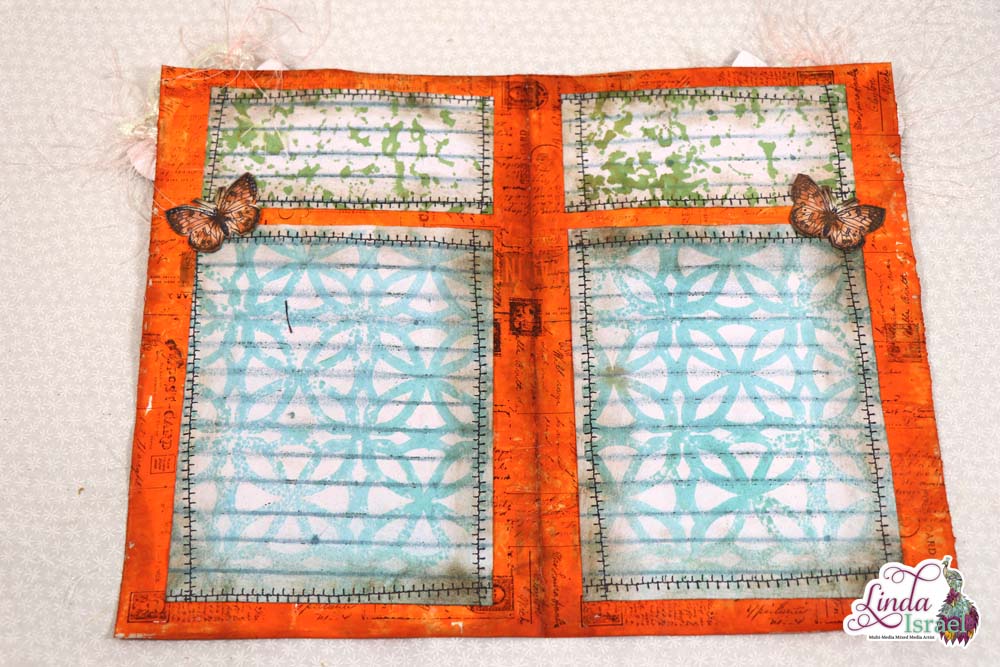 Take these pieces up a notch by stamping with the Shabby Stitches Rubber Stamp from Bline Designs. There are four different stitch patterns in this set.
Apply distress inks around all the pieces using the blending tool.
Adhere two of the large pieces and two of the small pieces on one side of the page. Repeat on the other side, but place the smaller pieces at the top and the bigger ones at the bottom.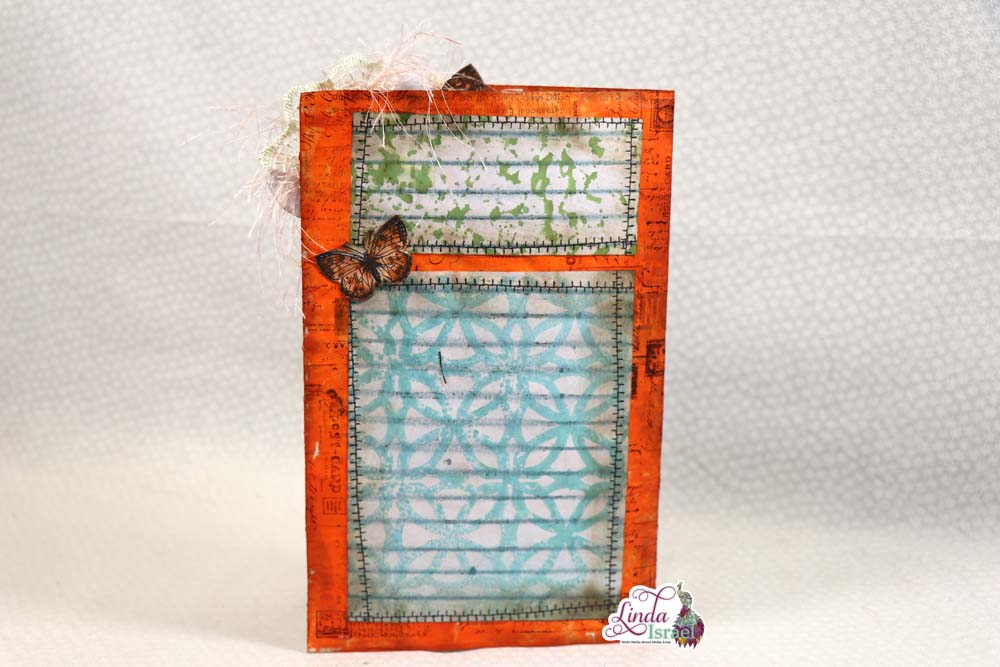 Stamp Butterfly stamps from Bline Designs on cardstock. Fussy cut the butterflies. Apply distress inks around the edges.Watercolor using TAGM and a paintbrush. Paint with the lightest color first and then highlight the dark areas with the darker color.
Use the hot glue gun to create a pleated lace bit and then adhere the lace, eyelash yarn and butterflies on the page.
This tutorial had a lot of great techniques that can be used in lots of projects. I hope you enjoyed seeing this project and have fun creating.
Make sure to check out the Friendly Junk Journal People Facebook group. Of course, you are welcome to join the Friendly Junk Journal People Facebook group. The group is growing daily and we are a friendly group willing to help each other and encourage each other.
Interested in any of the journals I created? Please feel free to contact me through my Facebook Page. Here is my shop, I have a lot of items uploaded and add more weekly.
Keep updated on my posts by following me, add your email.  Follow my Facebook Page or on Instagram for updates that may not be shared on my blog.
Thanks so much for stopping by my blog today to see the Mixed Media Junk Mail Journal Page Tutorial.