Live on YouTube Creating Mixed Media Elements for Junk Journals. Using acrylic paint to create mixed media pages along with gel press, stencils and rubber stamps I created elements. In this live stream I made journal cards, pockets, altered paperclips, mini journal and a journal page.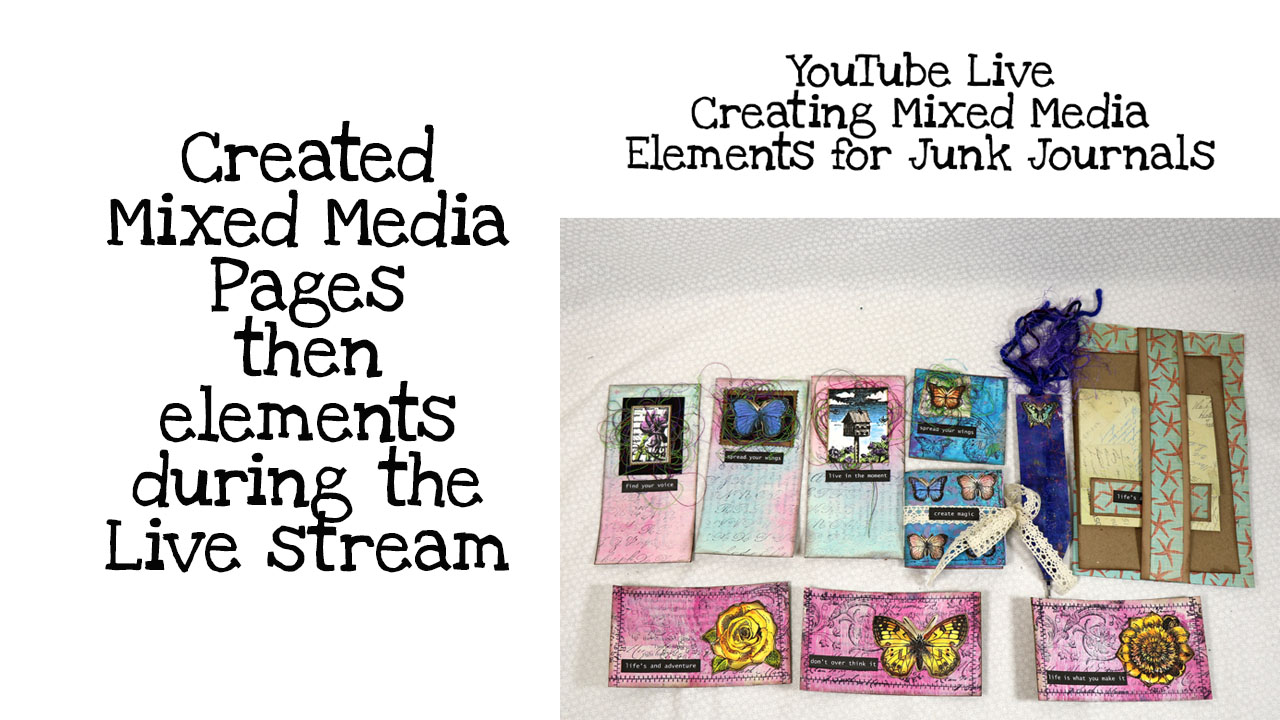 During this live, Linda created gel prints, mixed media pages and more for mixed media elements using scraps, rubber stamps, scrapbook paper. Grab your scraps to create altered paper clips, journal cards, and journals!
Creating Mixed Media Elements for Junk Journals Video.
Supplies used for the Creating Mixed Media Elements for Junk Journals.
During the live stream, Linda created several circle gel prints  that are available in her shop as a digital download for you to print and use for your mixed media elements in your junk journals.
Digital download of Circle Gel Prints.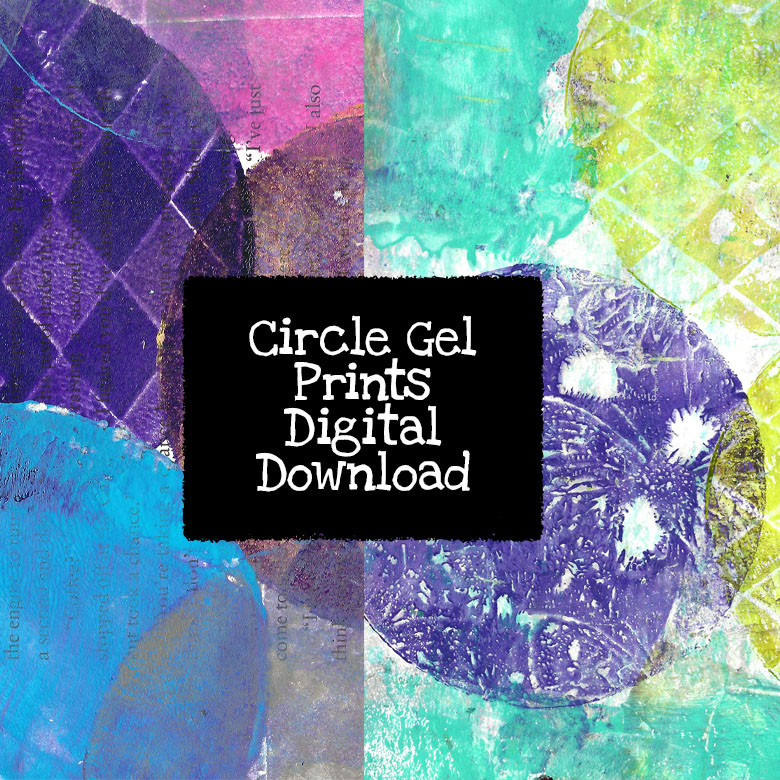 Linda created these journal tags using mixed media elements, thread, and stamps. Save time by stamping images, watercoloring with Tattered Angels Glimmer Mists and then fussy cut. Having these elements hand makes creating these journal cards go much faster.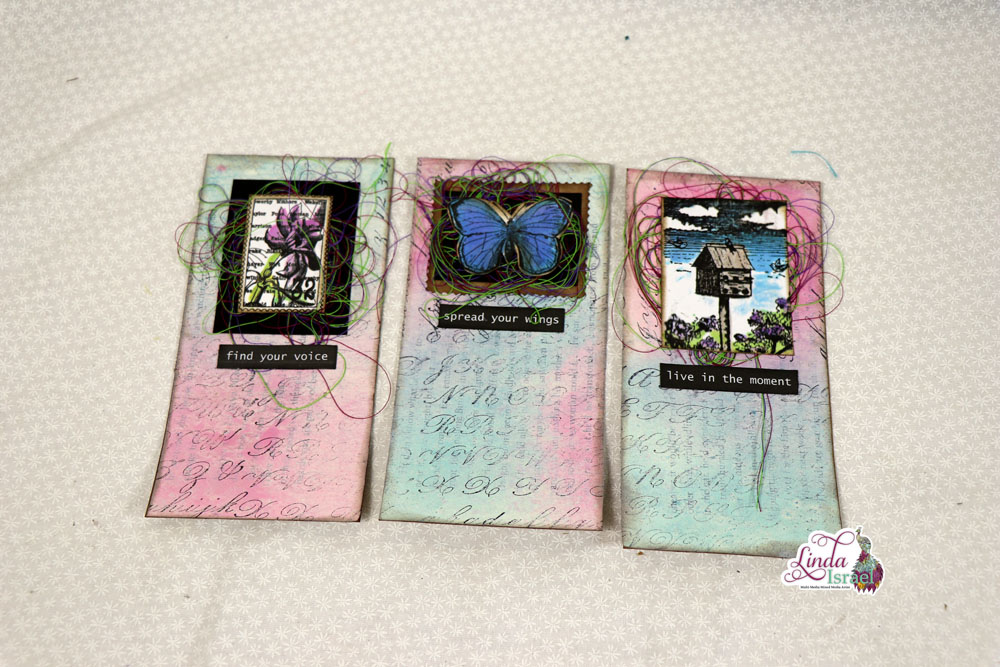 Here Linda shows how she used the Shabby Stitches Stamp and elements painted with Tattered Angels Glimmer Mists, and the White on Black Inspirational words Linda created these journal cards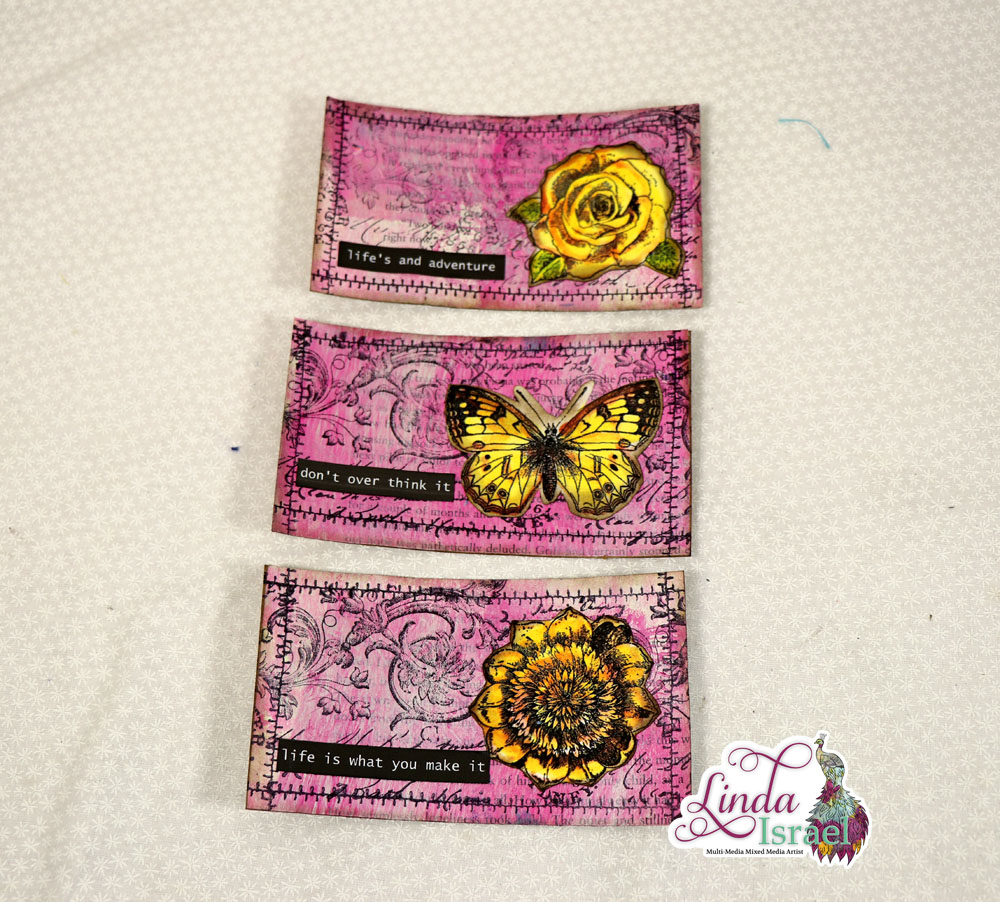 Linda used old sewing thread, book pages with other elements to create an altered paper clips. She took a Butterfly  painted with Tattered Angels Glimmer Mists and hid the sewing thread behind the butterfly. Using old thread in a sewing machine can become a headache, as the thread become brittle and brakes. So instead of throwing out the tread use it on your projects.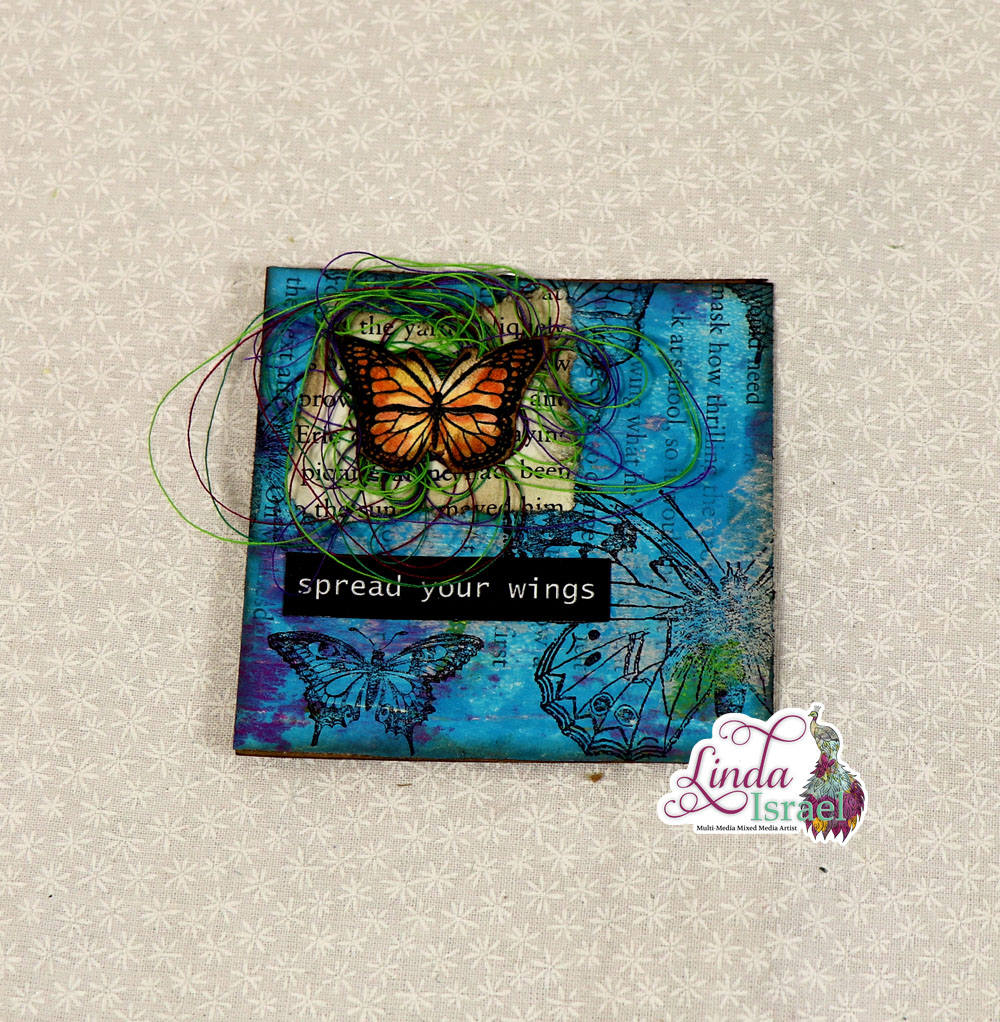 Linda quickly created mixed media mini journal with a lace tie during the stream as requested. She used the Butterfly Beauties Cube rubber stamps on the cover.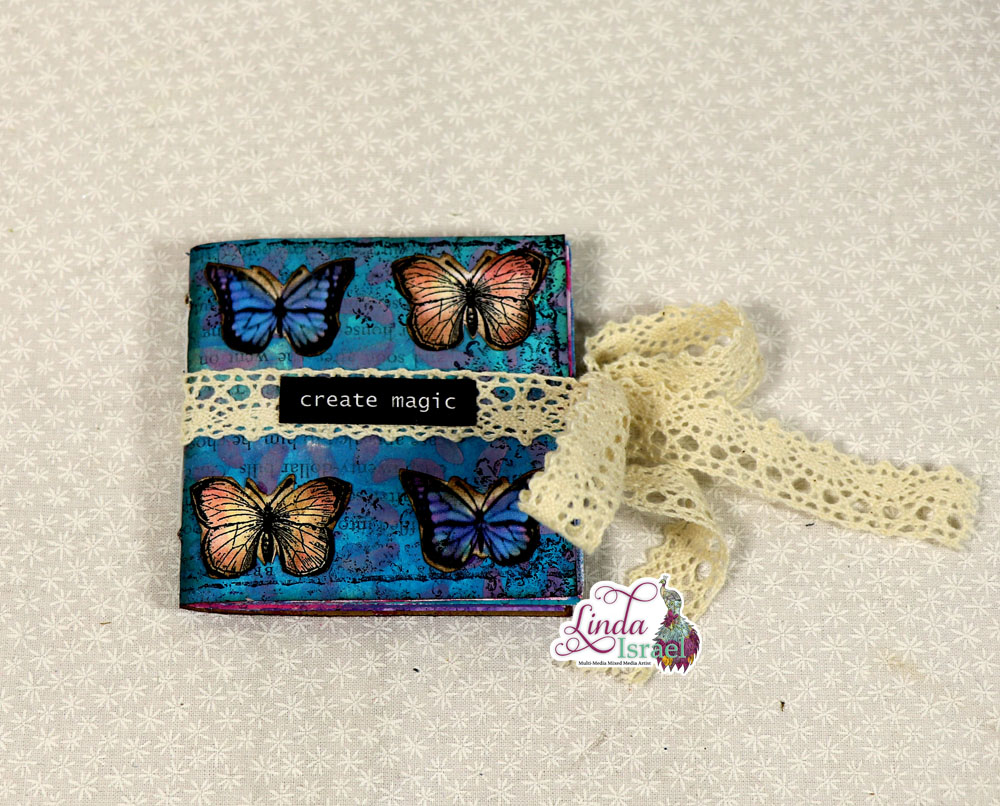 Using gel prints Linda showed how to create a fun mixed media pen with a paperclip, then added a fiber tassel. Adding a pen like this is great to write with in your junk journals.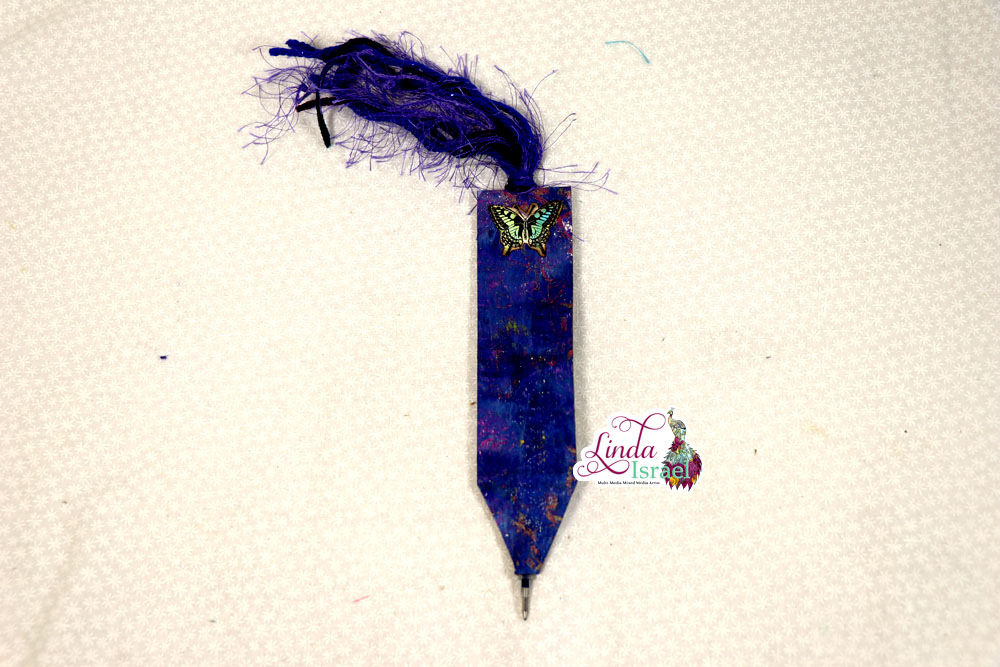 Taking scrapbook pages and your scraps you can create a great journal page with a belly band. She showed how to fold up a 12 x 12 inch piece of scrapbook paper to make a fun letter to add into the journal. Linda also added a White on Black Inspirational word to the folded letter .
As requested here is a 1.5 x 8.5 book binders template. Print on Card stock, trim and use your awl to make the holes for a template where to poke holes for binding a pamphlet stitch journal. Can be used for a three signature journal too.
Template-JournalSpinePunch Download the PDF to ensure the correct size is printed. Image below is just an example of what it looks like. 🙂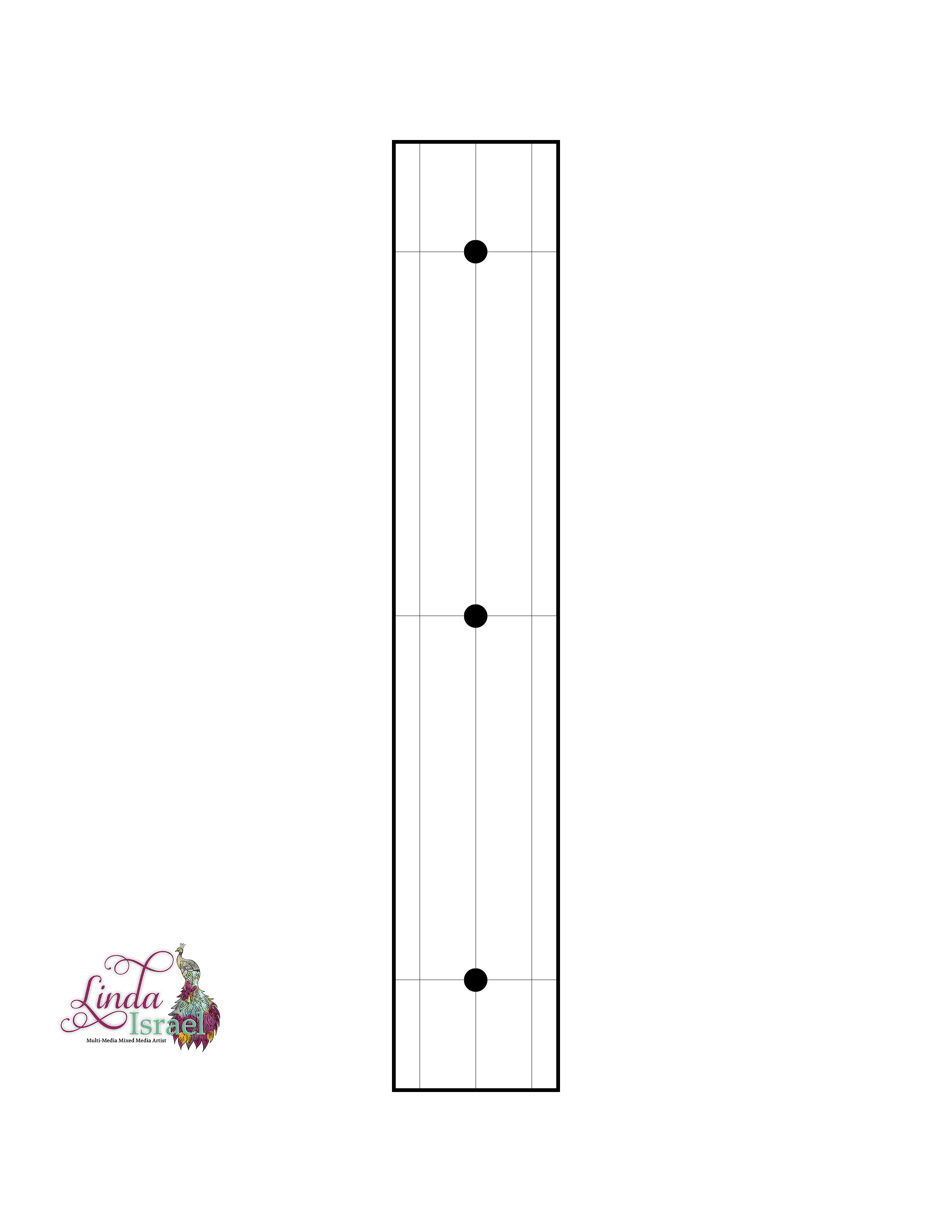 For those that use the
 

https://streamlabs.com/lindaisrael

 

these are the screens that come up when making a donation.

First navigate to https://streamlabs.com/lindaisrael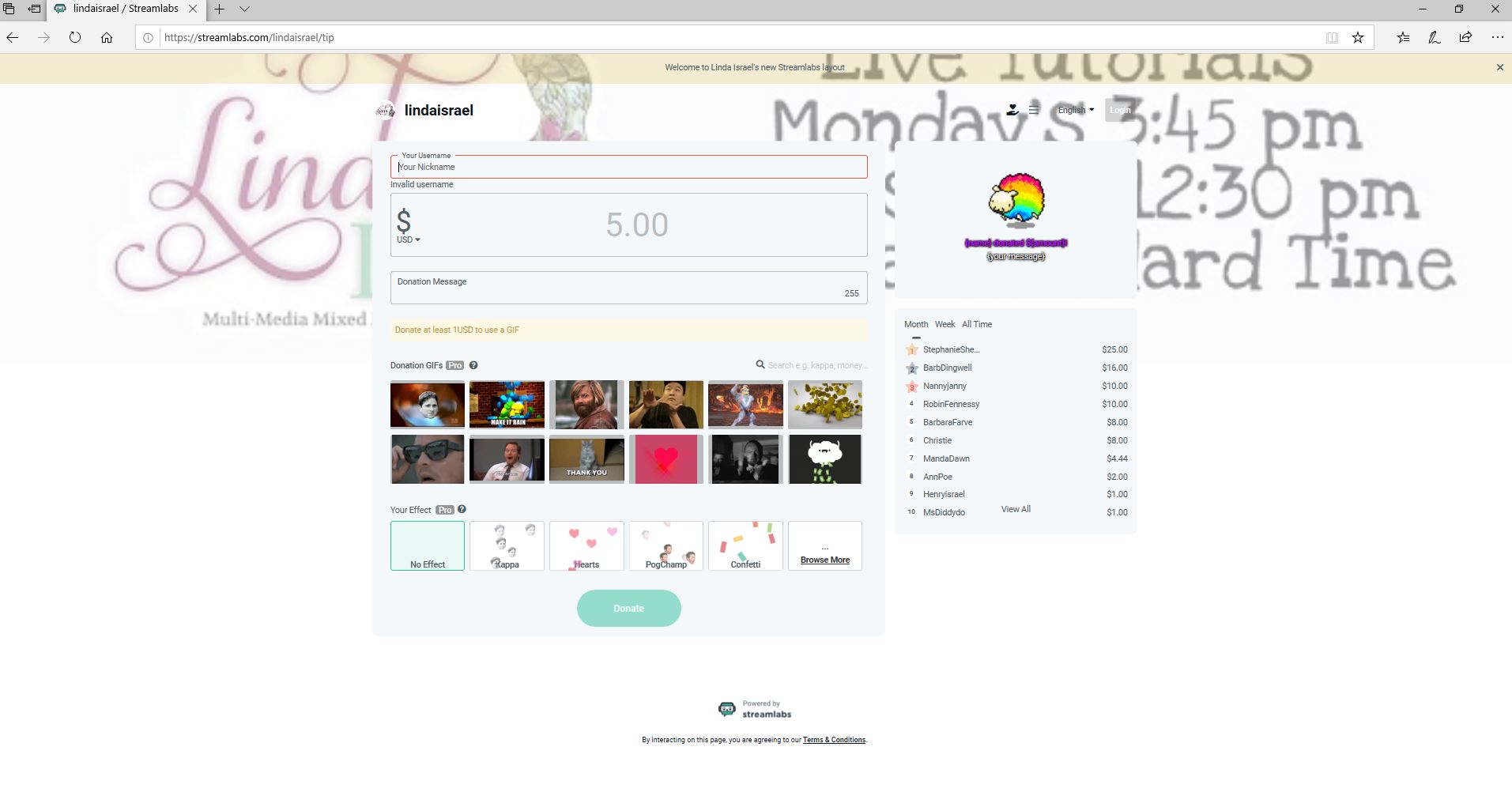 Second fill out the form. (It didn't ask me to log in or download an app, Robin did connect to YouTube, over on the right side click on login and choose YouTube.)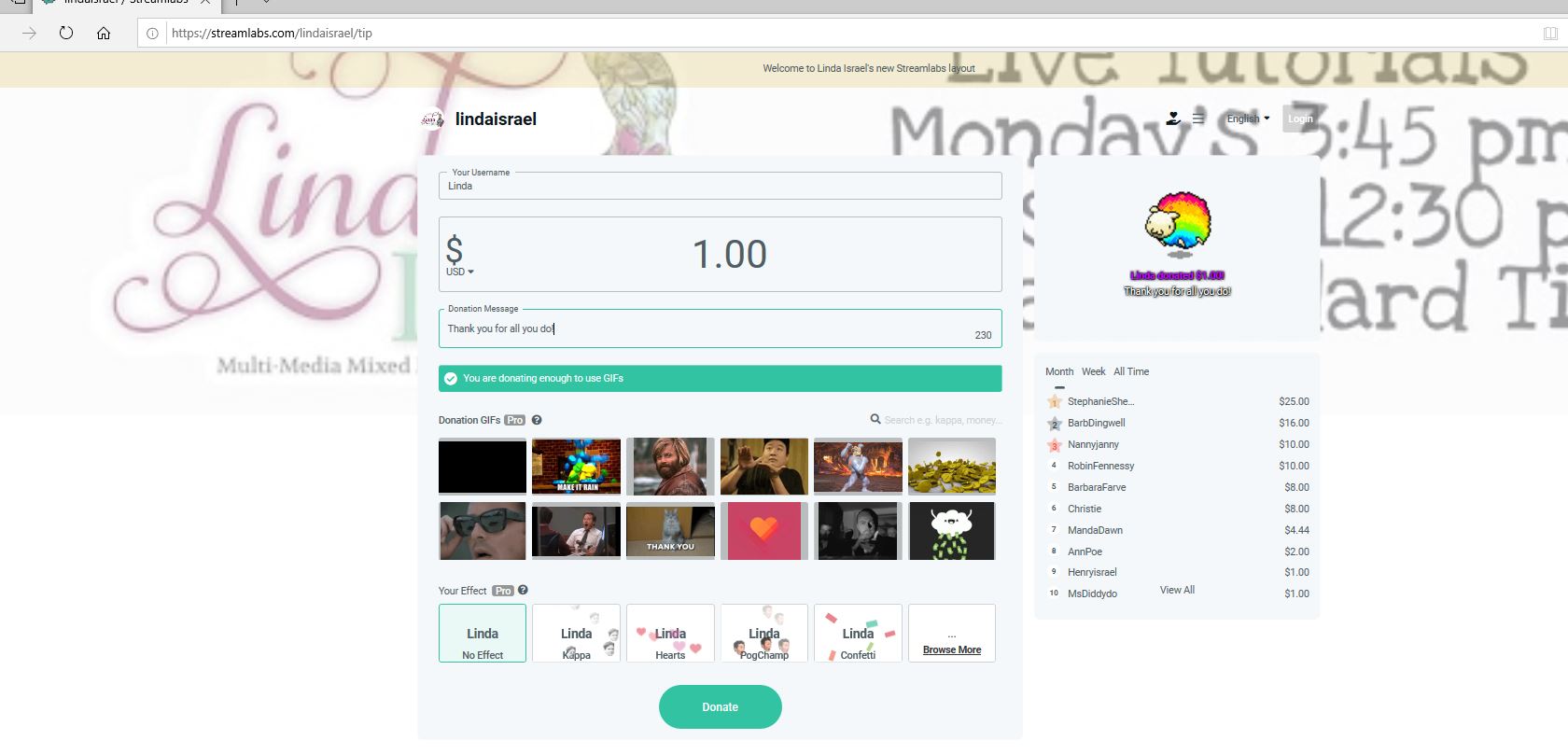 Third chose donate and it should give you the option to use PayPal or a Credit card. 

A new window will open once you have selected the payment form. It took a while for PayPal to load and then give me the PayPal log in screen. I didn't test with a credit card, but it should be simple, enter your information. Hope that helps everyone
Now that you have seen the different ways to use your mixed media for your journals, what is your favorite element that you enjoy creating for your junk journal?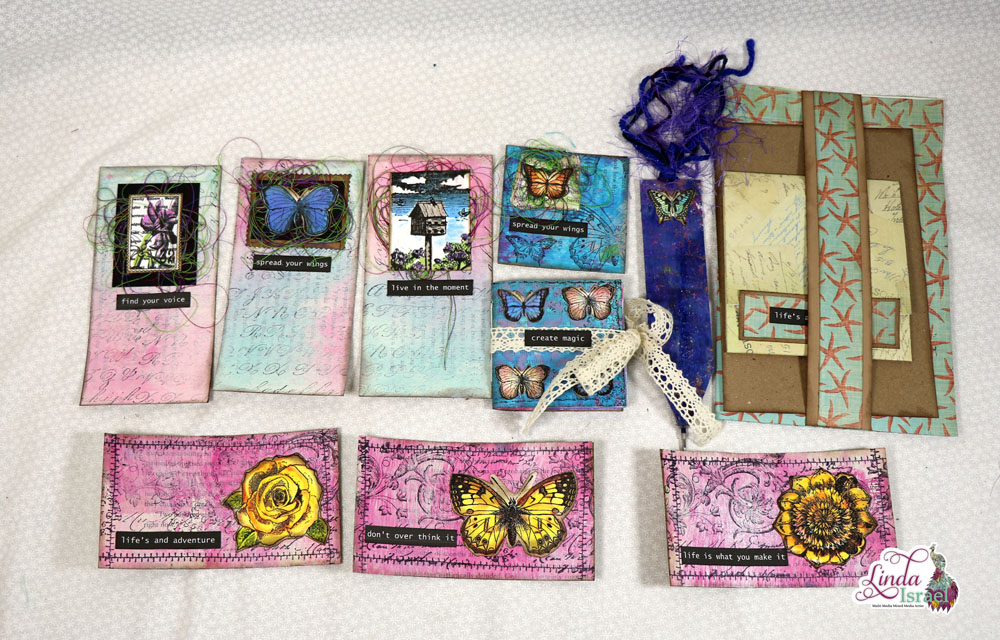 Join the #useitupjuly event on Facebook post photos of your projects inside the event to be entered to win prizes.
Remember that Linda has live streams on Monday's at 3:45 pm and Thursdays at 12:30 pm Central Standard time on her YouTube Channel. Come join the chat, win prizes while she create.
Make sure to check out the Friendly Junk Journal People Facebook group. Of course, you are welcome to join the Friendly Junk Journal People Facebook group. The group is growing daily and we are a friendly group willing to help each other and encourage each other.
Interested in any of the projects Linda has created? Please feel free to contact her through her website. Here is her shop, a lot of items featured and add more weekly.
Keep updated on her posts by following the blog by creating an account.  Follow Linda on her Facebook Page or on Instagram for updates that may not be shared on the blog.
Thanks so much for stopping by the blog today to see the blog post Creating Mixed Media Elements for Junk Journals.