Sharing a Autumn Folded Folio Tutorial, inspired by Natasha of Treasure Books from YouTube. Using scrapbook paper, digital images, rubber stamps, Stencil and more you will see how easy it is to make a super cute Autumn themed folio to add to a junk journal.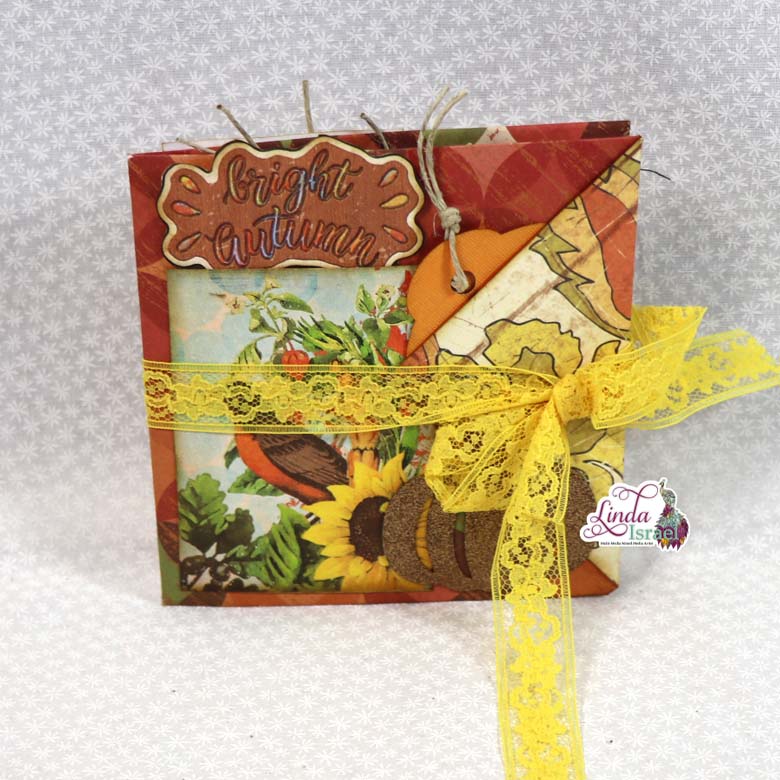 Autumn Folded Folio Tutorial Video
Supplies Used for the Autumn Folded Folio Tutorial
Scrapbook Paper 12 x 12

Green Linen text weight paper

Book Page scrap that had the Pairs Correspondence over stamped

Copper Glitter Embossing Powder

Cardstock

Gel Print

Lace Ribbon for tie

Sewing Machine
To get started with this Autumn Folded Folio Tutorial, pick out some papers. In this case 12 x 12 Scrapbook paper was used. If you don't have large sheets of paper, make your own, franken page style.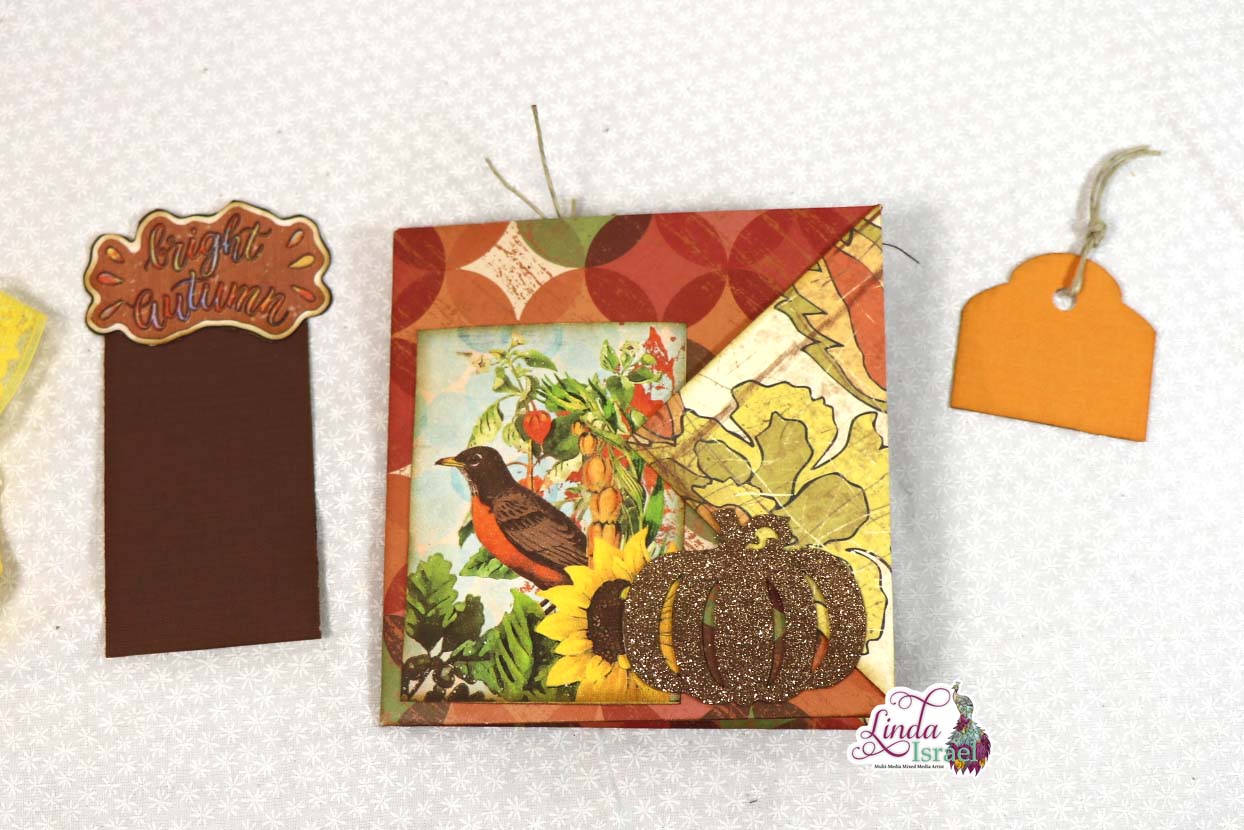 Taking two 12 X 12 inch one sided scrapbook paper, Linda trimmed 10 inch square, she then rotated the paper and cut two additional inches. She saved the 2 inch strips to use later in the project. Let your glue dry so that the paper will not rip when you go to fold it. Using the pumpkin chipboard piece from Autumn Chipboard Pieces, Linda used copper embossing powder, she then heat embossed the powder using her heat tool and used it as an embellishment.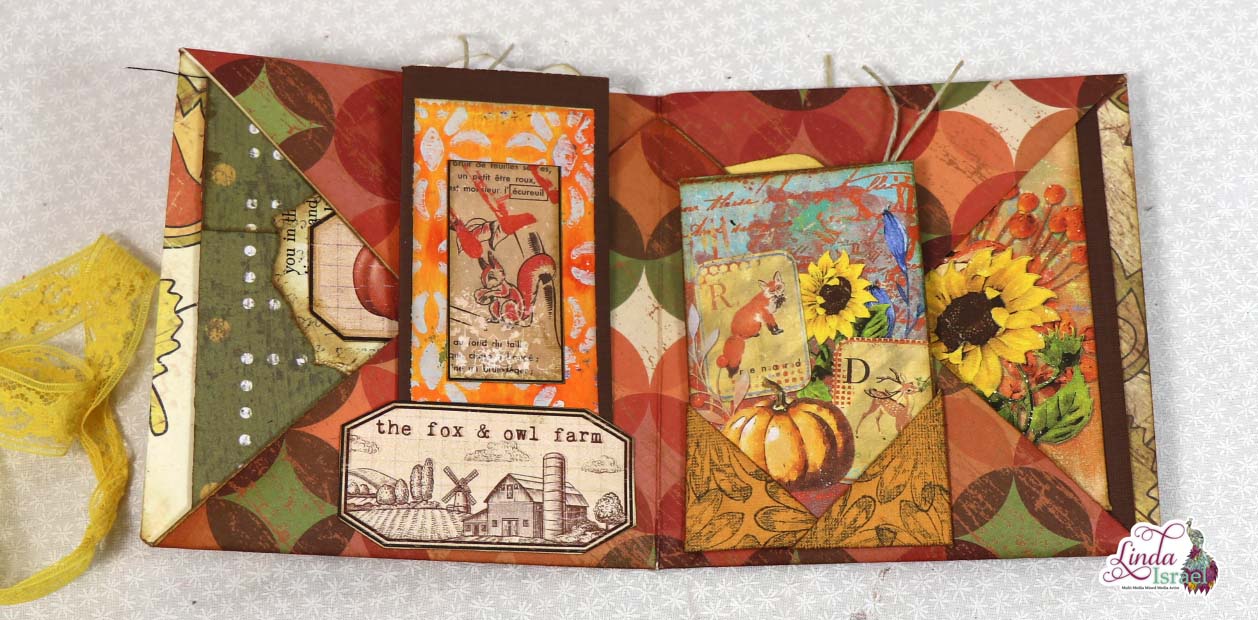 Using a 4 x 8.5 inch green linen paper, then fold in half and distress the edges. Linda then took an additional 4 x 12 inch strip of paper and used the maple leaf stencil to stencil on the paper, then applied the fossilized amber, aged mahogany distress oxides to create the colorful Autumn Leaves. 
The folded green linen paper was then sewn to the upper fold of the 4 x 12 inch strip. If you don't have a sewing machine, you could use staples, or hand sew or even a small amount of glue.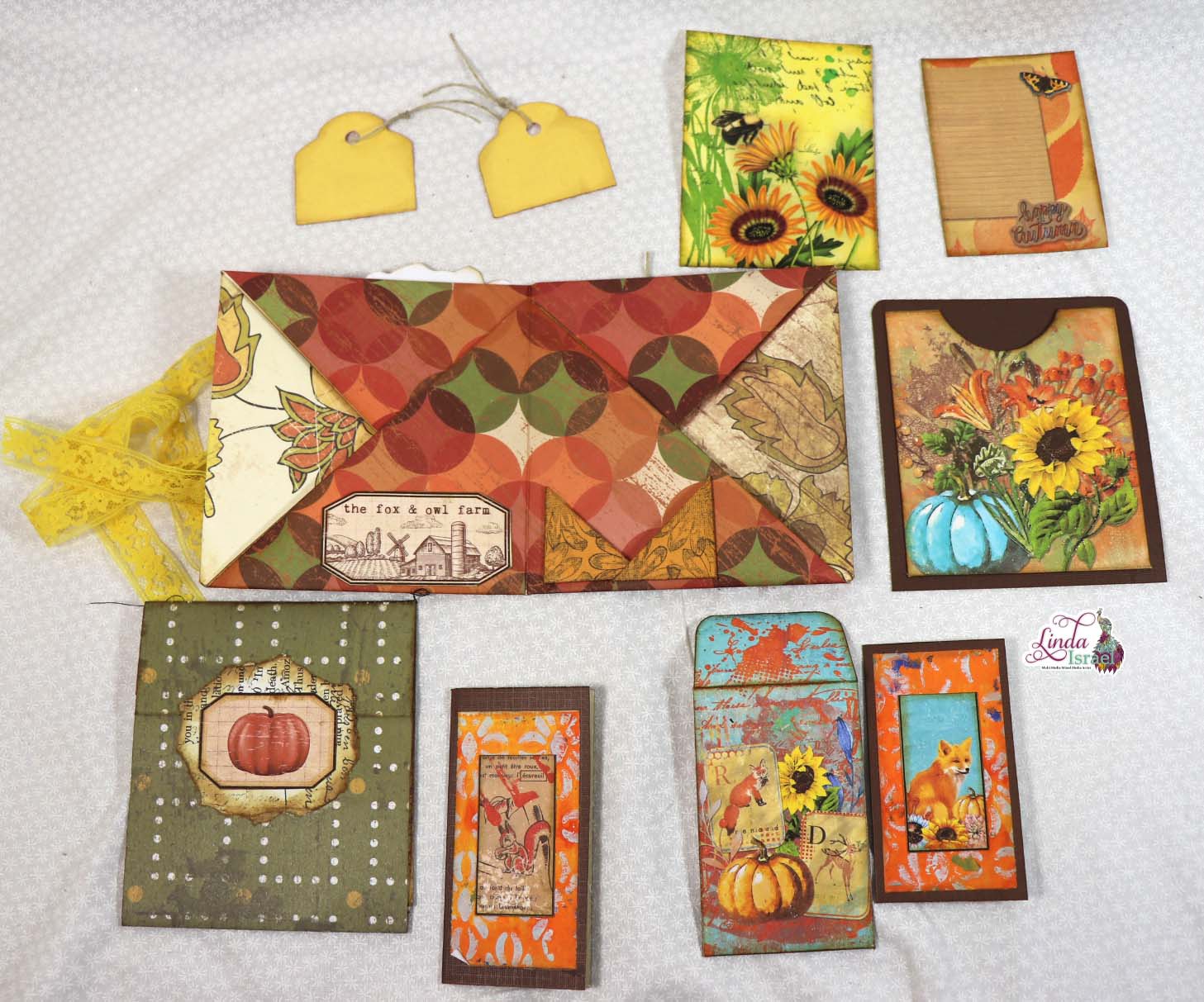 Here you can see the back of the Pocket Journal Card has been stamped with the sunflower from the sunkissed cube stamp set in her shop. Adding a couple of stamped images helps dress up a plain piece of paper.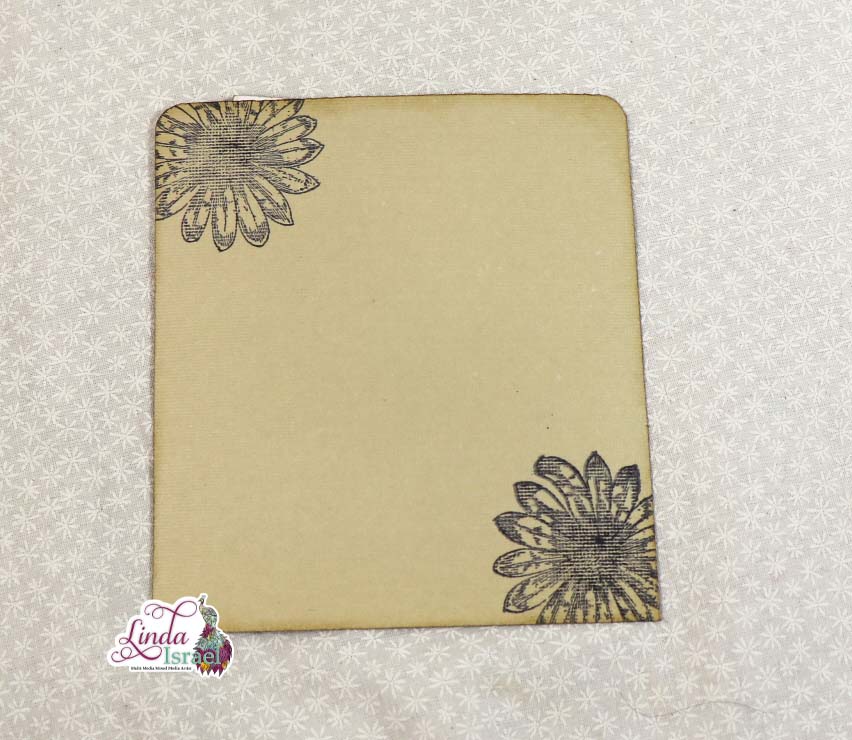 Looking Inside of folded note pad Linda used Life is about making memories and one of the Sumac Elderberry Duo stamps, she also added Autumn Printable images by Calico Collage.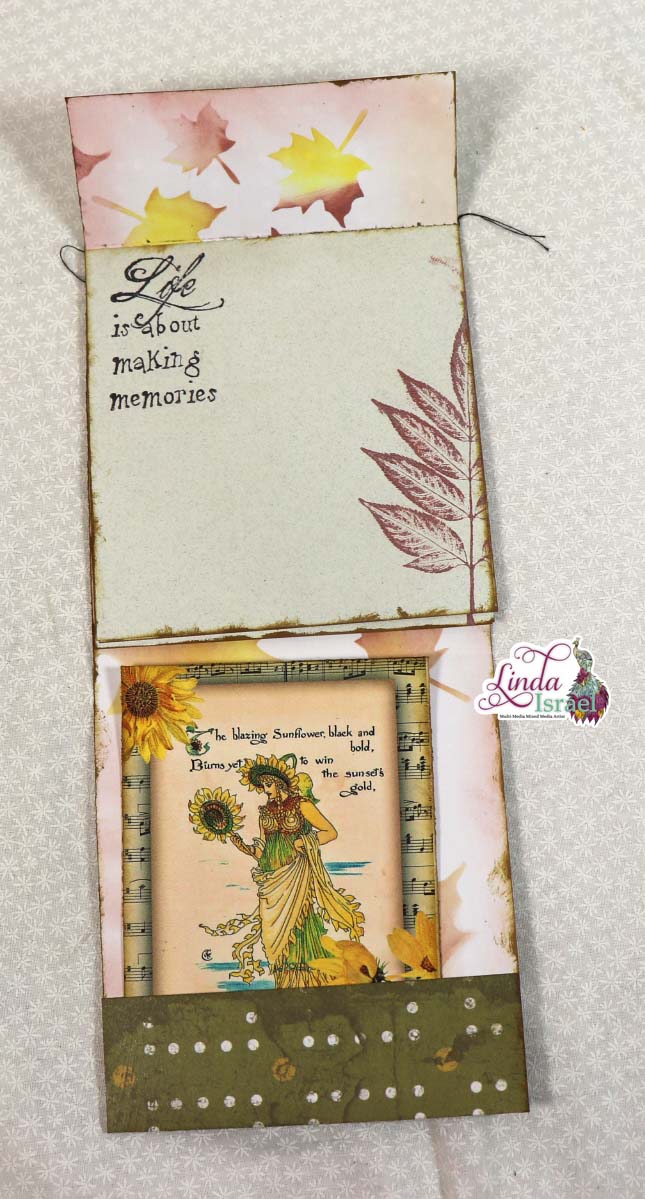 Using up those paper scraps, you can create all sorts of tags and journal cards, remember use what you have!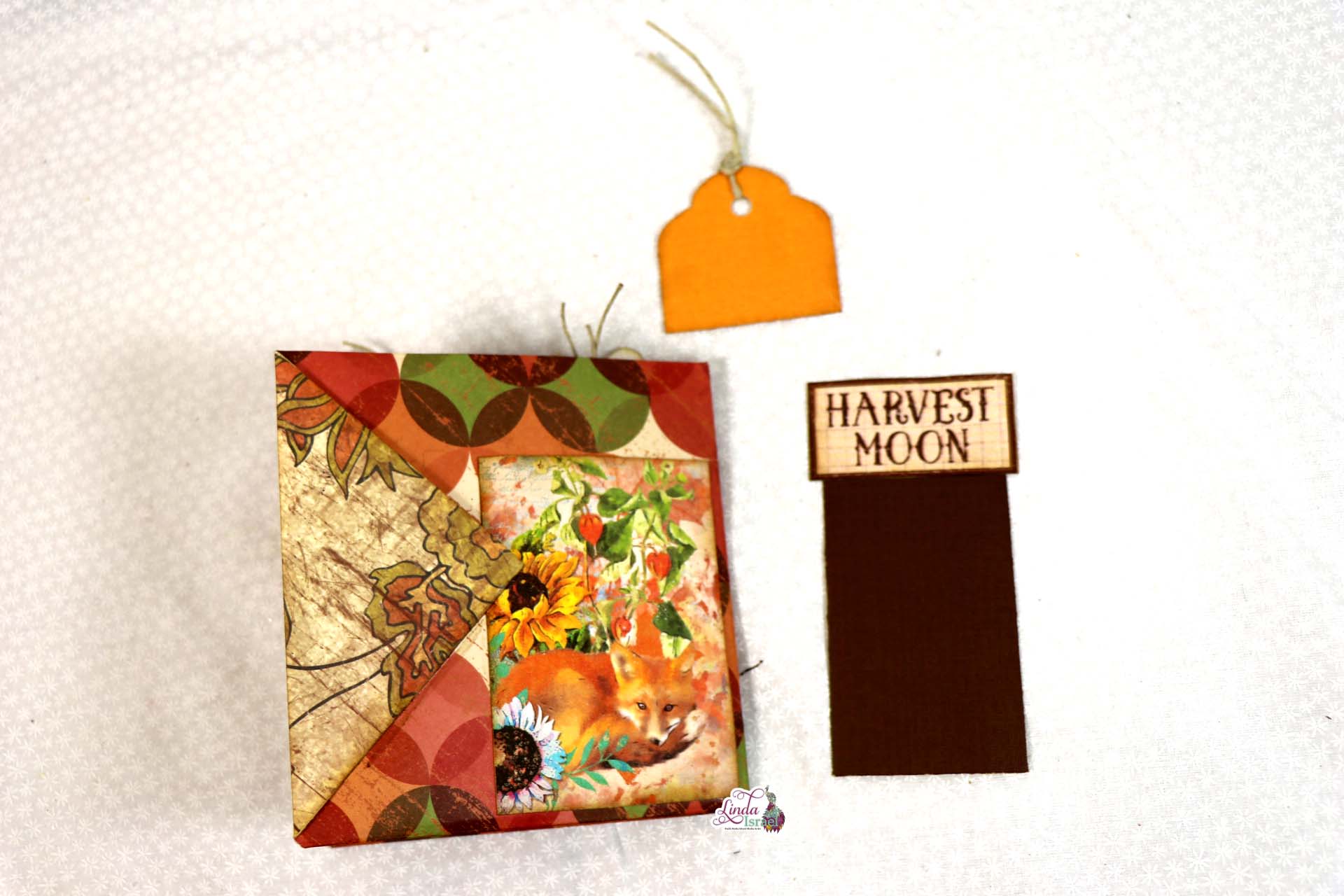 What did you enjoy the most about this Autumn Folio Design?
Robin Fennessy
Make sure to check out the Friendly Junk Journal People Facebook group. Of course, you are welcome to join the Friendly Junk Journal People Facebook group. The group is growing daily and we are a friendly group willing to help each other and encourage each other.
Interested in any of the projects Linda has created? Please feel free to contact her through her website. Here is her shop, a lot of items featured and more added weekly.
Keep updated on her posts by following the blog by creating an account.  Follow Linda on her Facebook Page or on Instagram for updates that may not be shared on the blog.
Thanks so much for stopping by the blog today to see the Autumn Folded Folio Tutorial