Sharing a Mixed Media Poppy Masterboard Tutorial. Since I decided that I wanted to offer Creative Boxes it was time to sit down and create some artwork that Norella Bouchard of Calico Collage could alter. In this tutorial you will see how I created the artwork that was then used to create the Radiant Red Creative Box.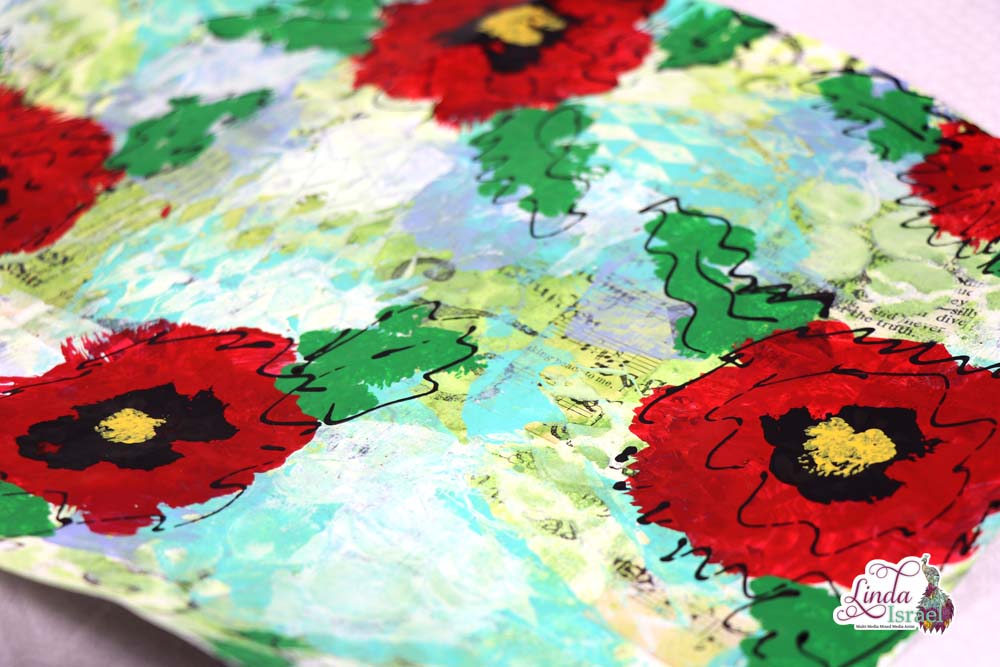 Mixed Media Poppy Masterboard Tutorial Video
Linen Cardstock or watercolor paper
Book pages, hymnal, bible, dictionary
Glue Pot
Paint Brushes
Gesso
Old Gift Plastic Gift Card
Stencils, Punchanella, Tim Holtz Diamonds, Lace Stencil
Tattered Angels Glimmer Mists, Blarney, Hemlock Green
Acrylic Paint, Blue,Teal, White, Red, Green
Paint Tray
Black Paint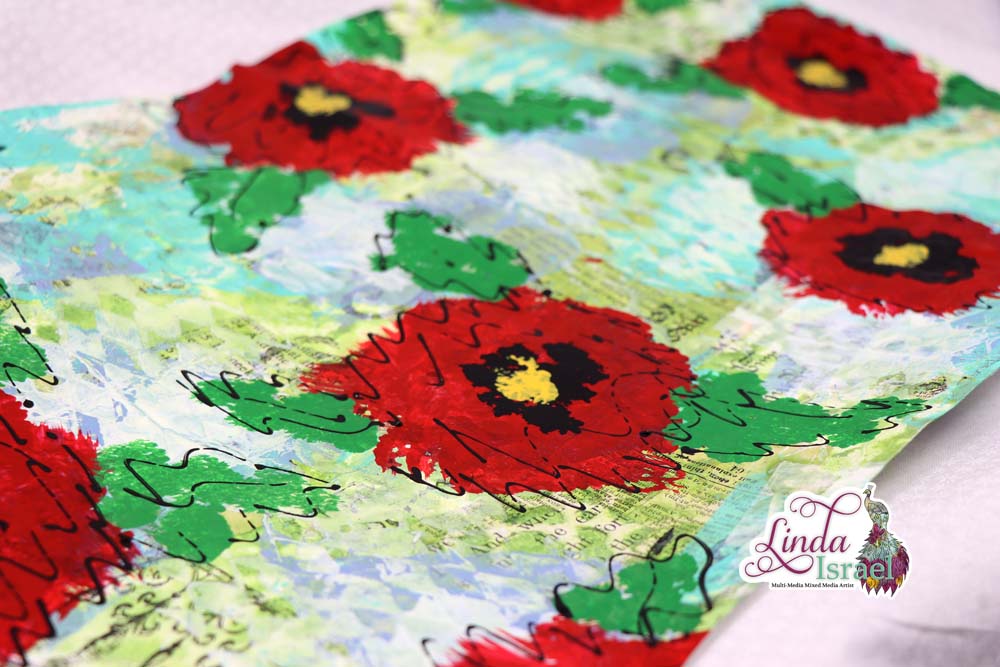 Let's begin the Mixed Media Poppy Masterboard Tutorial with cardstock or watercolor paper and adhere torn pieces of book pages. Be random and change the direction of the text. Use different books that have different fonts and sizes for interest.
Stamp with various stamps to create an interesting background.
Apply Gesso through various stencils using an old gift card. Dry with heat tool
Spray with Tattered Angels Glimmer Mists through Lace stencil. Dry with heat tool
Apply craft paint with an old gift card here and there and dry with a heat tool.
Paint poppies with craft paint, making sure to dry each layer.
Use the Large No-Clog Writing cap on acrylic paint and draw lines around the flowers and leaves. Dry with heat tool.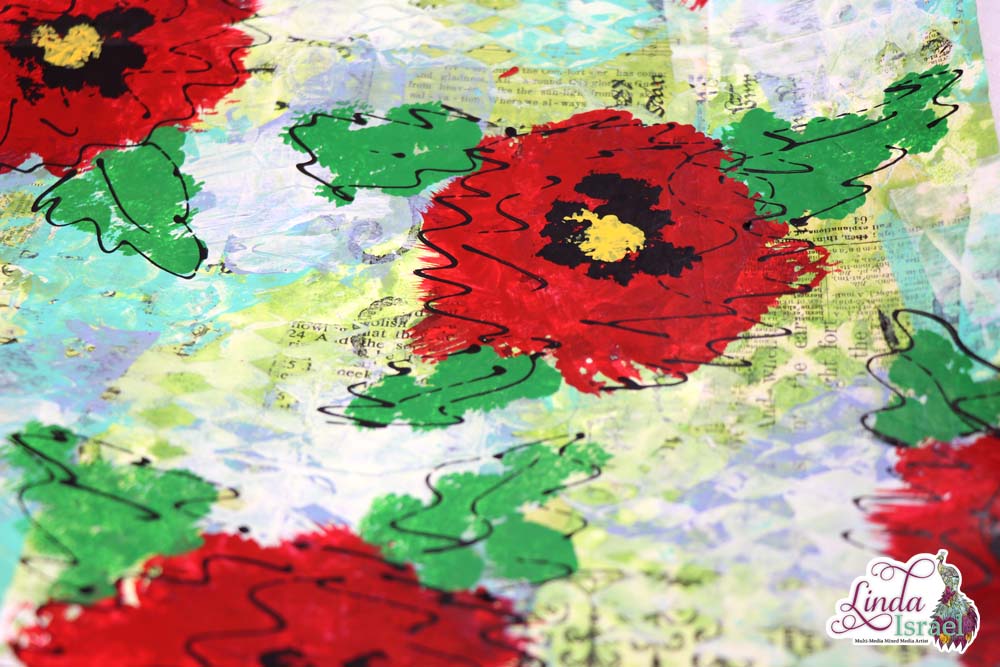 Now you have a masterboard that you can use for other projects. Mine was scanned into my computer and then Norella with Calico Collage turned it into a journal kit – Radiant Red.
Now that you have seen this Mixed Media Poppy Masterboard Tutorial, what will you create for a masterboard?
Make sure to visit my shop to get your Radiant Red Creative Box today.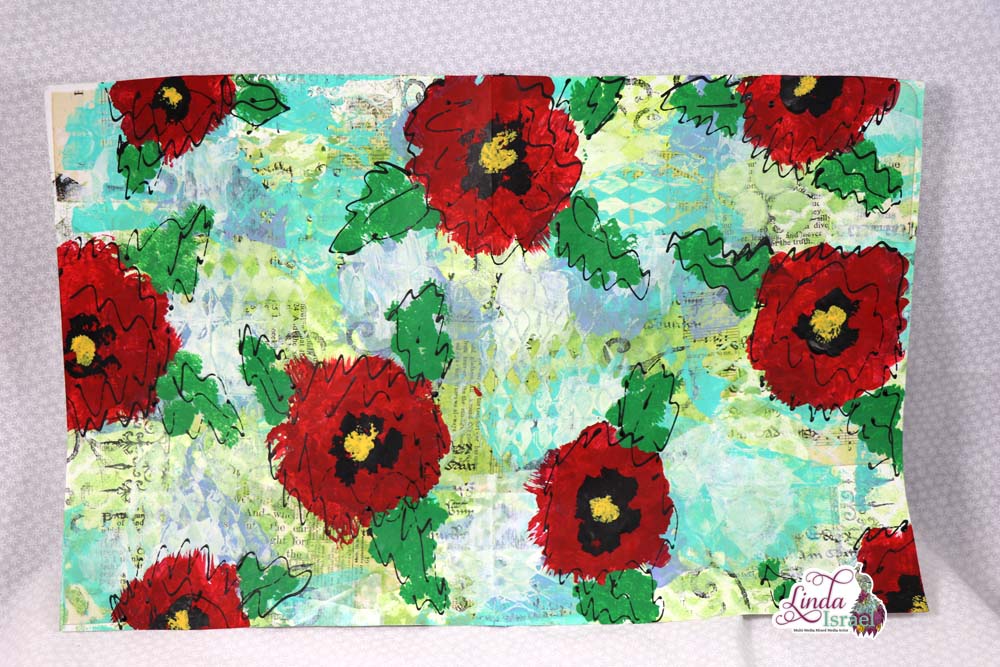 A great way to support me, and continue to see more tutorials and inspirational projects from me is to Become a Patron! When you give me your patronage you will get an exclusive digital download featuring art I created that has now been made into a digital journal kit.
Make sure to check out the Friendly Junk Journal People Facebook group. Of course, you are welcome to join the Friendly Junk Journal People Facebook group. The group is growing daily and we are a friendly group willing to help each other and encourage each other.
Interested in any of the journals I created? Please feel free to contact me through my Facebook Page. Here is my shop, I have a lot of items uploaded and add more weekly.
Keep updated on my posts by following me. Follow my blog with Bloglovin. Or Follow my Facebook Page or on Instagram for updates that may not be shared on my blog.
Thanks so much for stopping by my blog today to see the Mixed Media Poppy Masterboard Tutorial.