Live Creating Take Me To Paris Junk Journal on YouTube. A Paris Themed journal as requested was created live on YouTube on Dec 13th. Using the digital kit from Calico Collage, Rubber stamps, stencils and more I show how to create this beautiful journal.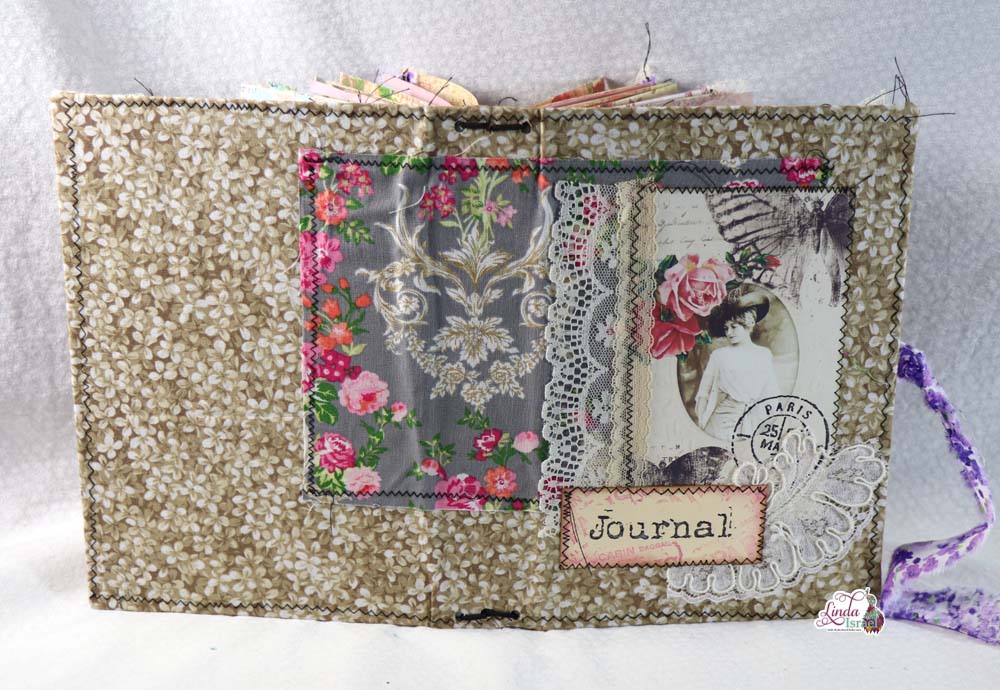 Live Creating Take Me To Paris Junk Journal Video.
Part two because of technical difficulties.
Start of flip through of the finished journal
Supplies used for the Live Creating Take Me To Paris Junk Journal.
Napkin
Glue Pot
Heat tool
Fabric and lace scraps
Book Pages
This journal made during the Live Creating Take Me To Paris Junk Journal features a lot of lace and fabric. Mixing different patterns to give an eclectic Parisian feel to each page.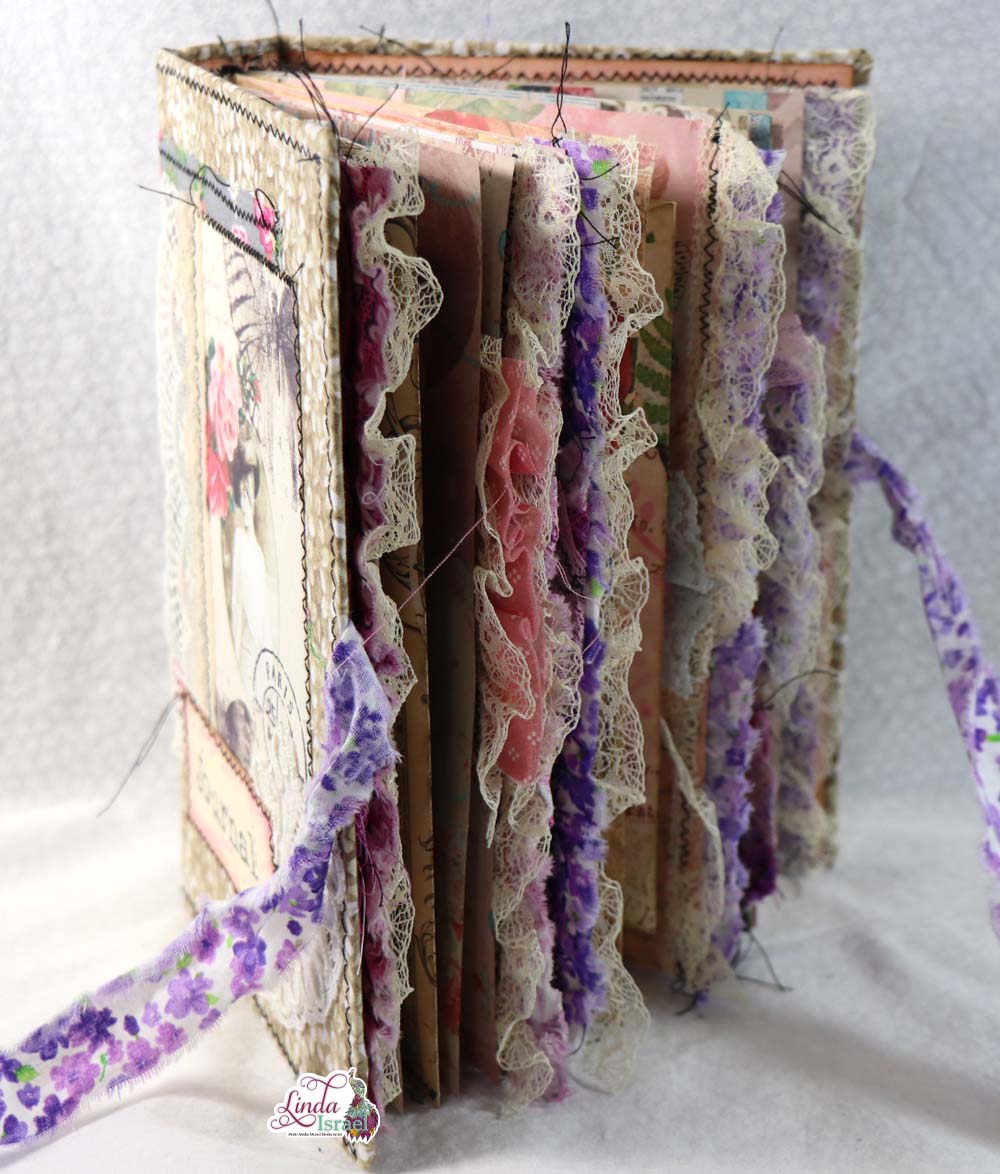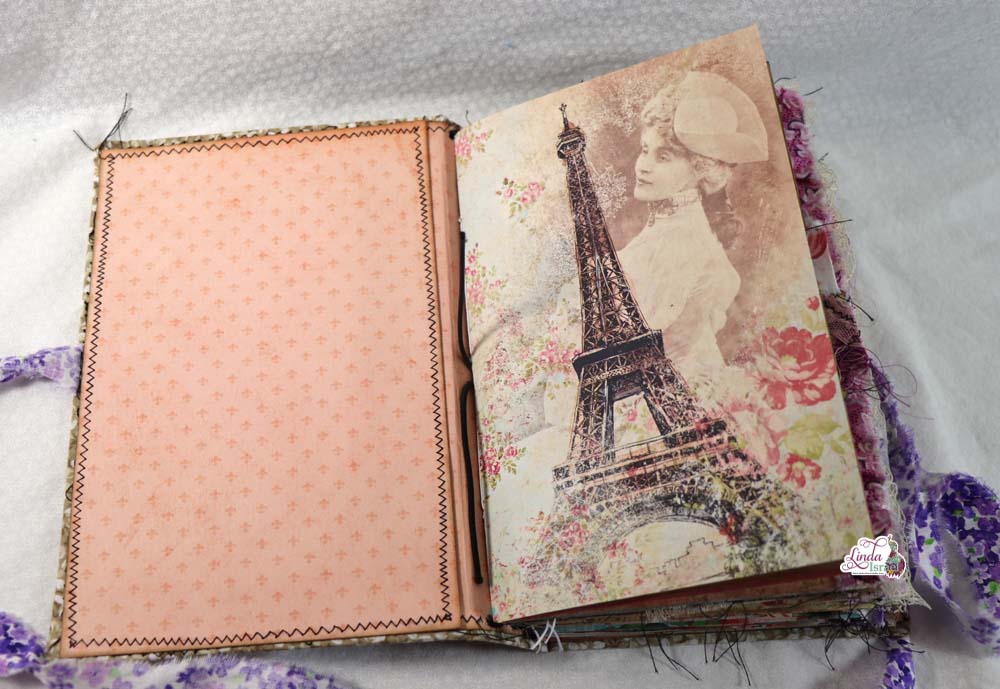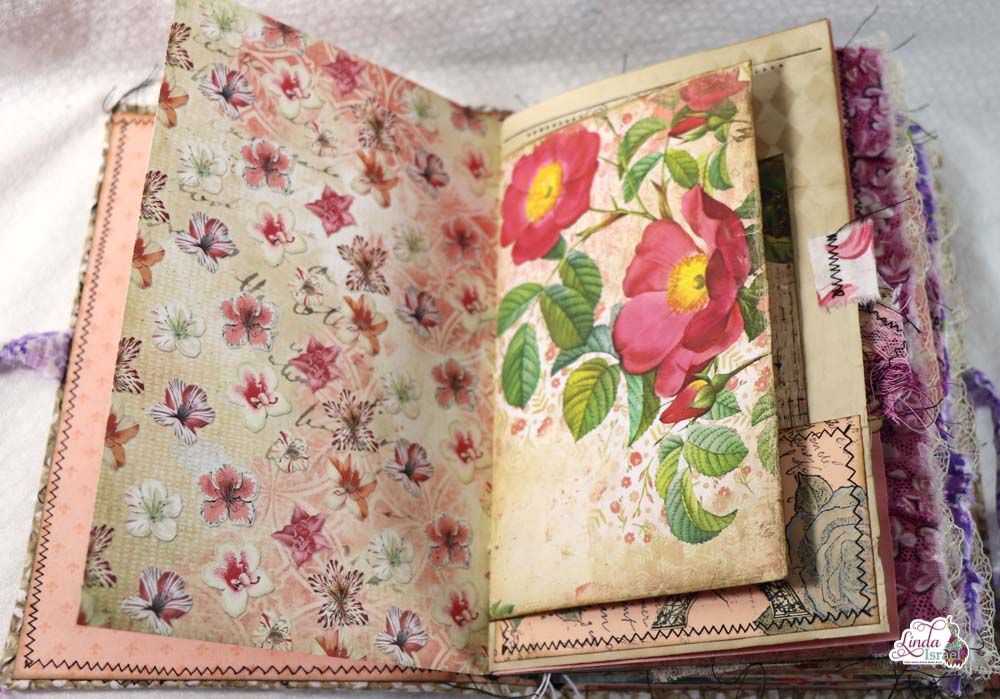 Mixing the digital images along with stencils and stamps is a great way to make each page unique. The left side features a digital from Her Allure. Using Flowers and Vines stencil with distress ink picked raspberry gives a soft feel to the page. Over stamping with one of the flowers from the sunkissed cube outlines the page.
On the left side a stamped pocket was created. Layering the Bella Rose and French Correspondence in the background makes this a fun pocket. Fussy cutting the Eiffel tower and then layering on top of the pocket gives a 3d effect.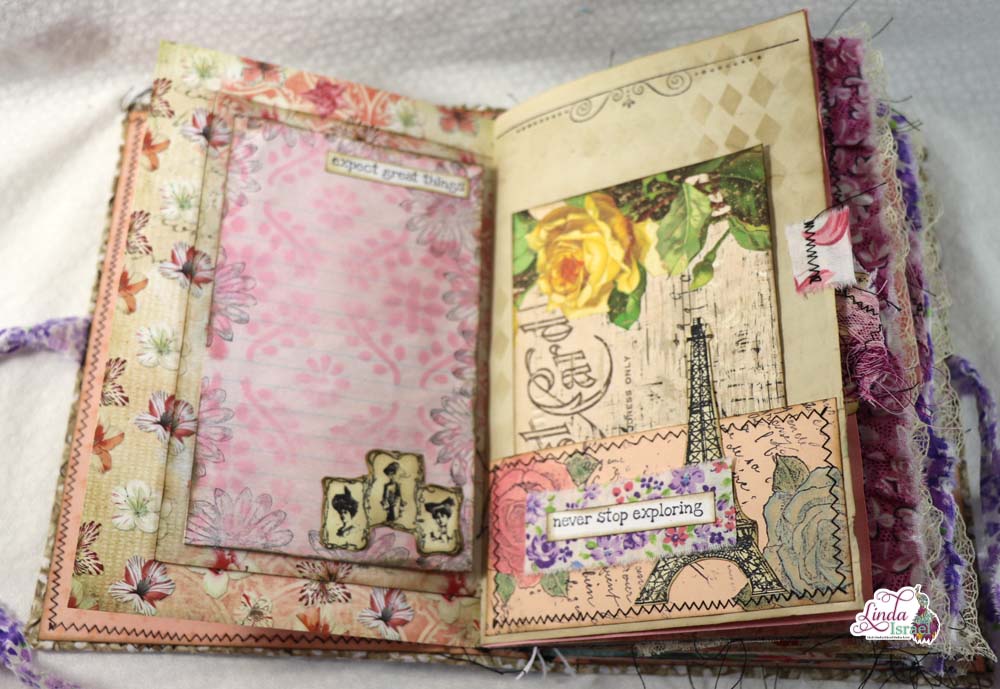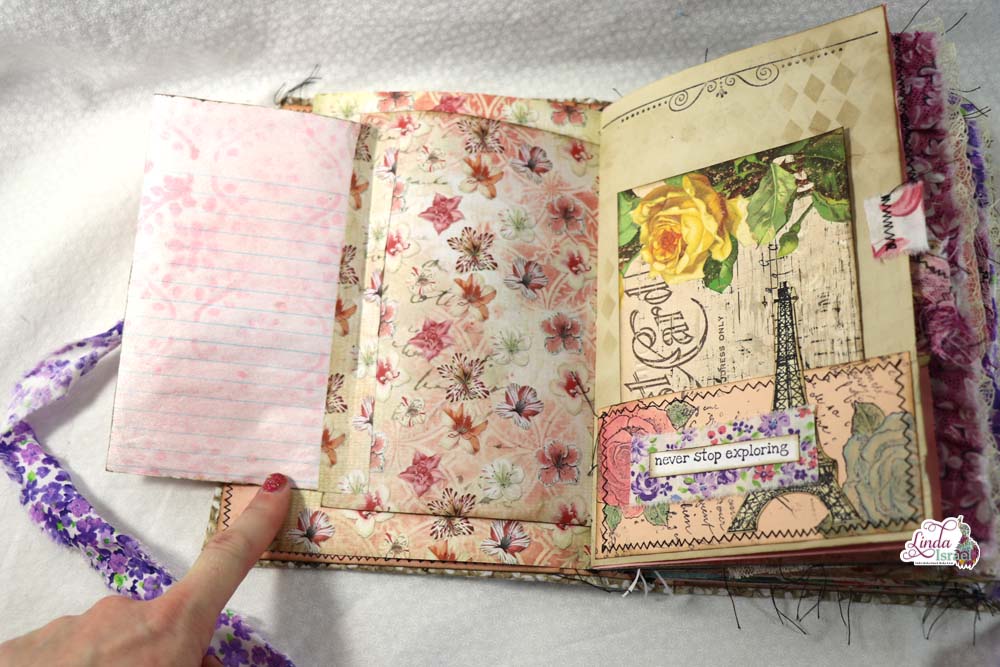 The Corset Paten is such a fun stamp. I love adding it to a page.
When I started this journal I printed several pages. Well there was an accident and water spilled on the inkjet papers. However, I didn't let this deter me. Cutting the pages, and adding accents to the pages I was able to salvage many of the prints!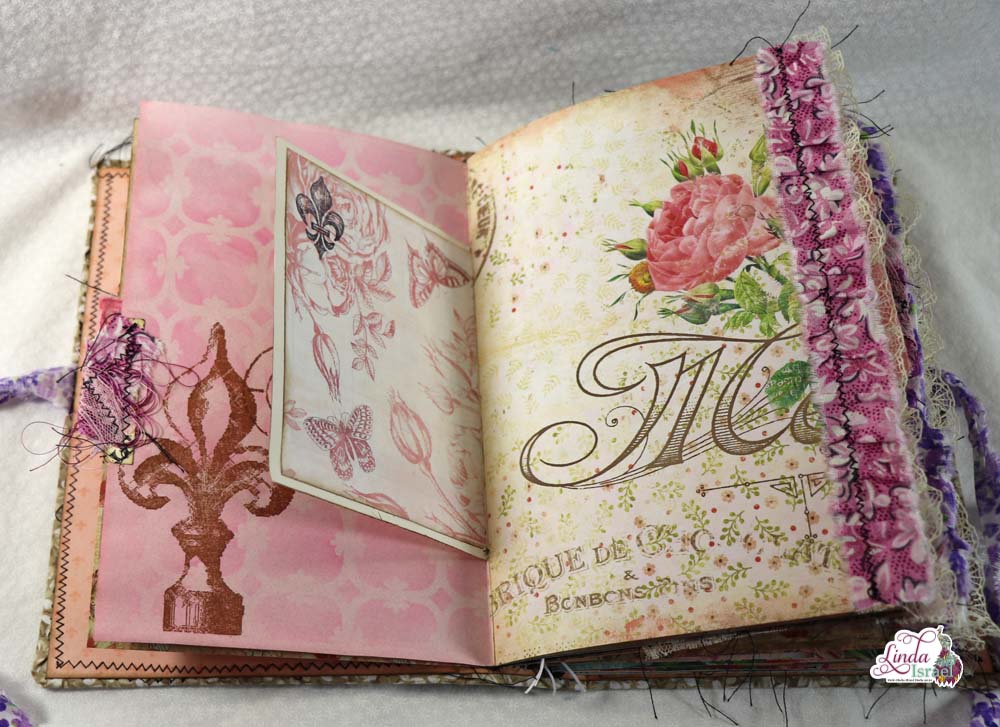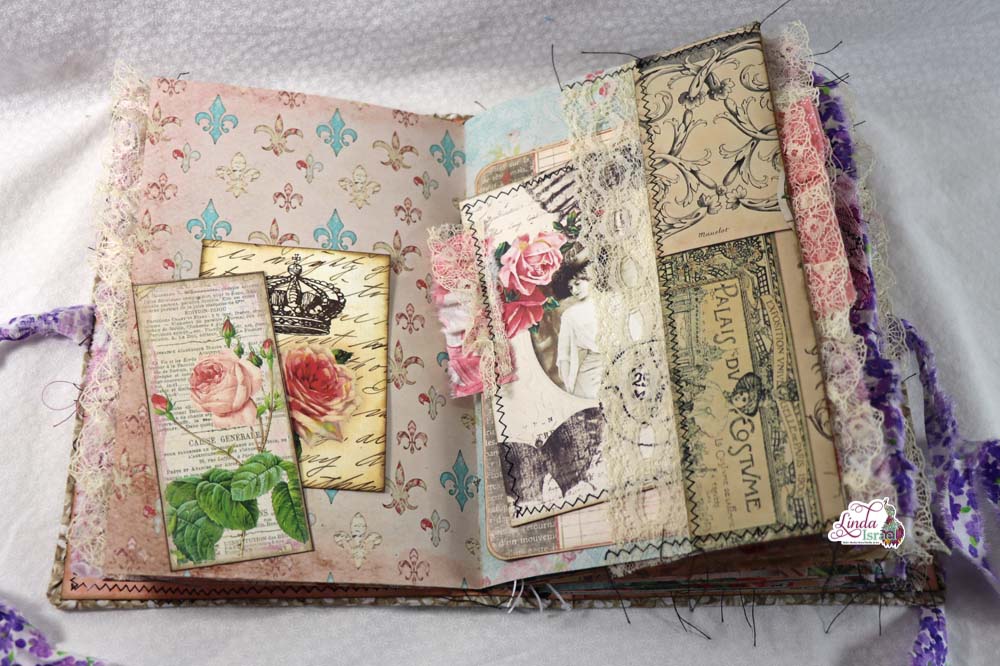 Remember, you are allowed to alter the size of the digital images. The journal card below was created when I cropped the image from the journal page and then printed so I could have this as an extra element. It was even used on the front cover of the journal.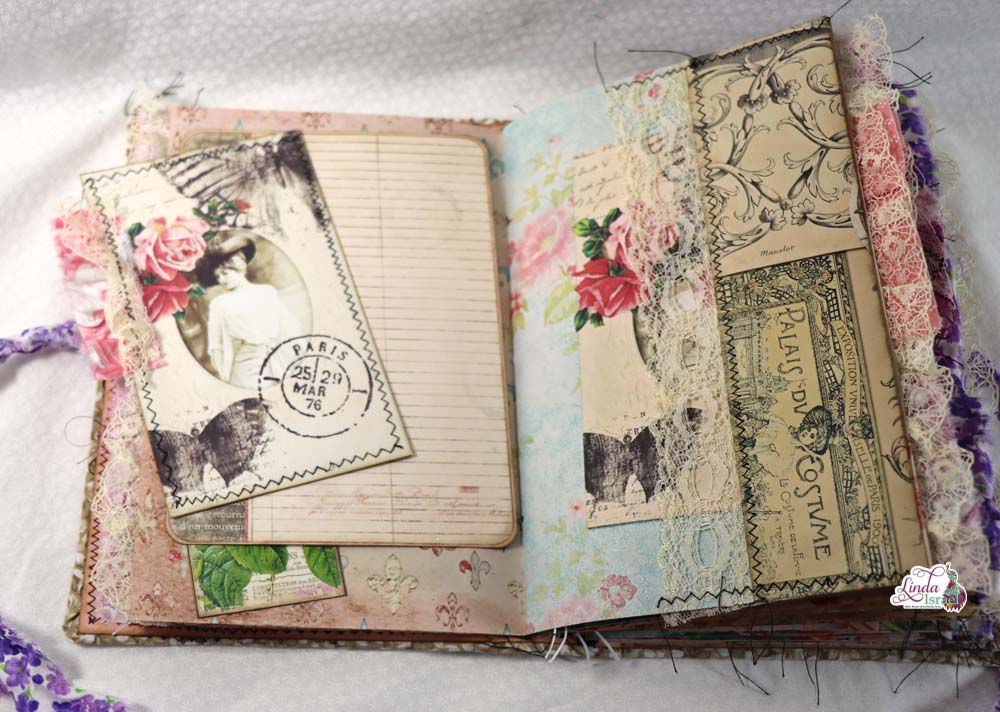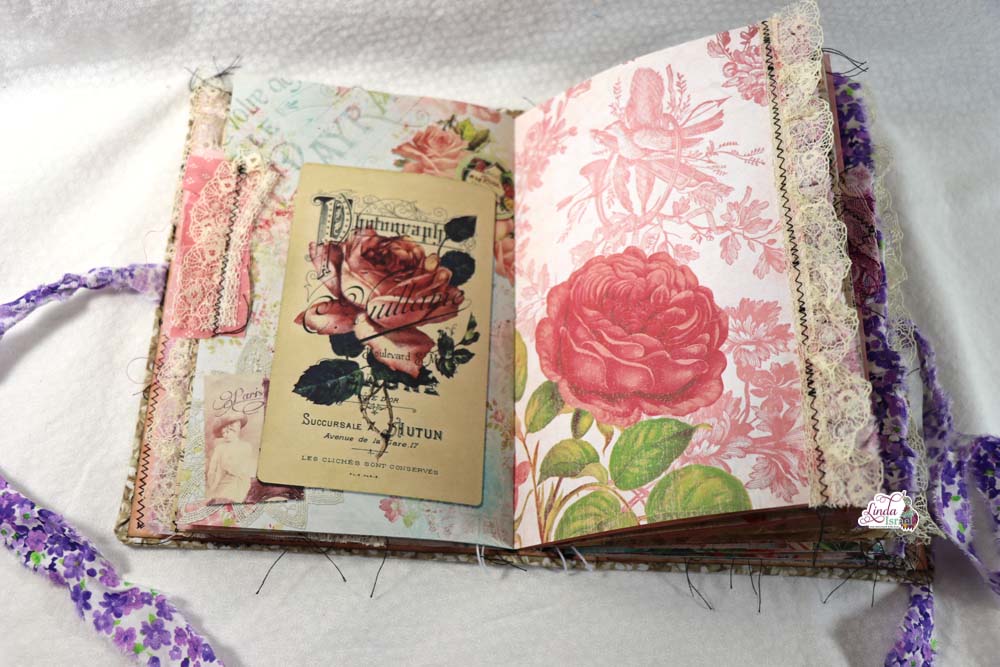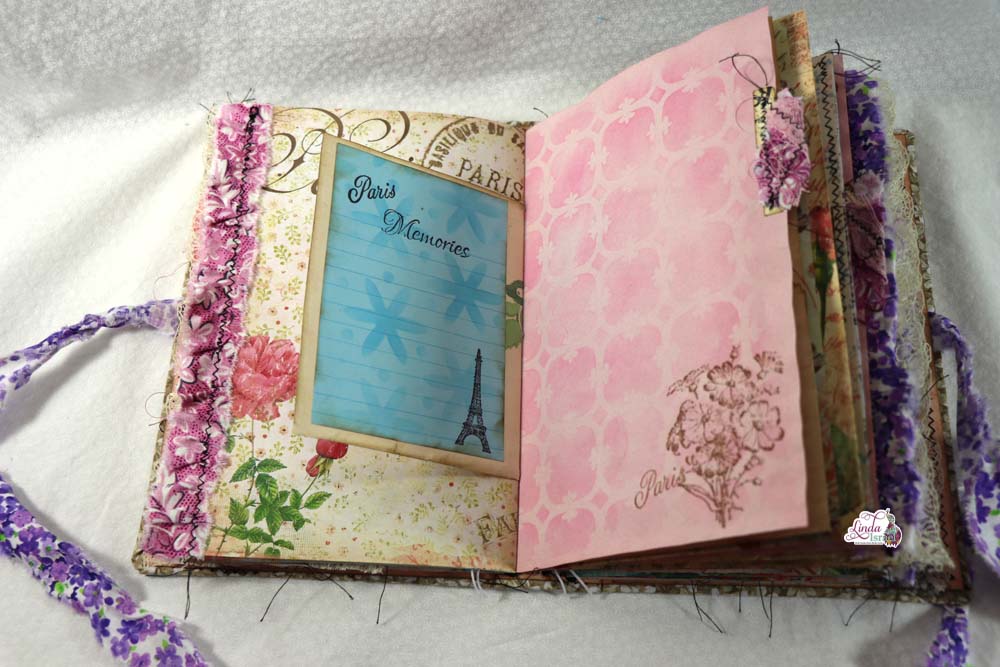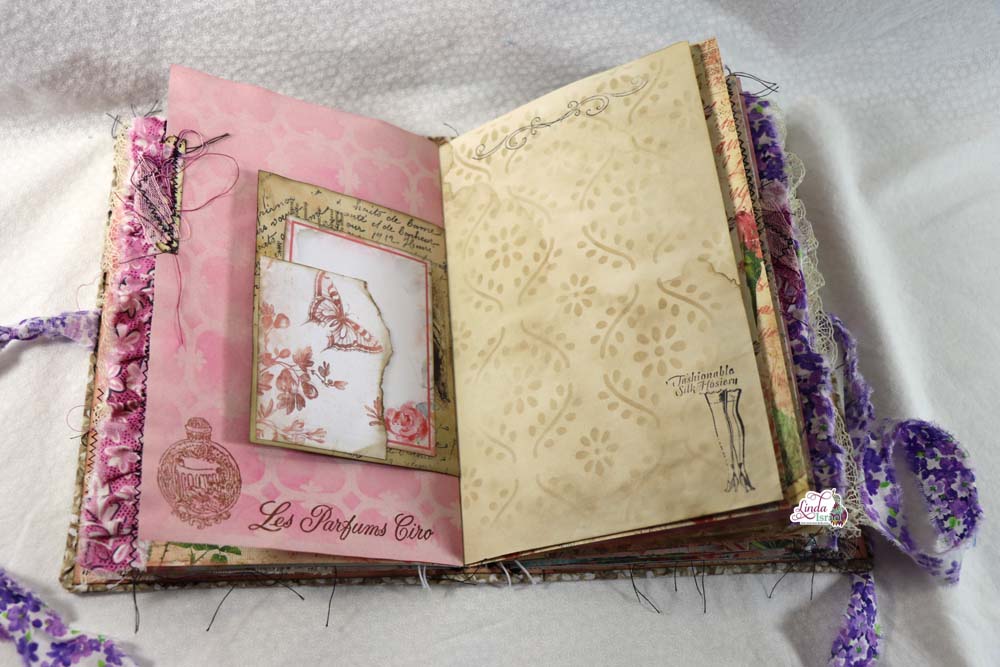 A torn book page, sprayed with Tattered Angels Glimmer Mists, then stamped makes a beautiful corner. Feel free to layer stamped images, fussy cut some out and play around with composition and see what you like best. Of course, I feel the key is to have fun!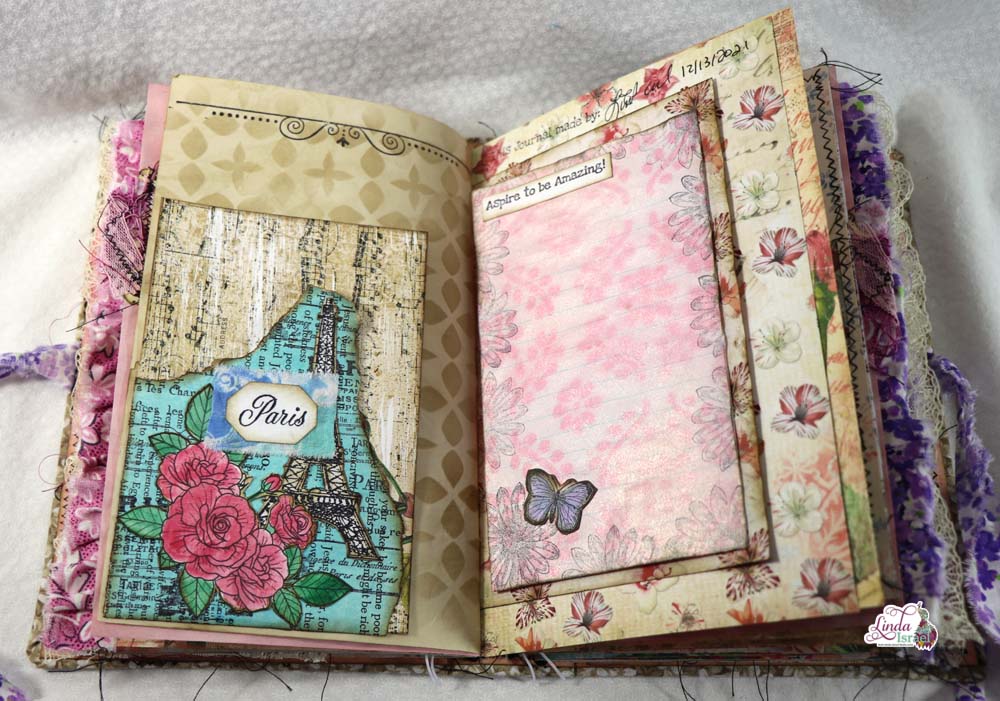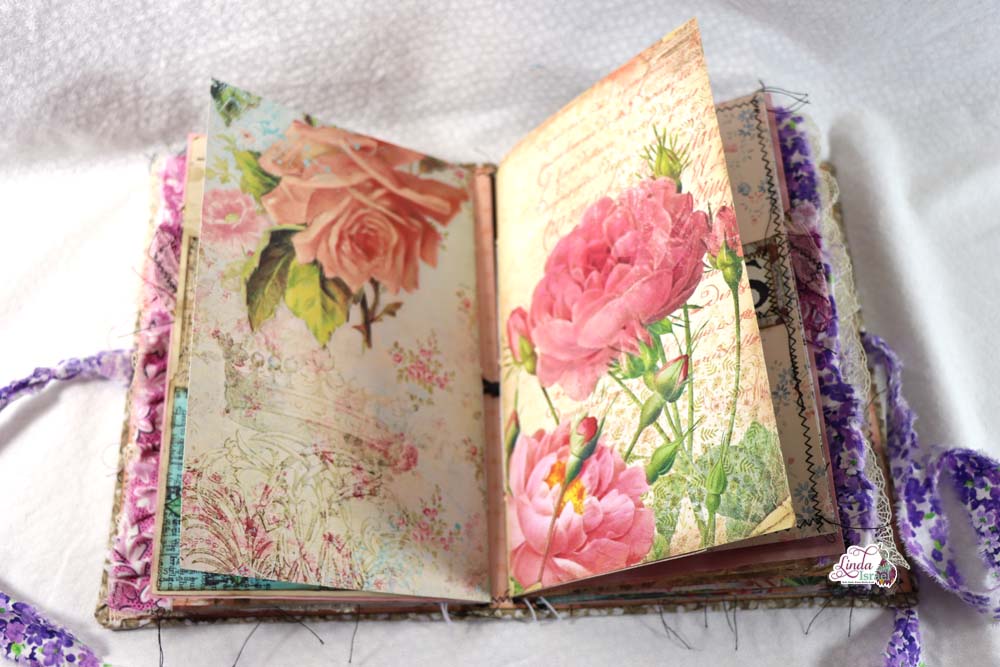 The Large Paris stamp makes a great belly band on a page. It is placed on top of wallpaper from a sample book. Check out local shops and ask them for the discontinued wallpaper sample books. Some will give them to you for free.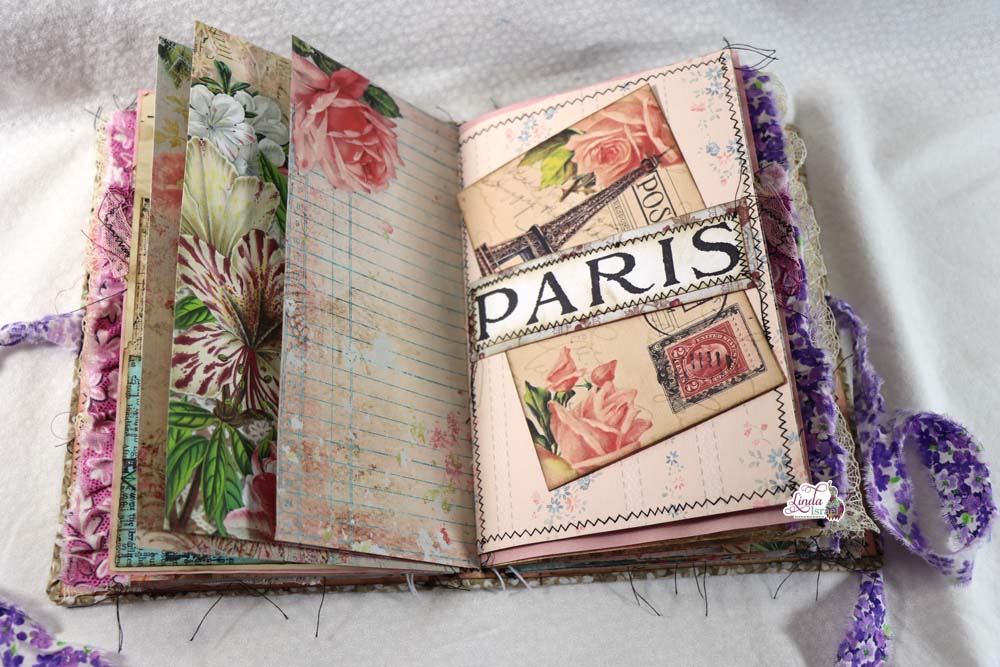 Using the girls bike from the Bike Duo was fun for this page. Adding the Envelope and the tiny postcard makes it feel like a delivery is on the way.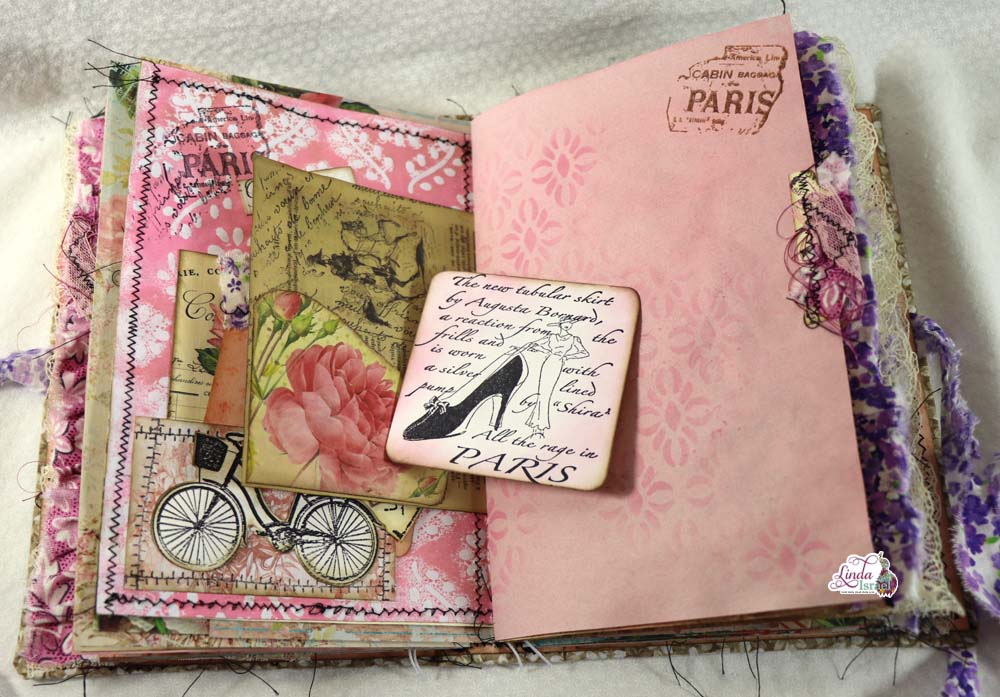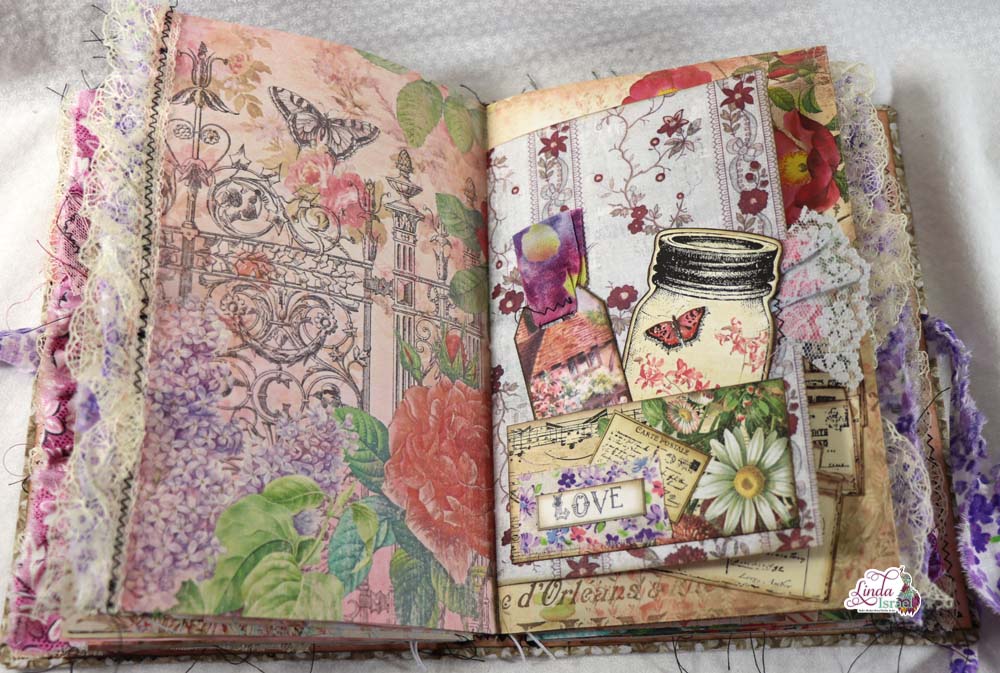 Letters from home makes a great tuck spot. The little bundle with the ribbon is a map I found and I made into a digital download.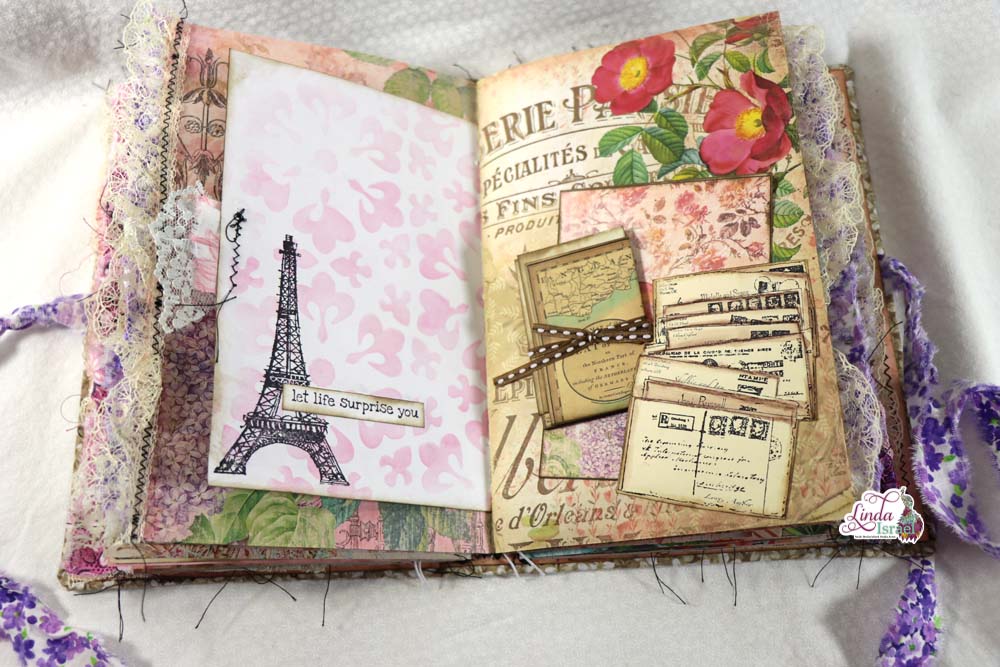 Of course, it is possible to attach an envelope to a page. In the live stream I show how to adhere one to a strip of page, after I show how to decorate using a napkin, stencil and stamps.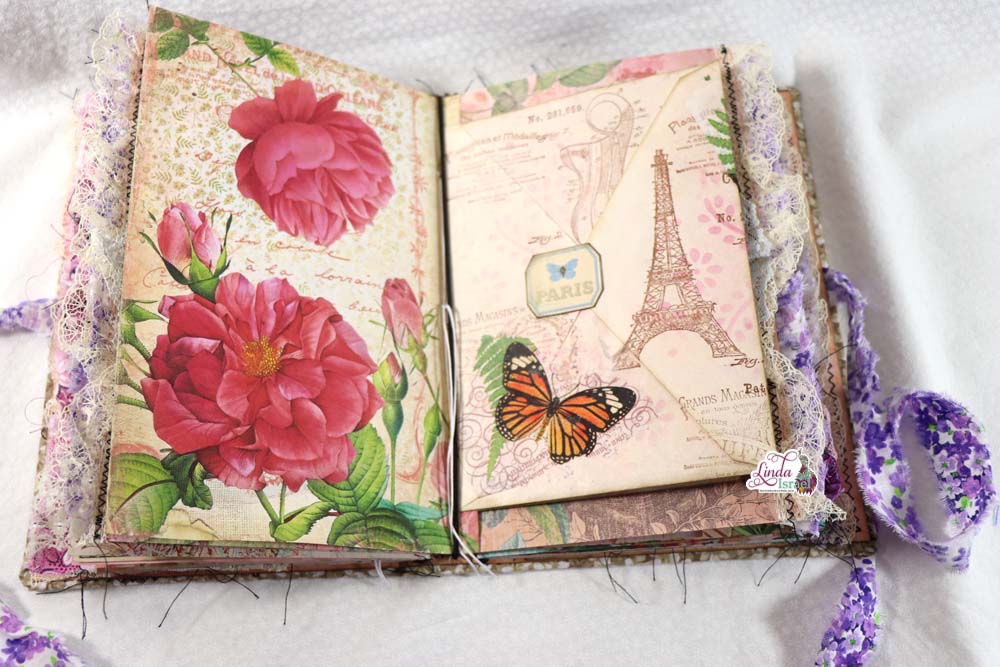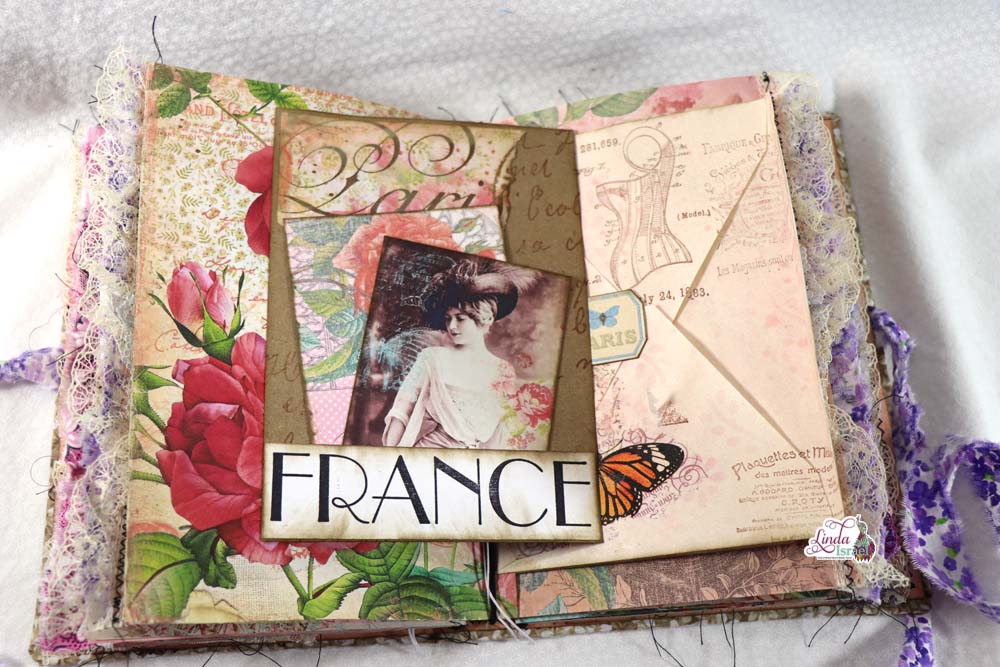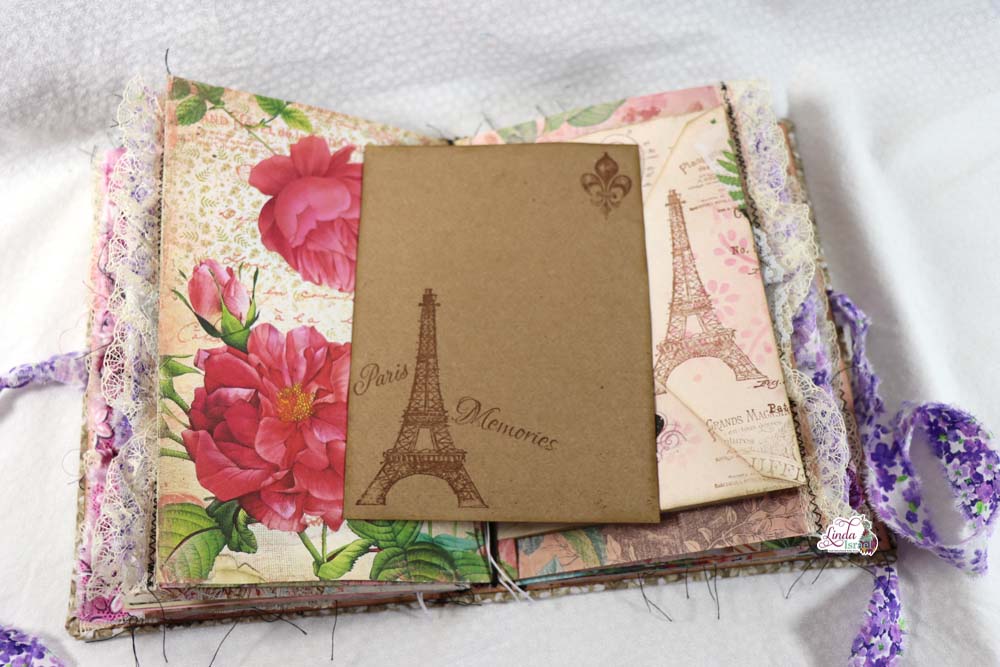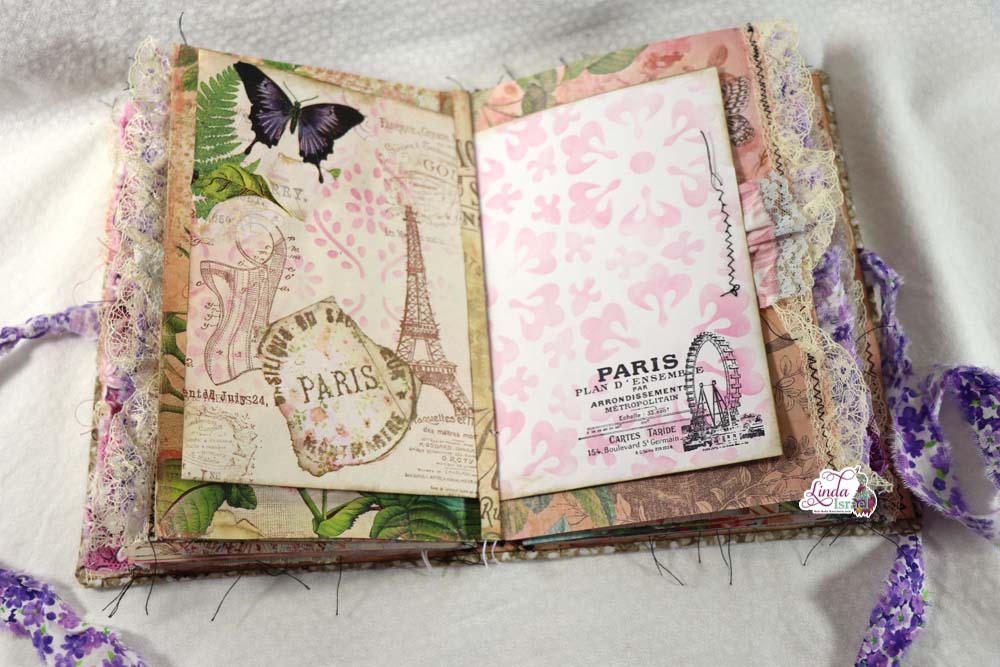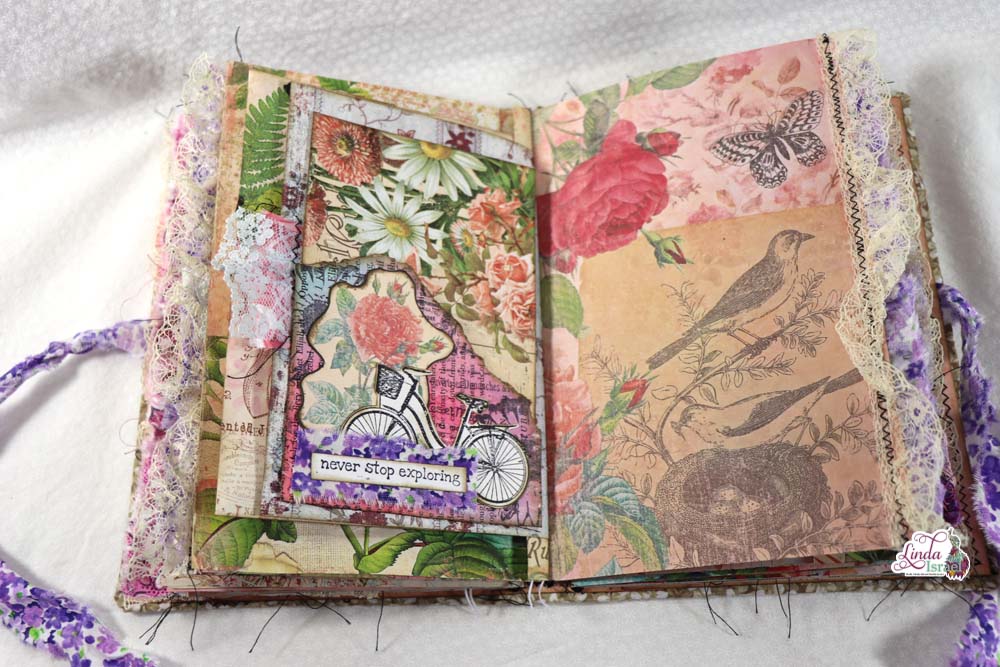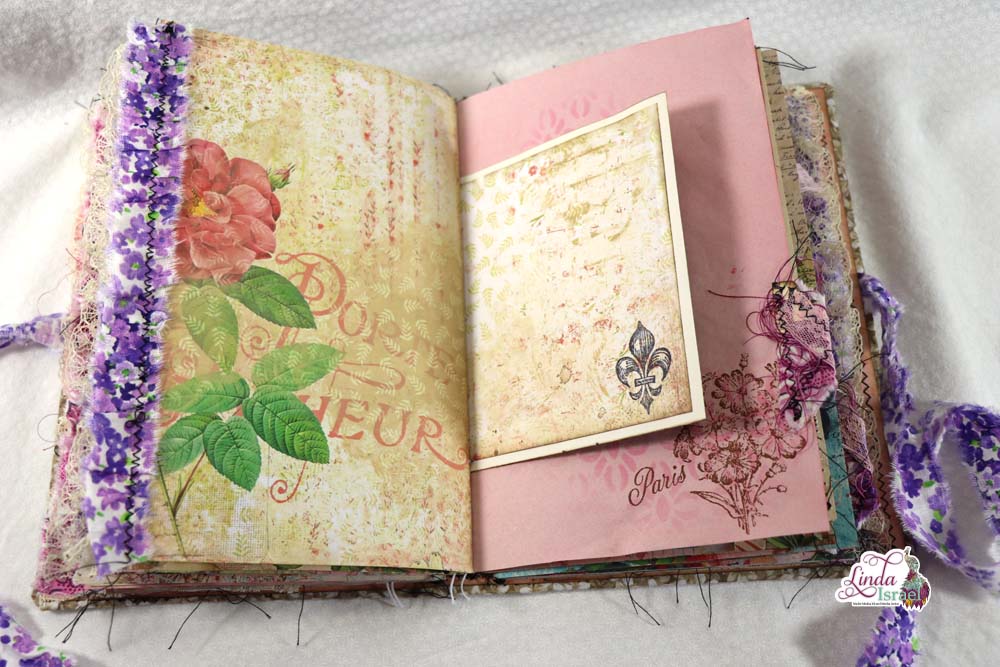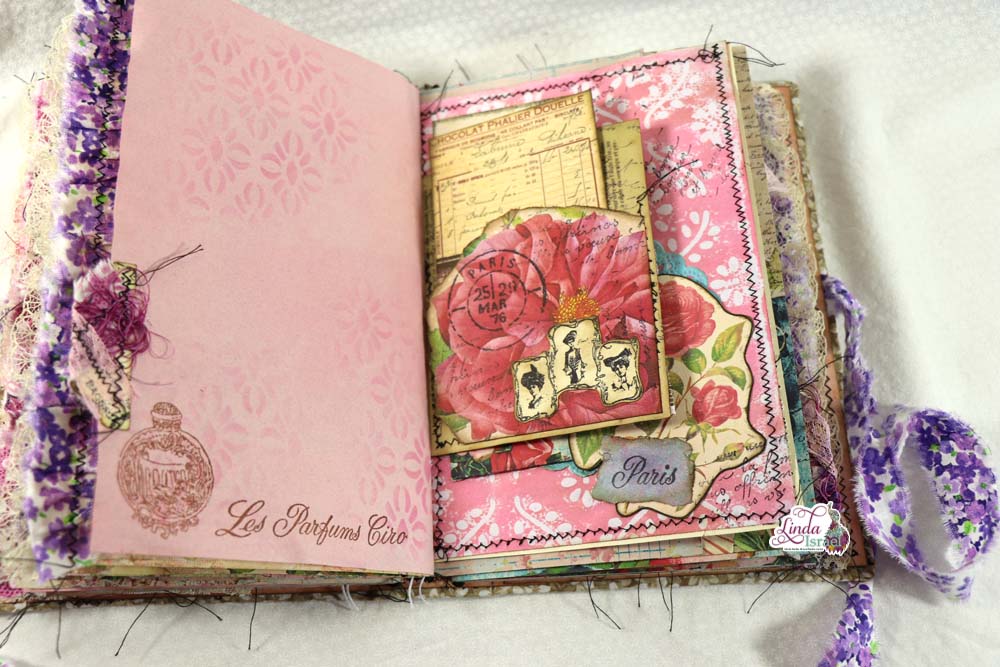 Lace sewn to a book page makes a beautiful pocket as seen on the left side.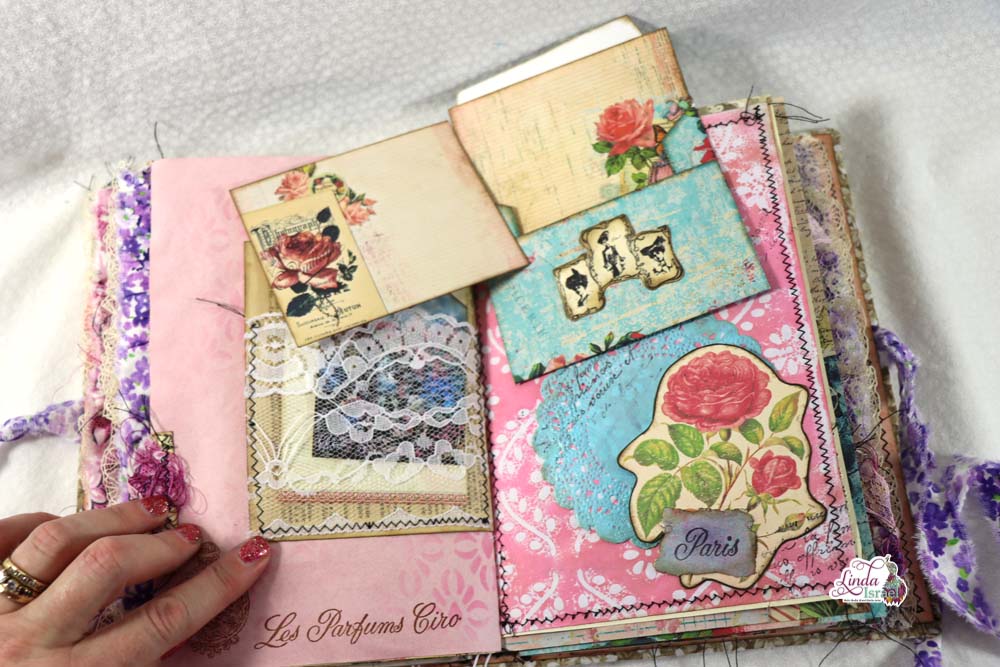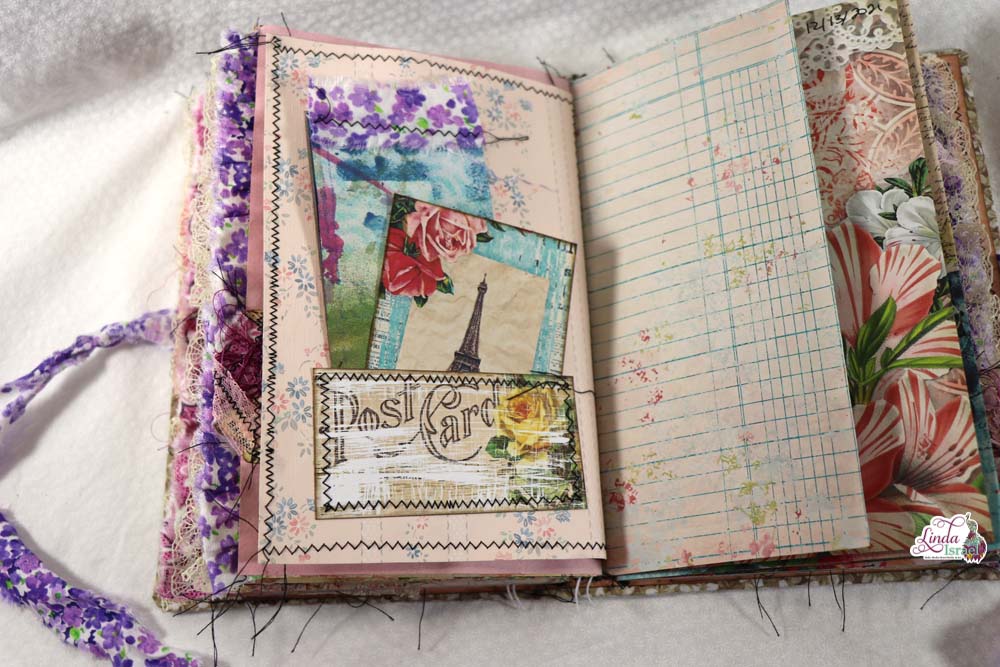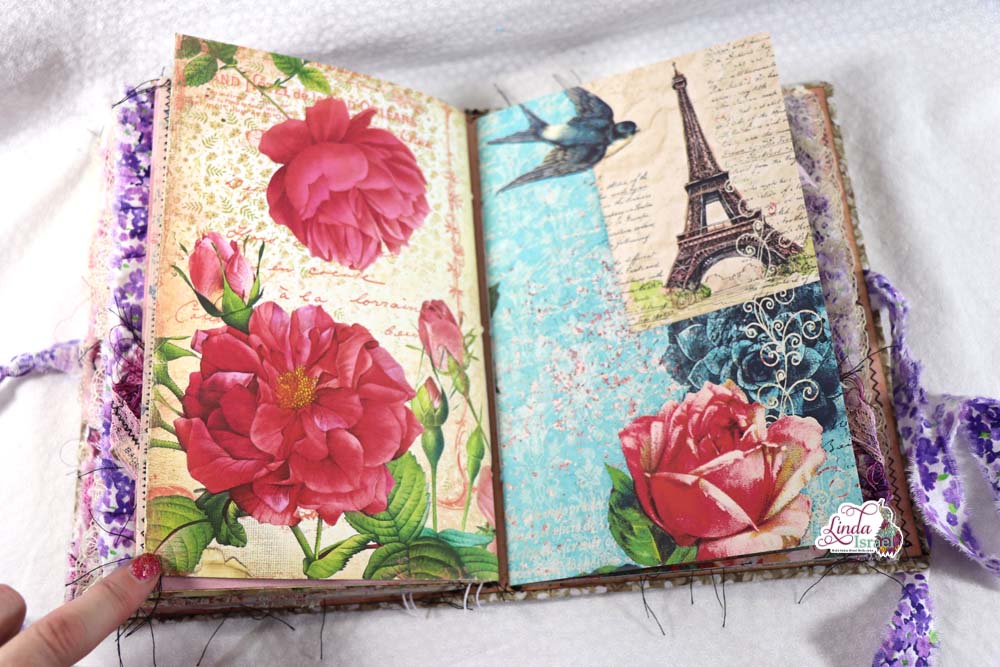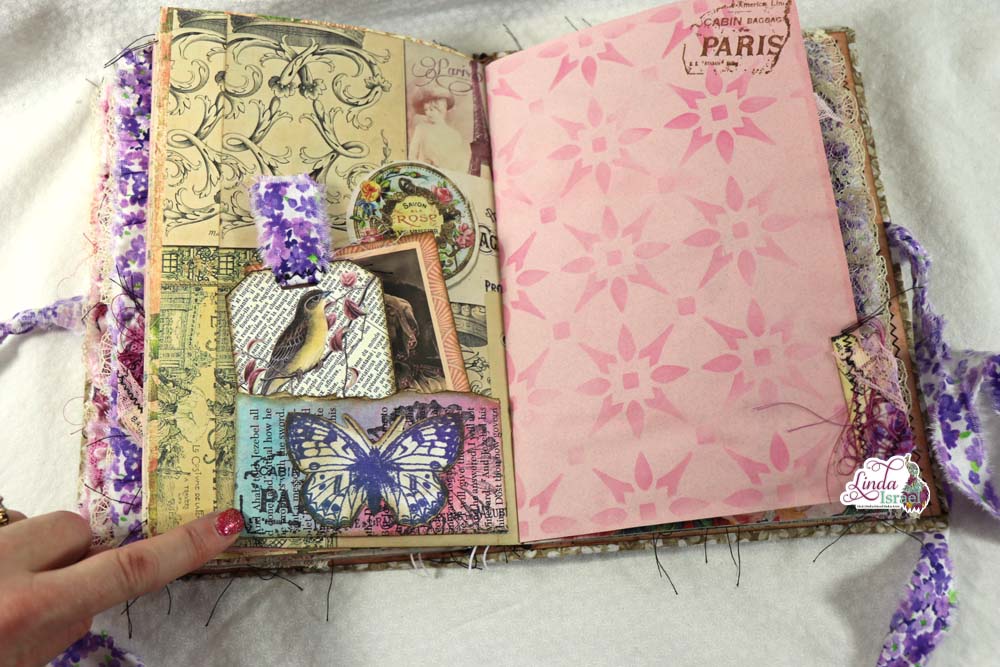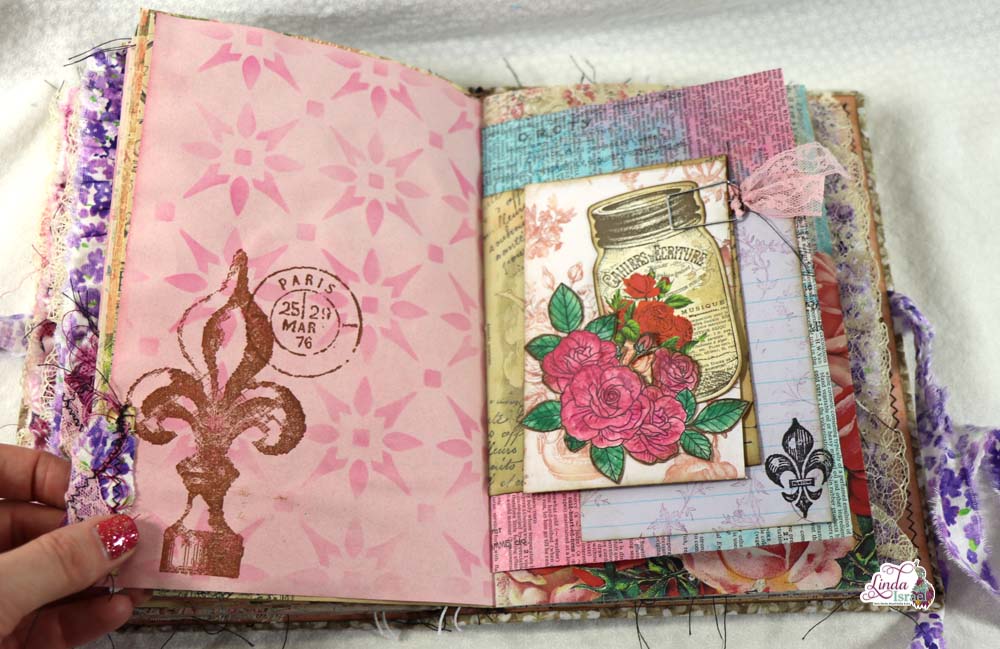 Washi tape is great to add little bits of paper to a journal as seen on the left side. Over on the right I used a book page as the foundation. Sprayed with two different colors of Tattered Angels Glimmer mists gives a beautiful background for the rubber stamps on top. The Spiraling vine stamped in a light purple on the lined paper gives a soft touch. Reminds me of old stationary.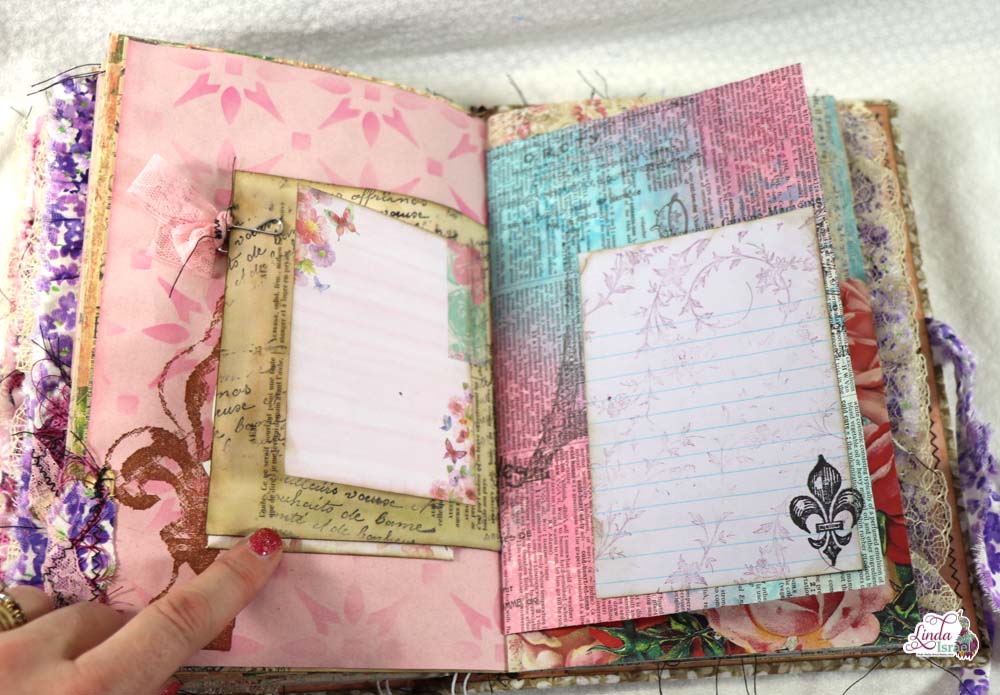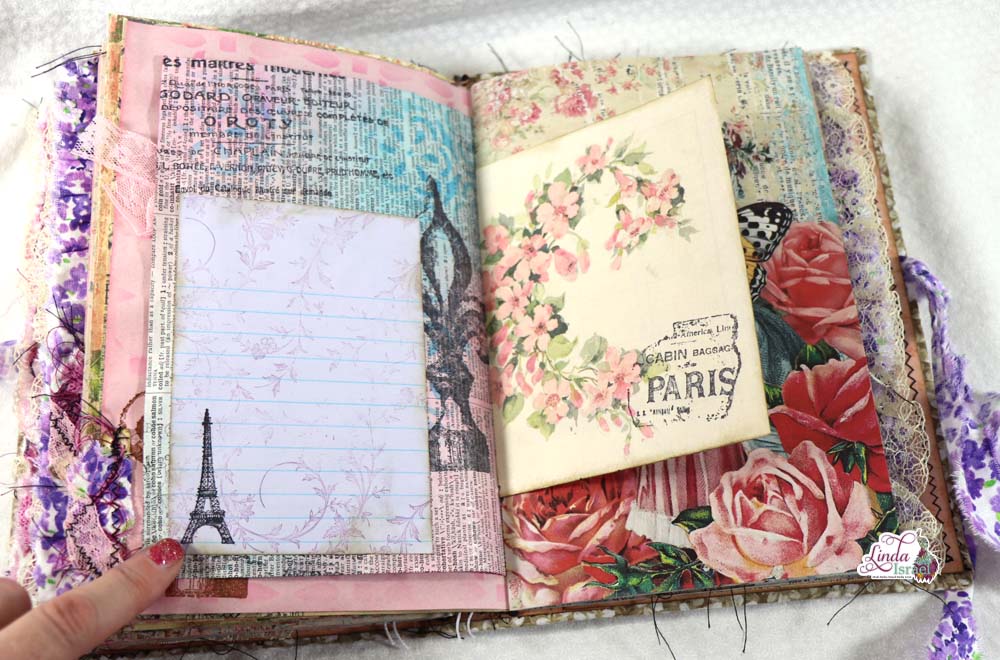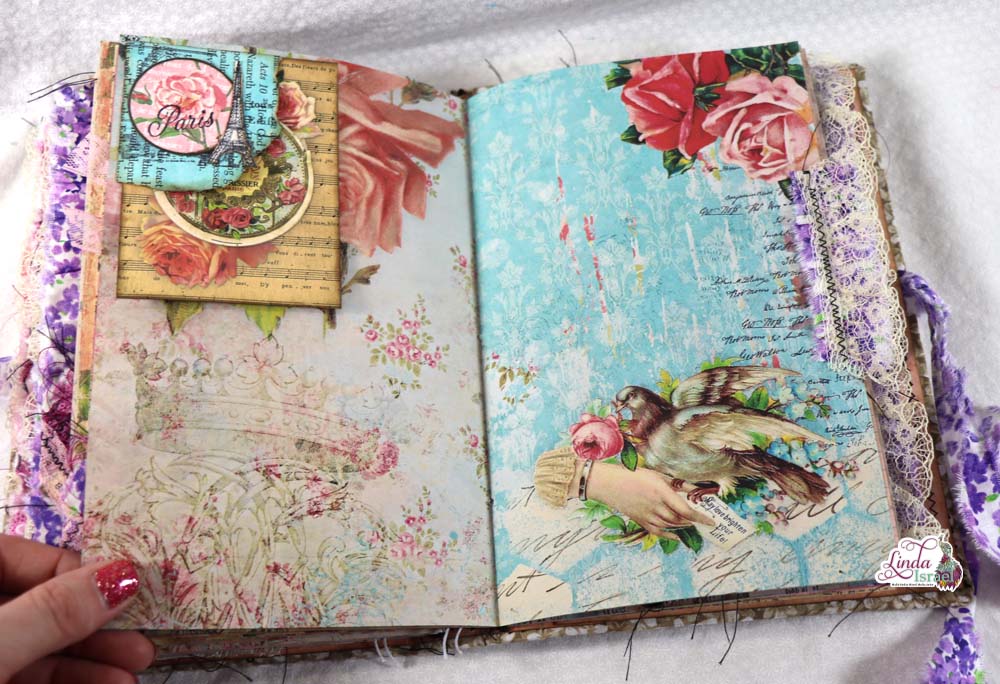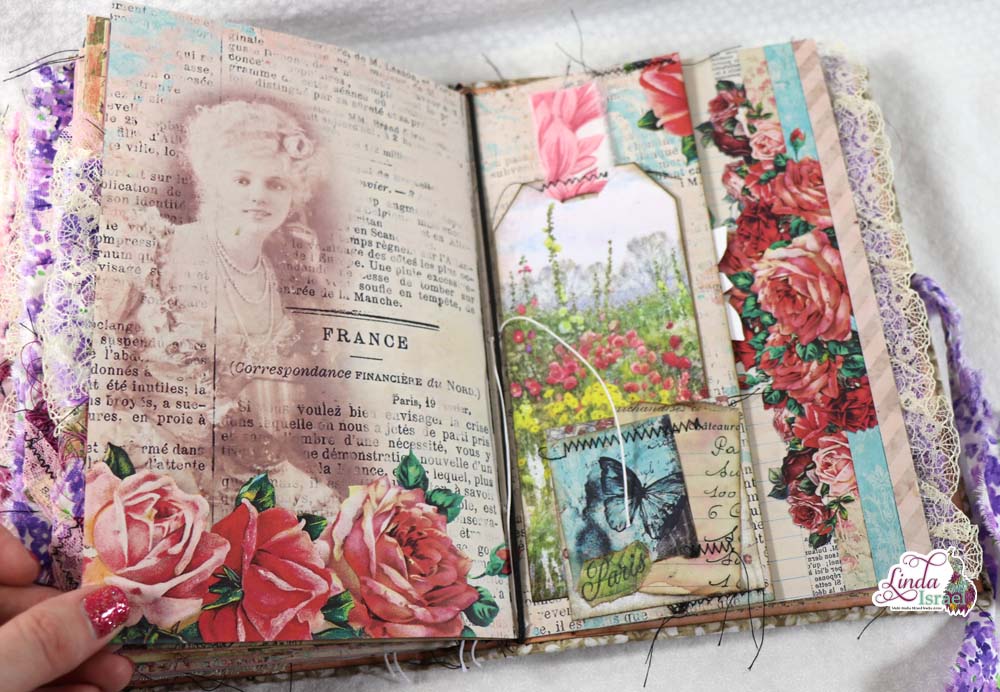 The folded page is an example of how I salvaged the paper that got wet and the ink ran. I folded it over and made a pocket! The Corner Roses were attached as an accent and to cover the ruined image.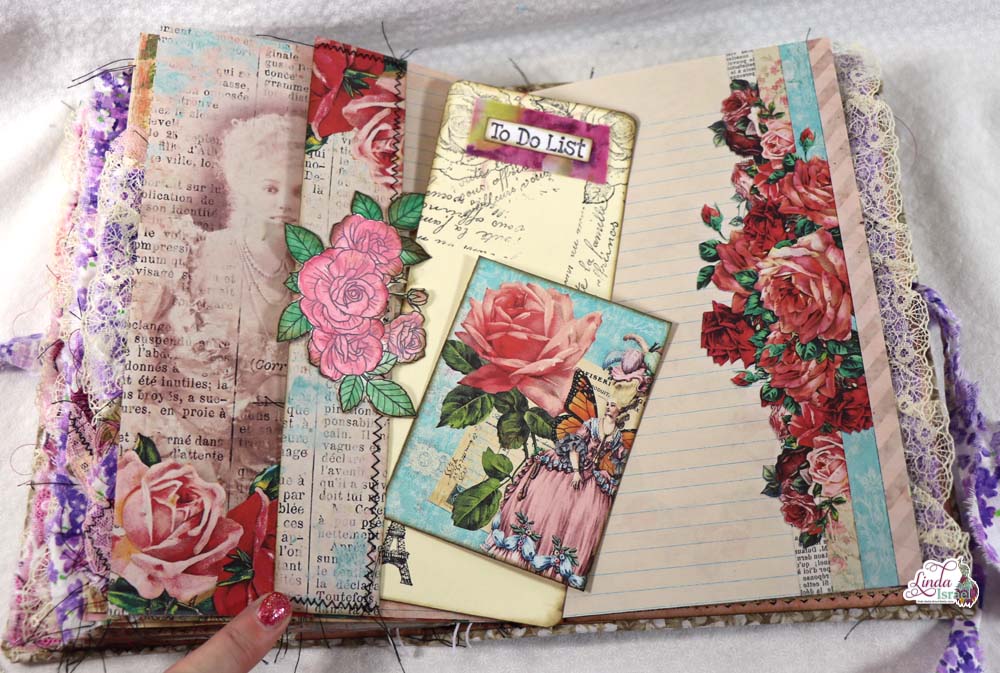 For this journal cover I used chipboard covered in fabric. It measures 6 wide by 9 tall and has a 2.5 inch spine. Fabric and lace are layered around one of the images I cropped from one of the pages. The word journal is a stamp and it is on a blank ticket I had in my stash.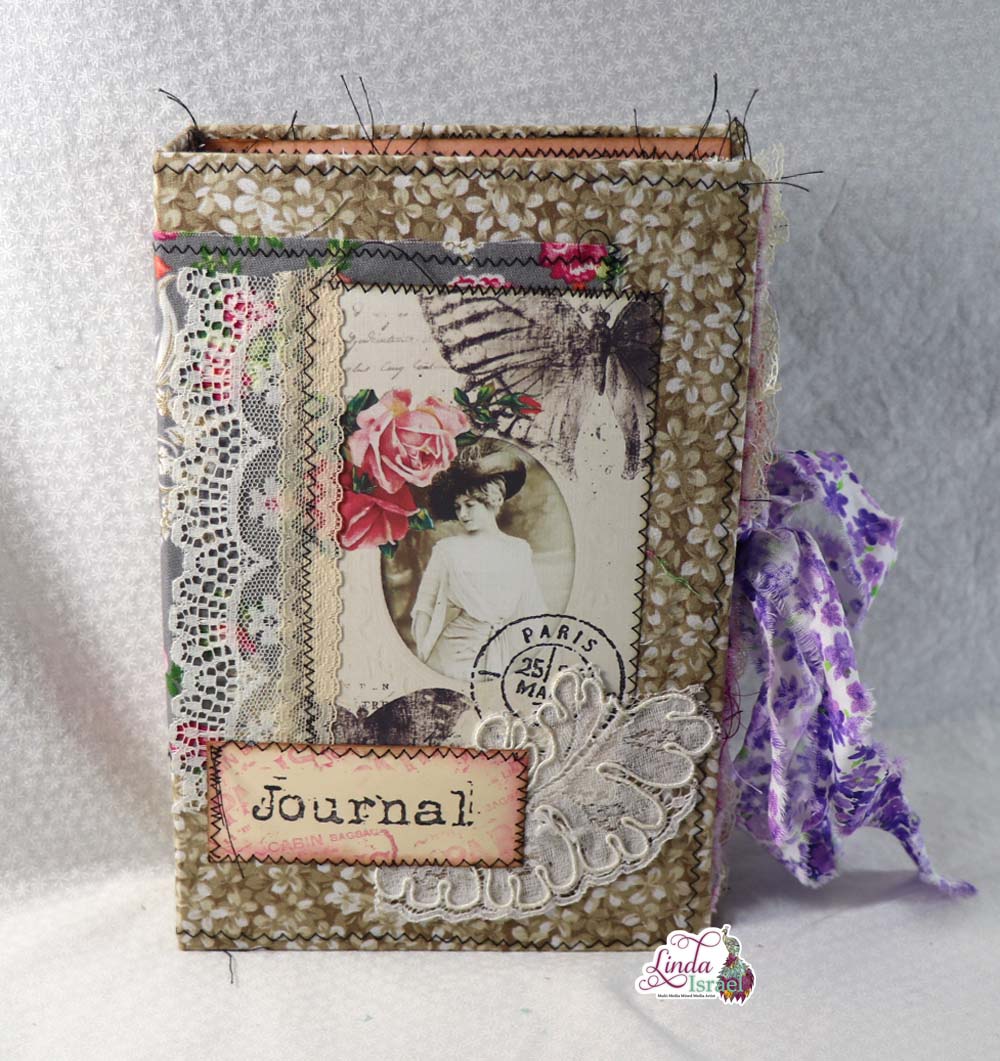 Making this journal was so much fun. The person who won this journal is using it as a gift for her niece whose name is Pairs!
Make plans to attend my next live stream on YouTube. There is always a lot of fun and I do my best to show new ideas. You can also fellowship with other junk journal creative people!
Make sure to check out the Friendly Junk Journal People Facebook group. Of course, you are welcome to join the Friendly Junk Journal People Facebook group. The group is growing daily and we are a friendly group willing to help each other and encourage each other.

Interested in any of the projects Linda has created? Please feel free to contact her through her website. Here is her shop, a lot of items featured and more added weekly.
Keep updated on her posts by following the blog by creating an account.  Follow Linda on her Facebook Page or on Instagram for updates that may not be shared on the blog.
Thanks so much for stopping by the blog today to see Live Creating Take Me To Paris Junk Journal.