In this post I'm Creating Mini Journal using Instant Ink Box. I've been saving the boxes from the Instant Ink program and decided that I would try to use one for a junk journal.  The idea came about after I cut the top off of a couple of boxes to use for storage in a drawer.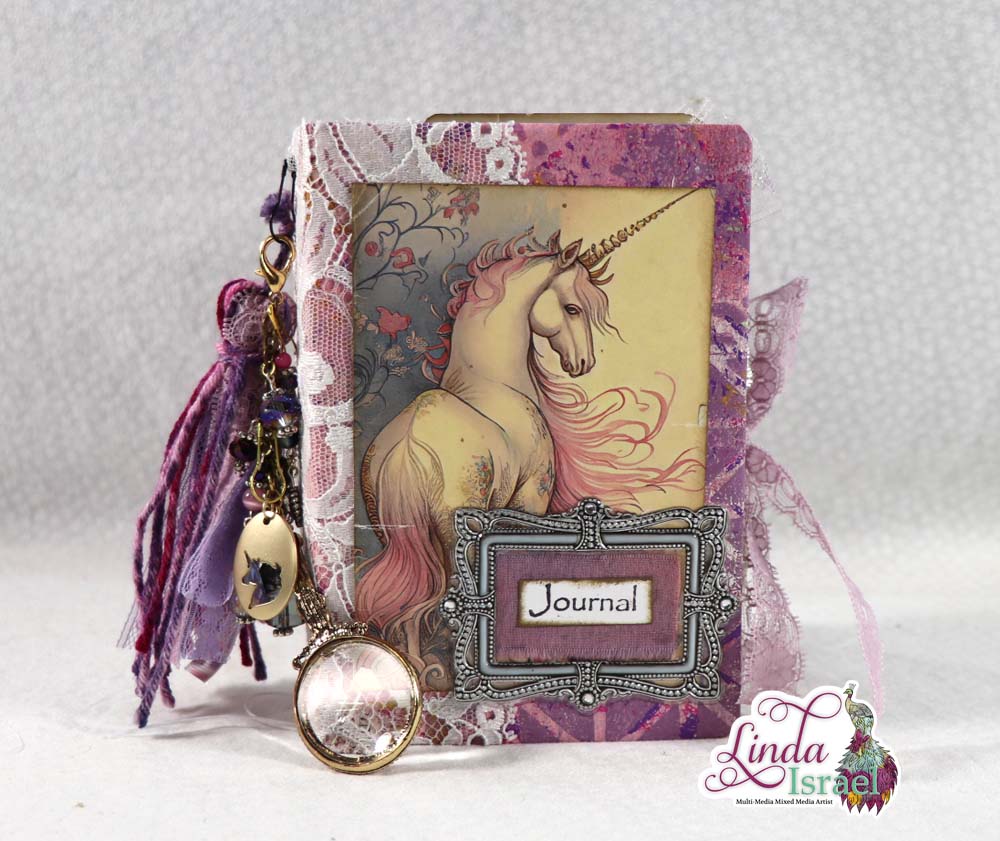 Creating Mini Journal using Instant Ink Box Part 1 Tutorial Video. In this video I show how I used the cut tops from the box to create the cover and then create a couple of journal pages and a 

tassel.
Creating Mini Journal using Instant Ink Box Part 2 Tutorial video. This video shows how I made several pages and then bound the journal inserts into the cover.
Supplies used:
Scrapbook paper
Gel Prints
Bling
Fabric
Lace
Tear off note papers
Washi Tape
To get started on this journal select items for the cover, In my case I used an instant ink box from HP. But look around your home, you may have another box you can use. Don't limit yourself, there are so many things you can use!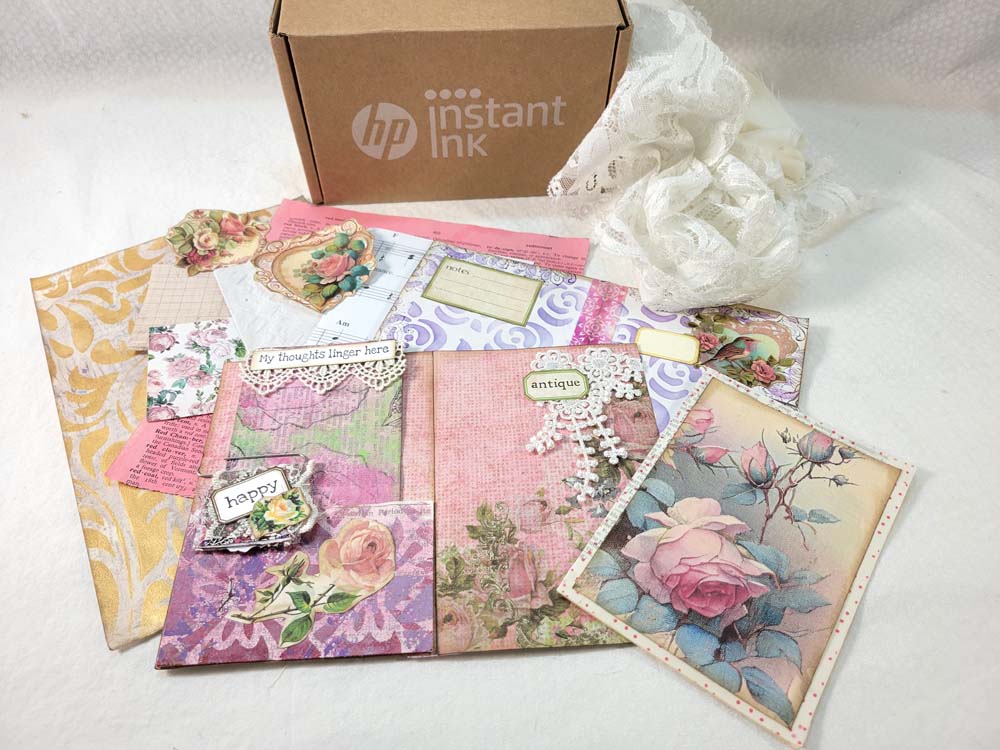 Adhere papers to the cover. If using corrugated cardboard I like to cover it with a random paper – like book pages. This helps cover the texture that corrugated cardboard can have. I don't want to see that texture in my cover. If you like that texture, then add items as you see fit.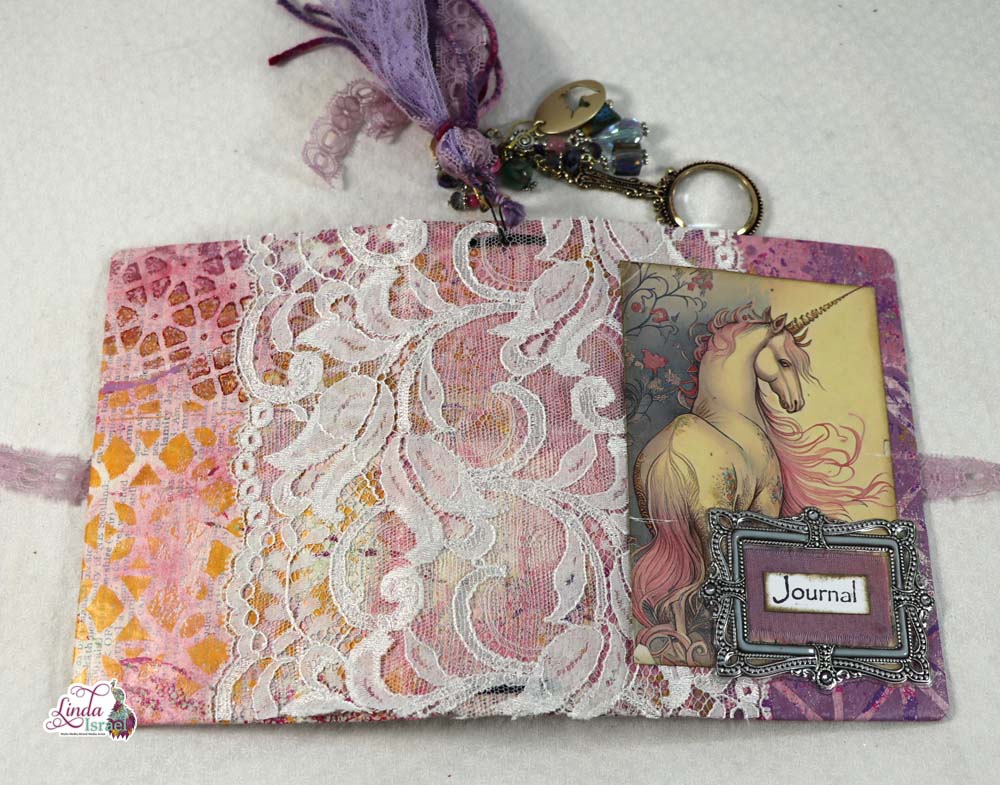 Decorate the cover, adding any embellishments you like. For the inside I used some scrapbook paper and added pockets. I really love the unicorns in the fairytale collection from Calico Collage. She did a beautiful job creating this kit!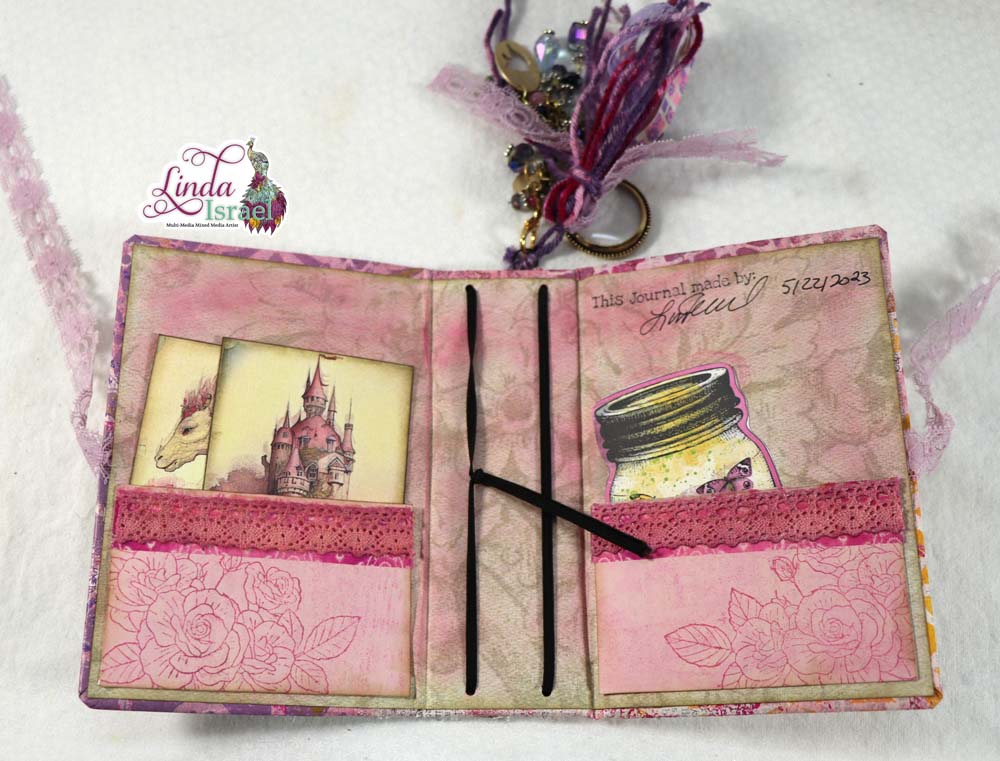 When I create my journal pages I use the size of the cover as a guide. My pages are a fraction of an inch smaller than the cover so I know everything will fit inside the journal. I also like to create my pages flat and then assemble the journal.
Grab those stamps, stencils and more to create beautiful layered pages. I love mixing Tattered Angels Glimmer Mists, with stamping and stencils.
Even a paint chip from the hardware store can make a useful belly band in a journal. Look at things you find around you to see how these can be used in a journal.
Lace is always fun to add to journals too. I prefer to collect ivory and white lace because it is easy to alter the color. Check out thrift stores for old wedding gowns and lace table cloths. Those can be cut up and used in journals.
Whatever supplies or style you use to create a journal, just have fun creating! Remember there is no wrong way to make a junk journal. Use what you have on hand, collect things you love and enjoy the process. Have fun creating your own version.
Visit the Friendly Junk Journal People Facebook group. Of course, you are welcome to join the Friendly Junk Journal People Facebook group. The group is growing daily and we are a friendly group willing to help each other and encourage each other.

Interested in any of the projects Linda has created? Please feel free to contact her through her website. Here is her shop, a lot of items featured and more added weekly.
Keep updated on her posts by following the blog by creating an account.  Follow Linda on her Facebook Page or on Instagram for updates that may not be shared on the blog.
Thanks so much for stopping by the blog today to see the tutorial Creating Mini Journal using Instant Ink Box.