Sharing the Punked Out Steam Junk Journals made during the May 27th Live steam on YouTube. Used the Punked Out Steam Creative Subscription box and add on items to create the Punked Out Steam Junk Journals.
Flip Through video showing the Punked Out Steam Junk Journals.

Supplies used to make the Punked Out Steam Junk Journals
Custom Printed Midori Cover – designed by Linda Israel
Notebook paper
Copy Paper
Sewing Machine
Fiskars Scissors
The following video shows how the journals were finished during the May 27th live stream on YouTube.
The Mini Punked Out Steam kit is a lot of fun to make a small journal. It n fit inside the larger journal.
Custom Printed Fabric made into a Midori Cover by Linda Israel. Using scans of mixed media pages that were then turned into a digital collage and then printed by WeEmbroider with a Direct to Garment printer. Next zig zag stitches were added to give the appearance of patchwork. The fabric was then used to create the Midori cover.
Creating these Punked Out Steam Junk Journals was one of the best time I have had. Being able to use so much color just makes me happy. Putting those mixed media pages to use as well as Stencils, Stamps and more really helped to make this journal come to life.
Second Journal Insert
Third Journal Insert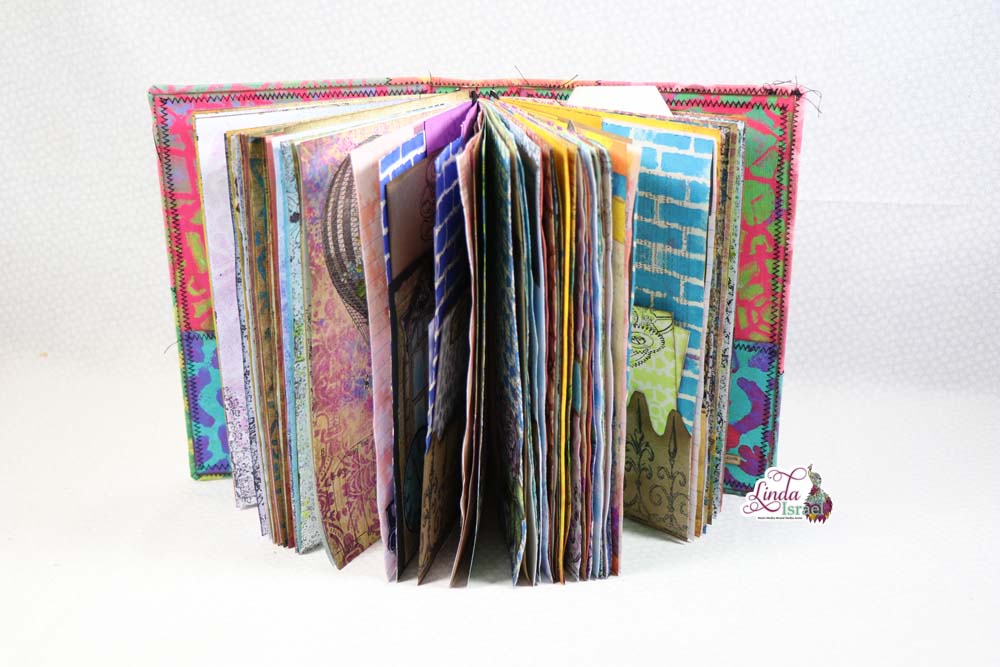 This isn't your traditional Steampunk Junk Journal, this one is full of color and fun images. Pull out those supplies and create a Punked Out Steam Junk Journal and use as much color as you like. Remember there isn't a wrong way to make a junk journal.
Remember that I have live streams on Monday's at 3:45 pm and Thursdays at 12:30 pm Central Standard time on my
 

YouTube Channel. Come join the chat, win prizes while I create.
Make sure to check out the Friendly Junk Journal People Facebook group. Of course, you are welcome to join the Friendly Junk Journal People Facebook group. The group is growing daily and we are a friendly group willing to help each other and encourage each other.
Interested in any of the journals I created? Please feel free to contact me through my Facebook Page. Here is my shop, I have a lot of items uploaded and add more weekly.
Keep updated on my posts by following me, add your email.  Follow my Facebook Page or on Instagram for updates that may not be shared on my blog.
Thanks so much for stopping by my blog today to see the Punked Out Steam Junk Journals.