Sharing a fun Cat Altered Paperclip with Pocket Tutorial with you today. Using a few Calico Collage Images, Book page, rubber stamp and Tattered Angels Glimmer Mists I'll show you how to create a really cute altered paperclip that also has a pocket.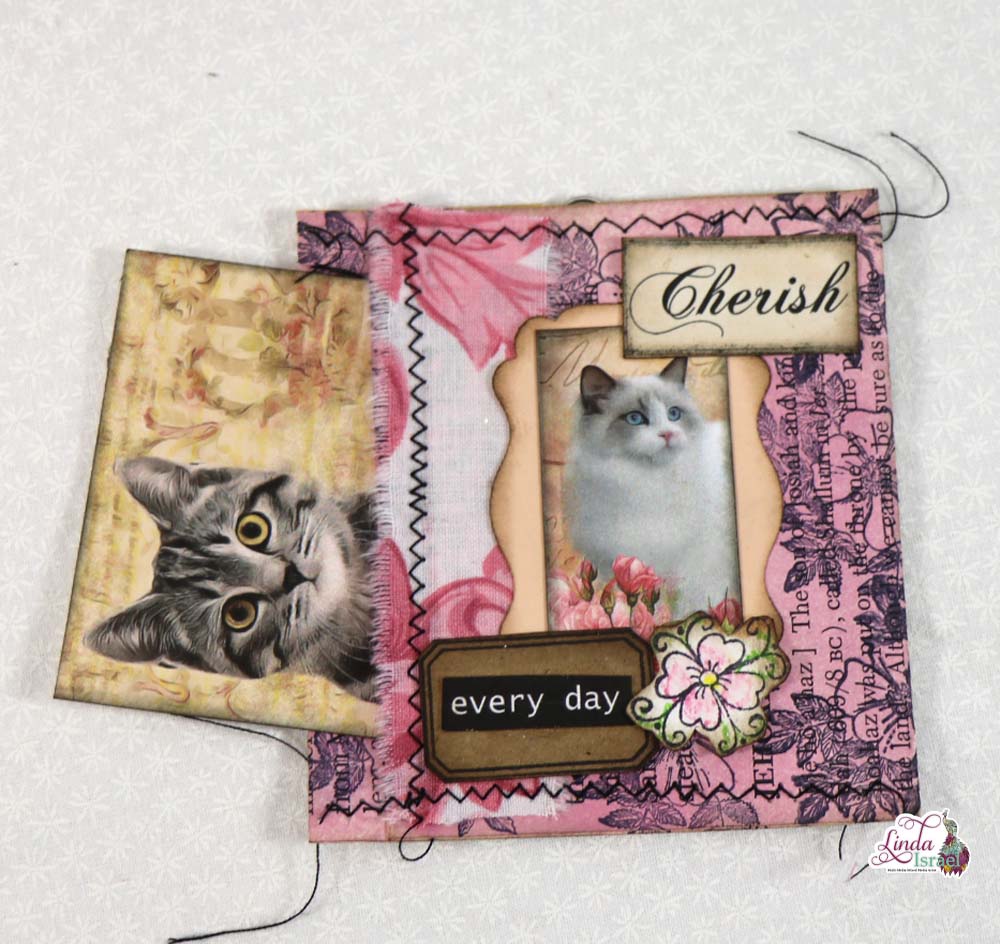 Cat Altered Paperclip with Pocket Tutorial Video.
Supplies used for the Cat Altered Paperclip with Pocket Tutorial.
Book Page

EK Success Label Punch

Fabric Scrap

Sewing Machine

Packing Tape

Paperclip
A book page is great for this altered paperclip. I prefer using reference books for the most part as I know they won't have bad language. I cut mine so that it was large enough to create a pocket for the Artist Trading Card (2.5 x 3.5 inch card).
Fold the page so that it creates a pocket and has a flap of paper that will cover the paperclip. Spray with Tattered Angels Glimmer Mists. Dry with a heat tool or allow to air dry.
Using the Beach Rose stamp and Jet Black Archival ink, randomly stamp over the sprayed area.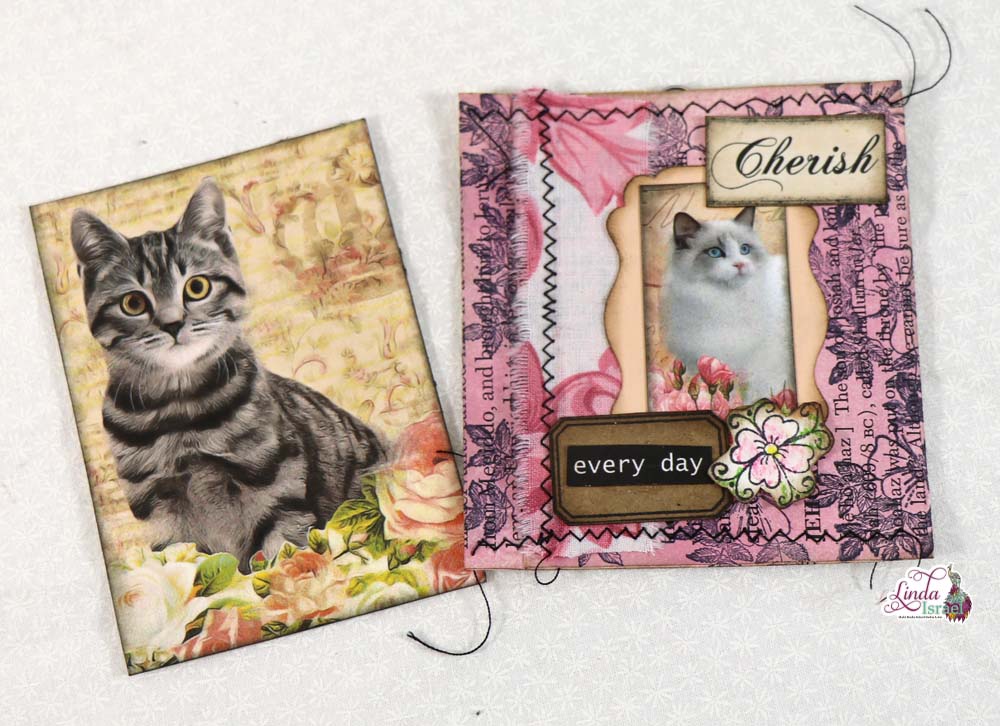 Add the paperclip to the inside. Using packing tape will help keep it in place and not add a lot of bulk. Grab a scrap of fabric and sew it down the top where the pocket opening is located. Then Sew across the top and bottom, be careful and go slow when sewing over the paperclip.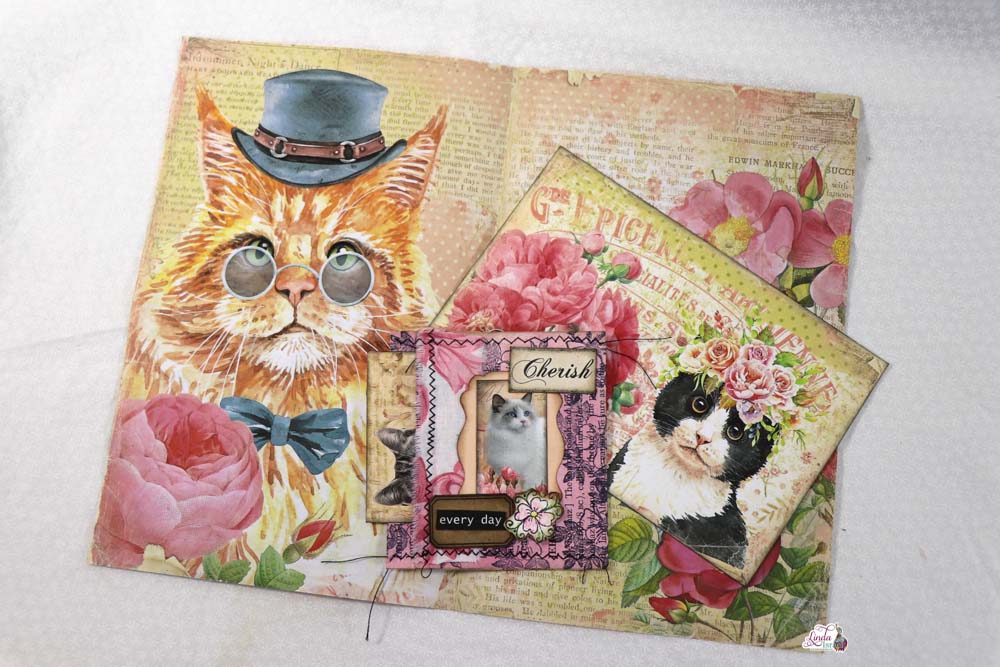 Layer the domino image over a punched shape, or cut a shape to mat the image. Add the other elements in a pretty collage. Now that the altered paperclip is ready, add the journal card to the pocket and then attach to a journal page.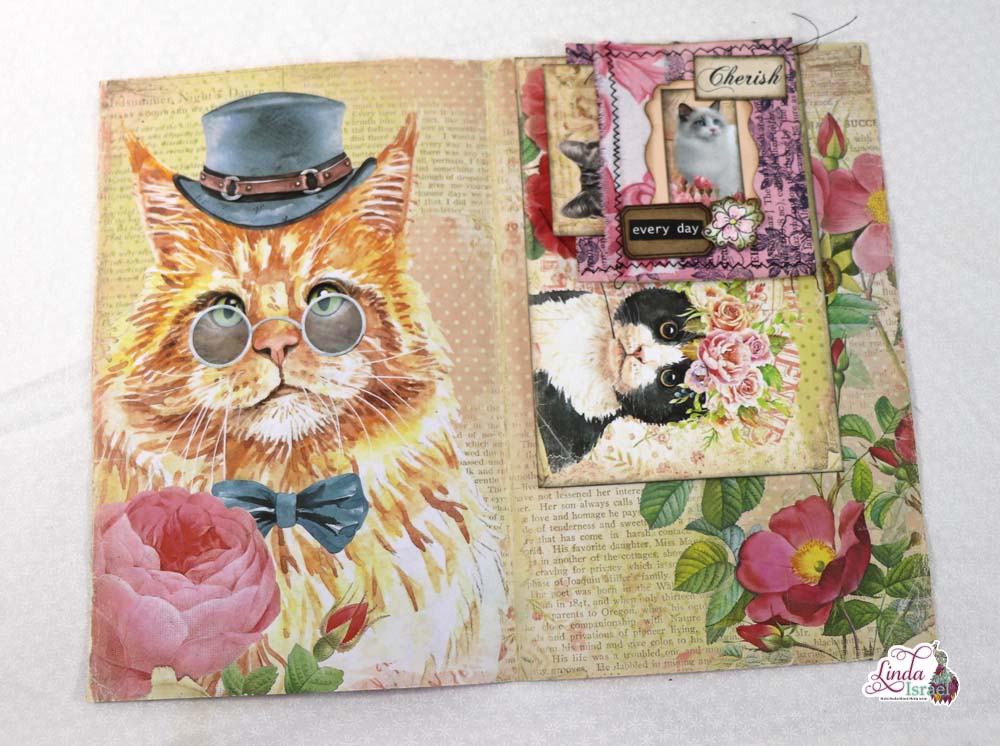 Interested in any of the projects Linda has created? Please feel free to contact her through her website. Here is her shop, a lot of items featured and more added weekly.
Keep updated on her posts by following the blog by creating an account.  Follow Linda on her Facebook Page or on Instagram for updates that may not be shared on the blog.
Thanks so much for stopping by the blog today to see the Cat Altered Paperclip with Pocket Tutorial.