Live Creating a Pink and Black Junk Journal, Dec 20, 2021 on YouTube. A few of my followers requested that I create a Pink and Black junk journal, so I pulled a few items from my stash, altered some digital images from Calico Collage and came up with the following journal.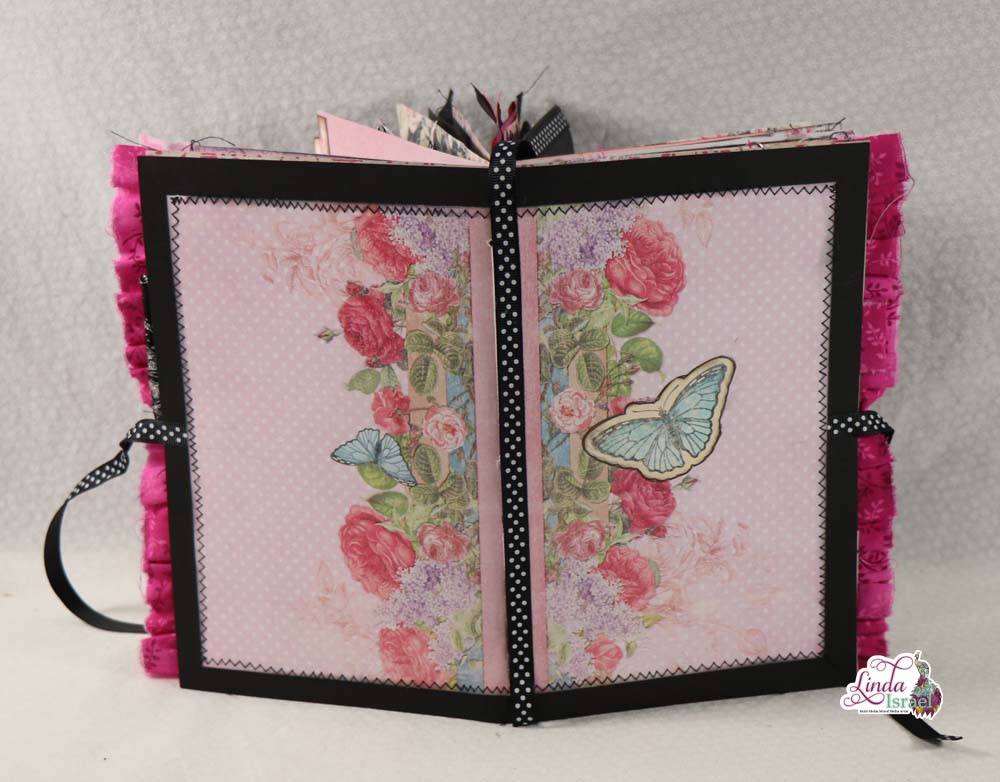 Live Creating a Pink and Black Junk Journal Video.
Supplies used during Live Creating a Pink and Black Junk Journal
For the Live Creating a Pink and Black Junk Journal I dug around in my stash for items I thought would blend well together. There is a variety of pinks used. I thought it would be fun to blend as many shades of pink as I could for this journal.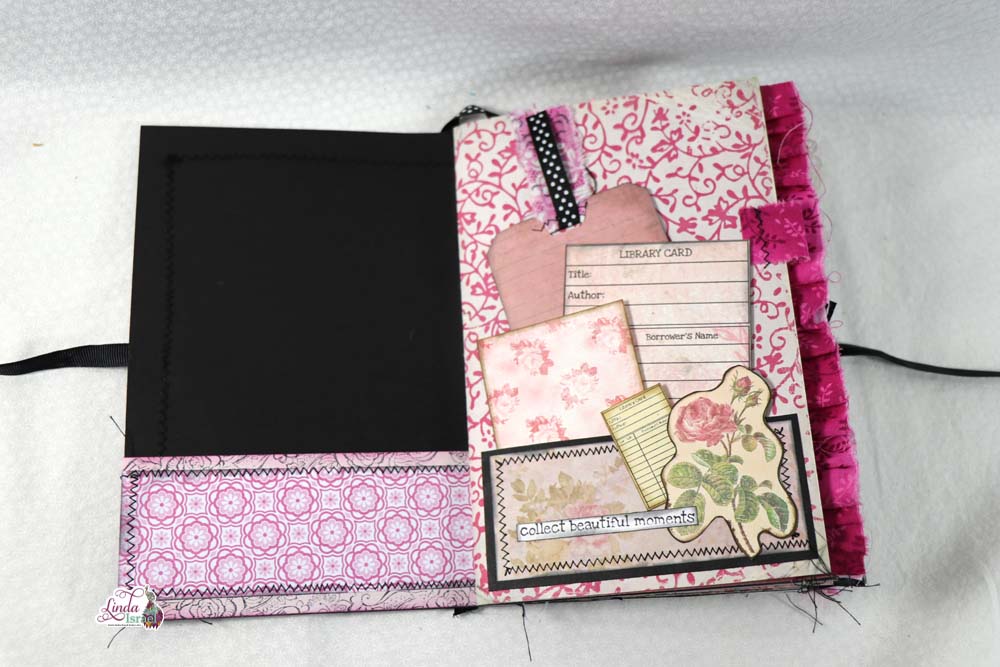 There is a small stack of black tags in my stash and I needed to use at least one in this journal. Wrapping a scrap of paper around the edge and using a sheet from a tear off notepad came in handy to create some additional journaling space. It is hard to see in the photo but I also stamped with the Henna Rose in Picked Raspberry.
The Letters from home stamp makes a great tuck spot in a journal. Using some watercolor pencils I added some shading between each envelope to give it some depth.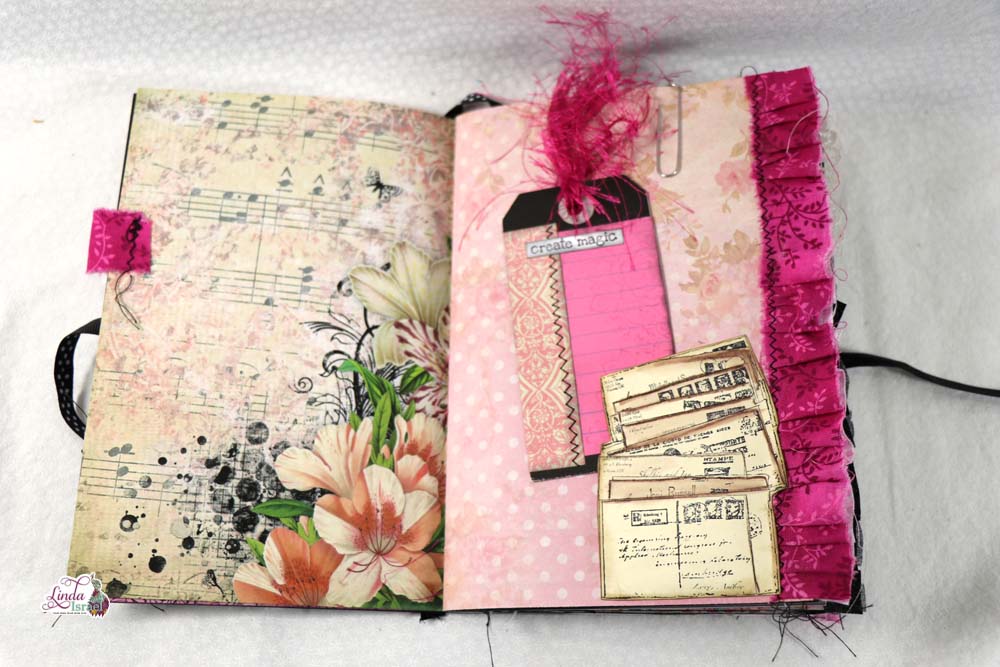 Do try altering a digital image to fit your needs. On the sewing pattern page on the left I used Adobe Photoshop Elements to Replace the beige background with pink. It made this a super fun page. The elements on top are from the Enchanted Rose Kit.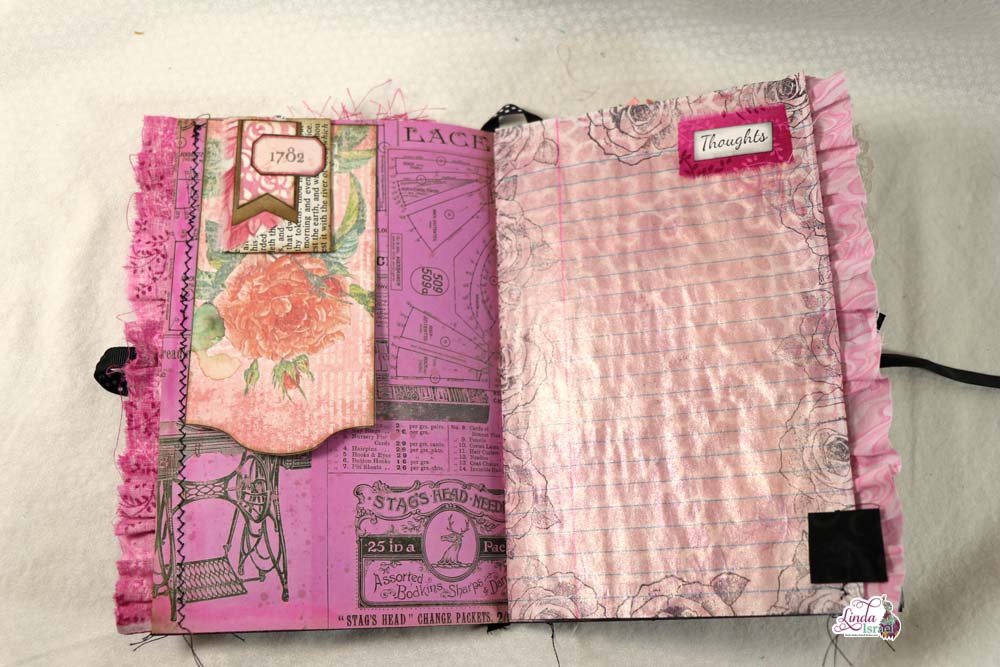 Composition Note books are a great source for lined journal papers. I like to unstitch the sewn pages and then cut the full sheet to the size I need. Tattered Angels Glimmer Mists then provided the perfect pink. The Bella Rose Stamp was used around the edge.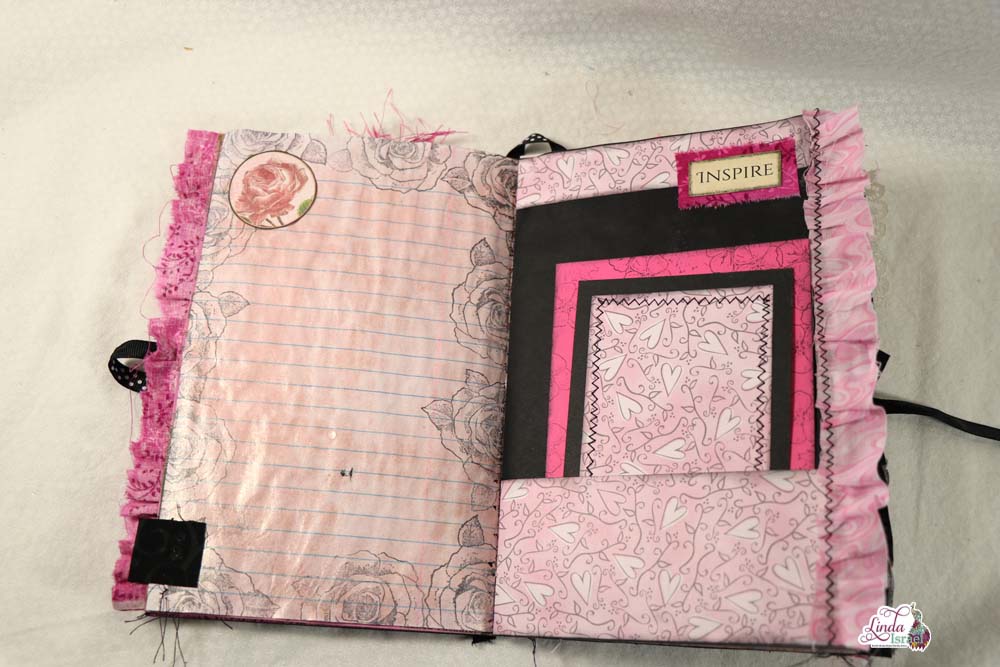 One sheet of scrapbook paper can go a long ways on a journal page. The page on the right used three pieces from one sheet. Cut papers up and use bits here and there to get variety and more bang for your buck. The folded piece of text weight paper on the left was stamped with the Dog Rose Stamp. I think it looks like stationary.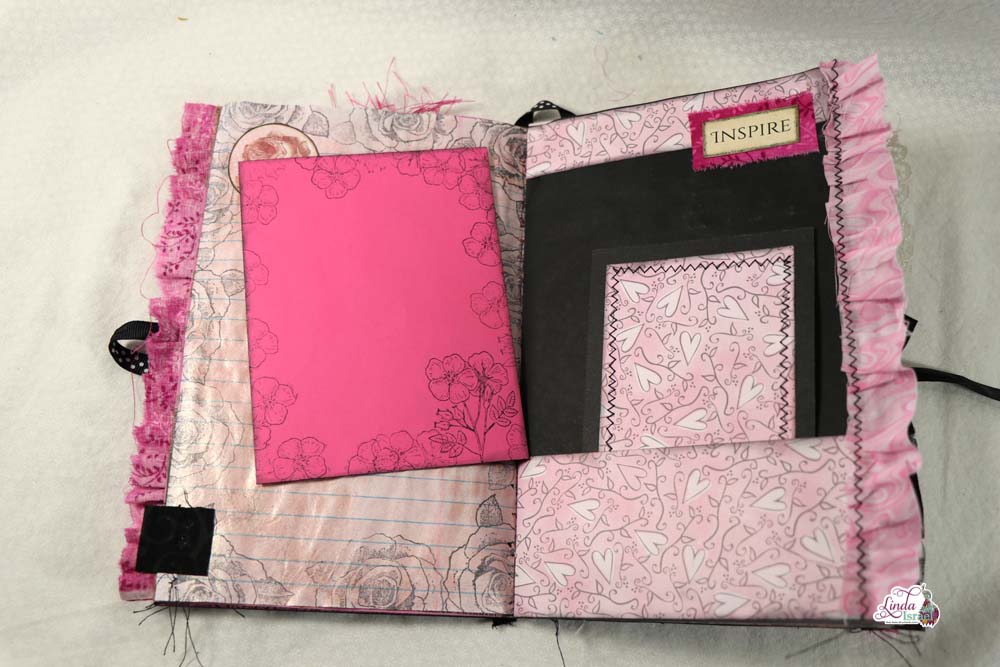 There is a lot on the page on the left. First I digitally altered a Calico Collage paper to be black instead of yellow and green with the pink roses. The center pink page is from spraying over the Bird and Flower stencil. There is a faint ghost pattern that I love seeing. Tattered Angels Glimmer Mists was used on the paper doily to add a little bit more pink to the page.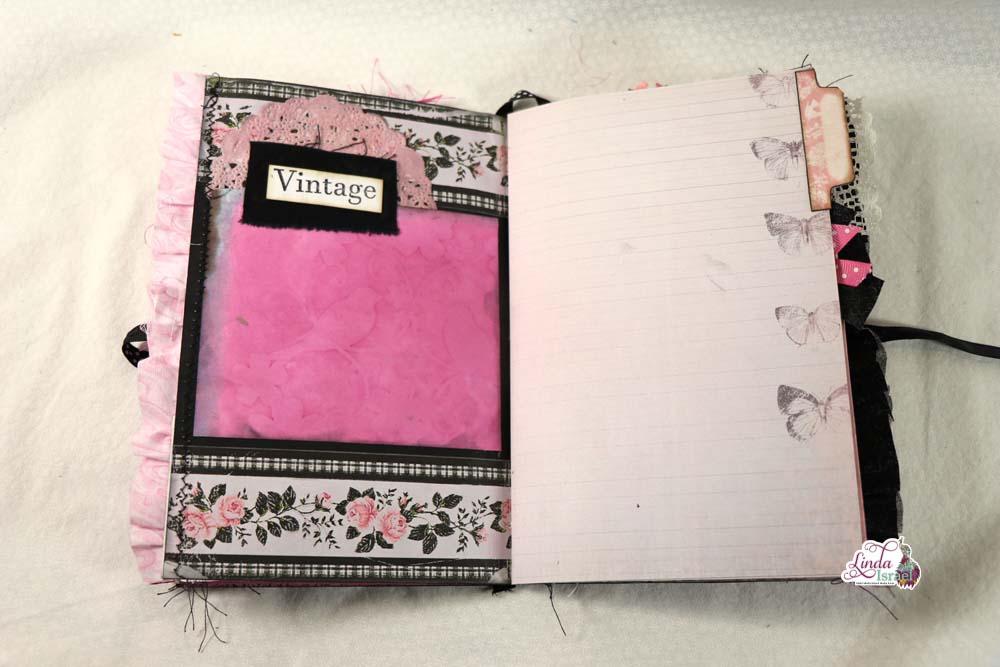 Using a large envelope I cut a window. Then glued strips of Calico Collage's images to the edges to create a frame. On the back of the frame I glued a piece of clear transparency film using Best Glue Ever. Then behind that to create a pocket I glued a folded printed page.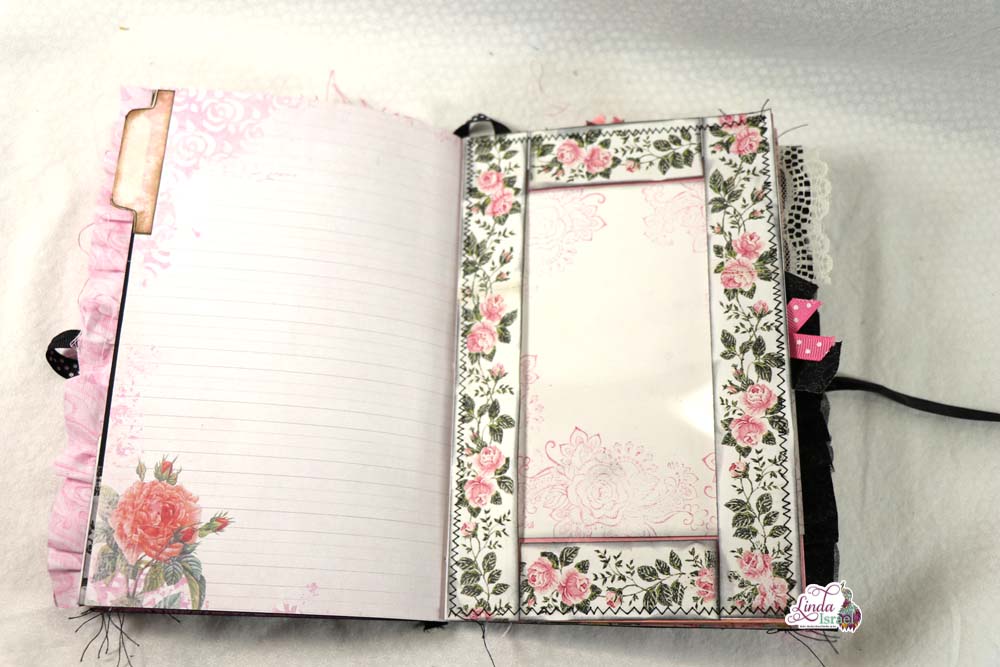 The journal card was stamped and then put inside the pocket. When you flip the page you see the folded page that is glued to the back of the window page and then this folded page flips out to give more journaling space.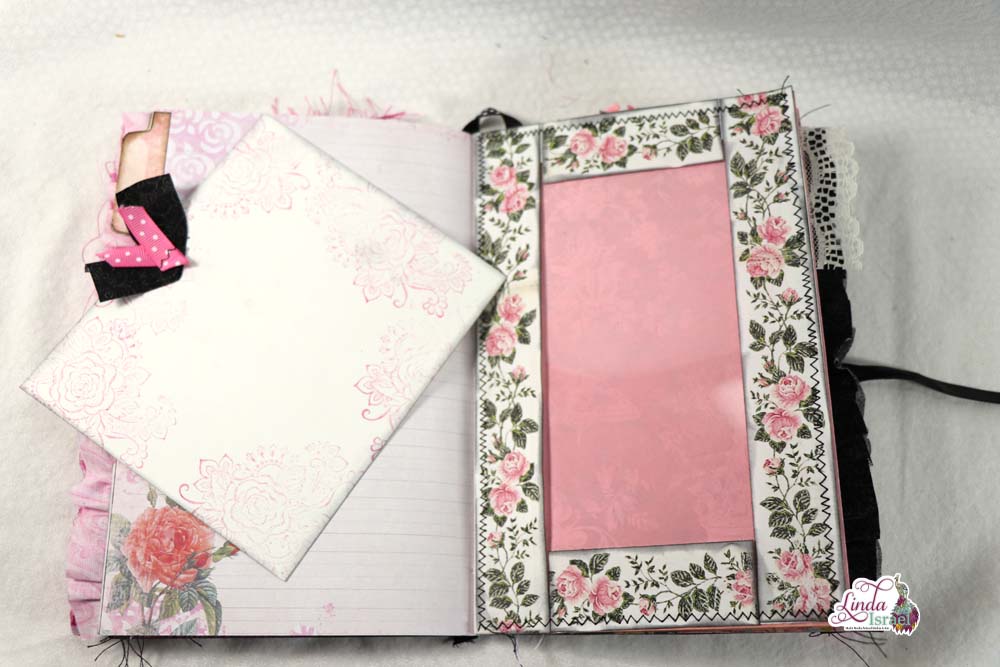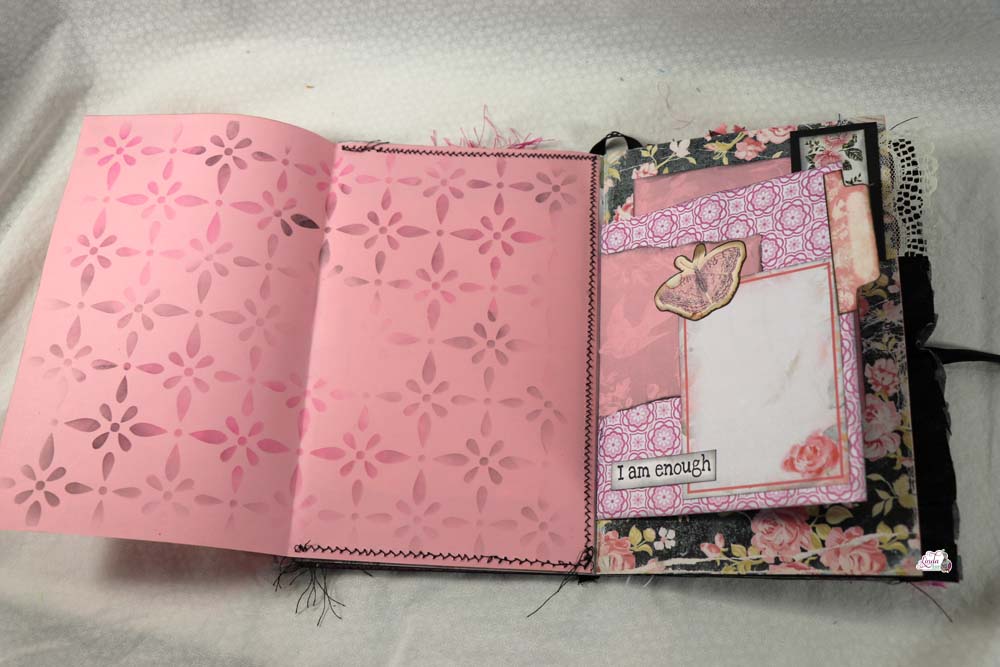 The page on the right is another one of Calico Collages that I replaced the background color with black. I love how it totally changes the paper!
The page on the left is from the Enchanted Rose kit. This time I chose to replace the pink with black and printed this page on pink paper. It reminds me of old tole wallpaper.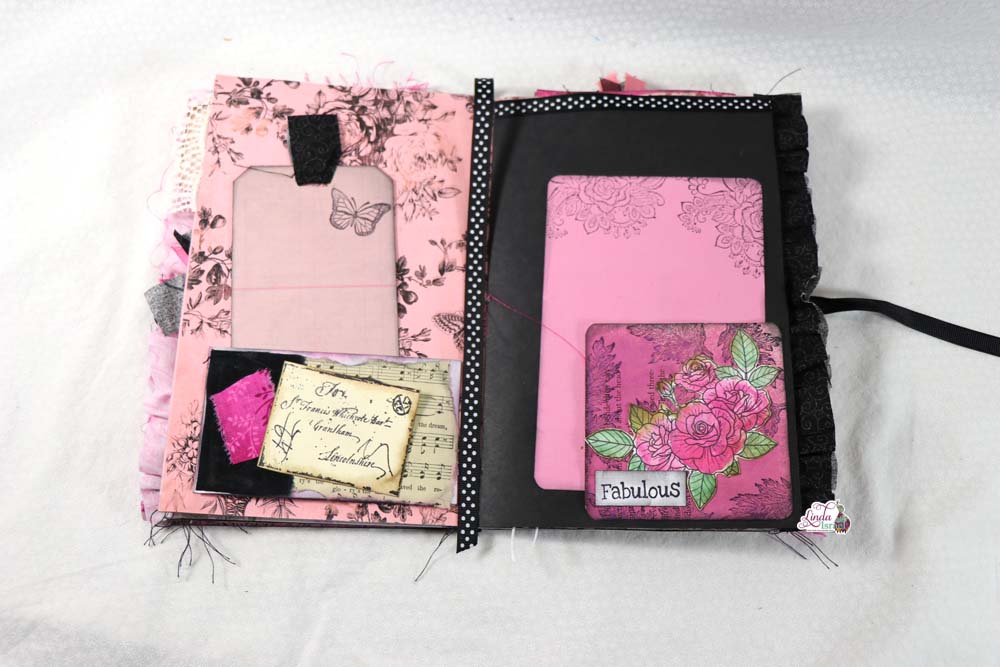 Black paper can be used in a junk journal! It remind me of old fashioned scrapbooks. I used a napkin to add some interest and on top of that is a stenciled page that was dyed with Tattered Angels Glimmer Mists.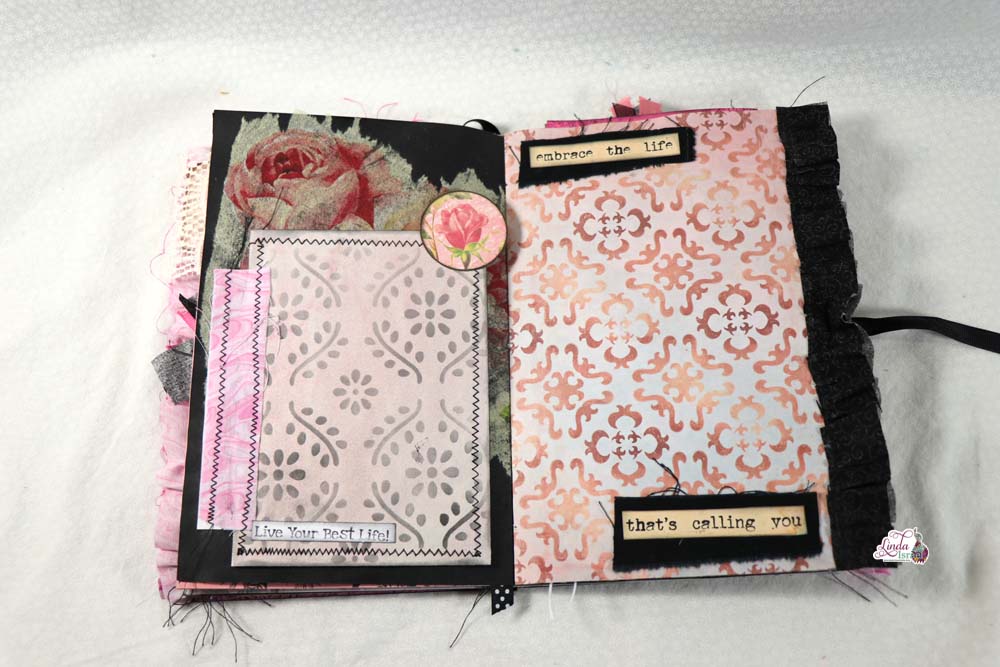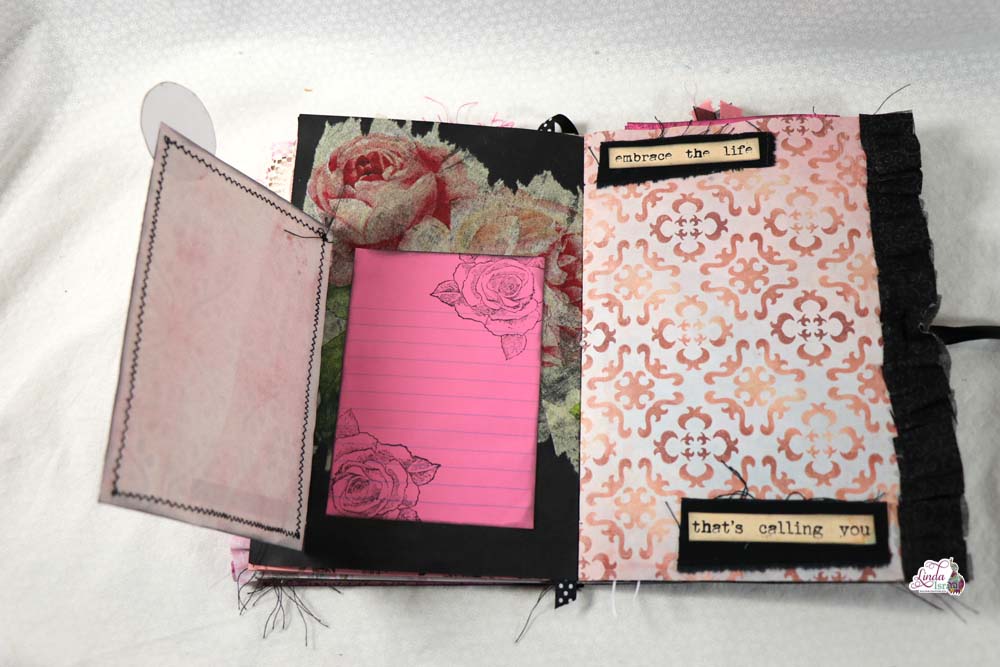 I used the Pocket Tutorial from Pam at Paper Outpost for the pocket on the left side of the page. When you see a tutorial from someone else use that to inspire you to create your own version like I did here.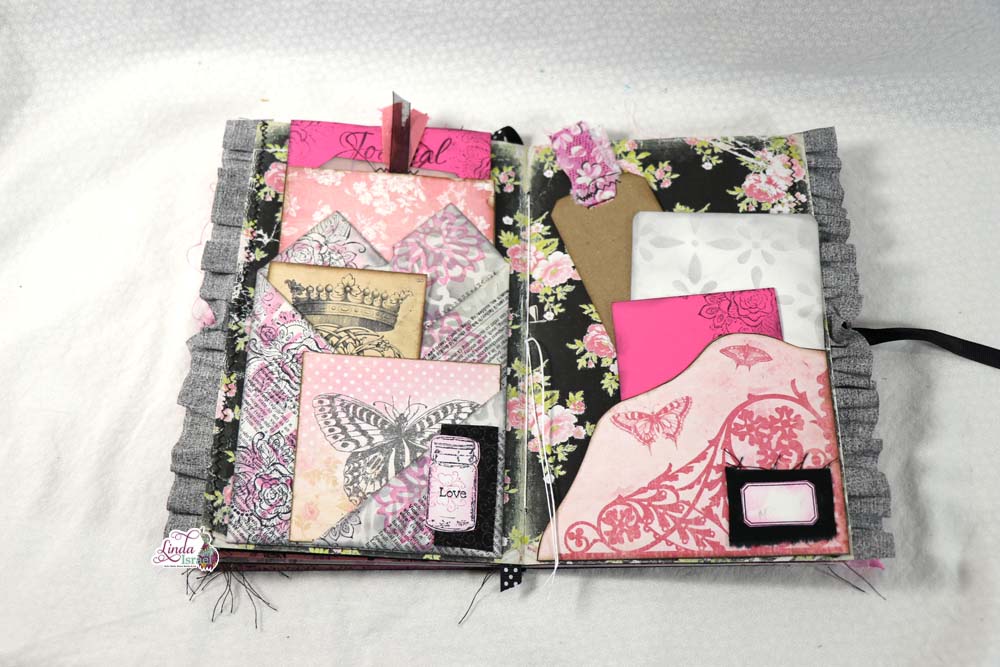 So many goodies packed into this pocket!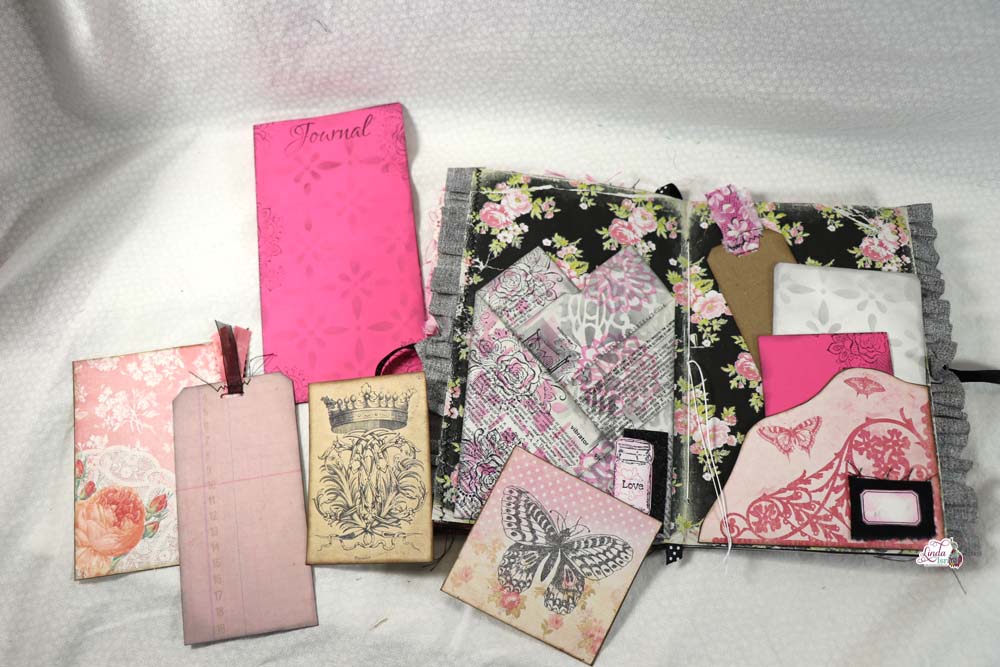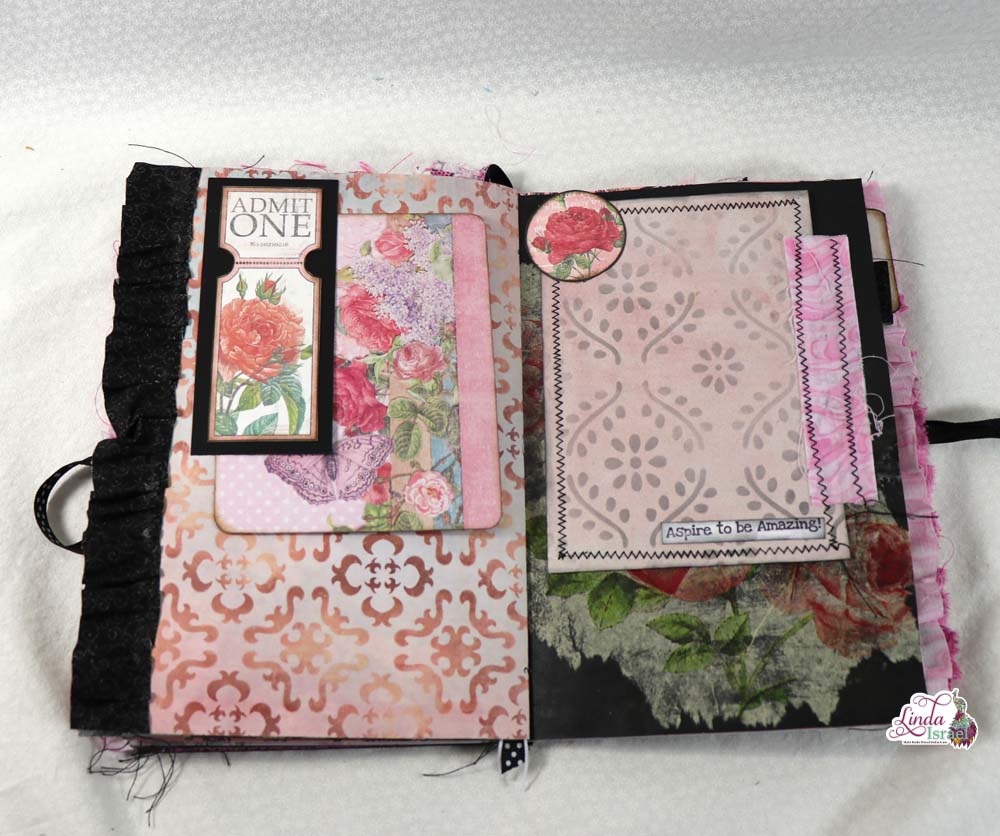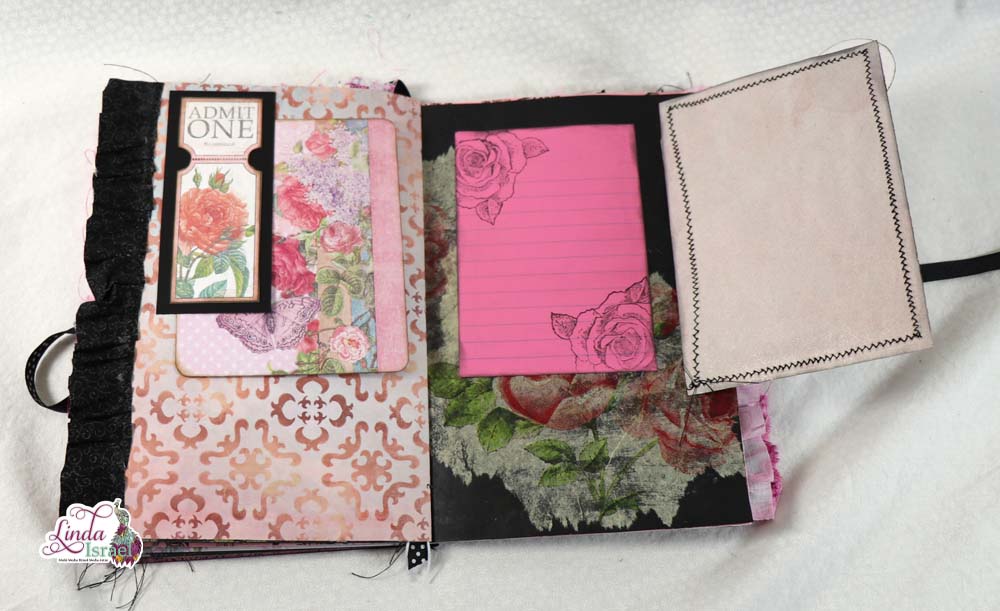 The Connected Curl Border Rubber Stamp is one of my new favorites. I love that I can use it all around a page and it looks continuous. Just but up against the edge and repeat the image around until the border is filled.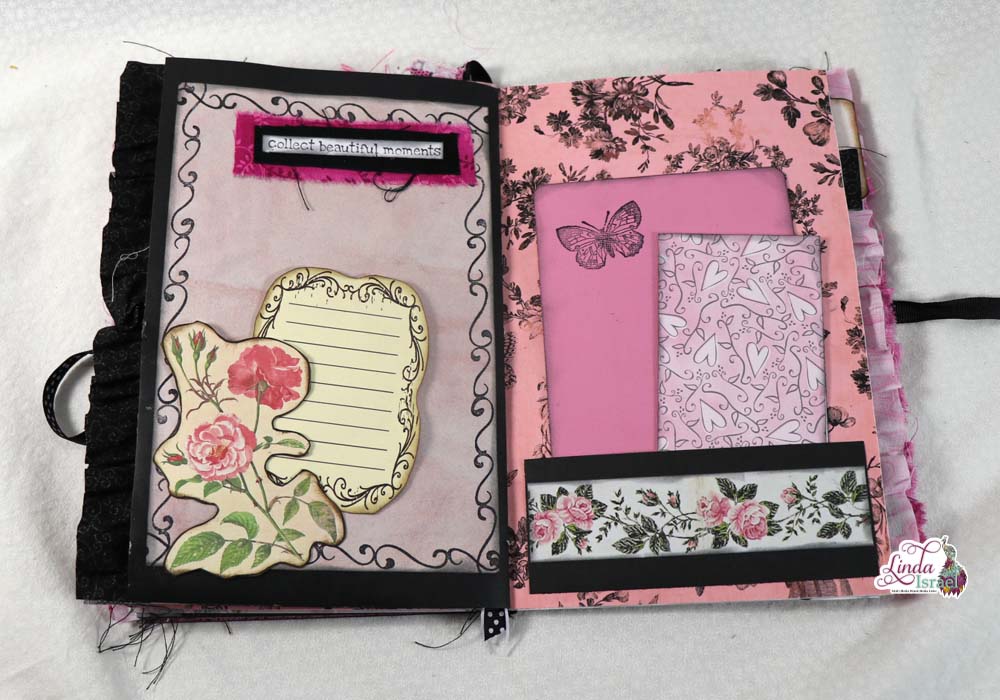 Stamping the same image in different ink colors is a great way to add patterns to pages and journal cards. I used the Butterfly sm on the tag on the left side of the page.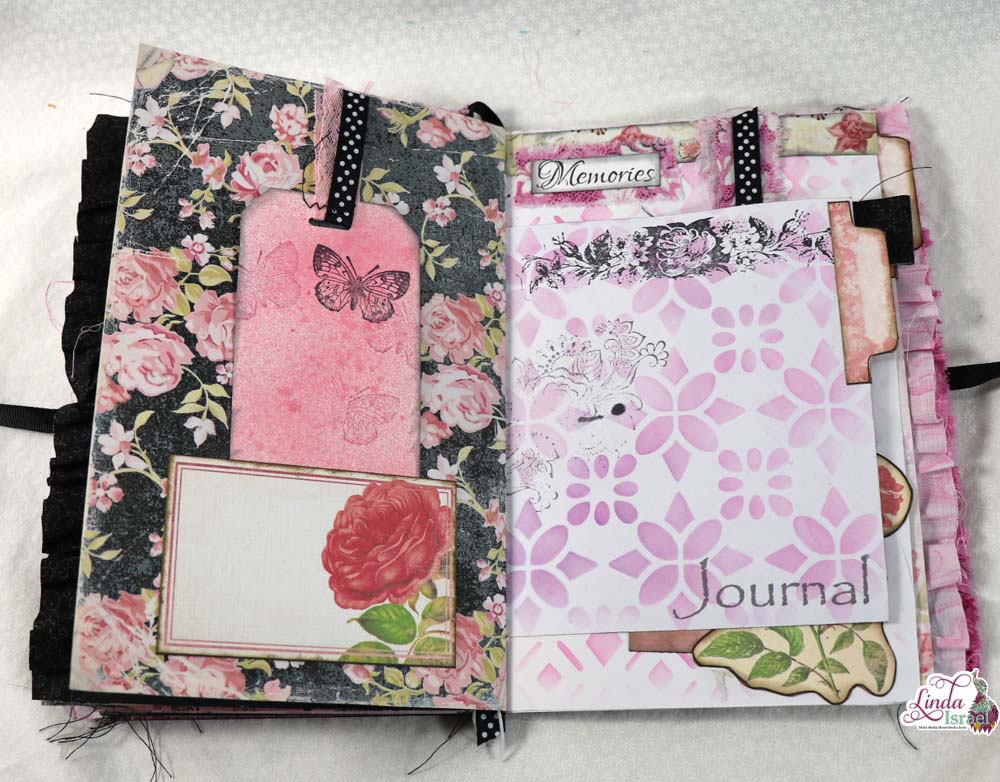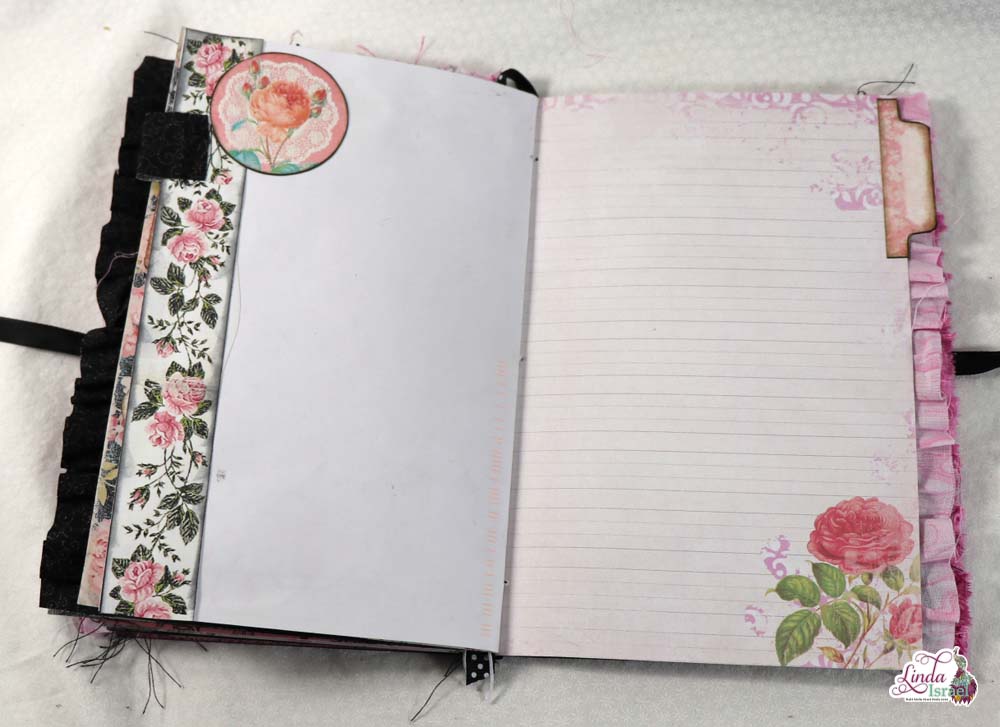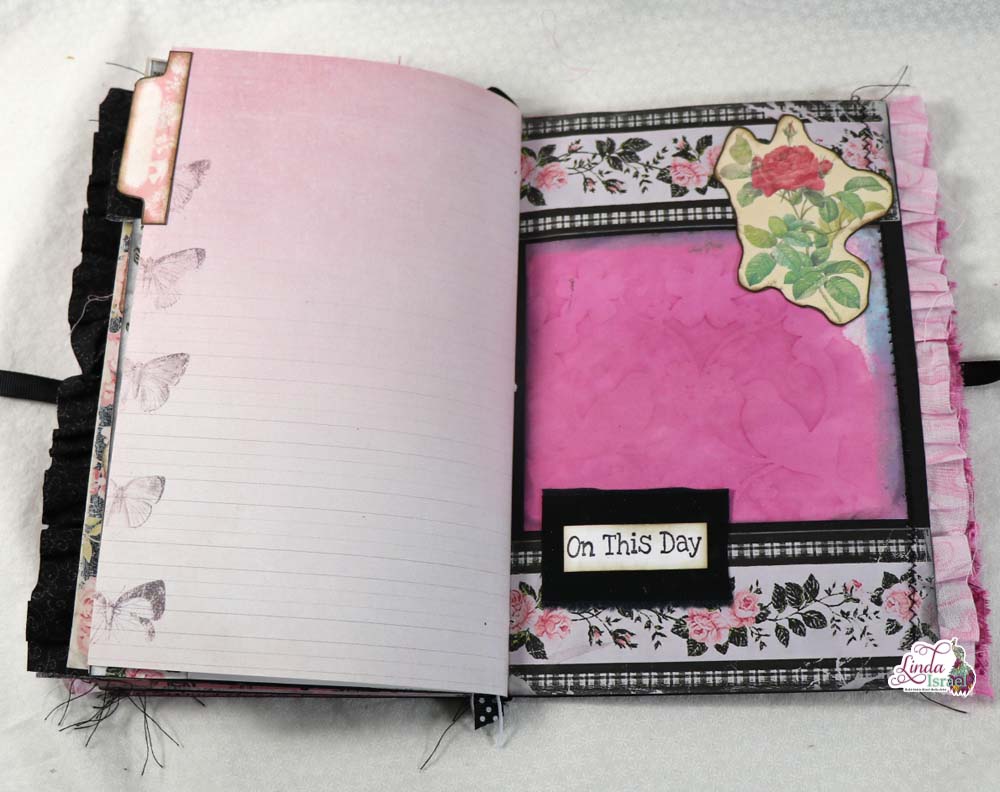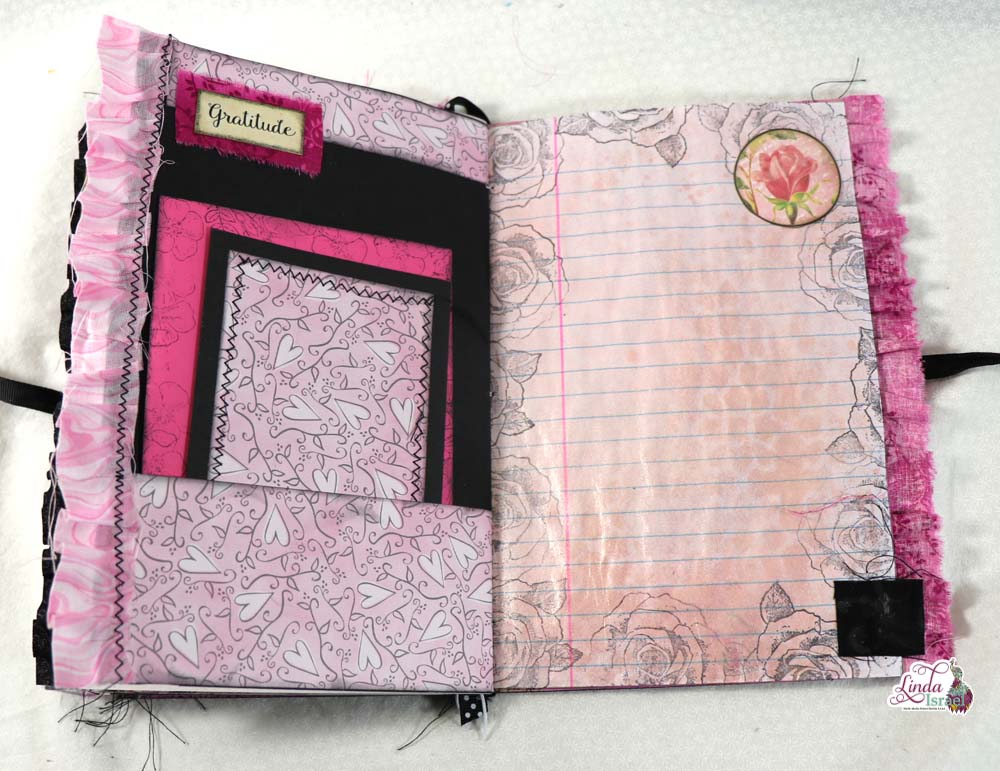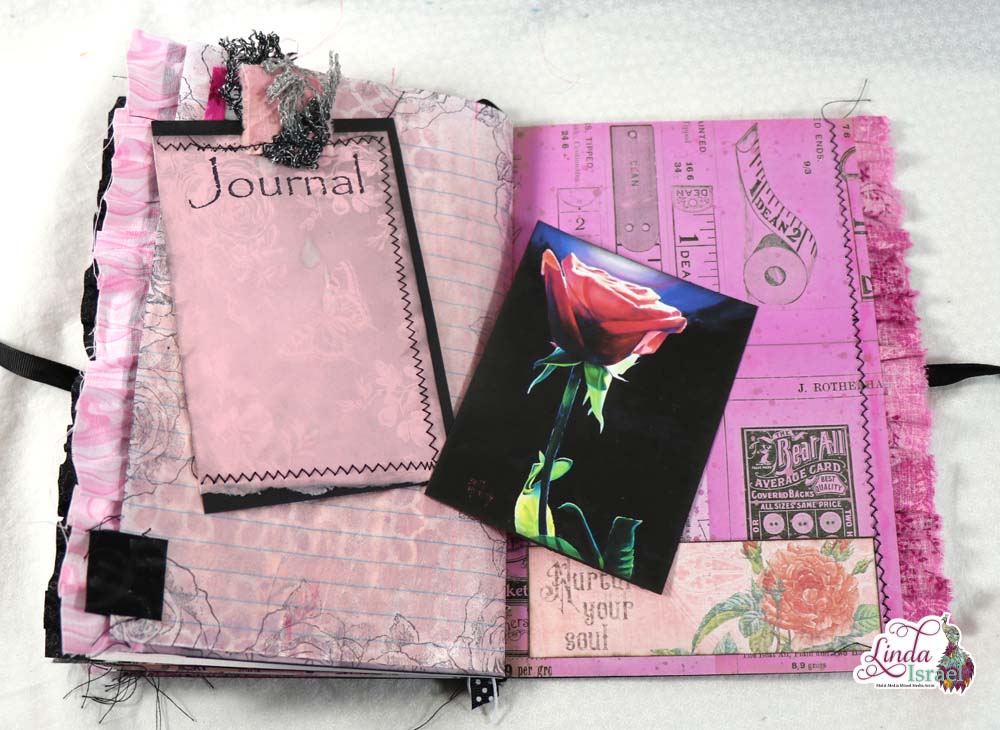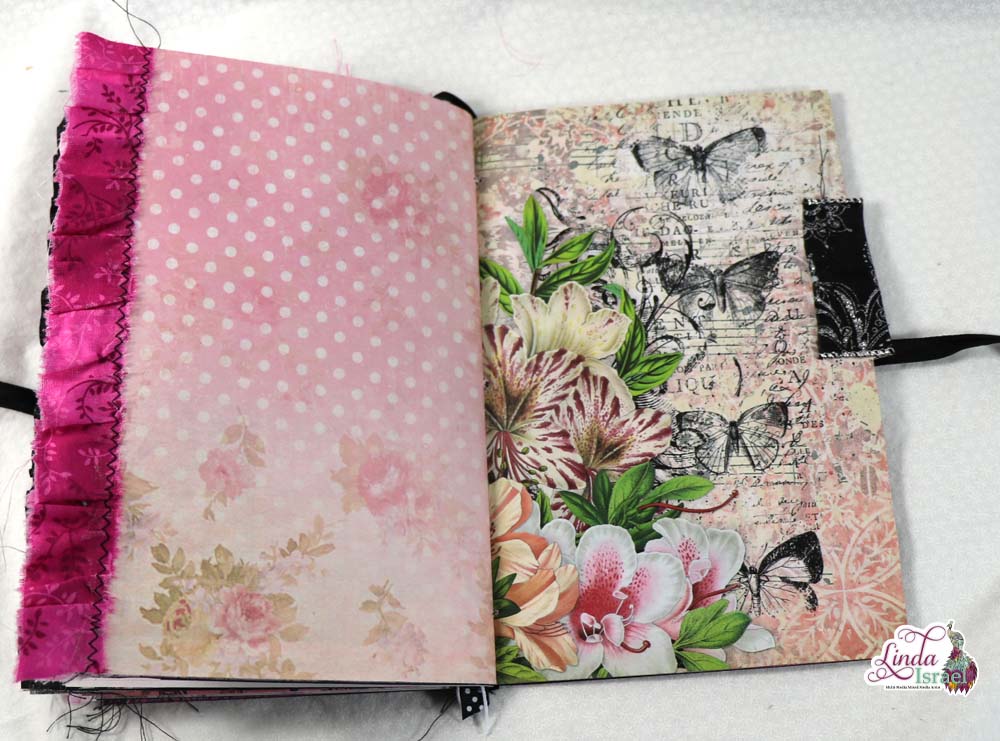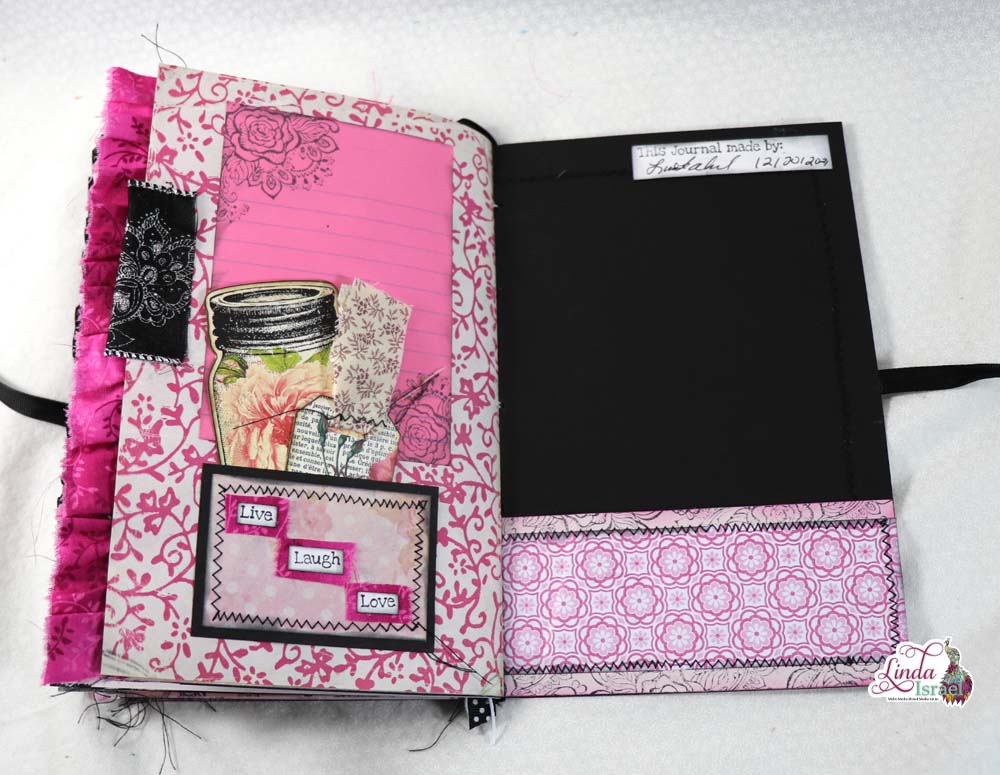 Mixing all the different kits and altering the pages to fit the Pink and Black Theme was a lot of fun! I hope that you are inspired to create your own version. Please feel free to ask questions and tag me in the Friendly Junk Journal People Facebook group when you create your own.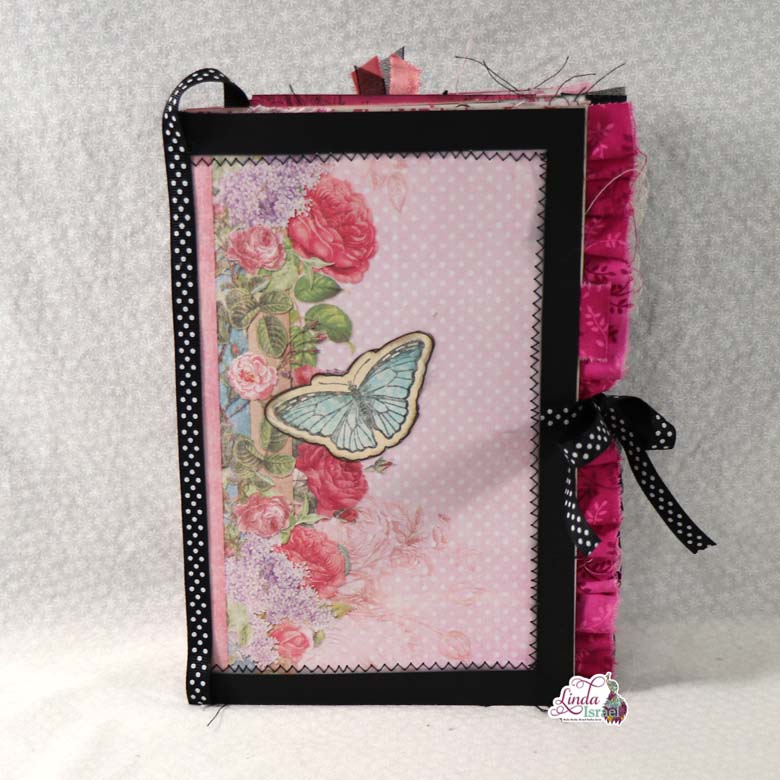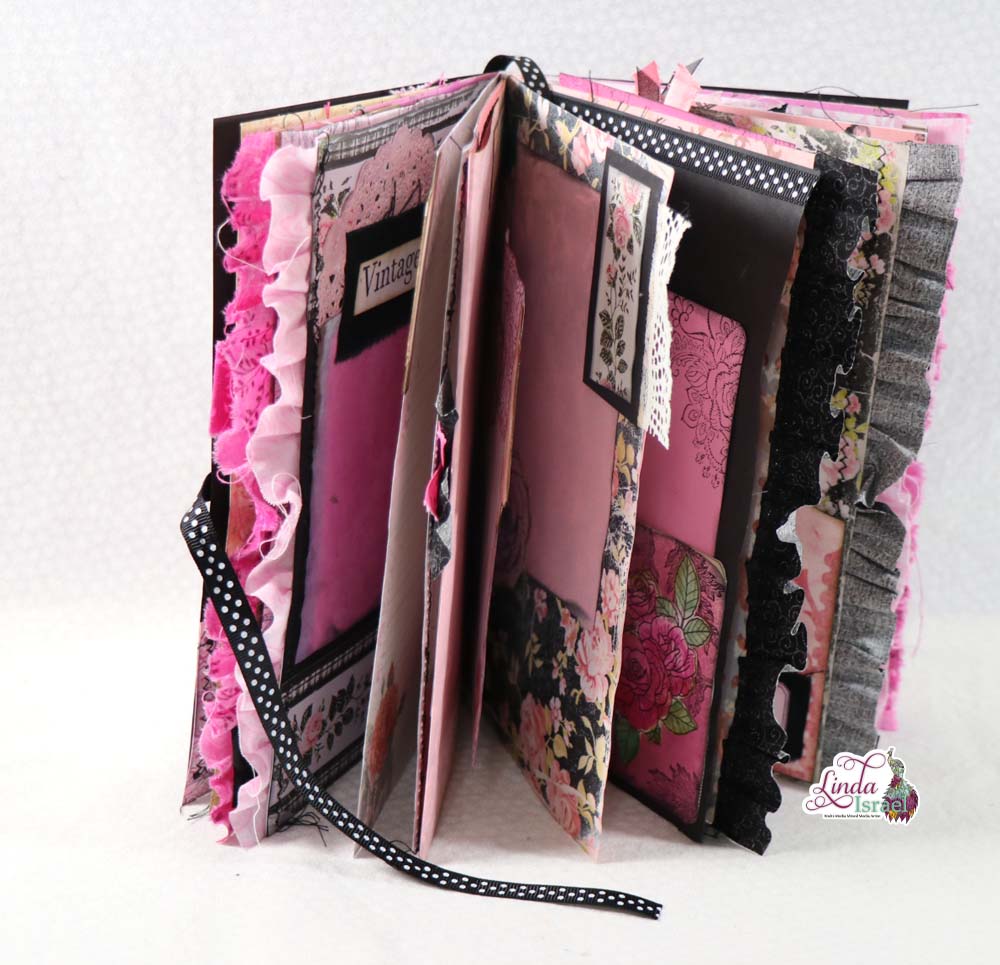 Check out the Friendly Junk Journal People Facebook group. Of course, you are welcome to join the Friendly Junk Journal People Facebook group. The group is growing daily and we are a friendly group willing to help each other and encourage each other.

Interested in any of the projects Linda has created? Please feel free to contact her through her website. Here is her shop, a lot of items featured and more added weekly.
Keep updated on her posts by following the blog by creating an account.  Follow Linda on her Facebook Page or on Instagram for updates that may not be shared on the blog.
Thanks so much for stopping by the blog today for the Live Creating a Pink and Black Junk Journal post.