This is the August 2022 Friendly Junk Journal Challenge, Three Pockets in One Tutorial. In this tutorial I'll show how to create a pocket using junk mail, book pages and scrapbook paper. This is a great way to use up all those papers you might have laying around.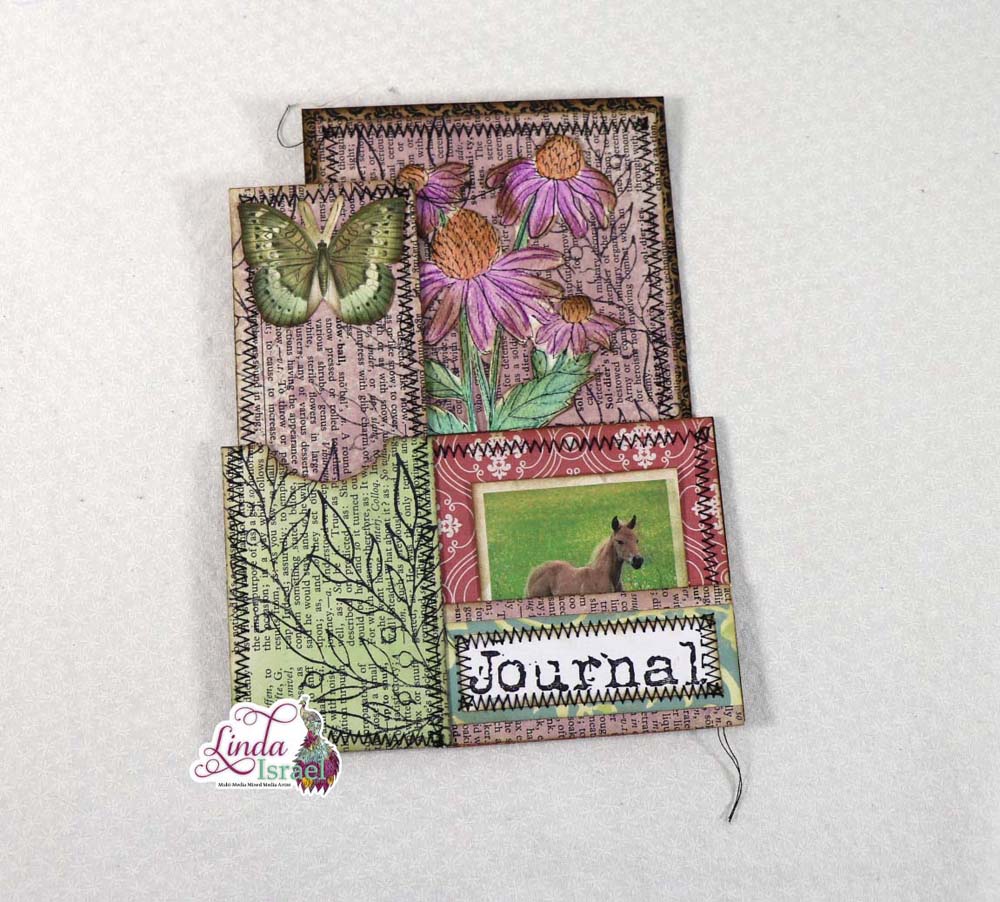 Three Pockets in One Tutorial Video
Supplies used:
During one of my live streams I made this three pockets in one and was asked to make a stand alone tutorial. I thought this would be  a great challenge for August inside the Friendly Junk Journal People Facebook group.
Begin by pulling some junk mail – I used an oversized postcard as the base. You could also glue a couple pieces of paper together if you don't have a postcards. Next select some book pages and some scrapbook paper scraps.
I cut the base to be 5.25 inches wide by 3.25 inches tall. It all depends on how you plan to use the pocket. Make it bigger or larger as needed.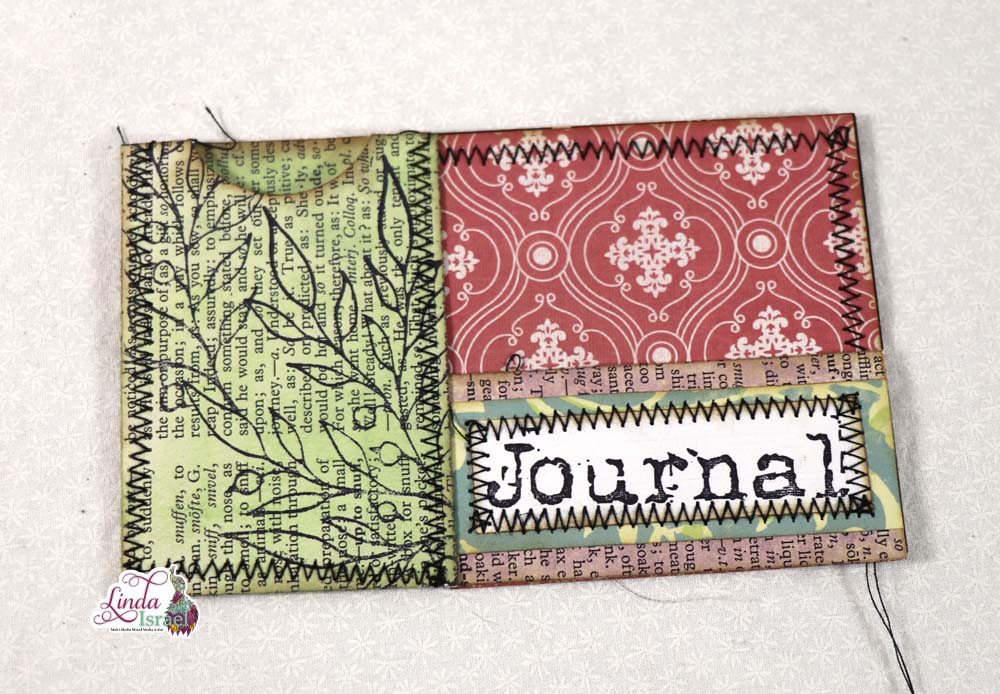 Then I cut book pages and scraps of scrapbook papers to the sizes needed.
While I love sewing on my junk journal items, it isn't necessary. If you like the look but don't sew use the Shabby Stiches stamp set or draw stich lines.
Layer the scraps and pockets on the base. Play around with color and see how you can make each pocket unique!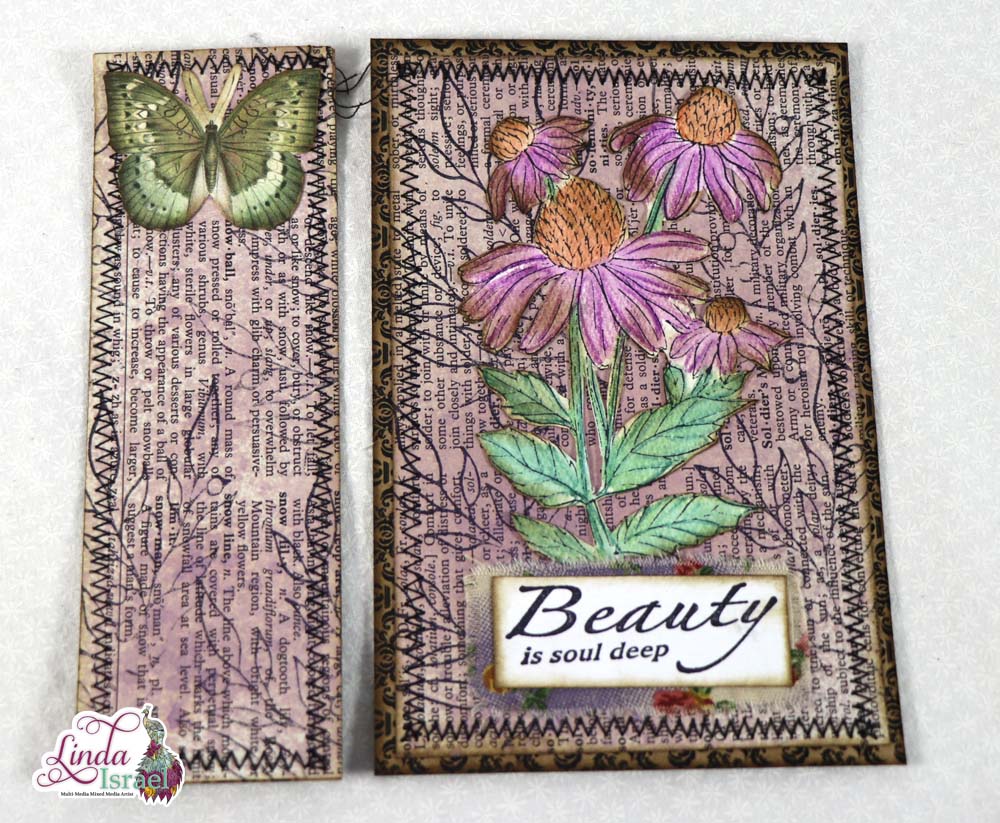 Making the journal card is very easy to create. The base was a scrap of cardstock by Canvas Corp Brands cut to 4 x 6 inches. Then I cut a piece of book page to be 3.75 x 5.75 inches. Spray Tattered Angels Glimmer Mists on the book page to change the color, dry.
Adhere the book page to the card base and then stitch around the outside edge.
Stamp the Coneflower stamp on watercolor paper and fussy cut image. Color using watercolor pencils and use a water brush to activate the color.
Layer the coneflower image over the sprayed book page. Stamp Beauty is Soul deep on a scrap of paper and adhere to the bottom of the card.
A Book mark was made using a scrap of 2 x 6 cardstock, a book page glued on top that was sprayed with TAGM and the butterfly is from the Bridle Farms Digital kit from Calico Collage.
Take some time to create your own three pockets in one and then share it inside the Friendly Junk Journal People Facebook group event. Have fun creating!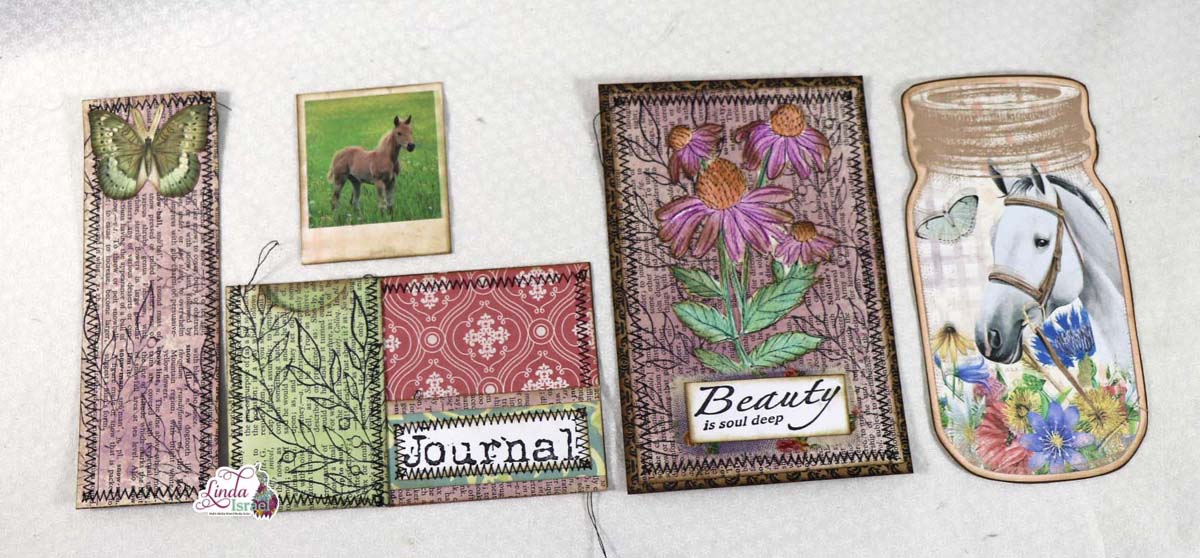 Visit the Friendly Junk Journal People Facebook group. Of course, you are welcome to join the Friendly Junk Journal People Facebook group. The group is growing daily and we are a friendly group willing to help each other and encourage each other.

Interested in any of the projects Linda has created? Please feel free to contact her through her website. Here is her shop, a lot of items featured and more added weekly.
Keep updated on her posts by following the blog by creating an account.  Follow Linda on her Facebook Page or on Instagram for updates that may not be shared on the blog.
Thanks so much for stopping by the blog today to see the Three Pockets in One Tutorial.