Sharing an Apple Spice Junk Journal Flip Through today. On Sept 17th during the YouTube Live stream, I showed how to add elastic to make a Midori style junk journal or travelers notebook. During the video, I also showed how to bind one of the inserts as well as created a journal card. The Journal is now complete and I'm sharing the contents.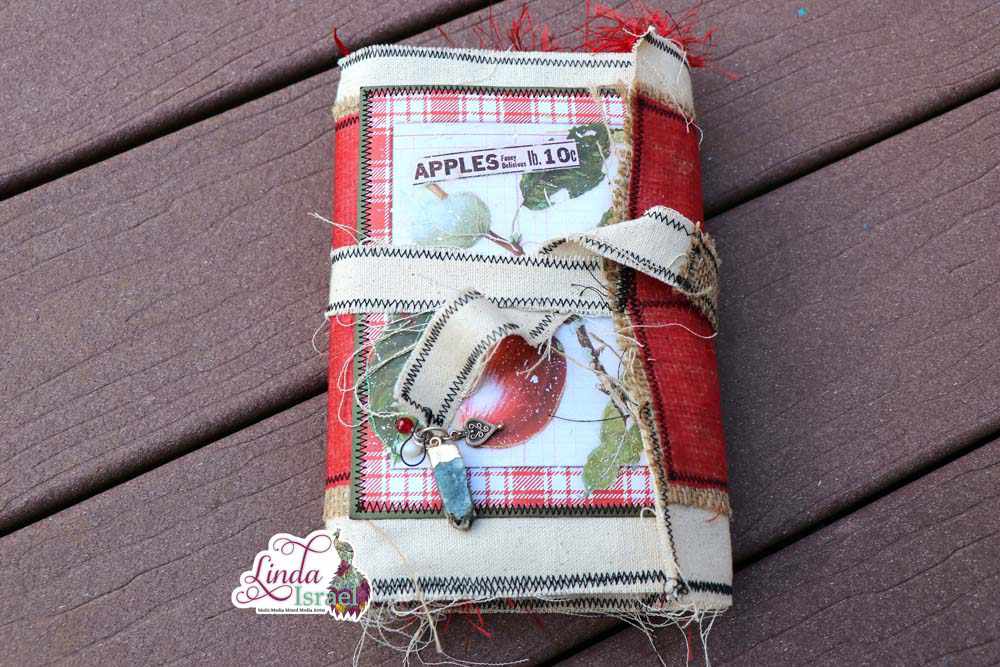 The Apple Spice Junk Journal measures 8.25 x 6 inch Junk Journal with a total of 36 pages. Three journal inserts that can be removed from the cover. This journal will hold four inserts. The journal is for sale and listed in my store.
Apple Spice Junk Journal Flip Through Video.
Supplies used for the Apple Spice Junk Journal
This Apple Spice Junk Journal Flip Through was a fun to make. Using scraps of canvas, burlap, and papers for the cover from my stash is helping me to reduce the stash!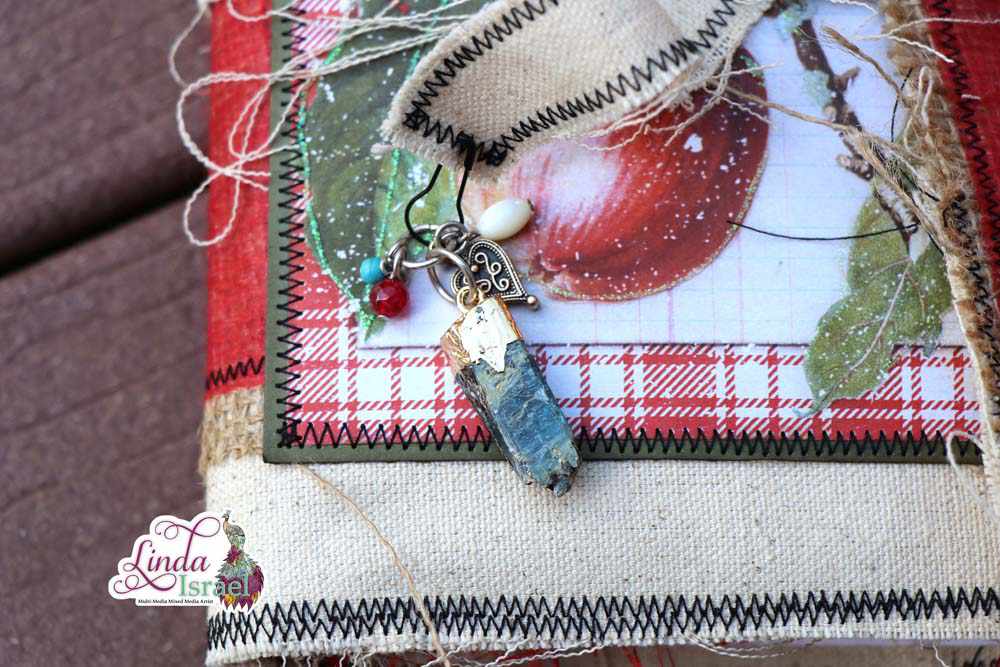 Recently I picked up some of those bulb pins and I'm loving being able to attach items to my journal like this little journal charm.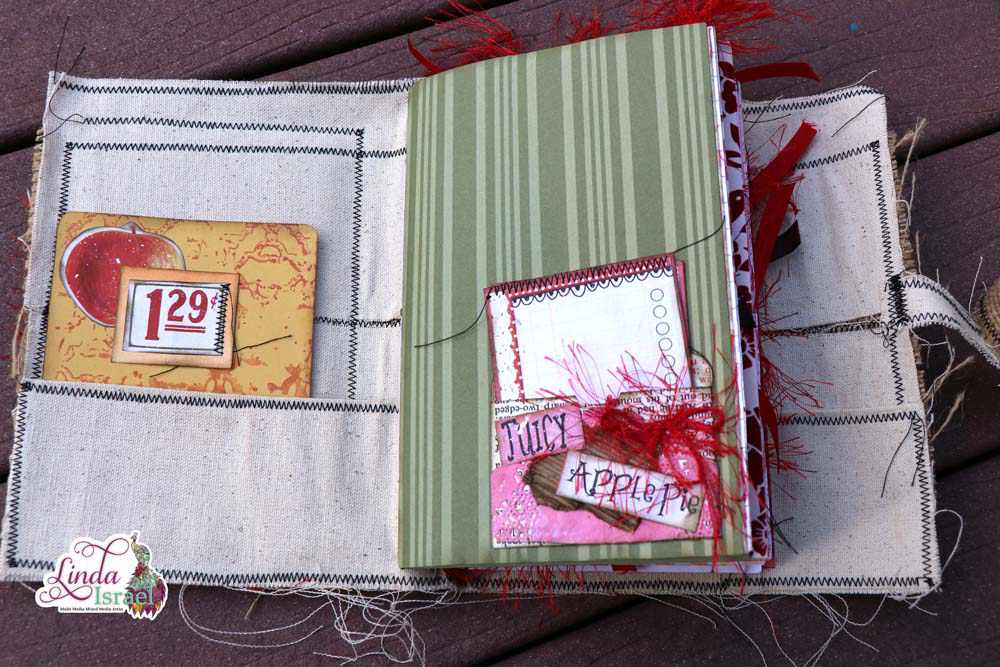 The cover has pockets so you can add extra cards or other items you want to keep. A pen can be added as well so you always have one handy.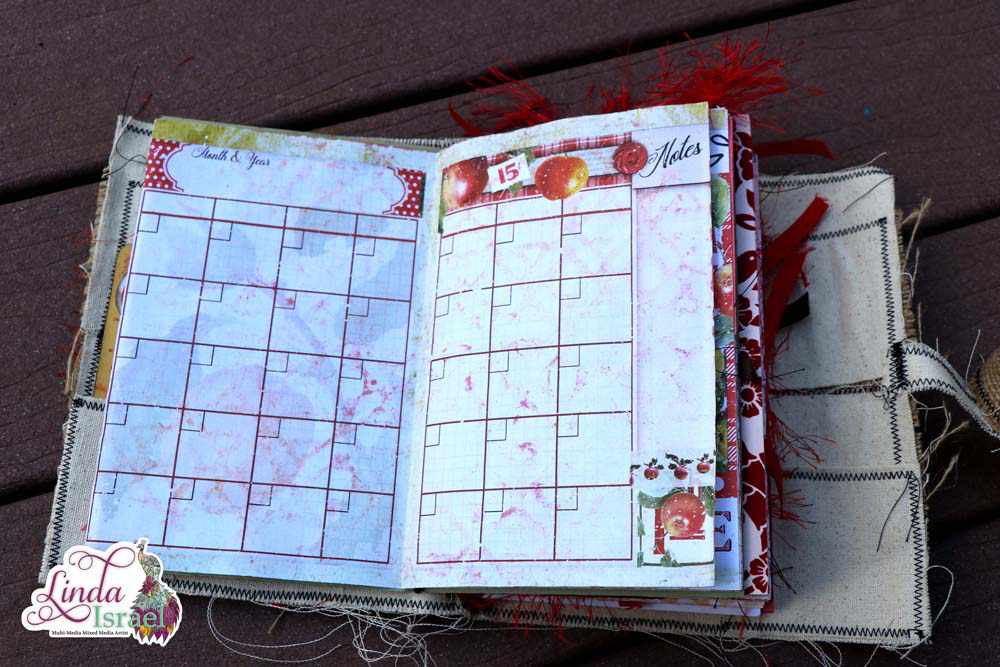 The first insert in this Apple Spice Junk Journal Flip Through is a one month planner. The first page flips out and you can write all kinds of notes on the back or in the boxes on the front.
Using mixed media pages I created for another project to make a pocket page is a great way to have more space to save items.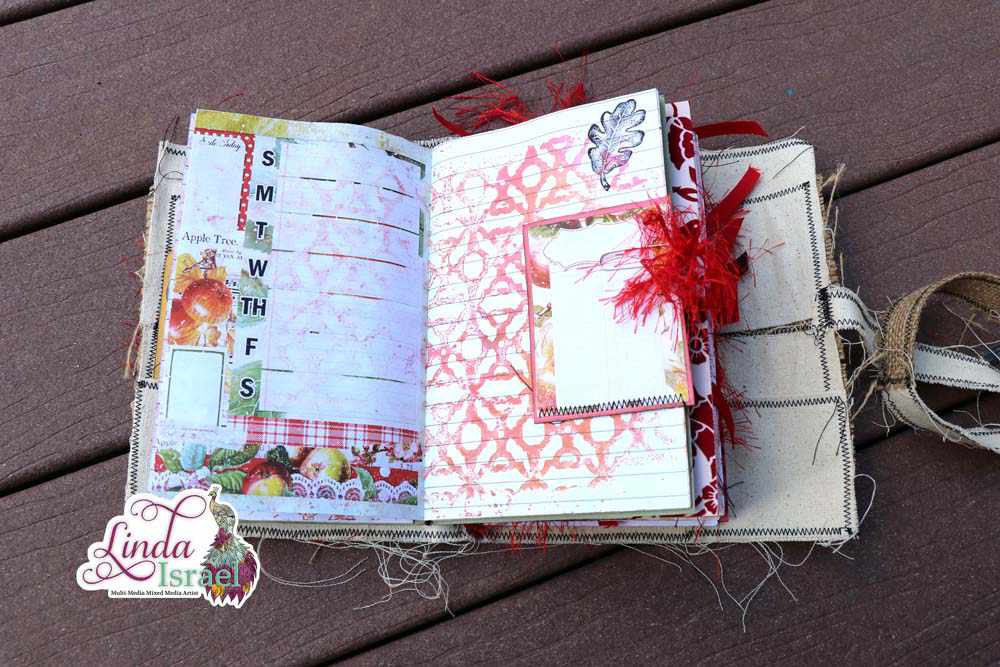 One of my favorite things is adding Tattered Angels Chalkboard Mists to journal pages. The colors match perfectly with the digital journal kit from Calico Collage.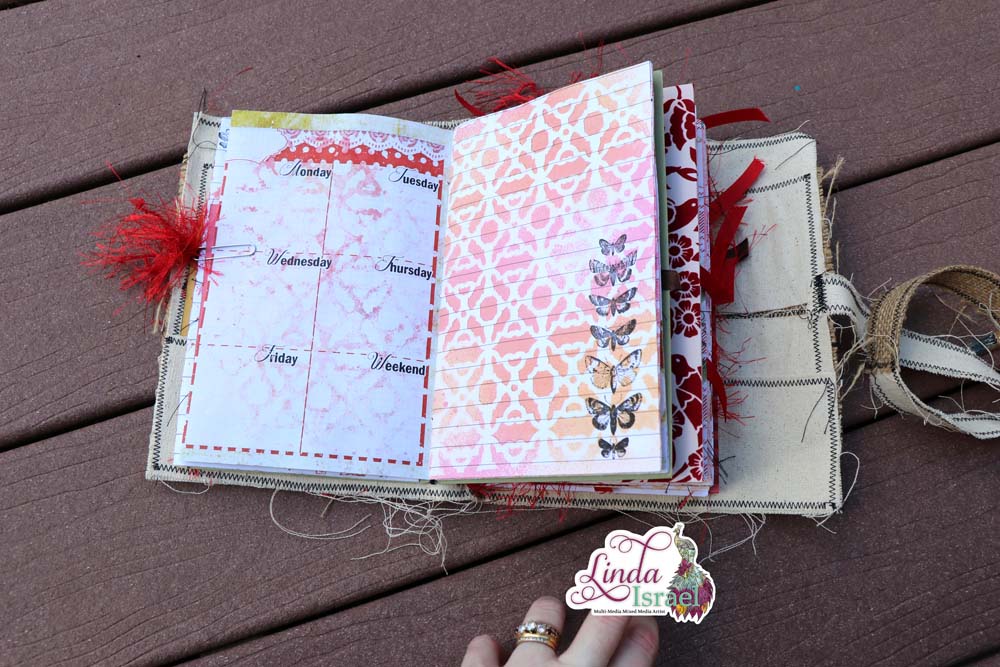 The planner pages are so fun. Having a week all on one page is a great way to list items and keep track of what needs to be done. The other pages are fun to write special notes or even attach photos.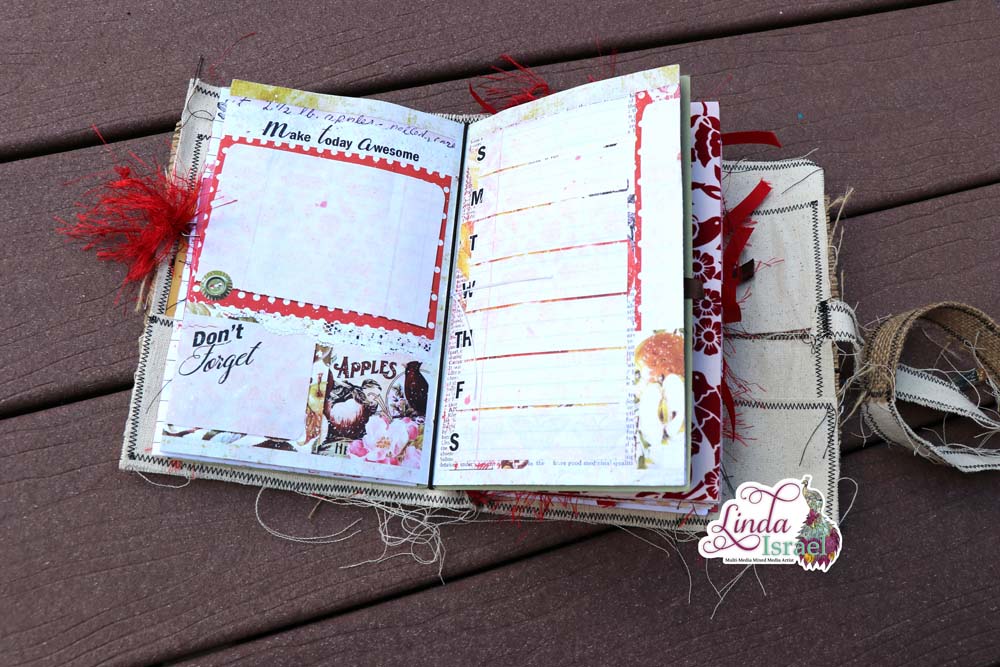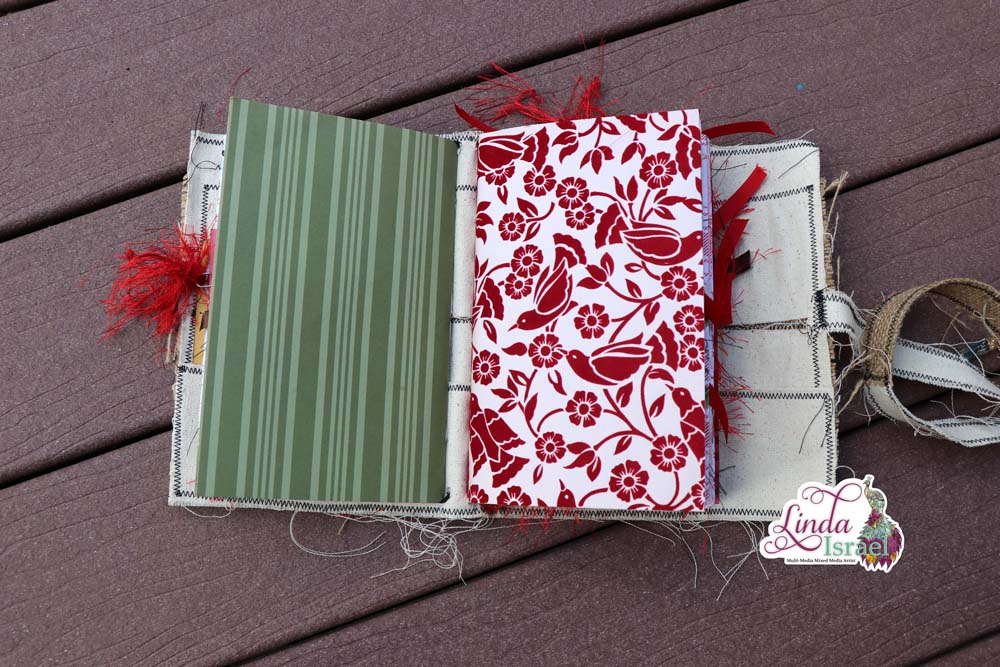 Using different colors of cardstock for the insert covers adds a little flair. This 7gypsies flocked paper is fun, love the way it feels.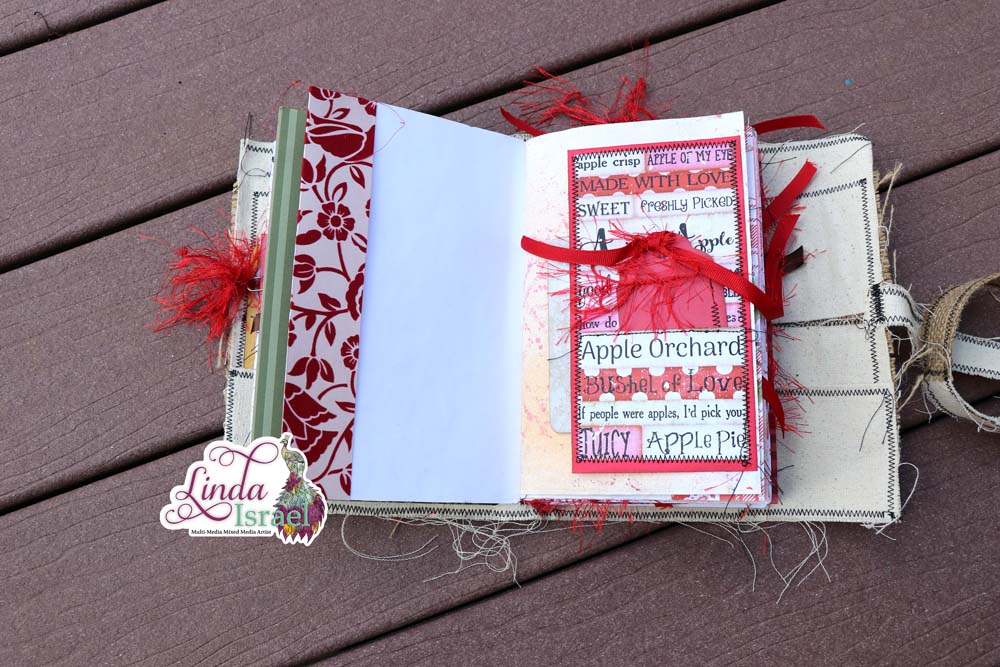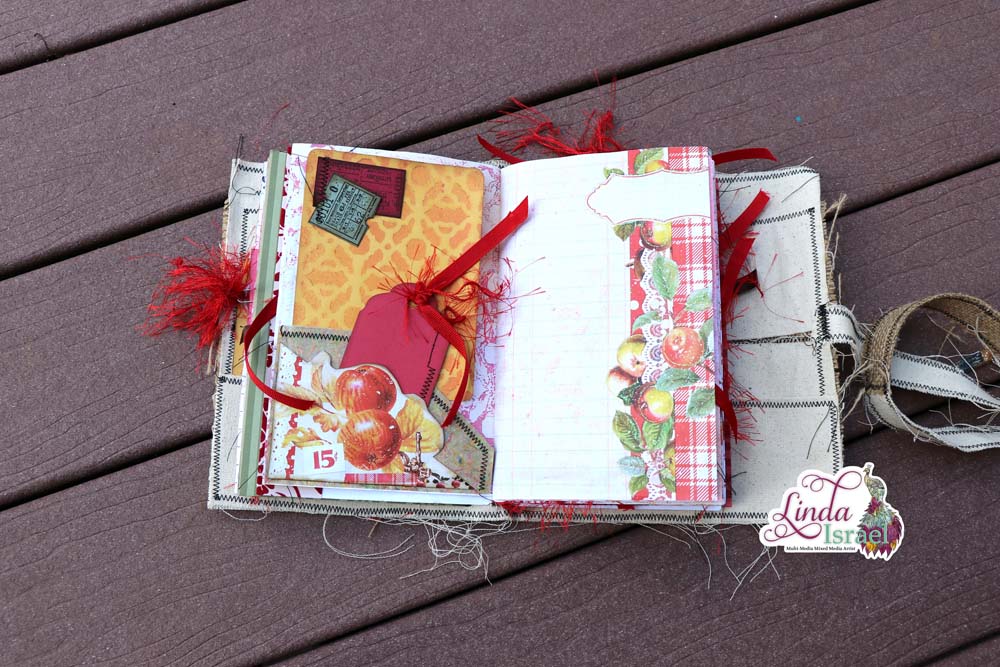 A few pockets in the junk journal portion of the inserts gives you room to add notes and things you want to keep.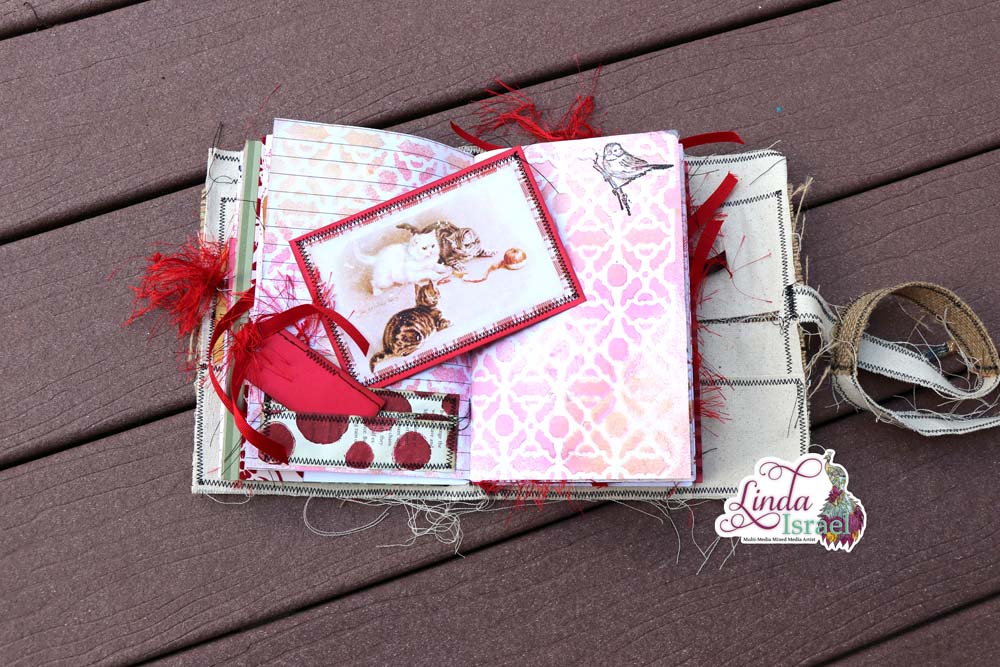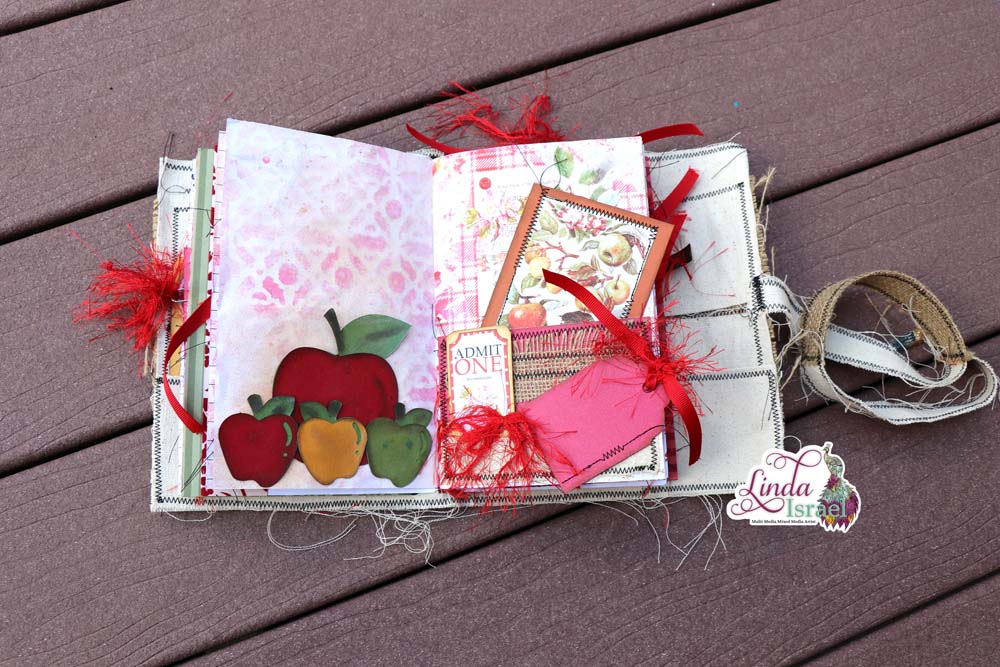 Used the Cricut to cut apple shaped journal cards and tuck spots. These were then sprayed with Tattered Angels and had distress inks added.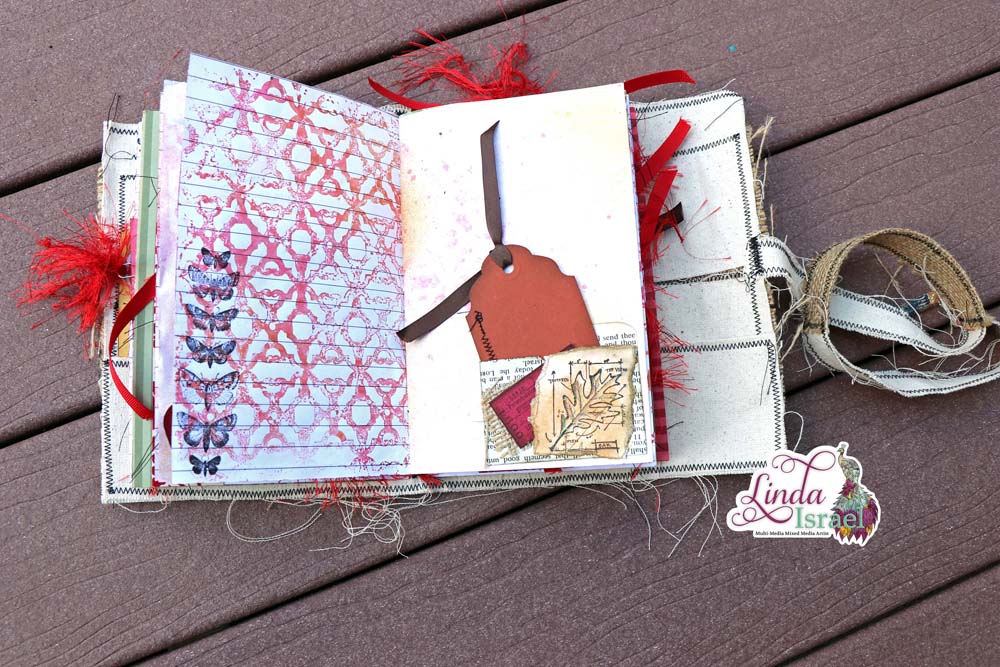 The stamping on each page gives a little decoration and adds interest.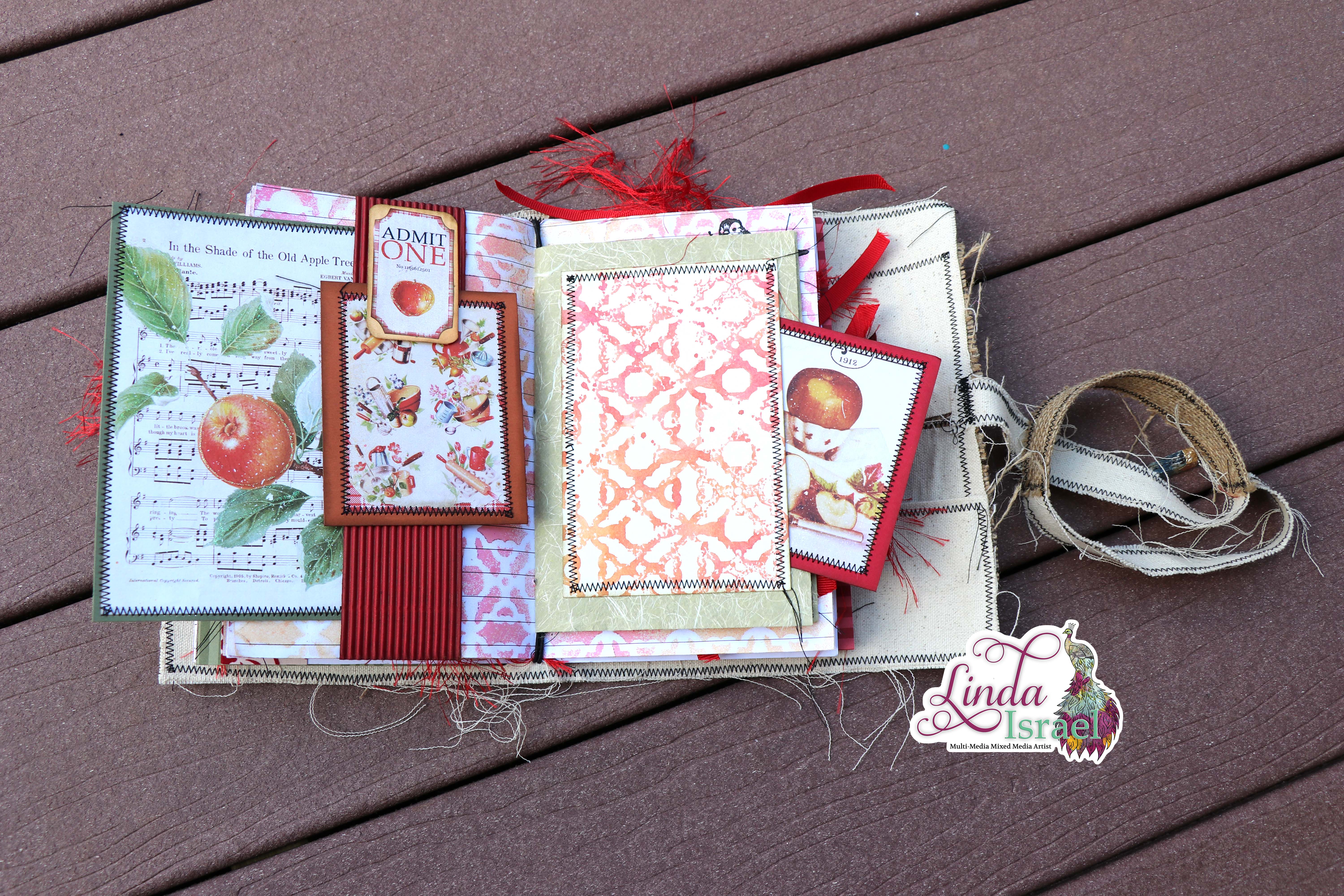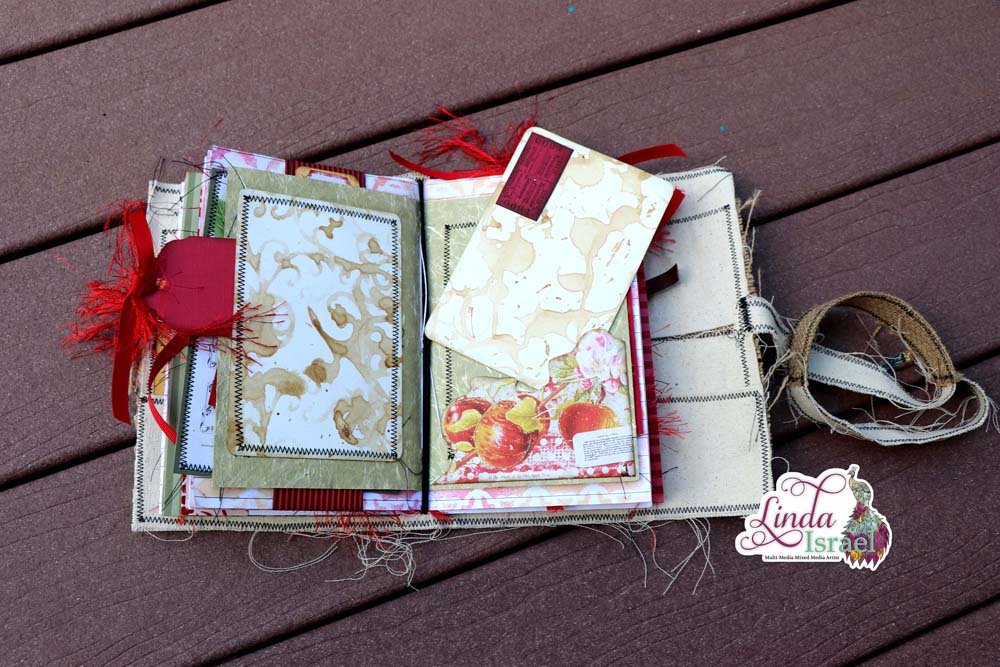 By adding journal cards to the handmade paper I was able to add additional writing space and a pocket.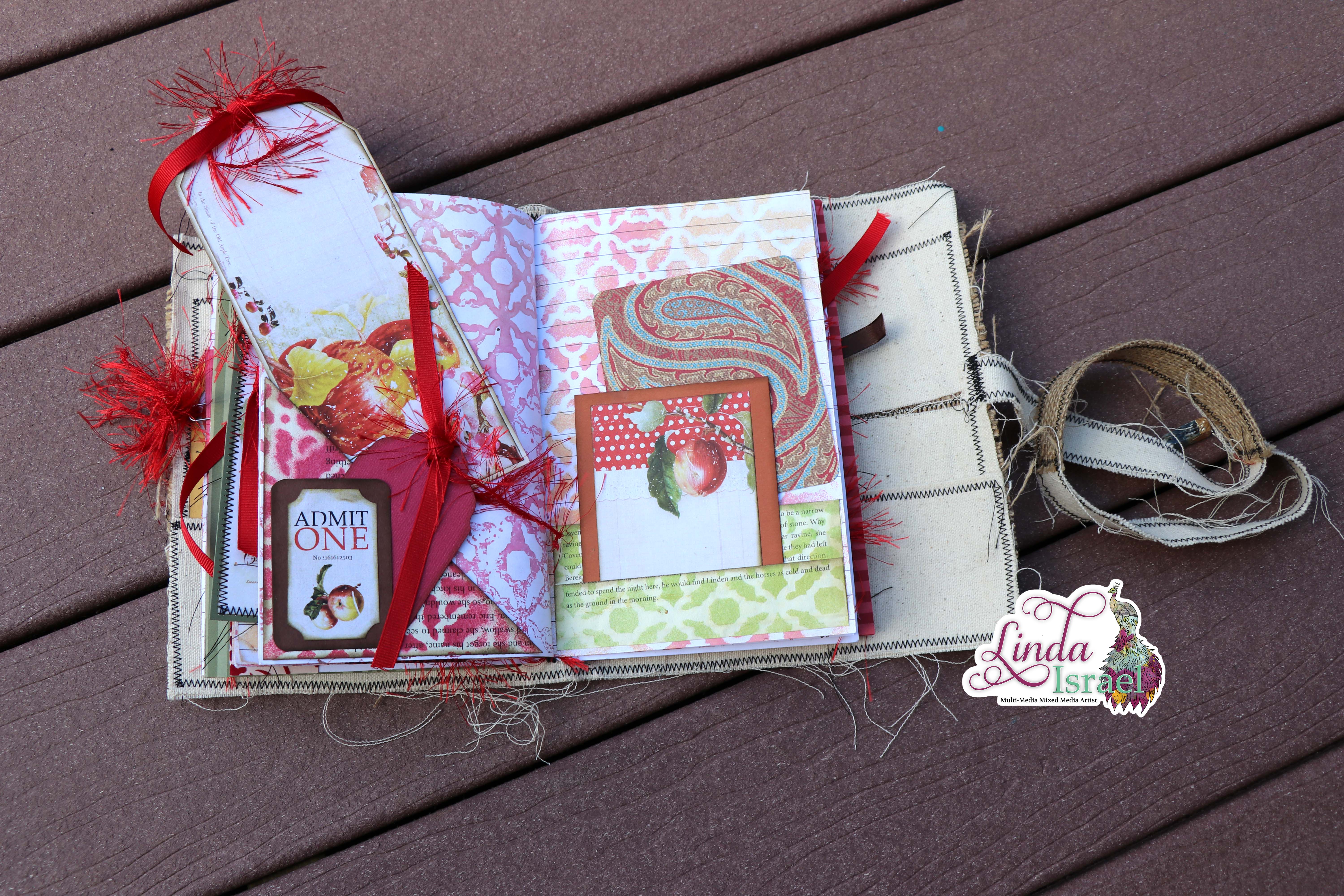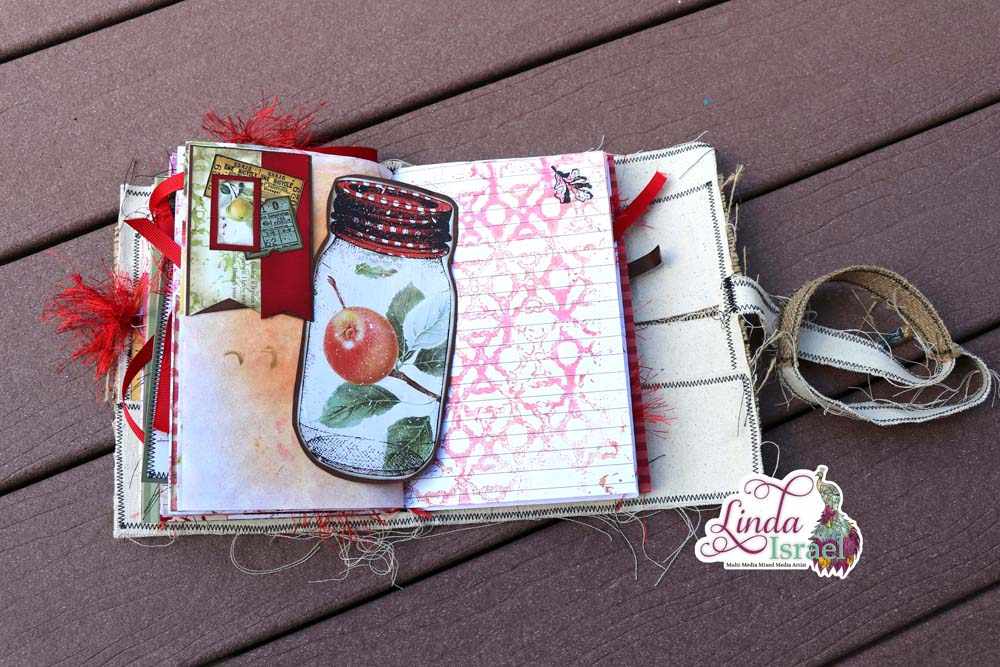 The tuck spot on this page above is adhered on two sides so that the mason jar journal card will stay inside the journal.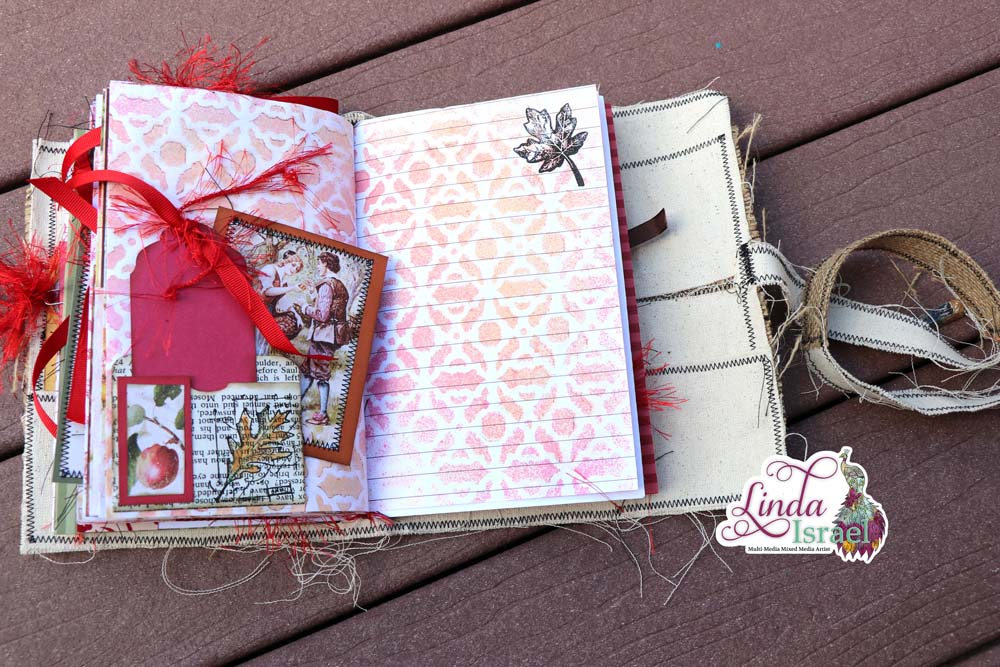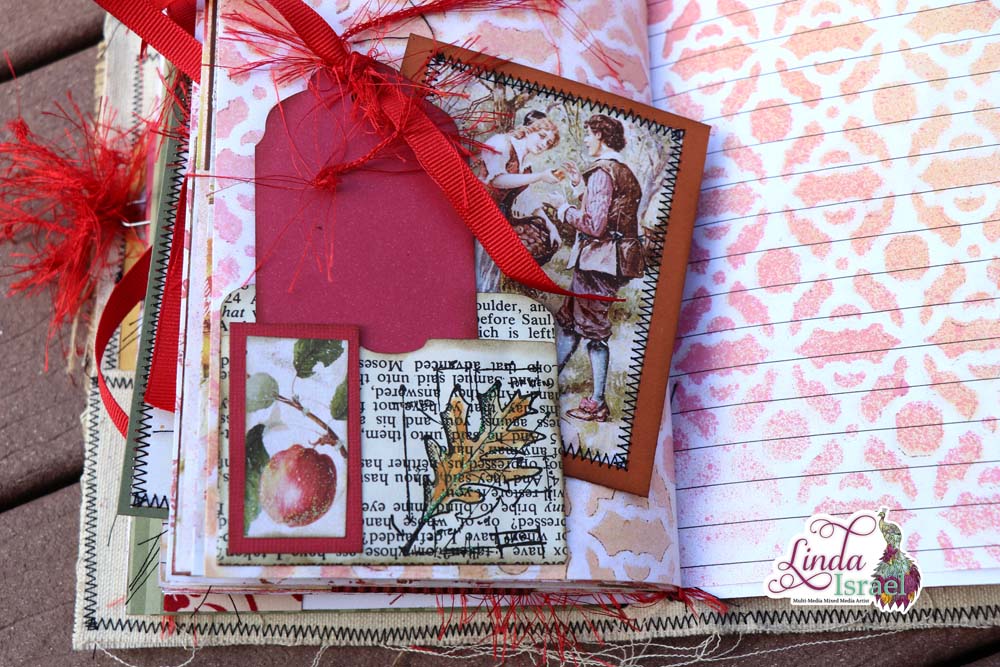 Stamping on top of a book page and then adding color using Tattered Angels gives this a unique look. There is also Tulip Dimensional Glitter Paint on top.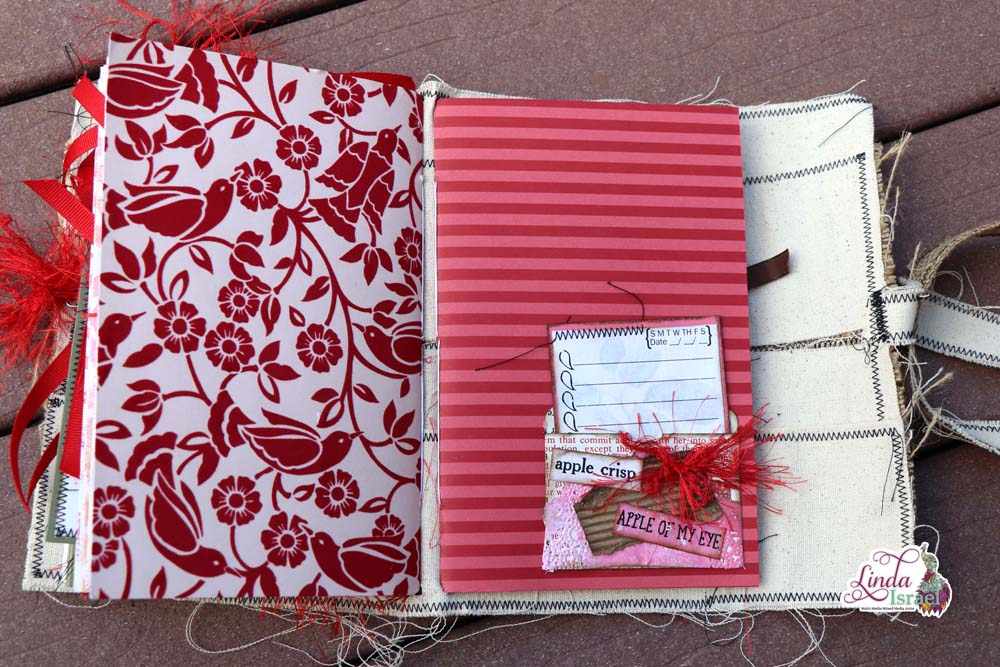 The last insert is full of pages to write upon. Since it is an insert it can be taken out of the cover for easy writing.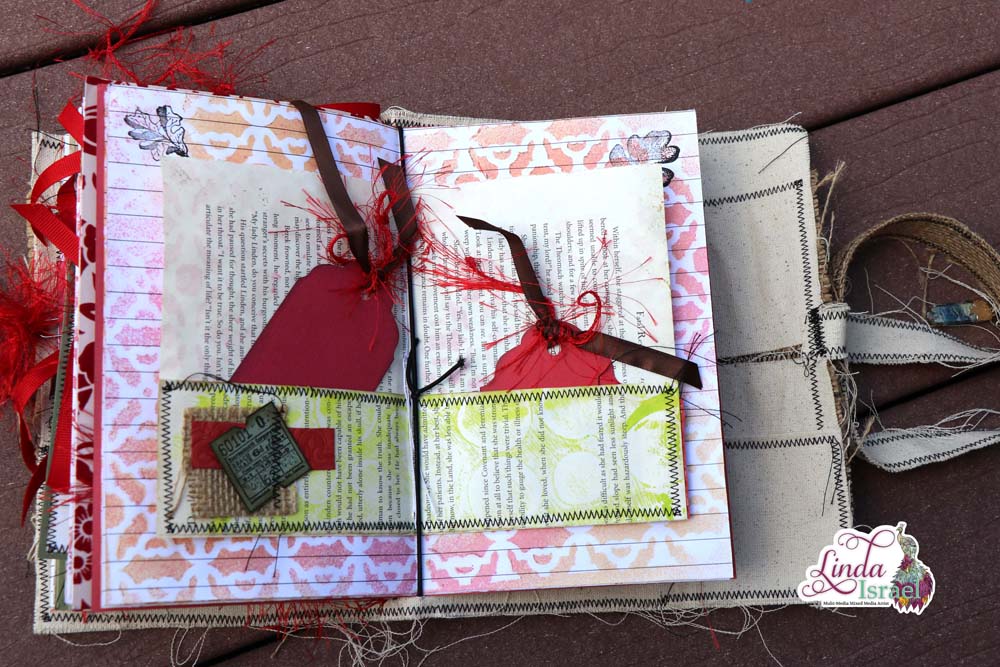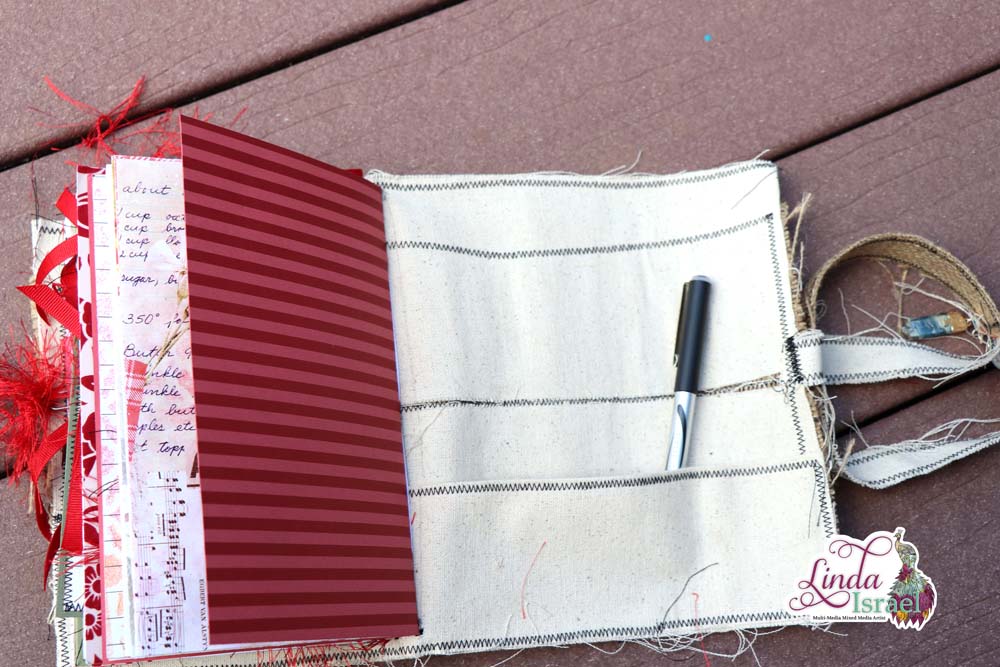 The cover has a full pocket inside to add more journal cards, notes, and even a pen.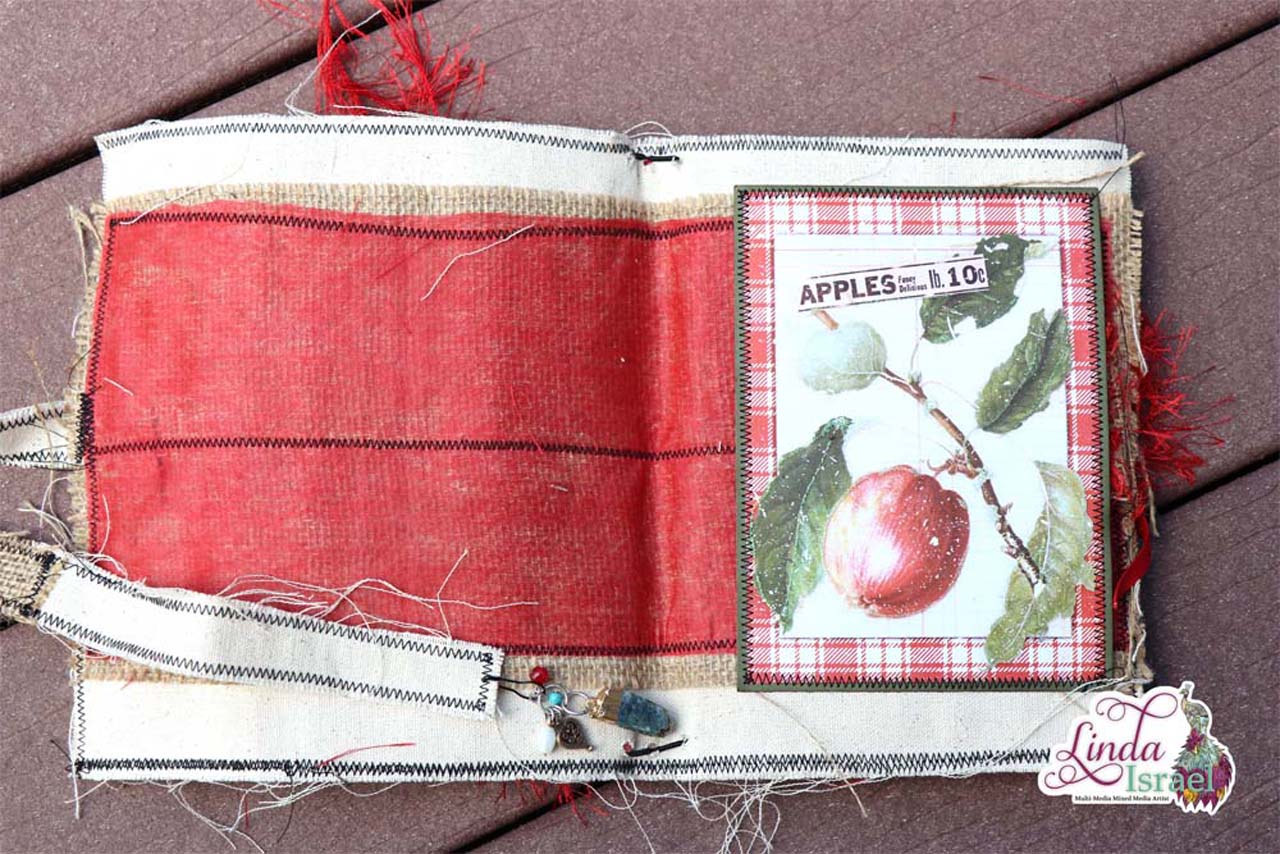 The fabric and texture of this journal cover feel good in your hands. Making this journal was a lot of fun.
Hope you enjoyed seeing the Apple Spice Junk Journal Flip Through today.
Make sure to check out the Friendly Junk Journal People Facebook group. Of course, you are welcome to join the Friendly Junk Journal People Facebook group. The group is growing daily and we are a friendly group willing to help each other and encourage each other.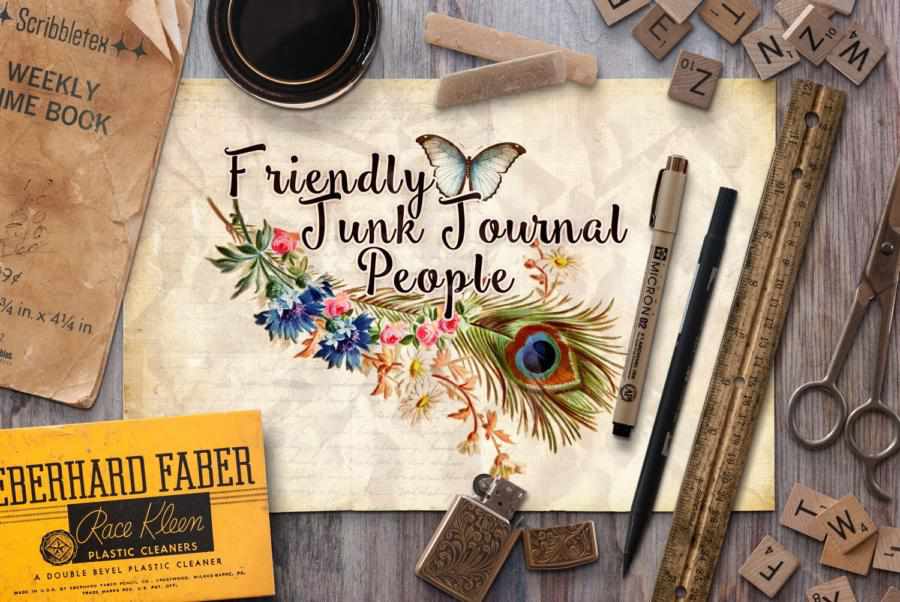 Interested in any of the journals I created? Please feel free to contact me through my Facebook Page. Here is my shop, I have a lot of items uploaded and add more weekly.
Keep updated on my posts by following me. Follow my blog with Bloglovin. Or Follow my Facebook Page or on Instagram for updates that may not be shared on my blog.
Thanks so much for stopping by my blog today to see the Apple Spice Junk Journal Flip Through.