Day 30 Of 30 Days Of Thankful 2018 journal prompt. How can you show gratitude to others? Showing others gratitude is a great way to feel good. Everyone loves to be told thank you for doing something for another person.
Inspirational Quote:
The best way to cheer yourself up is to try to cheer somebody else up. ~Mark Twain, 1896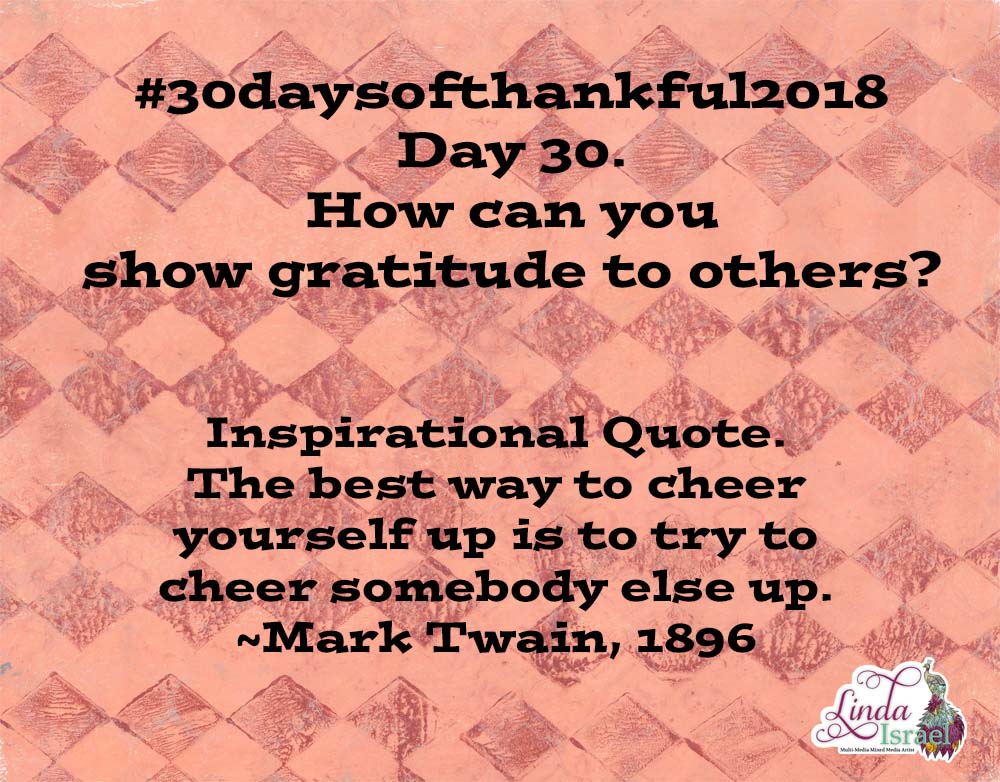 Flip through of my 30 Days Of Thankful 2018 Junk Journal after all the journaling.
My journal entry for Day 30 Of 30 Days Of Thankful 2018.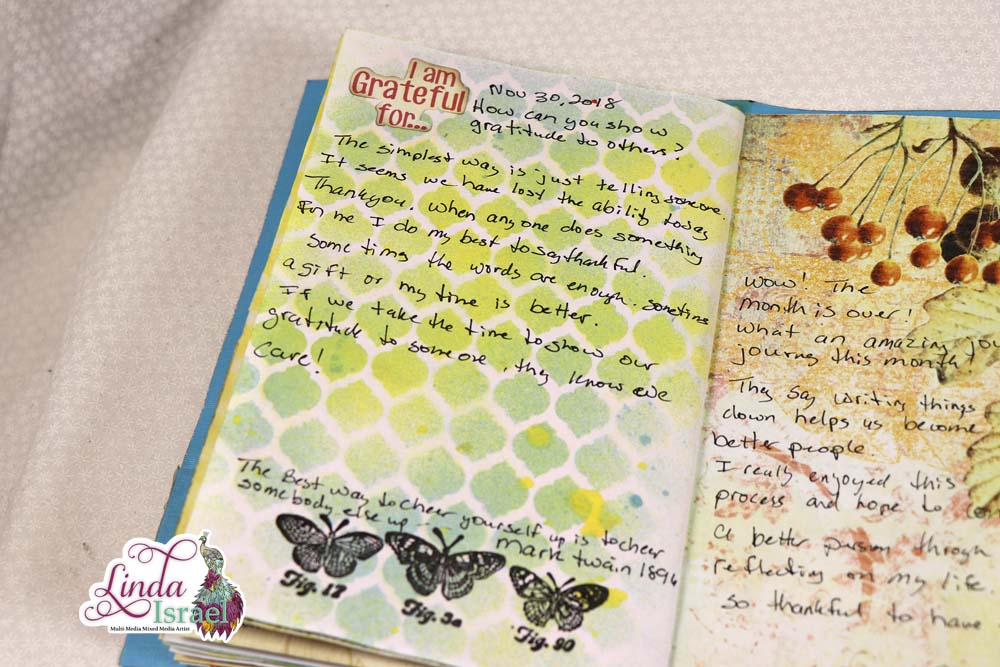 The simplest way is telling someone. It seems we have lost the ability to say Thank You. When anyone does something for me I do my best to say Thank you.
Sometimes the words are enough. Sometimes a gift of my time is better.
If we take the time to show our gratitude to someone they know we care.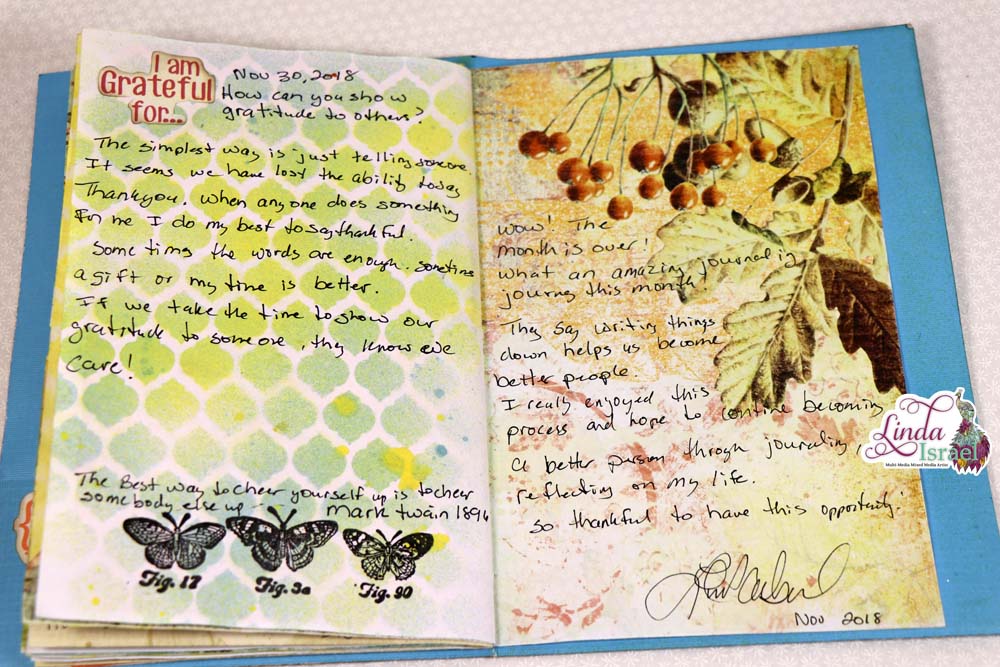 What I wrote about finishing this journal challenge.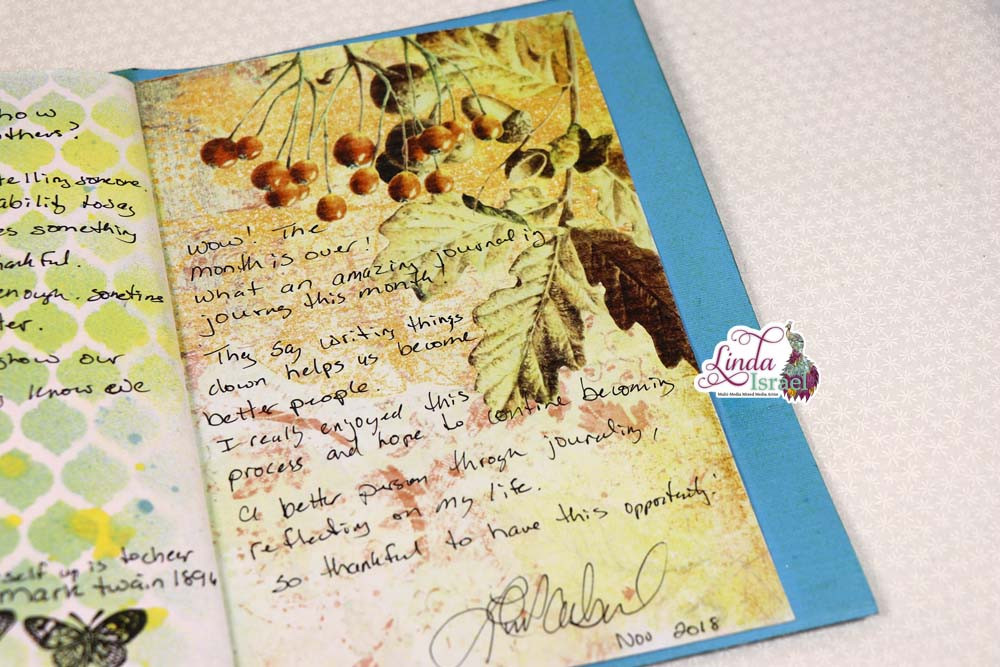 Wow! The month is over! What an amazing journaling journey this month!
They say writing things down helps us become better people.
I really enjoyed this process and hope to continue becoming a better person through journaling, reflecting on my life. So thankful to have this opportunity.
Thank you for following along all month long! It has been an amazing journey. Start your 30 days of thankful today. Love to know how you felt about this journey too. Feel free to comment here or connect with me on social media.
Supplies used for the 30 days of Thankful 2018 journal.
8 to 9 Various papers including any digital prints, Mop Up pages, Dictionary pages and more to make up the pages for the journal. 8 pages will give you 32 pages. If you want more writing space then add more pages.
Rubber Stamps
Cardstock for the cover
Follow the event on Facebook to keep updated on the daily prompts.
A great way to support me, and continue to see more tutorials and inspirational projects from me is to Become a Patron! When you give me your patronage you will get an exclusive digital download featuring art I created that has now been made into a digital journal kit.
Make sure to check out the Friendly Junk Journal People Facebook group. Of course, you are welcome to join the Friendly Junk Journal People Facebook group. The group is growing daily and we are a friendly group willing to help each other and encourage each other.
Interested in any of the journals I created? Please feel free to contact me through my Facebook Page. Here is my shop, I have a lot of items uploaded and add more weekly.
Keep updated on my posts by following me. Follow my blog with Bloglovin. Or Follow my Facebook Page or on Instagram for updates that may not be shared on my blog.
Thanks so much for stopping by my blog today to see Day 30 Of 30 Days Of Thankful 2018.
a>