The Bee Keeper Junk Journal is a kit created by Norella of Calico Collage. It is offered as a digital download on Norella's Etsy or as a physical printed kit in my shop. During the live stream I used the kit along with stamps, Tattered Angels Glimmer Mists, Stencils and papers from my stash to create three junk journal inserts that fits inside a Custom Midori Cover.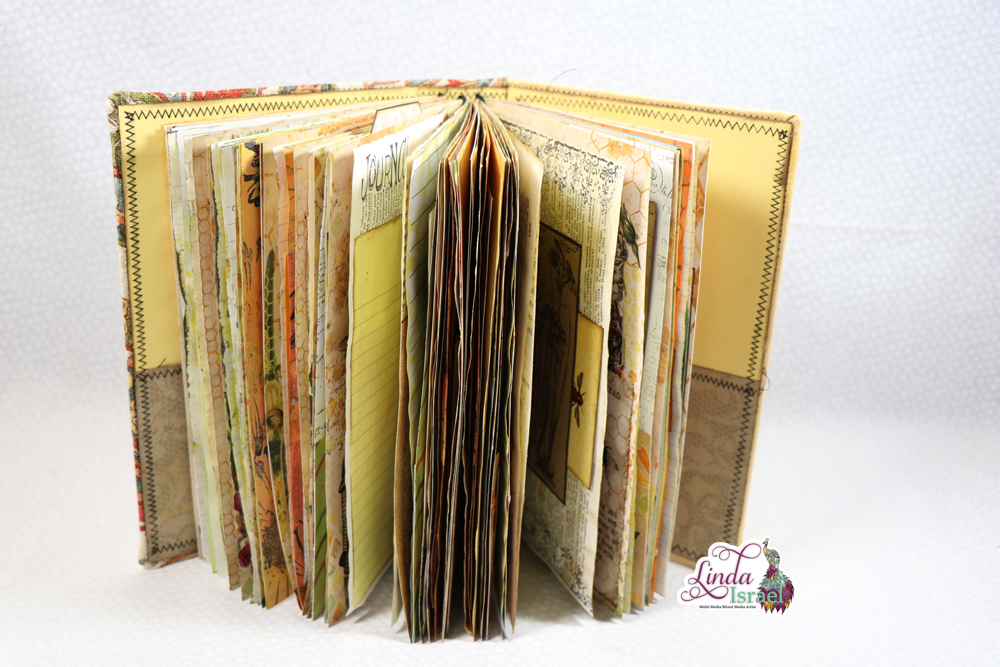 Some of the supplies I used to create the The Bee Keeper Junk Journal.
Book pages
Copy Paper
Washi Tape
In this video I show how I created a junk journal using The Bee Keeper Kit.
This is a flip through video of the finished The Bee Keeper Junk Journal.
The Midori Style Cover that I made holds three journal inserts. It was so much fun making these journals. If you are a bee lover this is a beautiful kit to use. So many wonderful bee related images throughout the kit.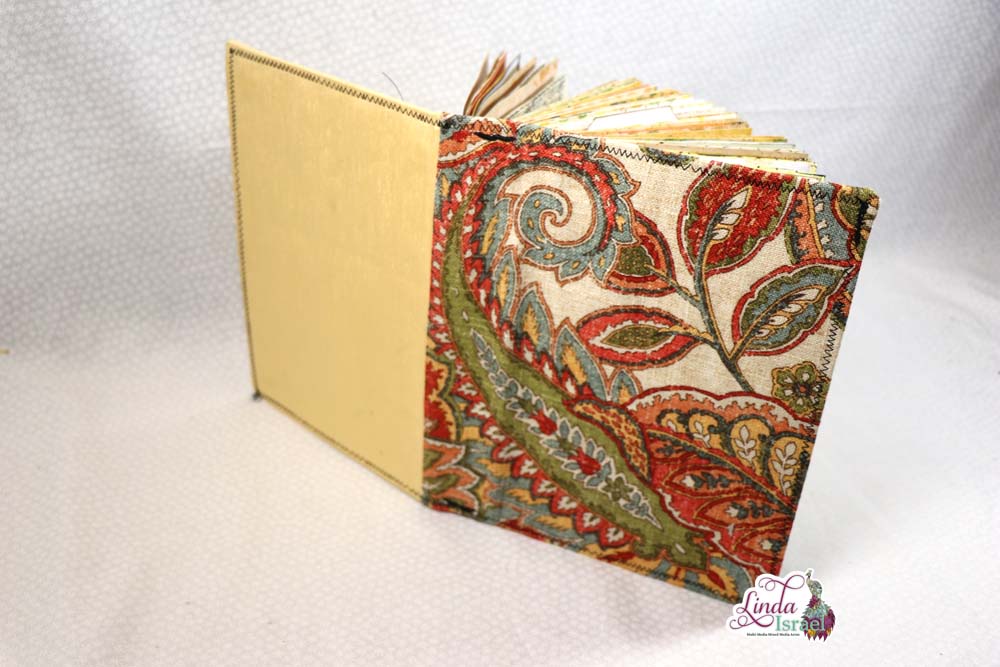 The first journal insert was made using a few pages of the printed kit and several pages that I created to give a lot of writing space. The journal is mostly flat with lots of stamping and stenciling.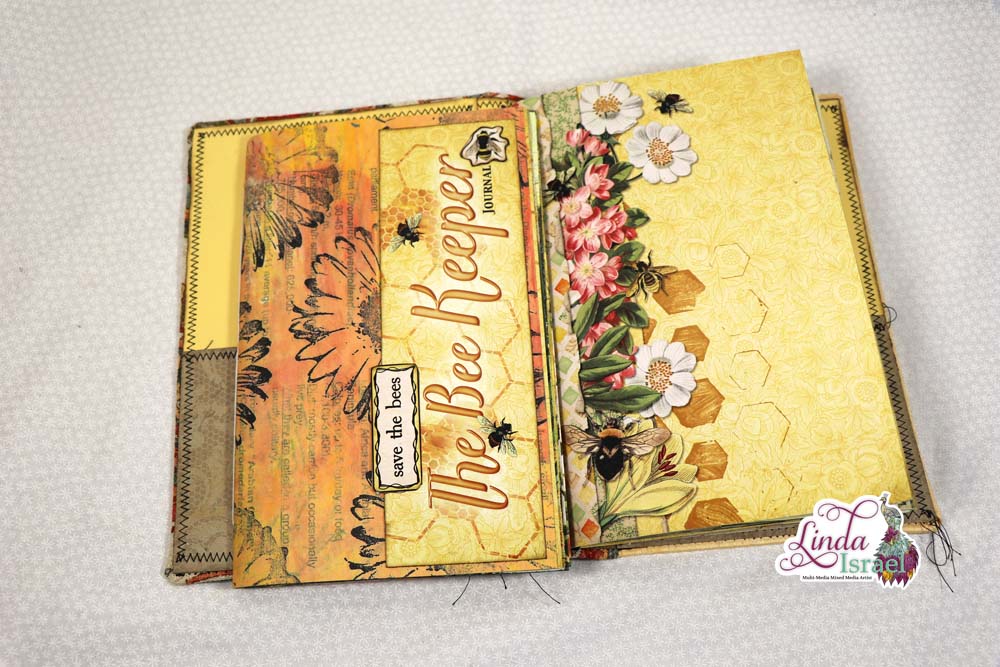 The page on the left is a digital copy of a mixed media page I made in the HoneyComb and Summer Flowers Junk Journal Page Tutorial. It was fun creating a page that I could print over and over for other projects.

On the left is the beautiful printed page from The Bee Keeper kit. On the right is a compostion notebook page that I sprayed with Tattered Angels Glimmer Mist through the Scattered Flowers Stencil I created.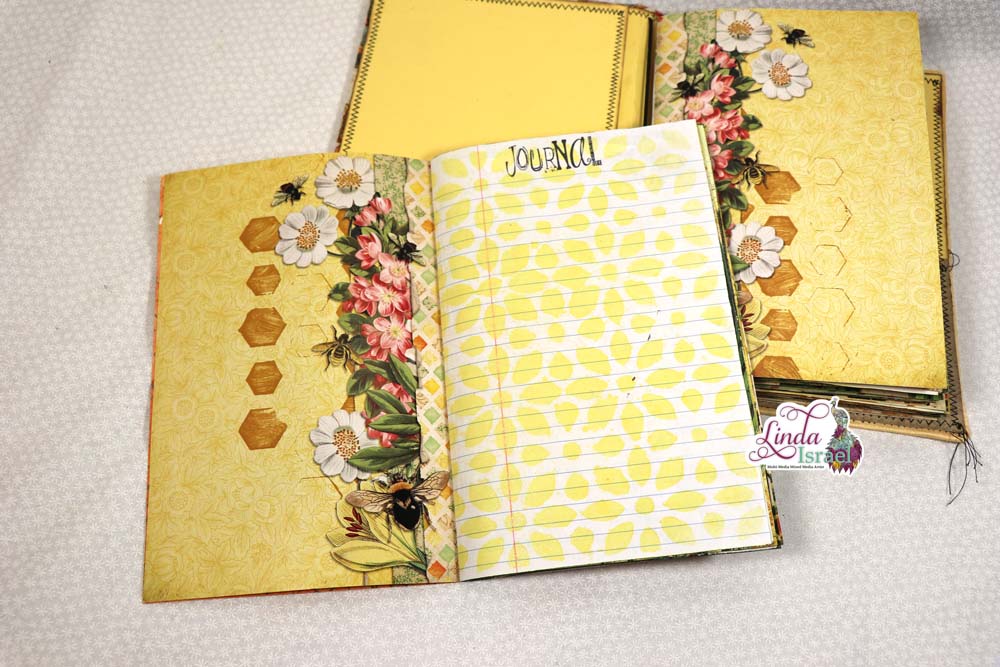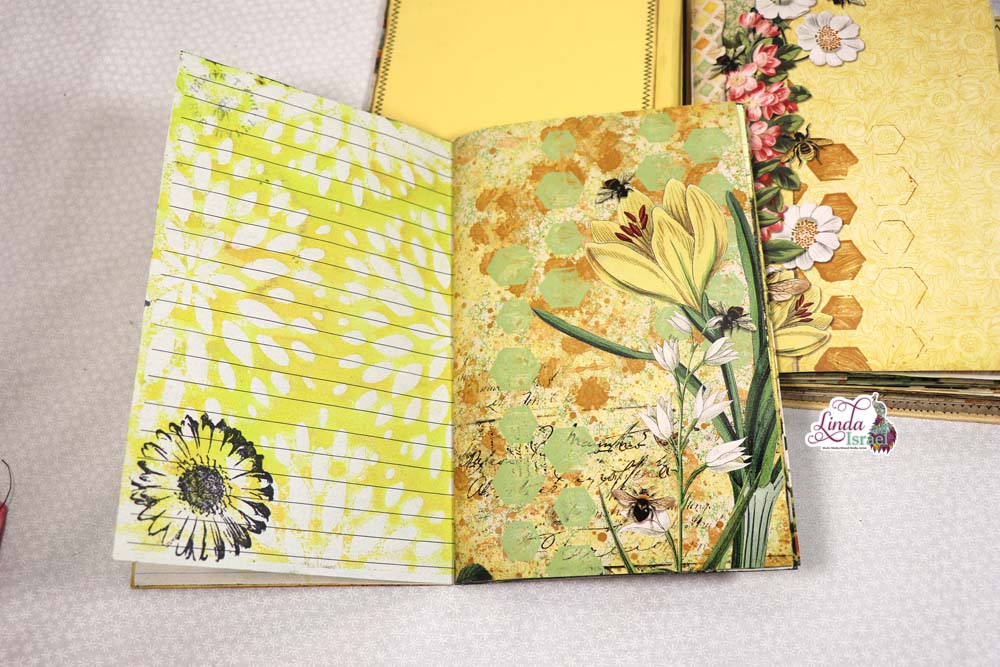 Using the March stencil club with Tattered Angels Glimmer Mists on notebook paper and some old green linen paper that I printed lines makes the pages blend with the printed kit. Adding a few fussy cut stamped images like the Jardin Bee Seal and the Summer Bloom is also a great touch.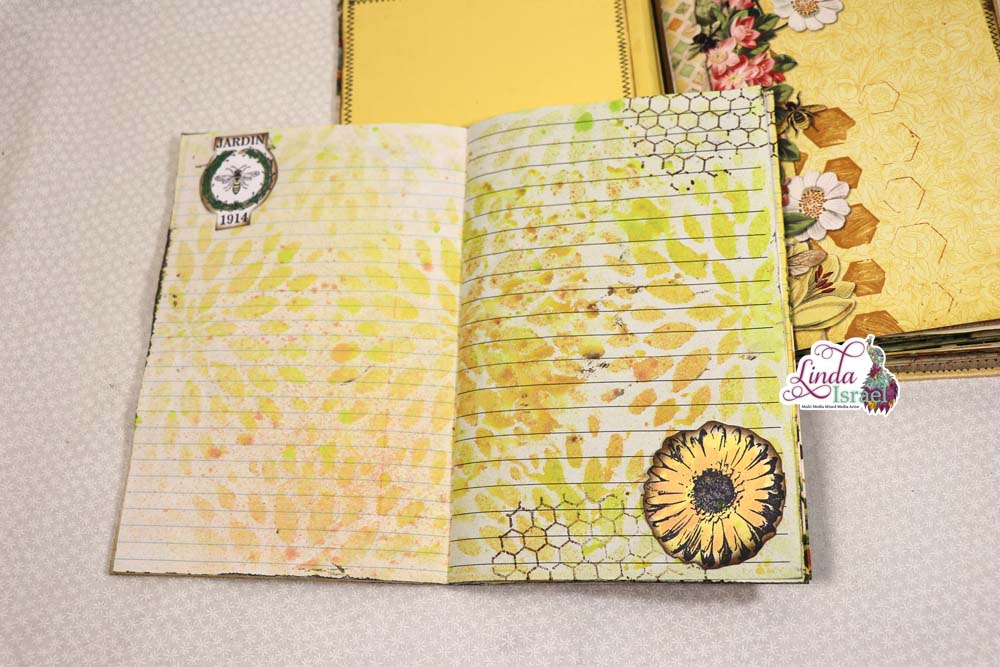 Bright sunny colors are used throughout this journal. It is a very happy journal. Can't help but smile while looking at the pages.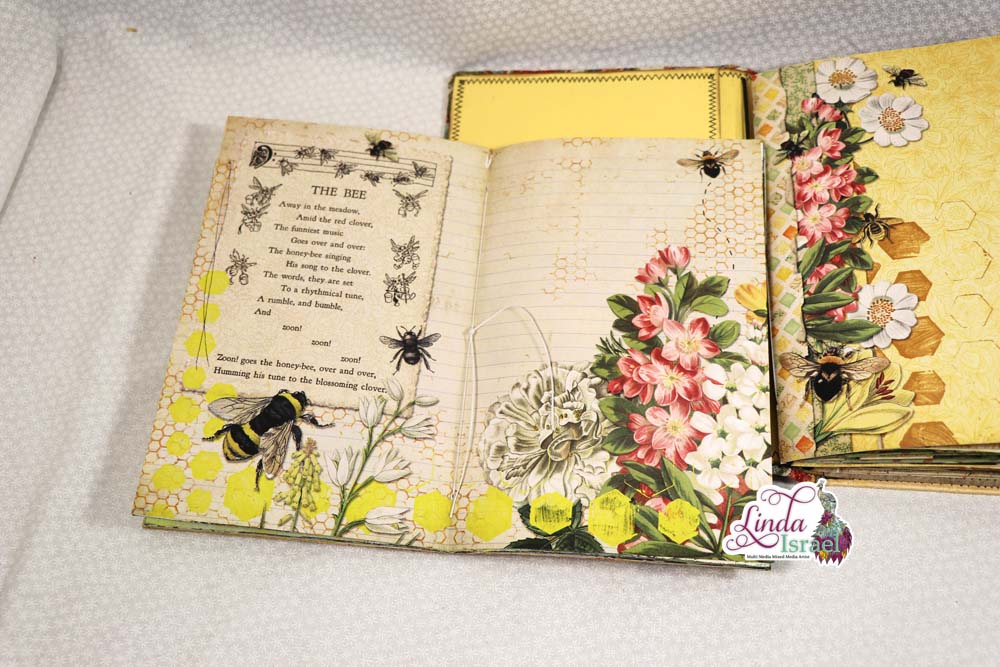 Try using some of your mixed media pages to create a cover for your next junk journal. Adding stamps over acrylic paint is so fun and easy.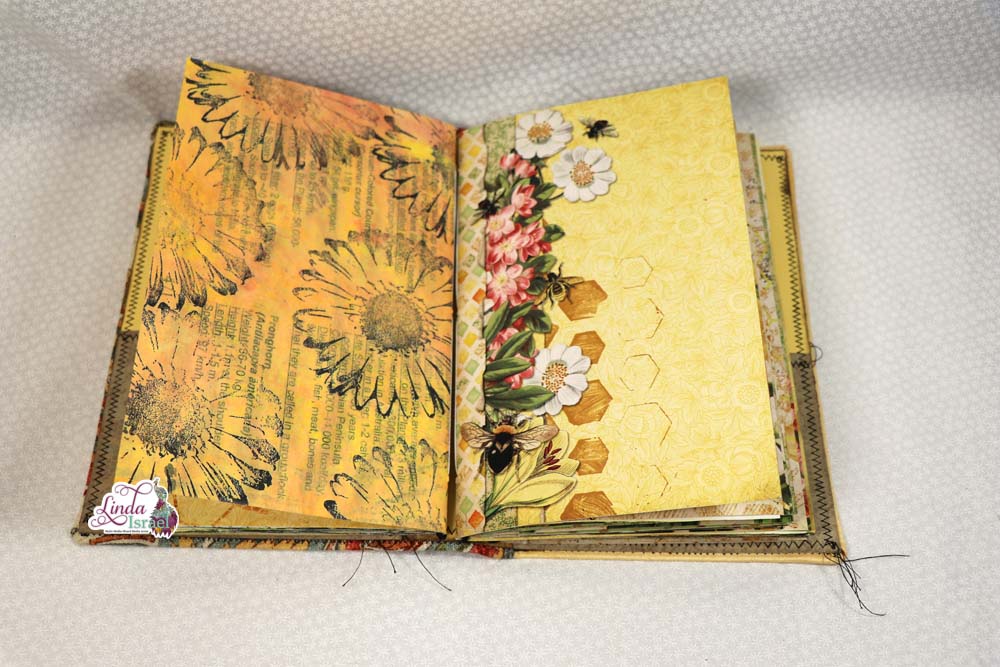 There are a ton of fussy cut items in this journal kit. Six pages of items to cut up and use throughout a journal anyway you like.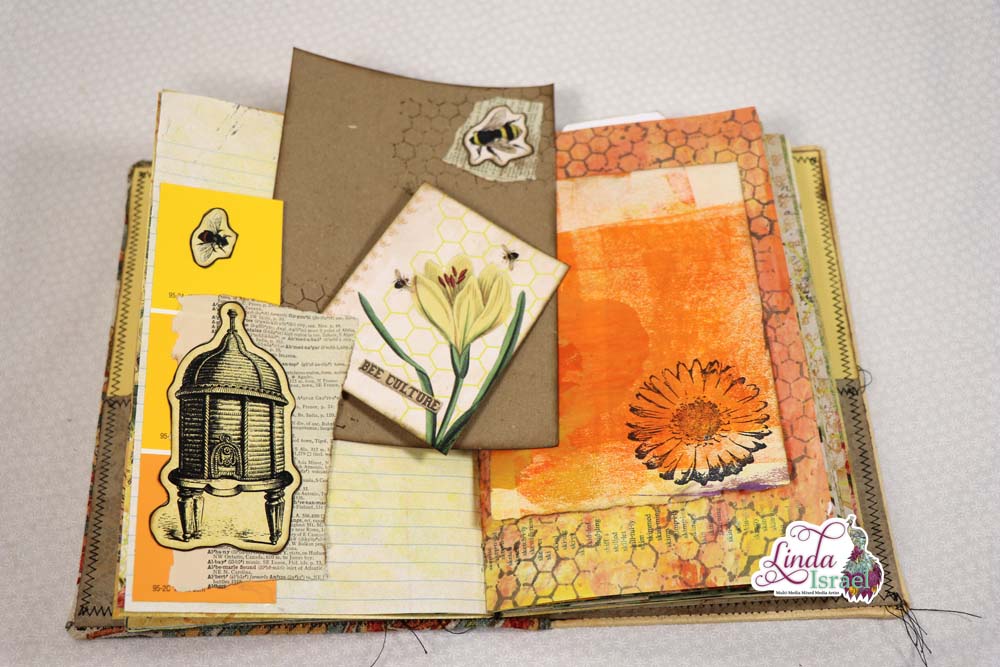 Love the combination of the printed kit with rubber stamps. It is so easy to stamp out images and use papers and elements to match The Bee Keeper Kit. In the photo below the following stamps were used with The Bee Keeper printed kit. Beehive, Jardin Bee Seal, Garden Rose, Honeycomb Wire Duo are just a few of the stamps used with the kit.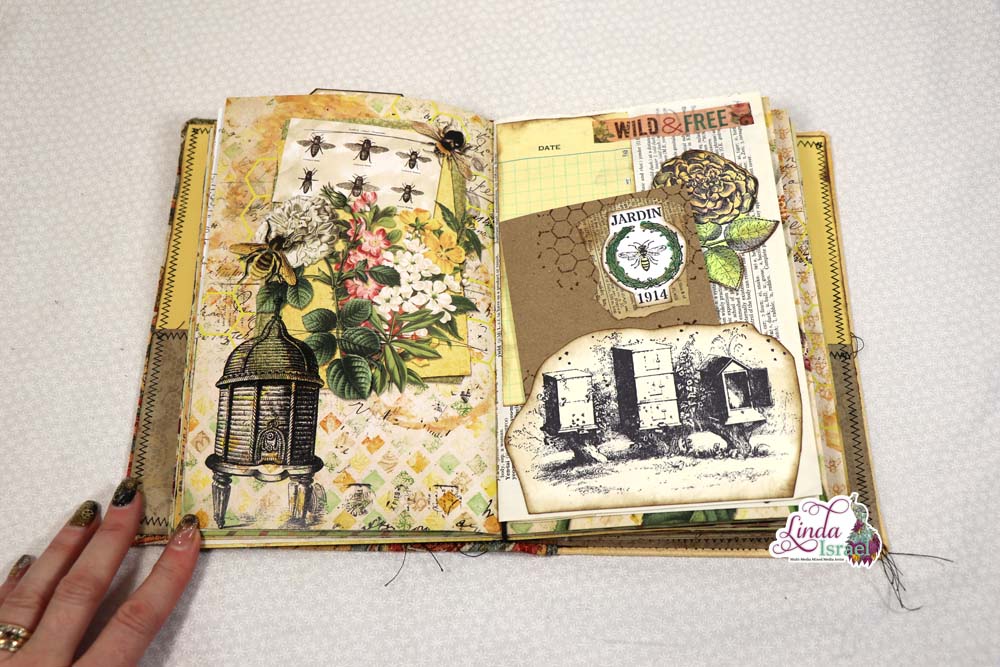 Fussy cut elements can be altered to fit your needs and wants. On the left side of the page is a fussy cut item that I cut in half. It was designed to be a pocket that is almost 11 inches wide. I forgot to add it to a page before I bound the journal, so I cut it up. Using only a portion of it to hold a 5 x 7 journal card that has the honeycomb stamped in Walnut Stain and then the fussy cut bee placed on top. On the right is another one of my stencils, this time the Honeycomb stencil was used.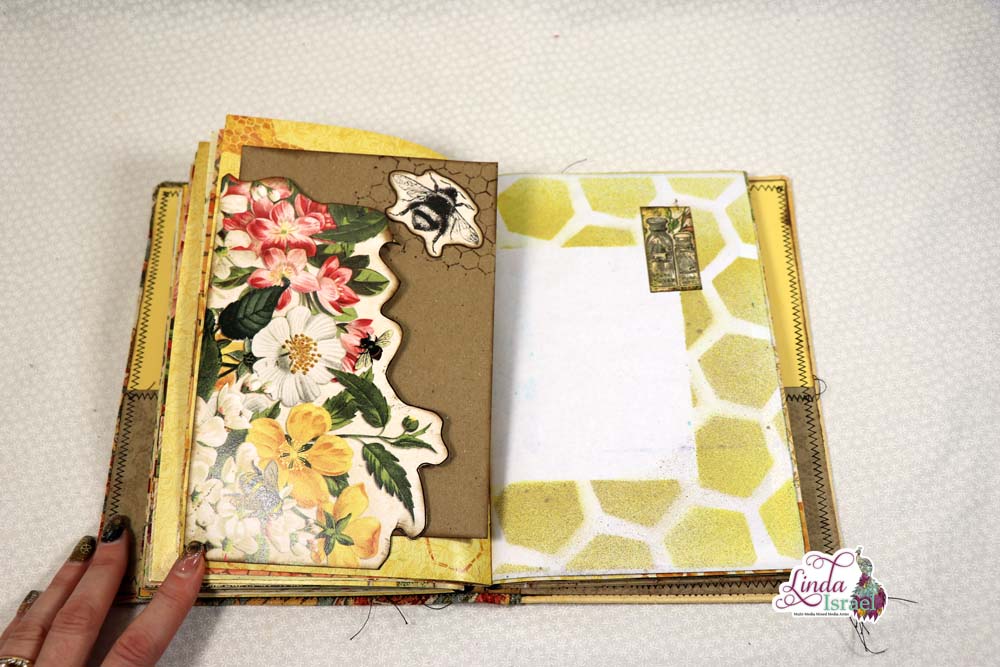 Go through that stash of scrapbook papers you have and see what could match your journal as I did with the following page. The fall paper was a perfect color match I thought for this journal. The fussy cut items help tie things together.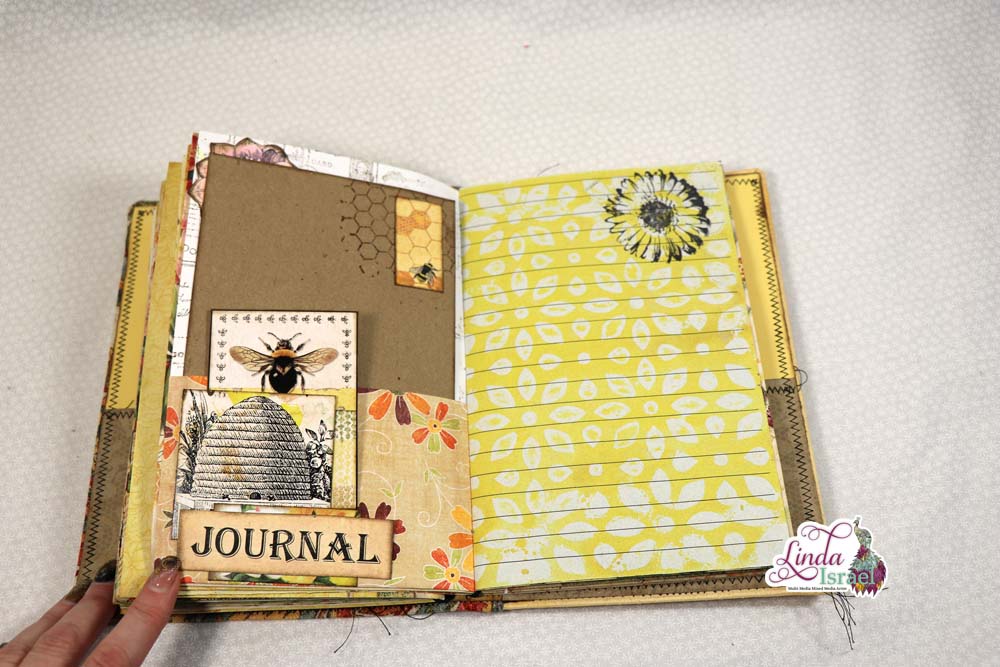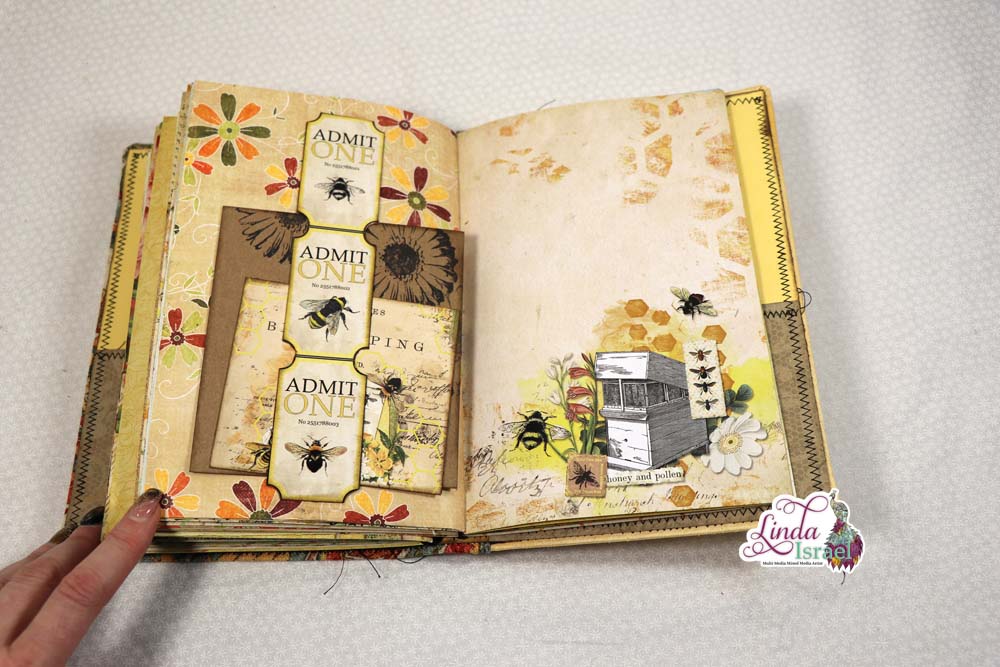 Being able to use the printed kit along with my junk makes me feel wonderful. On the left is the printed kit on the right is a dictionary page that I stamped with a couple of stamps and the colored with some Tattered Angels Glimmer Mists.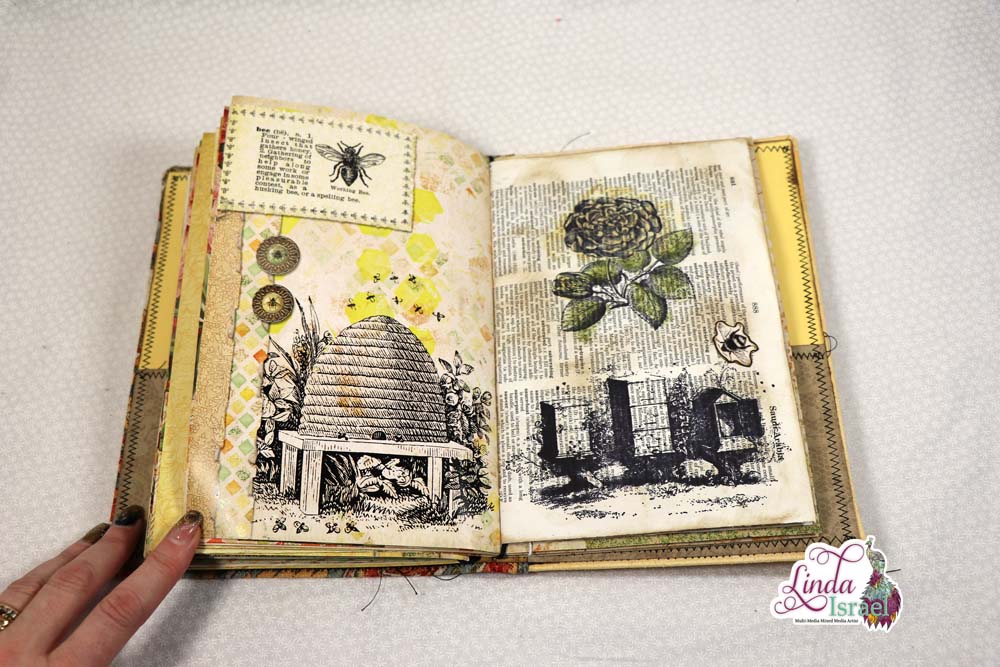 Order The Bee Keeper Kit today to create your version of a Bee Keeper journal. Have fun adding your touch to make a unique journal.
Remember that I have live streams on Monday's at 3:45 pm and Thursdays at 12:30 pm Central Standard time on my
 

YouTube Channel. Come join the chat, win prizes while I create.
Make sure to check out the Friendly Junk Journal People Facebook group. Of course, you are welcome to join the Friendly Junk Journal People Facebook group. The group is growing daily and we are a friendly group willing to help each other and encourage each other.
Interested in any of the journals I created? Please feel free to contact me through my Facebook Page. Here is my shop, I have a lot of items uploaded and add more weekly.
Keep updated on my posts by following me, add your email.  Follow my Facebook Page or on Instagram for updates that may not be shared on my blog.
Thanks so much for stopping by my blog today to see the The Bee Keeper Junk Journal that was created during the live stream.