January 29th Creative Prompt Use 2 Ribbons. Adding ribbons to a journal page is a fun way to add accents and color. In this tutorial, I'll share how to attach ribbons with a stapler and use a stencil to create a background for my journal page.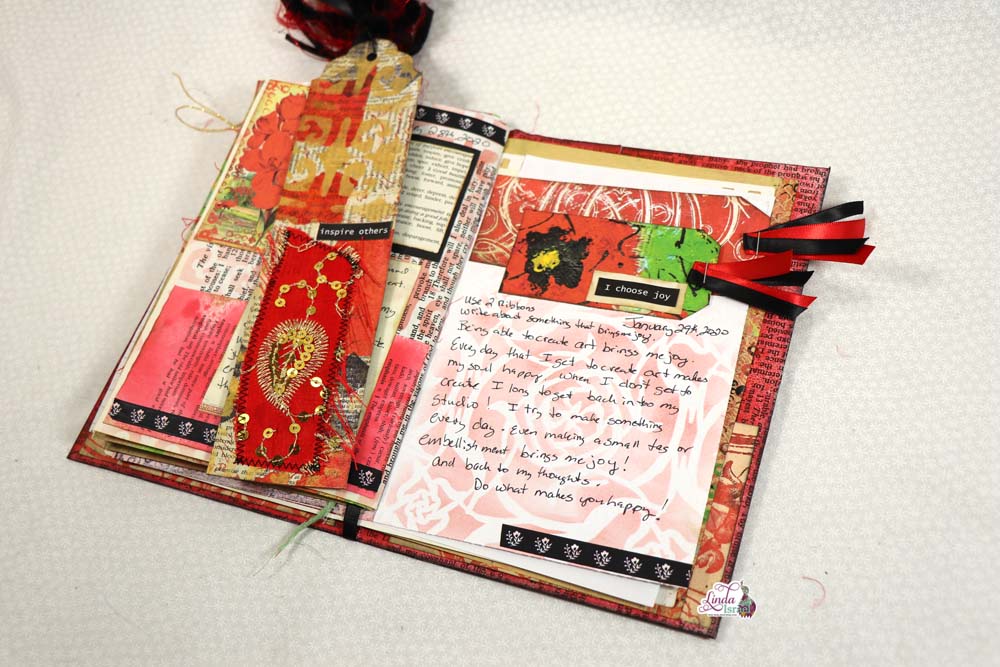 January 29th Creative Prompt Use 2 Ribbons Tutorial Video
Supplies used for the January 29th Creative Prompt Use 2 Ribbons
White on Black Words – Inspirational 

Stapler 

Staples

Red and Black Ribbons

Paper Scraps

Book Page Scraps

Washi Tape
January 29th Prompt is to create a journal page using at least 2 ribbons or ribbon scraps. Write about something or things that bring you joy.
Using black and red ribbon, Linda shows that you don't need a hole punch to attach ribbons to your journal tags, a stapler works just as well!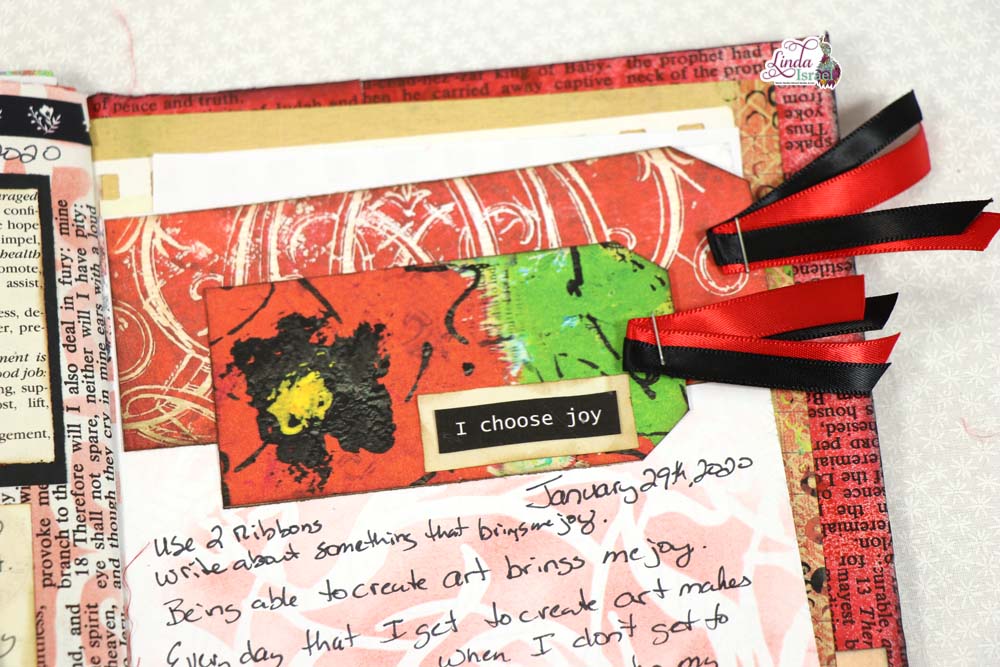 Using a stapler, Linda shows that you do not need a hole punch for your journal tags to attach ribbons. She adhered both of her tags from the Radiant Red Creative Box using Aleene's tacky glue to her page. 
To add some textured color to her page, she took the Ribbon Rose Stencil, and an oval brush to lightly brush on Firebrick Red Distress ink. Finally she added White Words on Black inspirational words to a distressed piece of scrap paper for the border. At the bottom of her journal page, she applied some washi tape that she has been using throughout her journal.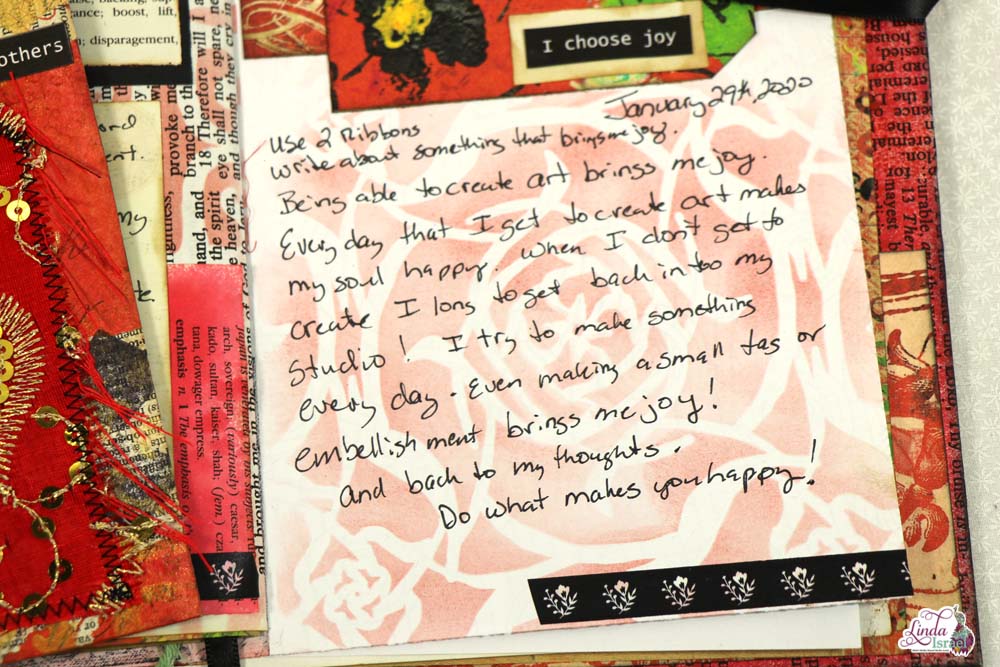 Writing with a Sharpie pen, Linda writes and shares what brings her joy. The Sharpie pen is great for writing in your journals it does not bleed through like many of the writing tools.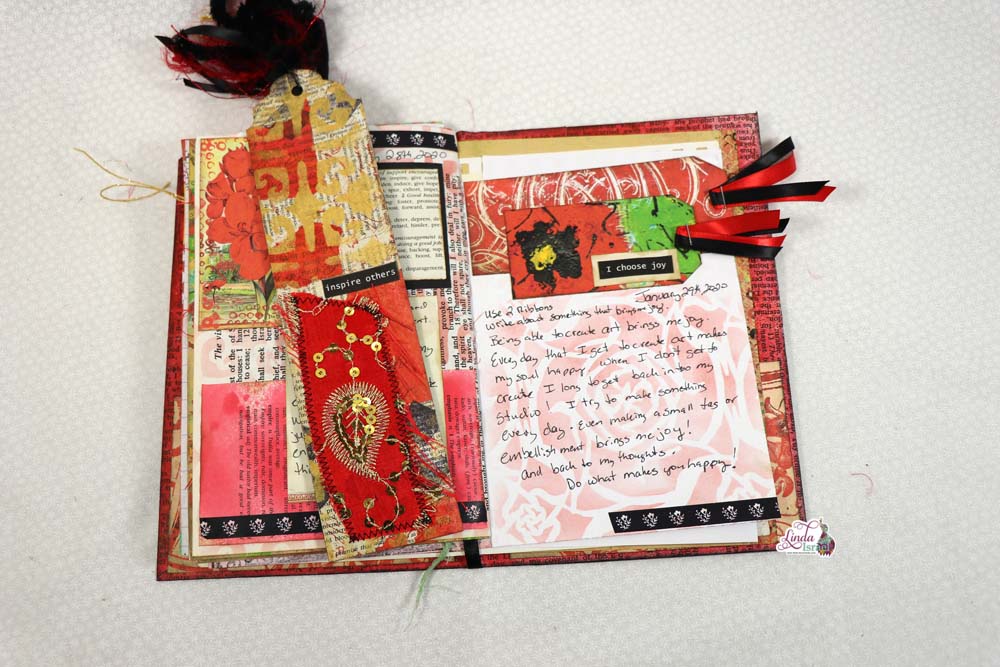 What brings you joy in your life?
Robin Fennessy
Make sure to check out the Friendly Junk Journal People Facebook group. Of course, you are welcome to join the Friendly Junk Journal People Facebook group. The group is growing daily and we are a friendly group willing to help each other and encourage each other.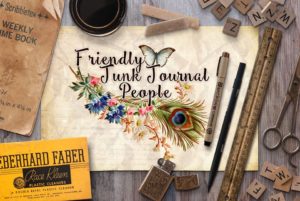 Interested in any of the projects Linda has created? Please feel free to contact her through her website. Here is her shop, a lot of items featured and more added weekly.
Keep updated on her posts by following the blog by creating an account.  Follow Linda on her Facebook Page or on Instagram for updates that may not be shared on the blog.
Thanks so much for stopping by the blog today to see the January 29th Prompt Use Two Ribbons!