Sharing a Christmas Tag Tutorial for a swap. Using some Christmas Trim, Calico Collage Digital downloads, Best Glue Ever and more I share how to create a beautiful Christmas Tag and hopefully inspire you to be a #motivatedcreator.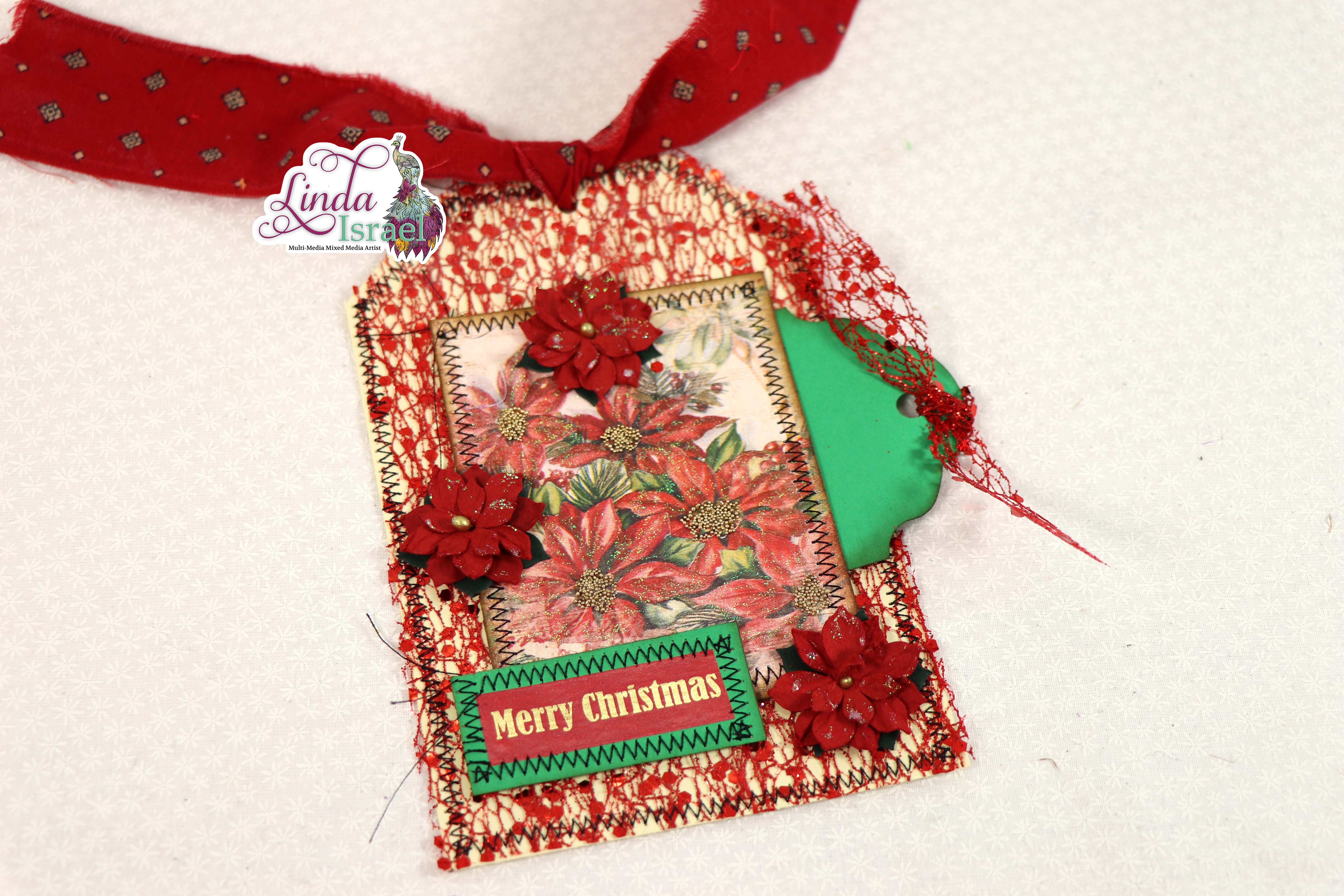 Christmas Tag Tutorial Video
Supplies used for the Christmas Tag Tutorial
Calico Collage Digital Images Golden Christmas
Christmas Tulle
Tag base – Cardstock cut at 4 x 6
Distress Ink, Walnut Stain
Washi Tape
Scrap of green cardstock
Paper poinsettias
Pop Dots
Scrap of Fabric
Micro Beads
This Christmas Tag Tutorial is really super easy. Cut a tag base 4 x 6 out of cardstock, trim the corners to create the tag. Use the Best Glue Ever to adhere the Christmas Glitter Tulle. Sew a zig zag stitch around the tag. Punch a hole at the top of the tag and tie scrap of fabric through the hole.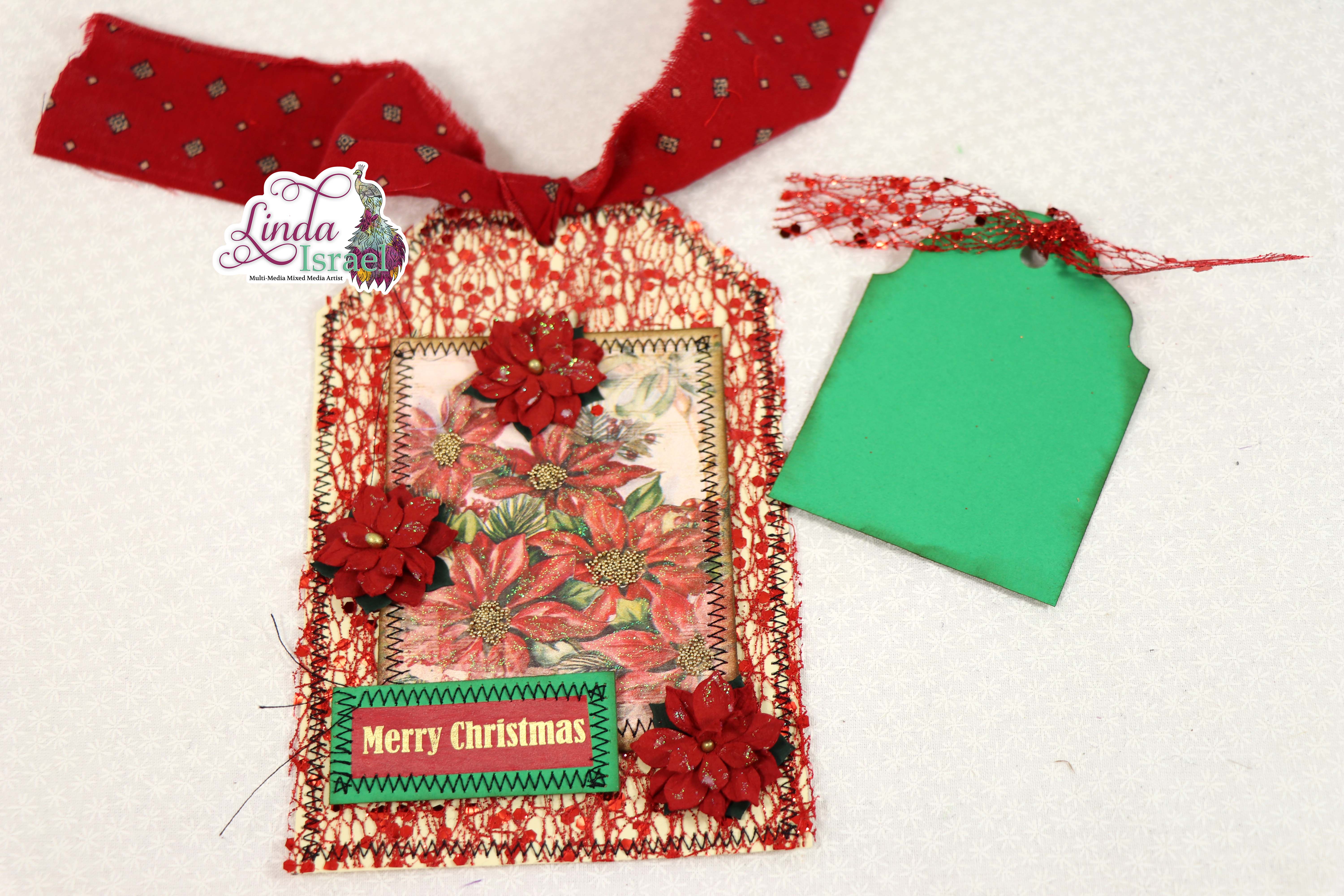 Apply Distress ink to the journal card image from Calico Collage. Apply Merry Christmas Washi Tape to a scrap of green paper to create a little mat. Sew a zig zag stitch around these two elements.
Adhere the Journal card as a pocket on the tag. Place the sentiment in the lower corner.
In the centers of the flowers add a little bit of glue, then sprinkle gold micro beads and tap off the excess.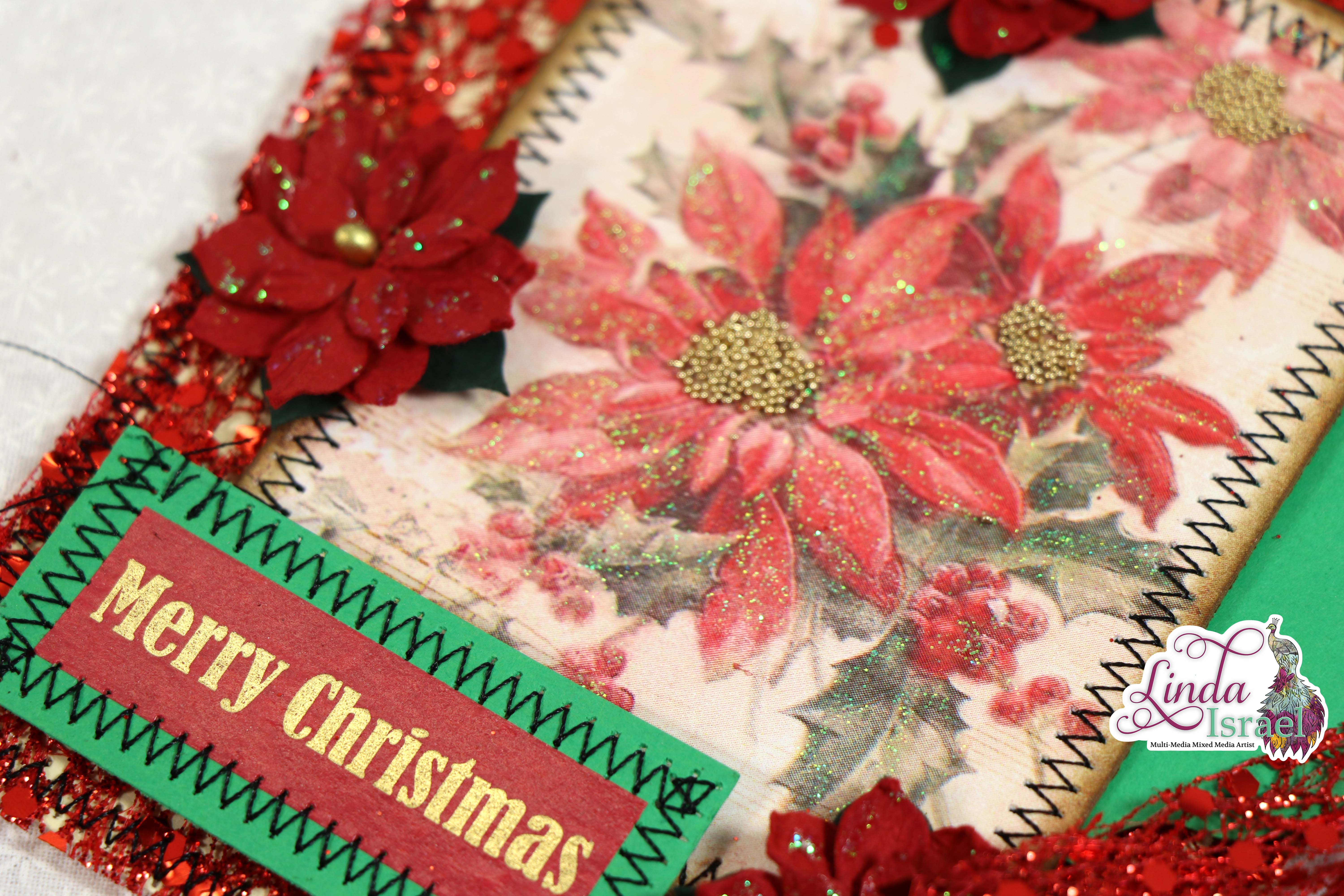 Apply Tulip Dimensional Glitter paint to the flower petals.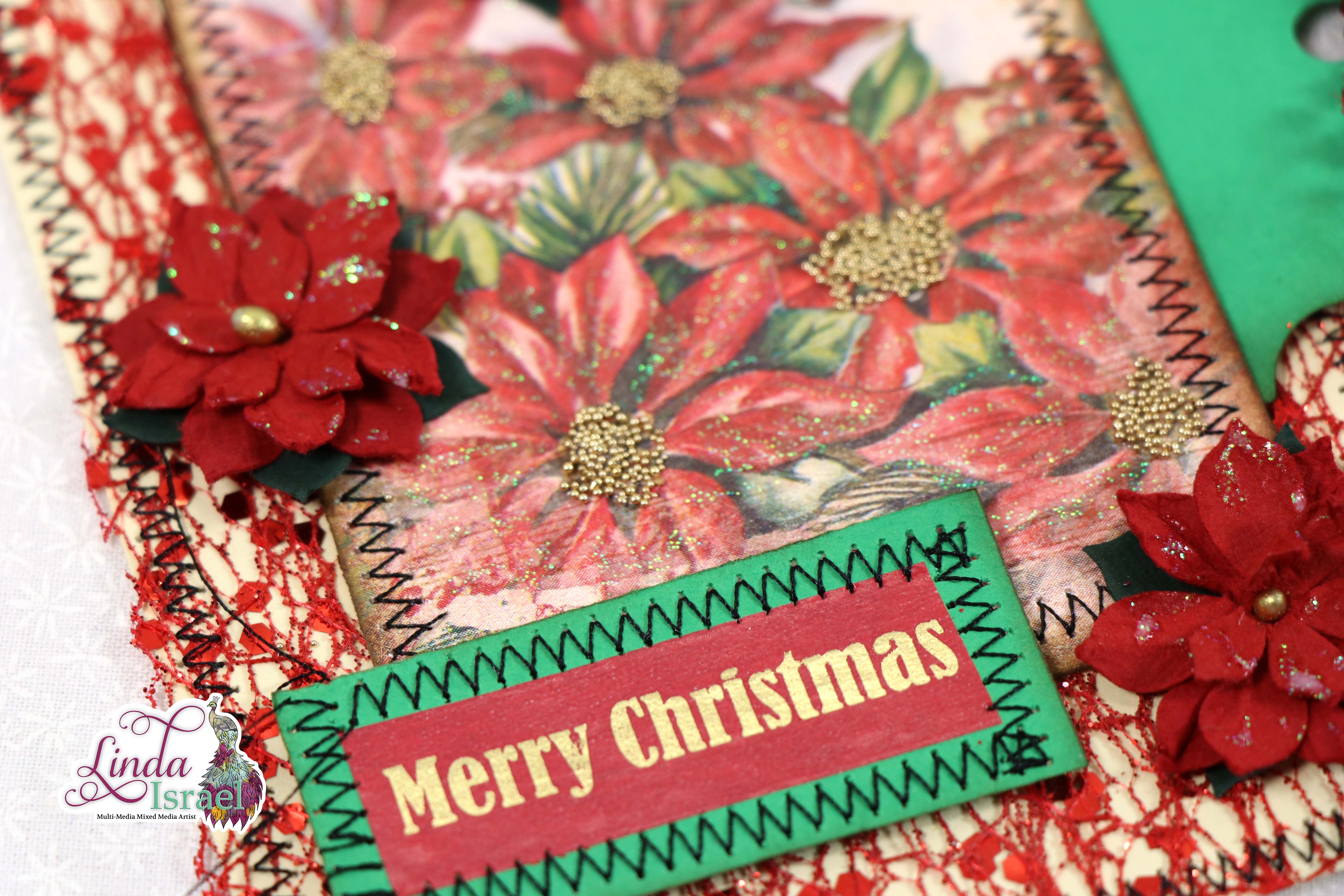 Adhere the paper flowers in a pleasing design.
Allow the glitter glue time to dry and then put the tag in the pocket.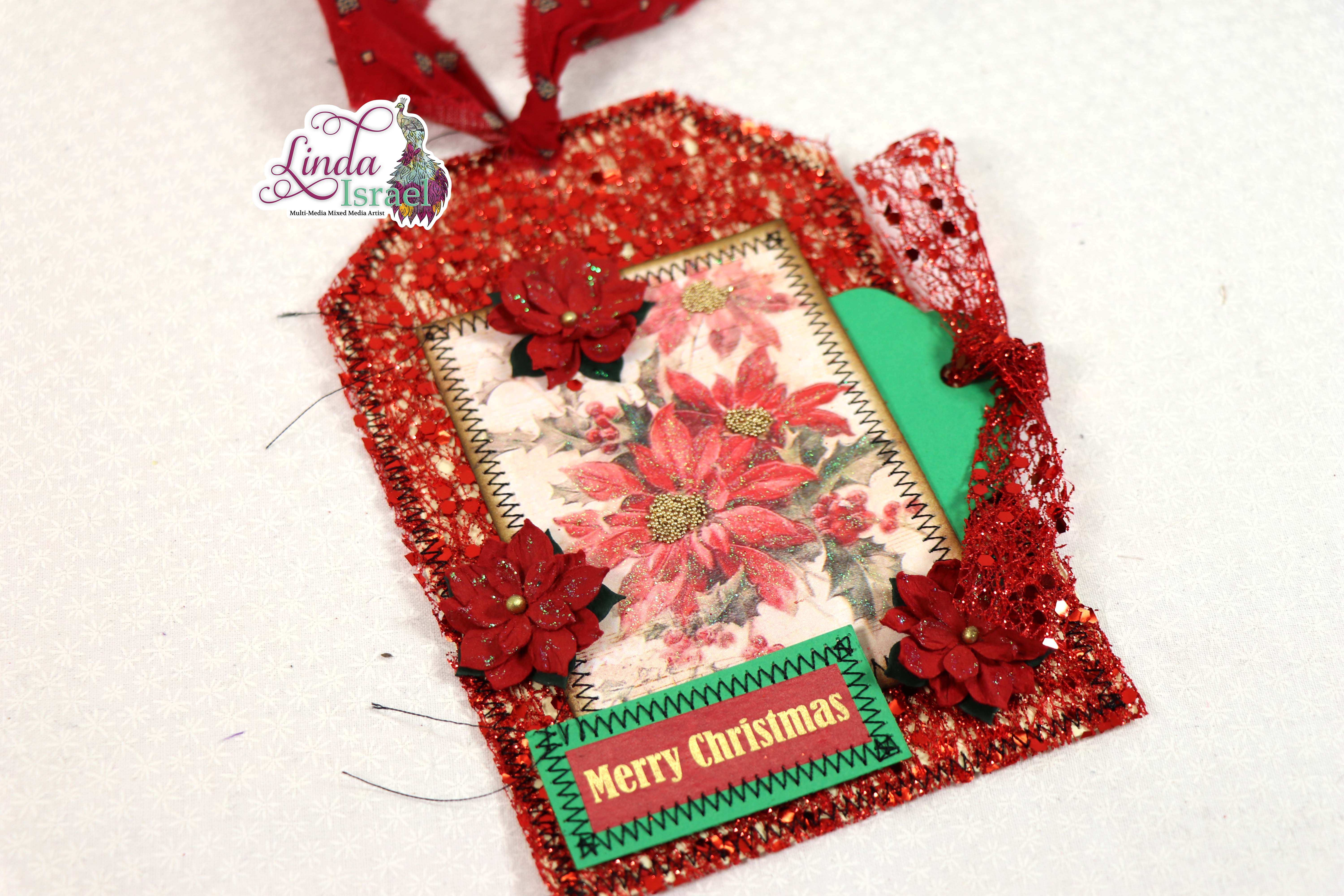 Told you it was this Christmas Tag Tutorial was easy.
Create your own Christmas tag and head over to my Facebook page event to share your tag with me to be entered to win a prize! Challenge ends Dec 31st. Be sure to enter before the end of the year!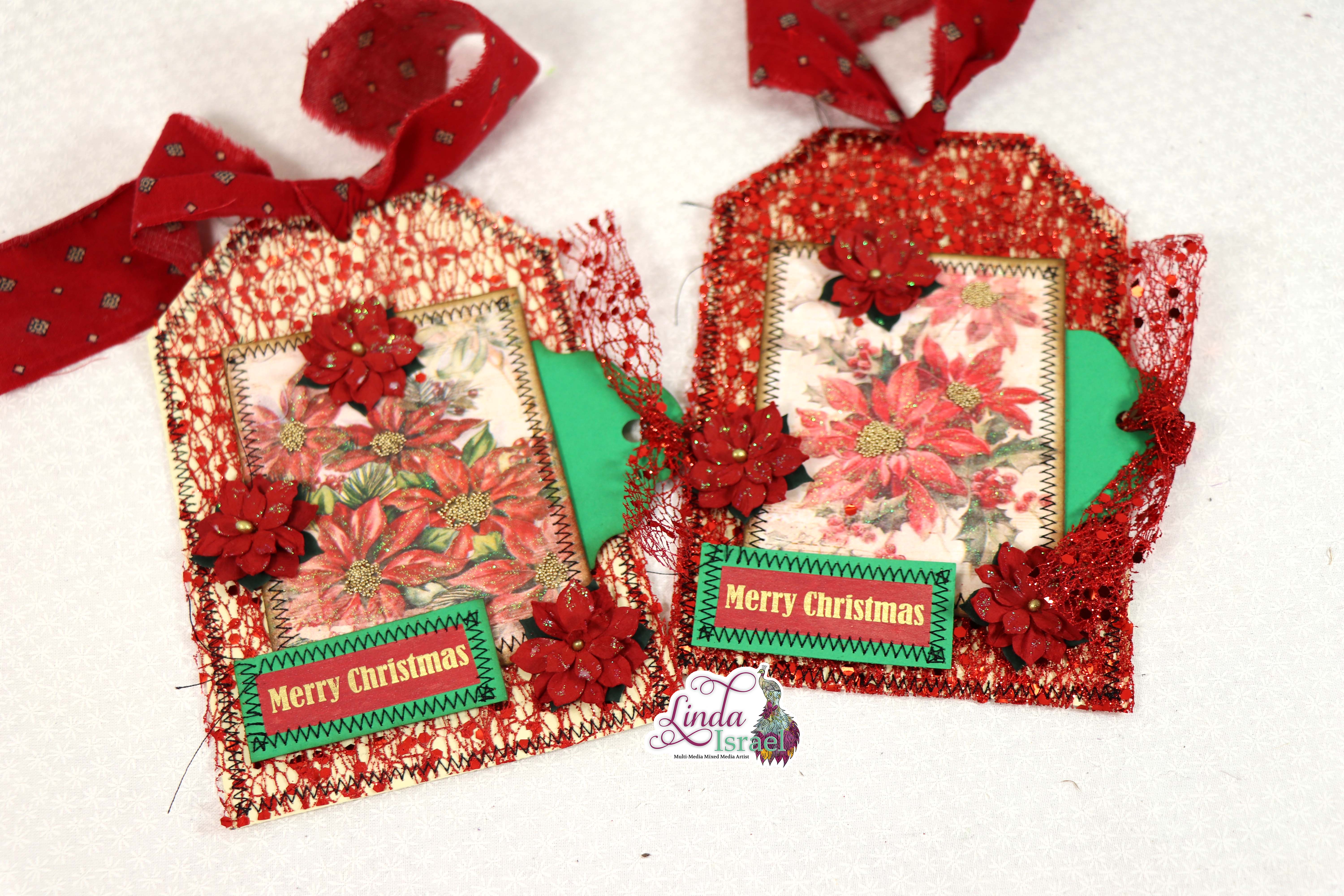 A great way to support me, and continue to see more tutorials and inspirational projects from me is to Become a Patron! When you give me your patronage you will get an exclusive digital download featuring art I created that has now been made into a digital journal kit.
Make sure to check out the Friendly Junk Journal People Facebook group. Of course, you are welcome to join the Friendly Junk Journal People Facebook group. The group is growing daily and we are a friendly group willing to help each other and encourage each other.
Interested in any of the journals I created? Please feel free to contact me through my Facebook Page. Here is my shop, I have a lot of items uploaded and add more weekly.
Keep updated on my posts by following me. Follow my blog with Bloglovin. Or Follow my Facebook Page or on Instagram for updates that may not be shared on my blog.
Thanks so much for stopping by my blog today to see the Christmas Tag Tutorial.