Sharing a Radiant Red Junk Mail Tag Tutorial. During the YouTube Live session on Monday, Dec 31st, I showed how to take an oversized postcard and turn it into four tags that can be used for journaling or even bookmarks. Used the Radiant Red Digital Download a collaboration between Norella Bouchard of Calico Collage and myself.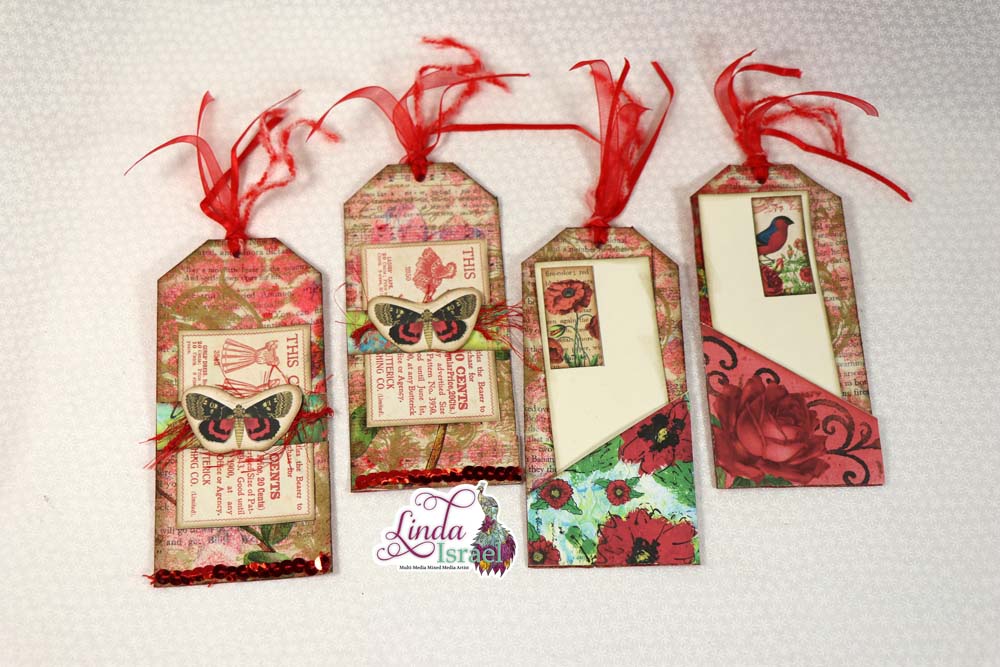 Radiant Red Junk Mail Tag Tutorial Live Video – Remember you can click on the gear in the lower right corner on YouTube and speed up or slow down any video.
Supplies Used for the Radiant Red Junk Mail Tag Tutorial
Items from the Radiant Red Creative Box – Tattered Angels Glimmer Mist, Sequin Trim and Eyelash Yarn
Oversized postcard 6 x 11 inches
Ribbon and fibers
Napkin
Book pages
Red Text weight paper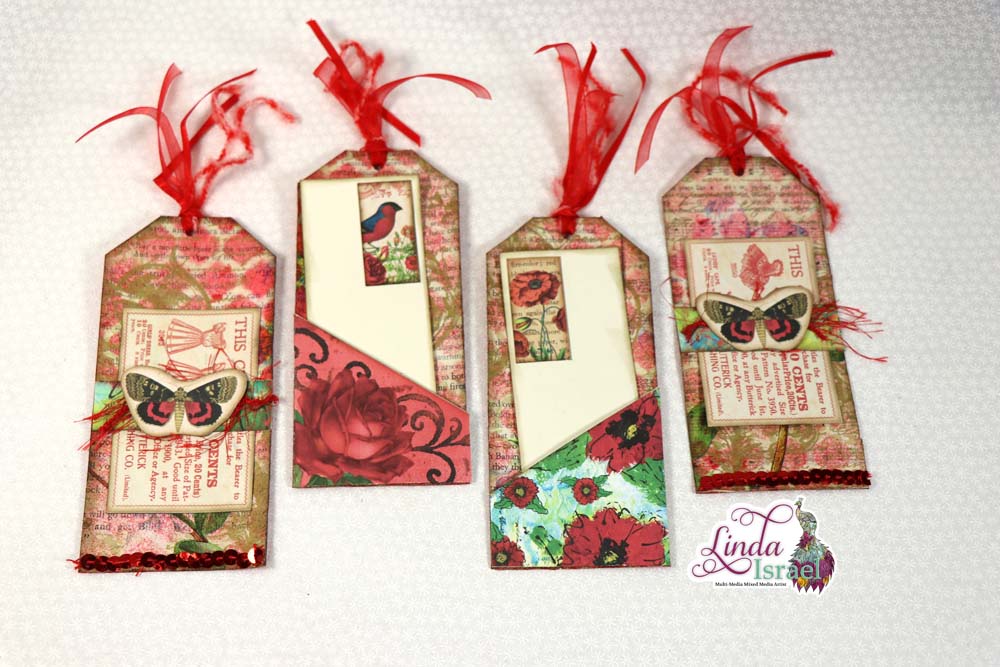 Start by selecting an oversized postcard 6 x 11 inches or you could use some ugly cardstock for the base. Adhere book pages to cover up the postcard or ugly cardstock using a paint brush dipped into an Aleene's Tacky Glue pot. Trim excess papers from the edges or fold to the backside.
Separate the layers of a napkin. Then adhere the napkin to the postcard. Trim off excess napkin.
Spray Tattered Angels Glimmer Mist through the Moroccan Stencil. Dry with heat tool
Adhere red text weight paper to the back of the postcard to cover up the images or ugly cardstock.
Cut into four tags about 2.75 wide by 6 inches tall. Cut the tops to resemble tags. Then punch a hole in the center top using the Crop a Dile. Optional Stamp Shabby Stitches around the edges or sew with sewing machine to add stitches to the tags.
Apply distress ink around the edges of the tags.
Tie the ribbon and fibers through the top hole and you are done.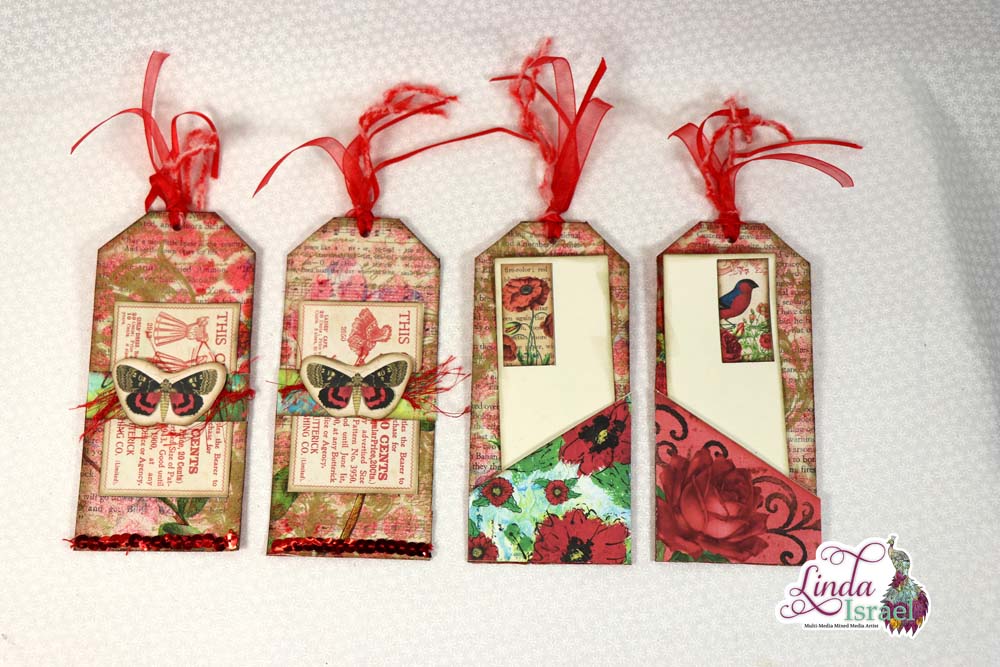 Use this Radiant Red Junk Mail Tag Tutorial to convert junk mail into beautiful tags that can be used in junk journals, cards or even as bookmarks. There really is no limit to how you can create these and use them.
A great way to support me, and continue to see more tutorials and inspirational projects from me is to Become a Patron! When you give me your patronage you will get an exclusive digital download featuring art I created that has now been made into a digital journal kit.
Make sure to check out the Friendly Junk Journal People Facebook group. Of course, you are welcome to join the Friendly Junk Journal People Facebook group. The group is growing daily and we are a friendly group willing to help each other and encourage each other.
Interested in any of the journals I created? Please feel free to contact me through my Facebook Page. Here is my shop, I have a lot of items uploaded and add more weekly.
Keep updated on my posts by following me. Follow my blog with Bloglovin. Or Follow my Facebook Page or on Instagram for updates that may not be shared on my blog.
Thanks so much for stopping by my blog today to see the Radiant Red Junk Mail Tag Tutorial.