Day 27 of #useitupjuly, today I'm sharing a Dark Blue Junk Journal Page Tutorial another in the series of different colors for junk journal pages. Using wallpaper, transparency film, acrylic paint scraps and a couple of digital images from Calico Collage.
Dark Blue Junk Journal Page Tutorial Video
Supplies used for the Dark Blue Junk Journal Page Tutorial
This month is almost over and I'm still finding things to use up in my stash. This Dark Blue Junk Journal Page Tutorial project came about because of the requests to make different junk journal pages in different colorways.
When I'm working on a project I collect all the items that could be used in a basket. Some of these items may not get used, but if these are in the basket then it is easier to see what is available to use in the project.
Wallpaper is a great way to add a pattern to a project and if you are lucky you can pick up sample books when these are retired. Just ask at your local wallpaper store if they have any discontinued wallpaper sample books.
Paint the back of the wallpaper to match the project, using acrylic craft paint. Using this paint is super easy and inexpensive! Apply with an old gift card and the paint dries quickly.
Add a pattern to the painted side using a stencil and a different shade of blue acrylic craft paint and a paintbrush. Don't worry about being perfect, it is all about adding color and texture. Allow the paint to dry.
For this Dark Blue Junk Journal Page Tutorial, I used a piece of transparency film for a pocket. Map out where you will want a pocket. In my page, there are to places for pockets. On those places add stitching. Then layer the transparency over the wallpaper design and stitch in place. This allows the pattern to be seen through the transparency and creates pockets.
Accordion fold the image from the Day Dreaming digital journal kit. This will be adhered on the painted side of the wallpaper, leaving a pocket to add a journal card.
Finish decorating the page by adding journal tags/cards and stickers.
Didn't this Dark Blue Junk Journal Page Tutorial turn out really easy? Can you see how you can use items from your stash to create your own version?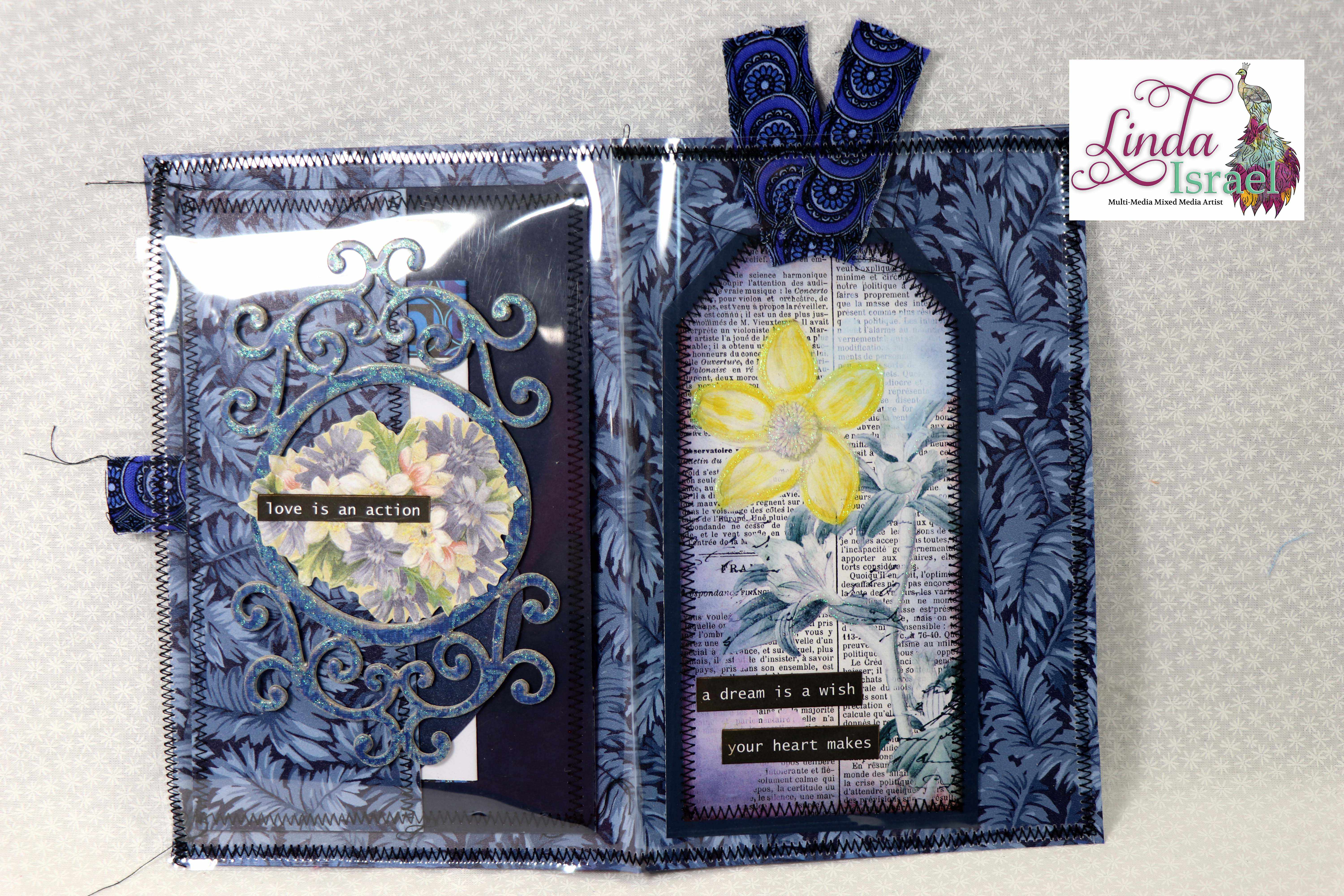 Make sure to check out the Friendly Junk Journal People Facebook group. Of course, you are welcome to join the Friendly Junk Journal People Facebook group. The group is growing daily and we are a friendly group willing to help each other and encourage each other.
Interested in any of the journals I created? Please feel free to contact me through my Facebook Page. Here is my shop, I have a lot of items uploaded and add more weekly.
Keep updated on my posts by following me. Follow my blog with Bloglovin. Or Follow my Facebook Page or on Instagram for updates that may not be shared on my blog.
Thanks so much for stopping by my blog today to see the Dark Blue Junk Journal Page Tutorial.